Car Maintenance for Women
Listen up and learn from my Car Maintenance for Women!
Having been in the auto detailing business now for over twenty years, I have learned a thing or two along the way:
Techniques that produce results and save time
Products that produce superior results

Detailing Made Simple
I am going to break this down into three (3) simple areas:
Schedule
Tools
Products
The Schedule
Outsource your car washing efforts- Keep it simple and do something that makes sense; take your car to the car wash. The car wash will not only do a better job, but you will be buying back your precious time through what is called outsourcing.
Whether you are a man or a woman, I find that many people will spend an hour or two just washing their cars, only to be too tired to do any real detailing after; so take my advice and outsource as I have said.
Wax your car every 4-12 weeks- Waxes today are much easier than waxes of yesterday. By using a name brand spray wax, you will be amazed at the results you are able to get.
Wipe your cars interior down once a month- Simply use a terry cloth towel with some Simple Green cleaner, and wipe down all the surfaces in your cars interior.
The Tools
Use these simple tools that you already have around the house to improve your efforts.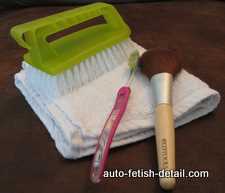 Terry cloth towel
Plastic scrub brush
Tooth brush
Make-up brush
Scrub brush- Using the scrub brush, along with the Simple Green mixture (use mixing ratio from back of container for light duty cleaning) and terry cloth towel to handle 95% of the interior cleaning tasks. Use this on all carpeting, seating, door panels. This is safe for all upholstery materials including modern leather seating (any type of car leather made in the last 10 years).
Simply spray area, scrub, and mop up with towel.
Tooth brush- Use this tool to get into any of the tighter areas of your cars interior.
Make-up brush- Use this tool to dust dash gauges, vents, and console areas.
Products
This part is a simple as the other areas. It really only requires two (2) products:
Spray wax
Simple Green solution
Spray Waxes- Due to modern day advances in chemical engineering, waxes are incredibly simple and easy to use; if you know what to buy. Go for any of the major name brand products like Meguiars, and Mothers. Any spray wax from these manufacturers and you will be fine. Simply wax your car according to instructions for an amazing finish. When shopping for wax, don't be intimidated as there will be many, many choices. I have completed a list of what I consider the basic tools and products for amazing paint. Shop by using any of the lins contained in the column to the right.
Simple Green- This is such a versatile cleaner than you can use to get great results, with your car detailing and car maintenance for women efforts. Just mix according to light duty instructions on back of container, and clean away!
It just doesn't come any easier than this.
Especially for "Car Maintenance for Women"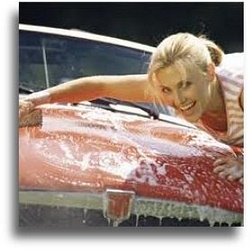 The reality is, than in many ways, this is a mans world. Like it or not, there are just certain areas of life that are dominated by the man and his ego; the car world seems to be one of them.
Having been raised without a father in the house since I was ten, I had to look after my mother and four (4) sisters. This has given me a certain empathy towards women. I have added this additional list of car maintenance for women tips that should be especially helpful for my women readers.
While make-up enhances your beauty, it is best left to your face and body. Wash your hands after applying make-up to avoid contact with your cars interior. I have seen lotions and make-up permanently damage cars interiors when it is allowed to build up and remain for long periods of time.
Also remember that excessive body lotions will leach out onto interior materials with contact of your bare hands, arms, and legs. If this is an issue for you, you will need to clean interior more frequently.
Beware of high heels. I have seen floor mats with a hole worn right through from the heel of pointed high heels. If you can, remove heels before driving; it is probably safer anyways.
Dark colored jeans and clothing can also cause your light colored interior to become permanently dyed. Actually, I have seen even dark gray interiors become permanently dyed by excessively dark blue jeans. It can be removed if done so regularly, but if allowed to remain for months at a time, it will become permanent.
I hope you have come to learn that car maintenance for women can be less intimidating then you might have thought.
"Serving Orange County, California for Over Twenty Years"
Home | About | About This Site | Privacy Policy | Contact
Home Page

>>
Detail Tips
>
Car Maintenance for Women