Carnuba Wax:

Question and Answer with the Expert

Paint surface care is always No. 1 on any car owners list, and carnuba wax, for most, represents the ultimate in paint enhancement and protection; at least if you are someone who calls themselves a purist.
When it comes to car waxes, polishes, or glazes, the subject gets confusing fast as all companies seem to interchange these words at will. Never mind the fact that you have found this page with the misspelled version of carnauba. Not only are we buried in choices as consumers, but the industry further complicates things through much misuse of words and terminology!
Which is Which?
As the saying goes, "Old habits die hard." Car wax has been around almost as long as cars themselves. Carnuba (carnauba) wax has been the staple among car wax since the beginning and is recognized as the leader in car waxes. Whenever I am asked to discuss this subject, it becomes a frustrating process quickly due to so much hype and misrepresentation by the industry of car care producers. So follow along with my question and answer session and become an informed consumer.
Q - I heard that carnuba wax is the best.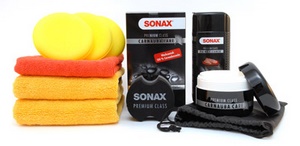 A - Best is an oversimplified question asked within every area of life. The best of anything will be a subjective call for any of us. When it comes to finding the best auto wax, this will always be picking the winning combination between the pros and cons of performance and usability. In order to find an answer, one must define their priorities; eg. visual perfection, durability, ease of use, etc.
Q - I heard that synthetic wax is better than carnauba wax.
A - Once again; an oversimplification. Paste wax in general will provide the best in hiding superficial scratches, adding depth and gloss, while providing marginal durability. When it comes to durability, nothing will last longer than a true synthetic liquid polymer sealant. By choosing a synthetic over a natural carnauba, you will loose performance in visual results. Now days, you can get a blend of synthetic polymers formulated into a paste wax.
Q - I heard that Brazilian No.1 wax is best.
A
- When it comes to formulating, or more specifically, marketing waxes, the industry is full of hype, misrepresentation, and ambiguous terminology; most of which 99% of us have absolutely no ability to confirm. I don't really care if it has Brazilian carnuba wax, beehive wax, ear wax, No. 1 or 2 wax, yellow wax or white wax! All I care is that the stuff works, looks good when I am done, and isn't overly difficult to use; oh yeah, and doesn't cost a fortune!
Q - I heard that Brazilian yellow wax is the best.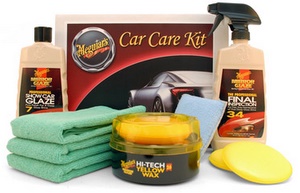 A - I could copy and paste the paragraph from above on this one. Whether it is yellow wax, white wax, or whatever carnuba wax, we have no way of knowing. All we can do is verify as to whether it produces the results we want. With marketing today, it seems about 90% is hype and 10% fact.
Q - I only use the most expensive wax as this is the best.
A - If you want to spend a weeks worth of pay on a tiny tub of wax, that is your business. As a general rule, I do believe you get what you pay for. The problem is that the industry abuses this to the extreme. When you can pay over $1500.00 for a tub of specialized carnuba wax, I think this is a little crazy! Especially when you take into consideration that the end results never rise accordingly to the price charged for some of these over priced carnauba waxes. But, human nature dictates that the higher the price of an item, the better it must be.
Darren, Can You Break it Down for Us?
I am glad you asked! Follow along as I break it down into specific areas with my professional recommendtions, and unlike the car care manufacturers themselves, I am not going to overwhelm you with hundreds of choices.
Carnuba Paste Wax (carnauba)
As a general rule, any paste wax is going to offer the best in depth creation, glossing, and blemish hiding abilities. Most paste waxes are blended using carnuba wax as the main ingredient as we have been lead to believe by the industry as this is the strongest natural wax with the highest melting point; all of which is supposed to be good for use in car wax products. As I stated before; I am not a chemist and like most of us, we have to take the word of the industry. All I really care is the results a product is able to produce or not. The following are my (3) choices for anyone looking to simplify the moment and get a quality wax. All three will perform and deliver exceptional results. I have laid them out numbered by my personal favorites:
Meguiars Ultimate Paste Wax
Meguiars Mirror Glaze #26 Hi-Tech Paste Car Wax
Mothers California Gold Pure Carnauba Paste Wax 12 oz.
Darren's Favorite Wax/Sealant Combo's
I prefer to lay a foundation of either a quality carnuba wax, or synthetic sealant as the base coat. I then like to use a liquid spray detailer that is ideally suited for the particular choice in wax or sealers. The following are my favorites:
Best Car Sealant Combo
Meguiars #21 Synthetic Sealant 2.0
Meguiars Mirror Glaze #135 Synthetic Spray Detailer
Ideal for anyone looking to wax as little as often as synthetics offer the best in durability of protection.
Ideal for use on large items such as boats, RV's, and airplanes.
The only trade-off is less performance in end visual results to that of a paste carnuba wax.
Use liquid as base coat as often as you have nergy and time for.
Use spray detailer to extend longevity of base coat.
Use spray detailer for that just wax look.
Spray detailer makes a great travel partner for those boat and RV trips for a quick refresher!
Best Car Wax Combo
If you are working on any dark colored car, I would definitely recommend the following combo as you can't beat the visual performance of a paste! The added good news is that my choice form Meguair's also happens to be a hybrid blend made using polymers formulated into a paste product.
Meguiars Ultimate Paste Wax
Meguiars Ultimate Quik Wax
Ideal for any dark colored cars.
Apply the paste wax as a foundation.
Use the spray wax after any car washing to restore that just wax look in minutes of time.
Use spray wax to extend the life of the base wax coat.
Darren's Premium Carnuba Wax Combo
There are those of us out there who demand nothing but the best. Without entering the area of absurdity with the $1500.00 carnuba wax, there is still a place like every other area of life where premium experience can only be had with premium products:
Pinnacle Souveran Paste Wax
Pinnacle Crystal Mist Detail Spray
Premium product, for premium experience!
Once you experience premium, it is hard to go back!
For those with discriminating tastes for quality and performance.
Darren's Carnuba Wax Summary
Any of these products on this page are going to perform excellent results; only you can decide as to which is the best fit for you based on my professional recommendations from above. I have made the selection process easy by narrowing down your choices to these quality products, as well as including my secure links so you can get your own products. So quite being a fence sitter; get your products and start making your neighbors envious!
Thank you for visiting "carnuba Wax"!
"Serving Orange County, California for Over Twenty Years"
Home | About | About This Site | Privacy Policy | Contact
Back to How to Detail Your Car from Carnuba Wax
Back to Expert Mobile Car Detailing Home