Fiberglass Wax

See what the Expert has to teach you!
The truth is, the best fiberglass wax is not really a wax product at all. The advances in technology has made all our lives better, and when it comes to the protection of your boat or RV, we can also benefit from advances in technology; if you know where to look and what to look for!
As a professional with over 20+ years of first hand experience, I know what works and what doesn't. We will learn how the age of advanced chemical engineering in the form of polymer technology, can greatly benefit you and the boat ownership experience.
To Wax or Not to Wax?
Many myths exist when it comes to wax products. Fueled by an industry looking to sell the ignorant consumer base more and more products, we are constantly being mislead and confused through marketing and advertising.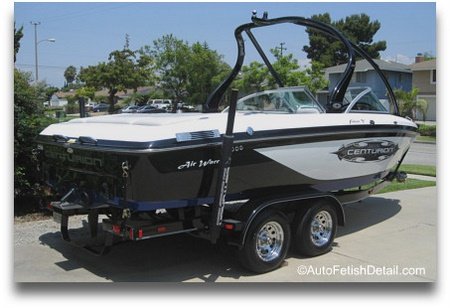 Even as a professional with years of experience, I find myself having to "read through" the advertising and marketing to see what I am really getting, or to verify that I am getting what I think I am getting.
What is the difference between wax and synthetic sealers?


Which one is best?


Do I really need to wax my boat or RV anyways?


What if my boat or RV has some oxidation?


Fiberglass Wax Question and Answers
Q. - Darren, do we really need to wax our boats and RV's?
A. Yes. At least if you want to maintain the beauty and value of these toys. Just like car paint, the elements of weather will degrade and "weather" your toys. Every material will degrade as a result of the aging and weathering process. Each material needs protection, and choosing the correct or most appropriate form of protection will be required. Choosing the right fiberglass wax and applying on a consistent basis is priority one when it comes to fiberglass and gel coats.
Q. - I have always heard that natural carnauba products are best.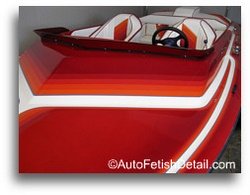 A. First off, the "best" of anything will always depend on the exact benefits you are looking for. When it comes to choosing the best in a fiberglass wax, usually people are referring to durability or longevity of protection. Boats and RV's take up substantial real estate, so care and maintenance comes at a significant cost of time and labor. Naturally people are going to look for something that will allow them to wax less often, rather than more often; and size is just the starting point even before we get into the weather elements these "toys" of ours must endure. While natural carnauba based products have the reputation of visual enhancement and beauty, RV and boat owners generally require protection as their first priority.
Q. - What is the difference between natural and synthetic products?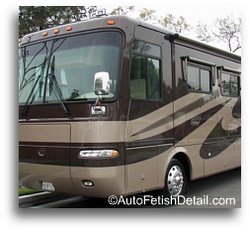 A. Natural products will be blended using natural ingredients such as beeswax, carnauba wax, etc., and will usually be labeled as a wax product. There really is no limit to the many forms of natural ingredients a manufacturer can use to create a natural, wax based product. Synthetic polymer products will be chemically engineered using only synthetic ingredients, and should be labeled as a sealant. Noticed I said should, as there are still many manufacturers which still continue to label their synthetic products as a wax or polish. This is not only incorrect, but adds to an already confused consumer base. We can add further confusion when we discuss the hybrid blends of both natural and synthetic ingredients. These hybrid blends represent the winning combination of benefits based on the latest advancements in chemical science and engineering. But for now, 100% liquid synthetic polymer sealants are the answer to durability of protection when it comes to fiberglass wax, or more correctly labeled: fiberglass sealant.
Q. - What if my boat or RV already has some level of oxidation to the fiberglass or gel coat?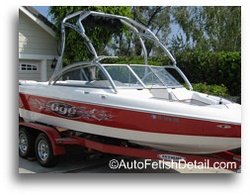 A. You are not alone. Depending on the level of neglect, oxidation is a common problem for many. And depending on this level of oxidation, you have a few options. For mild to moderate cases of fiberglass oxidation, you can use a cleaner wax and combine 2 steps into one; remove oxidation while applying some form of protection at the same time. For moderate to severe cases of gel coat or fiberglass oxidation, removing the oxidation before applying protection will be required. Below I lay out my specific recommendations based on professional experience.
Just Show Us What Works Darren!
Let's go through the different situations of boat and RV care when it comes to choosing the best fiberglass wax or fiberglass sealant, as well as dealing with the different levels of oxidation.
---
Fiberglass Wax
As we have learned, a fiberglass sealant is what you want to look for here; 100% synthetic polymer sealant. The following choices will provide the ultimate in protection and durability over a traditional fiberglass wax:
Gel Coat Labs All Marine Surface Sealant 16 oz.
Meguiars #21 Synthetic Sealant 2.0
Darren's Tips
Most boats and RV's will have some level of oxidation to them. Unless they are literally brand new, my experience has shown that even when a first time customer insists on how how well kept their boat or RV is, there is always gong to be some form of oxidation. For this reason, I only recommend one of the above sealants for brand new boats, or RV's that are fully painted. (If you have to ask, you probably don't have a fully painted RV) If you are not one of these as I have just laid out, then keep reading on!
---
Fiberglass Cleaner Wax
If you are dealing with mild to moderate levels of fiberglass or gel coat oxidation, then a cleaner wax is effective if you are looking to simplify your world from 2 steps into 1 step.
Gel Coat Labs One-Step Micro-Polish and Sealant 16 oz.
Meguiars Mirror Glaze #50 Marine/RV Cleaner Wax
Darren's Tips
When using any of the products above, I recommend applying with a damp terry cloth towel using heavy handed pressure, as you will literally be doing hand polishing. Back and forth or circular strokes is acceptable. Remove using a dry micro-fiber towel.
---
Fiberglass Polishing
If you are committed to getting the best results as possible and are willing to put in additional time and effort, then the following products are what I recommend professionally if you are doing everything by hand:
Meguiars Marine/RV #91 Power Cut Compound 32 oz.
Darren's Tips
Use this heavy duty compound on your boat or RV to remove any level of oxidation and to bring back shine and gloss prior to application of wax or synthetic sealant. I prefer using a damp terry cloth rag with heavy handed application using back and forth, or circular strokes. For heavier cases of oxidation, I spray the panel or area I am working on with water from the garden hose or spray bottle to help keep the product liquid and to create more of a paste that will not dry quickly. Heavy oxidation will soak up polish quickly so the additional water allows more polishing time per section and helps product "flow" during use. Remove with a micro-fiber towel when product has dried to a haze and follow with one of the fiberglass wax or sealants from above for a truly superior end result.
---
Fiberglass Machine Polishing
If you are looking to take your boat or RV to the highest level then machine polishing will be the next step. The good news is that due to the thickness and durability of fiberglass/gel-coats, you don't need to be an expert to get behind a high speed polisher and actually make as a perfect starting point for any first timer willing to take on the time and effort.
Gel Coat Labs DeWalt DWP849 Total Polishing Kit
While I do not personally use the line from Gel Coat Labs, I have gotten positive feed back from their products. With that said, I have used the DeWalt polisher for many many years on a professional level, and know that it comes with all the features myself and other professionals require in the form of a high speed buffer. This kit is an excellent choice as it contains everything necessary for removing fiberglass oxidation whether you are working on RV or boat, gel coat, fiberglass, or paint.
Darren's Personal Recommendation
If you are looking to have the right tools for the job when it comes to polishing gel coats or fiberglass, you can't go wrong with my personal choices below:
Makita 9227C Rotary Polisher
The exact polisher I have used professionally for many years; not the only one, but one of the few I use professionally.
Equipped with all the features any professional requires.
Kit includes wool polishing pads necessary for polishing gel coats and fiberglass. Can also be used to apply many choices in fiberglass wax or sealants.
Lake Country Wool Pad Spur
Use spur to keep wool fibers separated for optimum polishing.
Use after each application of polish.
Extends the polishing life of each wool pad.
Meguiars Swirl-Free Kit for Machine Application
The exact polishes I use professionally whether I am polishing on car paint, gel coats, or fiberglass.
The most user friendly polishes I have ever used.
Use in conjunction with the Makitia polishing kit.
Kit comes with foam polishing pads that are ideally suited for use with a high speed buffer and car paint.
If polishing on gel coats or fiberglass, use wool polishing pads along with these Meguiar's polishes.
Between these 2 kits, you will have the necessary tools and products to perform any polishing job, as well as applying fiberglass wax or sealant by machine if you choose; just use one of the foam pads for application of fiberglass wax or sealant.
Darren's Tips
There are many bad opinions and bad recommendations. What I can tell you is that mine come from first hand, professional experience; use at your own risk. Many misinformed people will tell you what the "best" fiberglass wax is, or that fiberglass and gel coats are much more sensitive than car paint. Despite what you may have been told by the inexperienced, gel coats and fiberglass are much more durable than car paint; this both represents the good news and the bad news.
The Bad News:
Because gel coat and fiberglass is such a durable and tough material, when it comes to polishing and removing oxidation, it requires more product and more work. The heat and friction required to remove advanced layers of oxidation are only possible through the use of a high speed polisher and wool pads.
The Good News:
The good news of this is that polishing on these tough and durable materials of fiberglass and gel coats means they are also much more forgiving when it comes to the possibility of damage during use of the high speed polisher. So if you are a beginner, and have been sitting on the fence as to whether or not you want learn how to use a high speed polisher, it would be next to impossible to do any form of actual damage. The great thing about the particular polishers above, are the ability to dial them down so the speed is minimal. With the combination of the 2 kits above, you also get the options of selecting either foam pads or wool pads. So the less experience you have, which might be no experience, you can start slow, and work your way up to greater and greater results by selecting the perfect combination of polishes, polish pads, and speed settings based on your skill set. You can also further your results by using the polisher and foam pad to apply your choice in fiberglass wax or sealant. You really have the greatest amount of versatility with the above kits.
Fiberglass Wax Conclusion
Interesting how many topics that appear simple at first, can become rather complex subjects, and our discussion on fiberglass wax is no exception. I hope through our discussion on the perfect choice in slecting a fiberglass wax has left you both informed and empowered to make an informed decision!
"Serving Orange County, California for Over Twenty Years"
Home | About | About This Site | Privacy Policy | Contact
Home Page

>>
RV Detailing
>
Fiberglass Wax