Jeep Wrangler Rubicon Detailing
Welcome to Jeep Wrangler Rubicon Detailing...
Jeeps have universal appeal for many reasons; Wranglers have an even greater appeal, to an even greater diverse group of people from all walks of life. From the cult followers, to extreme off-roaders, to extreme rock climbers, to "yuppie" college girls, very few "vehicles" have this kind following and universal appeal! Follow along as we spotlight this particular Jeep Wrangler Rubicon Detailing shoot.
Thank you in advance,
Darren Priest

Auto Fetish Detail
audi a5 car detailing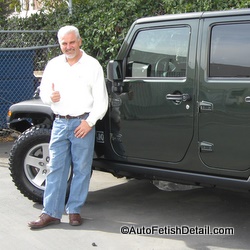 Owner:
Doug P.
Occupation:
COO, Interstate Material Supply, Inc.
Model:
2010 Jeep Rubicon
Location:
Orange, CA
jeep wrangler rubicon detailing
---
Today I had the pleasure of meeting up with my fellow Jeep enthusiast and long time friend, Doug. Having a long time interest in Jeeps, Dougs' interest also includes cars and Harley motorcycles. He recently purchased this Jeep Rubicon that comes with a healthy dose of the "cool" factor in one of my favorite Jeep colors. Doug is no stranger to Jeeps as he has previous Jeeps and has been an enthusiast for some time now.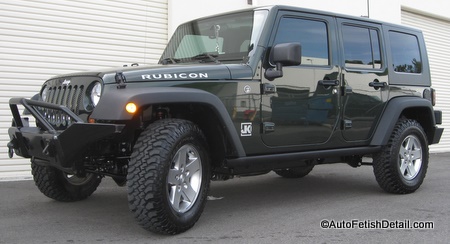 jeep wrangler rubicon detailing
I had been anticipating the new arrival up this updated Jeep for some time, as Doug had been keeping me up to speed during our business meetings . Being a huge fan of the Jeep Wranglers, needless to say I was anxious to advise Doug with some helpful pointers of detailing and maintenance, as well as get some time with it for this photo shoot.
Overview
Anyone close enough to know what I do for a living, also knows I am anxious to impart my professional opinion their way. Jeeps present a unique challenge to the "driveway detailer" and professional detailer alike. Because of the numerous body pieces constructed from textured black plastics, waxing and proper paint care presents a variety of challenges. There are waxes that exist today that can be used directly on any black trim pieces that make the chore of waxing so much easier. I showed Doug a few professional tips based on the following:
Paint protection based on care and maintenance routine of his Jeep.
Paint enhancement based on color.
Paint protection and enhancement working with and around the many plastic body trim pieces.
Products and techniques that produce maximum results with minimal efforts.
Paint Care
This Jeep Green is one of my favorite colors of paint for Jeeps, but also represents a difficult choice in colors due to its dark color. I generally recommend starting your paint care efforts with a base of some form of polymer sealant. Because of modern advances in chemical engineering, we now have many choices as consumers. Application of a spray wax or detailer after each washing will aid to extend the life of the sealant, as well as add visual enhancement each time.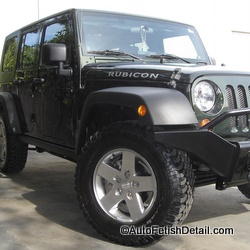 Wheels
Modern day wheels finished in the OE silver finish are easy to clean and maintain. The smooth silver and clear coated finish is resistant to brake dust and harmful chemicals. Simple cleaners used with some form of manual agitation of a soft brush, is all that is required to keep wheels lasting a life time. The application of a trusted spray wax can also be used for enhanced protection and appearance. These particular wheels don't represent too difficult a time when it comes to cleaning and maintaining due to the larger spokes.
The Dirty Side of Jeep Enthusiasm

Jeeps are no strangers to the roads of California. Despite their off-road prowess, most Jeeps locally never make it off road; unless you consider the accidental curb shot off-roading. Doug and his crew are the exception as the above picture dictates. Dougs' Jeep Rubicon can be seen as the first in this line up of dirty Jeeps in one of many California desert excursions.jeep wrangler rubicon detailing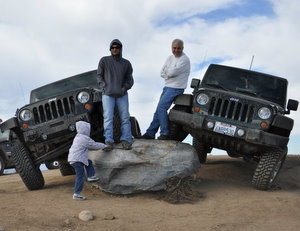 As can be seen in the picture to the left, Doug takes his fun seriously and clearly knows how to have it in his Jeep! Doug is the guy on the right with a smile big enough to last into next week! Perhaps the rest of us need to experience the thrills of Jeep ownership.
Jeep Wrangler Rubicon Detailing Summary
Thanks to Doug for being a good sport and appearing with his cool Jeep. Despite my efforts, pictures lack the ability to create the emotional response one gets imagining driving along the open road in one of these extreme fun machines; whether this be on or off road!.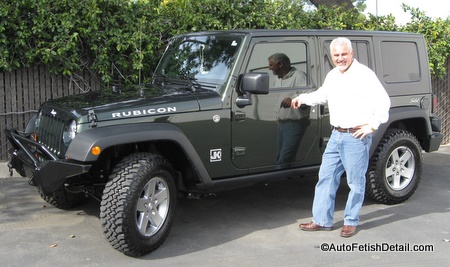 I hope you have enjoyed this tour with Jeep Wrangler Rubicon Detailing as much as I have! Do you own a Jeep yourself? The products to the right are this Experts picks for vehicles like Jeeps enhanced with much in the way of difficult black trim pieces!
"Serving Orange County, California for Over Twenty Years"
Orange County Zip Codes of Service
Aliso Viejo92656, Anaheim92801, Anaheim Hills92807, Atwood92870, Balboa92661, Balboa Island92662, Brea92621, Buena Park92620, Capistrano Beach92624, Corona Del Mar92625, Costa Mesa92626, Coto De Caza92679, Cowan Heights92705, Cypress92630, Dana Point92629, Dove Canyon92679, East Lake Village92886, East Tustin92780, El Modena92869, El Toro92630, Emerald Bay92651, Foothill Ranch92610, Fountain Valley 92708, Fullerton92832, Garden Grove92840,Huntington Beach92646, Irvine92606, Ladera Ranch 92694, Laguna Beach92651, Laguna Hills92653, Laguna Niguel92677, Laguna Woods92637, La Habra90631, Lake Forest92630, La Palma90623, Las Flores92688, Leisure World90740, Lemon Heights92705, Lido Isle92663, Los Alamitos90720, Midway City92655, Mission Viejo92691, Modjeska92676, Monarch Beach92629, Newport Beach92660, Newport Coast92657, North Tustin92705, Northwood92620, Olinda92823, Olive92865, Orange92866, Orange Park Acres92869, Placentia92870, Portola Hills92679, Rancho Santa Margarita92688, Red Hill92705, Rossmoor90720, San Clemente92672, San Joaquin Hills92657, San Juan Capistrano92675, Santa Ana92701, Santa Ana Heights92660, Santiago Hills92869, Seal Beach90740, Silverado92676, South Laguna92651, Stanton90680, Sunset Beach90742, Surfside90743, Talega92673, Three Arch Bay92651, Tonner Canyon92821, Trabuco Canyon92679, Turtle Rock92612, Tustin92780, Tustin Foothills92705, Tustin Legacy92710, Villa Park92861, Wagon Wheel92679, Westminster 92683, Woodbridge92614, Yorba Linda92887, Yorba Linda92886
Home | About | About This Site | Privacy Policy | Contact
Back to Car Detailing Orange County From Jeep Wrangler Rubicon Detailing
Back to Expert Mobile Car Detailing Home