Leather Car Seat Care:
Car leather care made simple!

With leather car upholstery more common than ever,
leather car seat care
is a topic I am frequently asked about. Due to much misrepresentation through advertising and marketing, as consumers we are left bewildered and confused as to what exactly is proper car leather care. Misguided to the point of inaction, many people have simply given up in frustration not knowing where to turn or what to do. Cleaning your leather car seats is actually very simple and straight forward if dealt with from the beginning when your car leather is new. Unfortunately many of us delay proper car leather care from the beginning and are now faced with excessive build-up of dirt.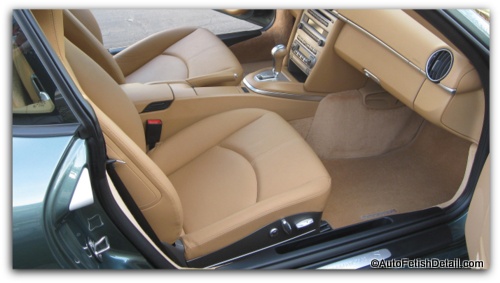 How do I maintain my leather car seats from the beginning?


How do I clean my leather car seats once they have become dirty?


Should I be conditioning my leather car seats?


Basic Car Leather Care and Maintenance
If you are starting out fresh with a new car, or happen to have a car with leather that is in good to excellent condition, your tasks are minimal and basic. Car leather like anything else does require basic requirements of cleaning and care. Depending on the use of your car and the level of perfection your critical eye demands, this may be anything from once a month touch-ups to once a year deep cleaning to remove heavier build-up of dirt. Any of the following car leather kits will be an ideal place to start:
Car Leather Care and Cleaning Kits
Leather Master Strong Leather Care Kit
Leather Master Car Leather Interior Service Kit
Darren's Professional Tips
I am a big fan of buying car care products in various kit forms. Manufacturers bundle multiple products into a single kit that would be much more expensive if bought separately.
The nice thing about these two particular kits above is they both come with a scrub brush that dramatically increases your car leather cleaning abilities. Many people have been lead to the impression that car leather is a very delicate material that can only be cleaned with expensive and exotic car leather cleaners. While a certain level of caution is always appropriate, most people get poor results when cleaning their car leather from using cleaning methods that are simply not aggressive enough; the scrub brushes contained in these kits will remedy that!
Basic Leather Car Seat Care and Cleaning
Follow manufacturers instructions regardless of kit or cleaner you choose.
On excessive levels of dirt and grime, I will always have to clean car leather multiple times for maximum results; sometimes as many as 3-4 times is normal.
Simply spray leather cleaner, scrub with scrubber, and mop up with micro-fiber, repeat as needed.
Break each section into smaller more manageable sections and do one at a time.
Follow car leather cleaning with car leather conditioner contained in kit.
Heavy Duty Leather Car Seat Care
The pictures below show the dramatic results from this Lexus RX where the car leather had never been cleaned before. The picture on the left is when I had started the cleaning process using my recommendations, while the picture on the right is the finished results.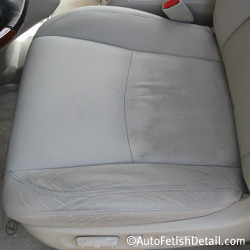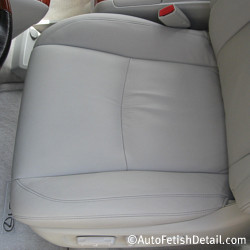 Many of you are probably faced with heavy layers of dirt and grime on your car leather like in the dramatic pictures above. When excessive dirt and grime are allowed to build-up on your car leather, cleaning your leather car seats will prove ineffective with most traditional car leather cleaners. You will need to reach for more aggressive car leather cleaning techniques and products; such is the case with my recommendations from below:
Heavy Duty Car Leather Cleaner
Meguiars D103 All Purpose Cleaner Plus
This All-purpose cleaner from Meguiar's will add a much more aggressive level of leather car seat care needed for tougher jobs of car leather cleaning. Once again, if you are going to get professional grade results, you need to let go the notion that car leather is ultra delicate and fragile. Think of car leather like you would your hands; made up of tiny nuances and intricate texture. Deep cleaning requires more aggressive cleaners and additional scrubbing tools.
Safe Scrub Bug & Tar Pad
Vinyl & Leather Scrub Brush
Darren's Professional Tips
By using the combination of All-purpose cleaner and both the scrub brush and the scrub sponge, you will dramatically increase the level of performance with your leather car seat care and cleaning. I use the scrub brush for the seams and accent piping of the leather car seating, and the scrub sponge for the bigger and flatter areas of cleaning. Mix the All-purpose cleaner to a dilution of 10:1 to begin with and simply increase its strength to match the level of dirt when cleaning your car leather.
Leather Car Seat Care Summary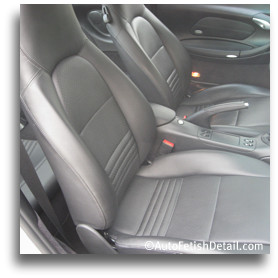 We have been mislead by the industry into thinking our car leather is an overly delicate material that requires special skills and products in order to clean. The car leather of today is much more user friendly and easier to care for and clean due advances in finishing methods and tanning processes. Of course common sense should always lead the way, so always follow manufacturers directions and test any of your car leather cleaning in an inconspicuous area first to verify results.
Heavy Duty Leather Car Seat Care and Cleaning
Start with a mix ratio of 10:1 and increase strength based on level of dirt.
On excessive levels of dirt and grime, I will always have to clean car leather multiple times for maximum results; sometimes as many as 3-4 times is normal.
Simply spray All-purpose cleaner mix, scrub with choice of scrubber, and mop up with micro-fiber or terry cloth, repeat.
Break each section into smaller more manageable sections and do one at a time.
"Serving Orange County, California for Over Twenty Years"
Home | About | About This Site | Privacy Policy | Contact
Back to Cleaning Car Upholstery Tips from Leather Car Seat Care
Back to Expert Mobile Car Detailing Home