Car Emblem Removal
Expert tips for professional results

DIY Car Emblem Removal Tips
Removing car badges and emblems from a car has become popular in recent years. Experience has shown that many people underestimate the various steps involved and the challenges faced with doing a professional grade
car emblem removal
job. I have been called out more than once by over-zealous people whom simply go out and starting taking the emblems from off their car only to become rudely aware of the "can of worms" they just opened! For this reason I have put together these helpful car emblem removal tips so you can get professional results yourself. I have also included specific products contained over in the right column that will also help in getting better results.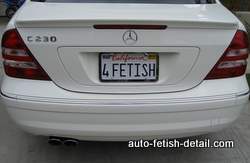 Sets a car apart from the rest.
Makes for a "cleaner" look to your cars appearance; less distracting brightwork.


Makes for easier cleaning and waxing of your car; less bright-work to detail around.


Puts your car in stealth mode; no longer can people tell which model you actual own, eg. S430, S500, S600, etc.
There are some techniques that will help simplify this process for you. I am going to demonstrate how to remove car emblems on a Mercedes C230.
In my professional auto detailing business, I have typically removed certain car emblems from most cars in an attempt to "clean" them up, as well as allow people to go into stealth mode. Especially popular with Mercedes Benz owners, it is a way to go into "stealth" mode by removing the designating insignias regarding the specific model and upgrade; by removing the S420 as an example, people would not be able to tell the difference between the S420 you were driving, and perhaps the more expensive S500.
Steps of Removing Car Emblem
Lift off hard plastic emblem.
Remove underlying double sided tape.
Remove residual adhesive.
Polish area with polish.
Your done!
Car Emblem Removal-step 1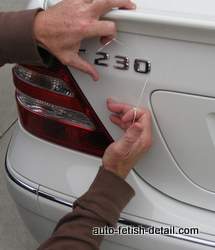 The first step is to remove the hard plastic car emblems themselves. Most people find using dental floss or fishing line effective. I have a very steady hand so I actually speed this step up by using the sharp end of a flat screw driver to catch the edge of the plastic emblem and lift up without touching the paint work. If you want to use this method and lack a steady hand, you can lay some blue painters tape down to protect the paint first.
Take Note: You will need to verify that the emblems you want to remove, are held in place with double sided adhesive tape only; some emblems will contain holes of attachment beneath. Typically any of the manufacturers logos cannot be removed, while all other designating letters and numbers of model name and trim level can be removed. As in the case above, the C230 is O.K. while the Mercedes "bulls-eye" logo in the middle of the trunk deck lid is not. The "bulls-eye" has three holes of attachment going through the sheet metal. If you are ever in doubt, I would advise calling both the dealership service dept. and/or a reputable body shop to verify; they will know.
Car Emblem Removal-step 2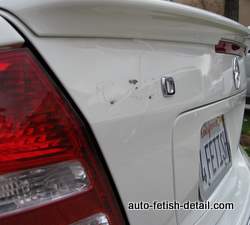 There will always be some form of double sided tape underneath the hard plastic car emblem. This stage of the car emblem removal process will be the most difficult and most damaging. There is no secret or simple way to remove the double sided tape and adhesive layer. I usually pick off, and rub off the spongy double sided tape to reveal underlying adhesive residue. Removing the adhesive residue will require much rubbing with a rag dampened with some form of solvent that will break down the adhesive. The 3M product in the column to the right is very effective. Rubbing alcohol can be used but is much less effective and you can count on doing much more rubbing to remove adhesive residue completely. I also recommend using a micro fiber towel which will keep the scratching to the underlying paint to a minimum, and yes...there will
always
be scratching done to the paint!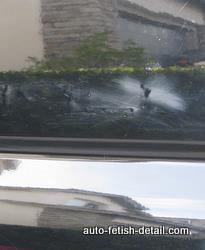 Because I always polish the area with a high speed car buffer to completely remove all forms of scratching, I will use a thick terry cloth rag for adhesive removal as this type of rag has more "bite" too it, and speeds up the adhesive removal process. If you plan on simply polishing the area by hand, then I would stick to using the micro-fiber towel for this step.
Hard to see, but the shot above is the side door from a black Denali. Look "through" the reflection to see the whitish scuff marks from all the rubbing. This is when I removed the "Denali" logo/emblem from the side door.
Car Emblem Removal-step 3
Having accepted the fact that during the car emblem removal process, you are doing some damage to your paint and you will need to polish the area afterward. The lighter the color of car you are working on, the less critical this step will be.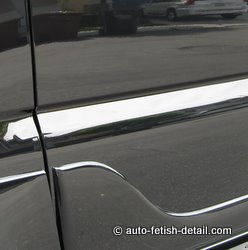 Dark colored paint shows every blemish and flaw; light colors are much more forgiving. I have been called out to fix many car emblem removal jobs done by detailers who lack the skills to do it correctly and completely. Unless you know how to color sand and use a buffer, you will be limited to how "perfect" the finished product will be.
The shot at right is the finished product taken to perfection. Because I was working on black, I needed to perform the color sanding process to remove all traces of damage; the only way to get these kinds of results.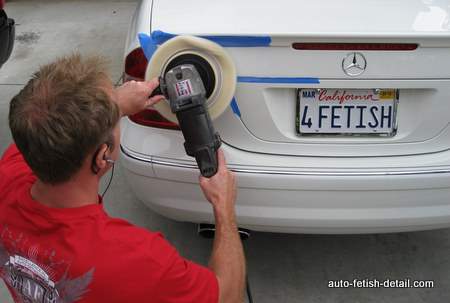 The polisher in the hands of the expert. Notice how the "sensitive" areas have been taped off with blue painters tape for protection from the buffer.
If you do not know how to use a buffer, then simply apply some form of polish by hand. The two polish products in the column at right will get you good results if you are planning on doing the polishing by hand. You will need to use a polish with some form of actual abrasive polish to it; versus a polish with only chemical cleaners/polishes to it. Remember, you have just scuffed your paint with all the rubbing with a rag and adhesive remover. In order to actually remove scratches, you need to do it by putting in finer and finer scratches to the point that the eye cannot decipher scratches any longer; this is how polishing works. If you are detailer who already owns a buffer, then I recommend the Meguiar's polish kit at top of right column under the professional detailers section. Anyone else looking for truly professional results, can buy the Meguiar's Flex polish kit a bottom of third column and have all the equipment and product to really take your detailing efforts to the next level.
Car Emblem Removal-step 4
The final step of this process is to apply some form of protection to the area. I recommend the Meguiar's Ultimate Paste wax in the column at the right. This is the exact product I use on all my high end dark colored cars. So whether you are working on light or dark, this wax will provide optimum results.
Do not let all this talk of scratching and polishing deter you from the car emblem removal process if you are a beginner. Unless you have black paint, polishing by hand will be acceptable; not perfect, but acceptable to most... and in most lighting conditions you will not be able to tell.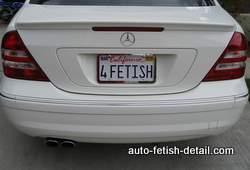 The Finished Product
The "C230" has been successfully removed.
Agree or not; the back end of Mercedes is now "cleaner".
No "C230" to wash, wax, and detail around.
Well now...this car emblem removal page took almost as long to build, as it did for me to actually perform the removing car emblem process itself! I hope this car emblem removal page has offered some help.
Good Luck!
"Serving Orange County, California for Over Twenty Years"
Home | About | About This Site | Privacy Policy | Contact
Back to Car Badges Emblems from Car Emblem Removal
Back to Expert Mobile Car Detailing Home