Auto Detailing Testimonials

Auto Fetish Detail
714/ 624-0804
I am Darren Priest, owner and operator of Auto Fetish Detail and I wanted to personally thank you for taking time to check out our auto detailing testimonials; this is me and my rolling auto detailing van below.
I am here to guide you through the due diligence process in determining if we represent the winning combination of auto detailing services here in Orange County, CA for you and your world.

Auto Detailing in Orange County since 1988

Having served the people of Orange County, CA since 1988, I know that nothing happens without trust. The fact that you are here reading this tells me you are part of a select group of people looking for true value when it comes to car detailing in Orange County. As owner and operator of Auto Fetish Detail, I do my best to establish trust between you as my potential customer and everyone here at Auto Fetish Detail.

The Value of Trust

Some level of trust, no matter how small, is the beginning to any relationship. As a potential customer you will be looking for certain things of "trust" before you turn over your hard earned money in the form of detail services to a detailer you have never met before.
I know if it was my cars, I would have certain requirements for my choice in auto detailing services. I am willing to bet that what you expect as a person, are likely the very things that I would expect if I was in your position looking for detail services:
Professionalism at every level.

Someone that value's my time as a customer.

Works to exceed my expectations.

Consistency in delivering results.

Uses quality products.
The Auto Fetish Difference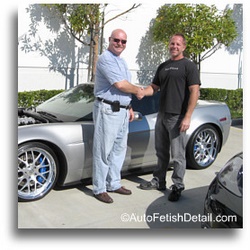 I can tell you that I am not the auto detailer for the masses. I perform all work myself, do not have multiple crews, and I never sub-contract the work out to other detailing companies...
when I say you get personalized service, I really mean this!
Over twenty years of first hand experience

Respecting your time by being on time.

Using quality products that deliver superior results.

Techniques that guarantee consistent results.

Communication skills used to assess and deliver upon your expectations.
Finding the Winning Combination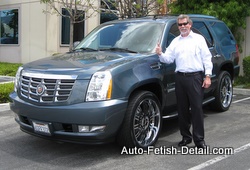 As I have stated, I am not the mobile detailing service for everyone. I have spent twenty-plus years creating a detailing experience that is unique in numerous ways. Most of which is built out of my own personal frustrations being a consumer myself trying to shop value. Just as I am unique in my approach to auto detailing, my customers tend to be unique themselves. I have found that most of my customers are a combination of the following:
Place a high value on their own time.

Place a high value on honesty.

Expect excellent communication skills.

Expect consistent delivery of service and results.

Service in a way that interrupts their lives as little as possible.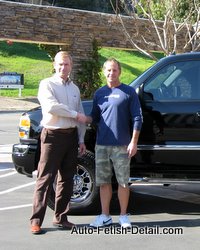 Perhaps a few of these points you have never considered yourself when shopping for car detailing services. It is an easy temptation to simply shop price only to be disappointed later when we have realized we neglected to shop value by identifying and selecting the complete package; I represent the complete package.

I Want What You Want

What I mean by this, is that I really want to give you what you want. Because I know that the more I give you what you want, the more I will get what I want; and that is more of your business.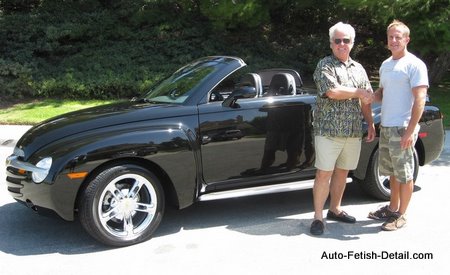 I encourage you to spend some time reviewing my auto detailing testimonials video below, as well as any other areas of my site that interest you, as well as help you become an informed consumer!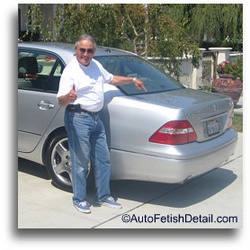 I have included some of my actual auto detailing testimonials below for added levels of trust and verification. So look around with that critical eye of yours and see what you think. Then give me a call and let me perform some of my car detailing expertise for you and your world!
---
More Comments from Happy Customers!

Good Day Darren,
I just wanted to drop you a line and thank you for the peerless services you provided for my wife and I over the last couple weeks.  Maureen's Corvette has never looked better and the Airstream has that first delivery day look again. We both greatly enjoyed meeting your daughter Haley, what a nice, polite, hard working young lady.  You must be a very proud Dad! Your extremely cautious approach to working around the Airstream was greatly appreciated.  I guess it's just me or it is still sort of new, but I  cringe when anyone is messing around it.  Your professionalism made me completely comfortable during the process.  Thank you for that! Lastly, the way you explain everything with the different levels of services available really helps.  It makes the customer very comfortable to be able to make an informed decision and the way you present it makes a person not feel intimated in any way. We hope to keep in touch and preserve everything to your high standards
Gary and Maureen G.
Fountain Valley, CA

"I'm happy you are back in the detailing business because you are awesome! Tried several other local detailers and none of them even come close to your passion and quality of work."
Brad and Cecilia S.
Corona, CA 
"Good job, good service, good follow-up!"
H. Barstow
Anaheim Hills, CA

"I just wanted to let you know that it was a pleasure meeting you on Saturday. You are a true professional and I find it very comforting to know that there are still people out there that take pride in what they do. "
M. Poris
Playa Del Rey, CA

My initial conversation with Darren at Auto Fetish Detail consisted of what his services would provide. Darren did exactly what he described to me and more. Darren detailed parts of the car that never crossed my mind to clean. Darren was promptly at the time, place and date we had agreed upon. Darren's professional service and meticulous efforts made my car look better than the day I took delivery from the dealer. It was a great experience to deal with Darren and his professional service and work ethics.
Ron Marquez
President, Aquarian Drumheads
Anaheim Hills, CA

"Darren-you have and do continue to produce AMAZING results time and time again, over the last 17 years or so that you have been doing our cars we have never once been disappointed in the least bit. Thank you for always being consistent and reliable!"
Chandler E.
Yorba Linda, CA

"Darren- just wanted to let you know how great my Escalade looks each time you service it. Of course I love the convenience of your services, but what I really love is the quality of work! My husband and I have used other detail services in the past, but none of them spent the time you do on our cars. My husband has a critical eye and has remarked on numerous occasions regarding the quality of your work. With two teenagers and a regular carpool schedule, it is amazing how great the Escalade keeps on looking thanks to you!"
M. Goerlitz
Laguna Beach, CA

"Darren-you treat my cars as though they were yours; thank you!"
Tanya B.
Yorba Linda, CA

"Detail day is my favorite day of the month-I just love the way you make my cars look Darren!"
Theresa D.
Newport Coast, CA

I have generally used other mobile detail services in the past and continue to do so for what I call a normal detail job. But I met Darren through Exclusive Motors as we share the same building. My wife uses the Suburban to run our 3 kids around and it gets very dirty in the process. The carpeting and seating was extremely bad and I thought I was going to have to replace both the carpeting and seating. I told Darren the other detailers in the past were not able to get the carpet and leather very clean. I was floored when I saw the results Darren was able to get! I tell people all the time that I have never paid so much for a detail, but that I have never had such an amazing job either! I send Darren to all my customers who simply demand the best, as Darren is the best!
Craig Haller
President, Exclusive SUV
Placentia, CA

"Darren-your service makes this one area of my life stress free; you do what you say and do so consistently!"
Mike B.
Anaheim Hills, CA

"Darren- whether I send you to my
house or business, I know I can trust
you to take care of business-
thank you!"
David K.
San Clemente, CA

"I swear my Ferrari has never look better; you do amazing work!"
Brian S.
Corona Del Mar, CA

"I wish I could afford you
every week; the cars look so good
when you have done them!"
Griffin W.
Placentia, CA

"My house cleaners don't do
as good a job as you Darren-
will you teach them what clean really is."
Maurice O.
Anaheim Hills, CA

"Darren-
My Mustang has never looked better; you did a fabulous job!
My daughter noticed how much time you spent detailing the Mustang today (something she normally would never be aware of) and asked how much it costs, I told her it is expensive and said I use Darren because he is the best detailer I have ever used.
Darren you do exactly what you say you are going to do, and do so every time!
I use you Darren because you conduct business exactly as I do!
Thanks again! "
D. Reilly, President
CSBA
Orange, CA

"Thank you Darren....
you saved me a "bucket" of money by removing and not replacing
those deteriorated side moldings on my 2005 Chevy truck
and my truck looks new again!"
Steve G.
Anaheim, CA

Darren- I just wanted to call and let you know what a terrific job you did on my motorhome. I really appreciate the effort you put into all the many details of the job! It looks better than the day I picked it up brand new!
J.R. Maurer, Vice Chairman
Thompson National Properties, LLC
Irvine, CA

"I asked Darren to detail my boat like it was his own, and he definitely did! Fantastic job Darren, the boat looks great! I would recommend you to anyone! Thanks for the fast and great service."
Yale Smith, President
Maxim Security Systems
Corona, CA

"The Teton looks fabulous. Thanks for being so responsive and for the great job! Looking forward to seeing you when it's detail time on the cars."
D. Dukes
CEO-Simon Foundation for Education and Housing
Newport Beach, CA

Darren - Thanks again for the beautiful detailing... we appreciate your service
V. Minamyer
Irvine, CA

I used Darren to take off a vehicle wrap on a Ford Econoline van of ours. Darren showed up on time and did a great job removing not only the decals but all the residue that was left from the glue. If you need a vehicle wrap taken off, give Darren a call.
Jake Duehring
Marketing/Product Development
Felt Bicycles
Irvine, CA

Wow! My RV didn't look this good the day I picked it up from the dealer...seriously! You do great work Darren.
Mike M.
Buena Park, CA

Debadging my black Dodge Ram 1500 was fast, turned out great, and a reasonable price. I am glad I let a professional do the job rather than trying on my own. Thank you Darren-looks great!
John H.
Irvine, CA

A couple of years ago I bought a new Audi A5 that I really loved and I was interested in keeping it in pristine condition.  I contacted Darren, who I have known as a gym friend and solicited his advice.  Darren came over and gave my car his professional treatment.  I was totally impressed with his knowledge of techniques and products.  His passion for what he does is something you don't find very often, he loves his work and doesn't disappoint.
I. Agrums
Yorba Linda, CA

I have found the Holy Grail, you guys are the Holy Grail! I'm sure you hear this all the time anyway; not to inflate your egos but the info that you  give on your site is without equal. Your logo says it all AUTO FETISH.... I LOVE  IT. Thanks again!
Dean J.

Hi Darren,
I thought you may want to see a couple of pictures of my boat when it was on display at the 2014 Long Beach Fred Hall Fishing & Boating show. I received a lot of complements on the detailing and no one could believe the boat was 7 years old.
Thanks again for a great job. You are definitely a craftsman at your work.
Jon K.
Placentia, CA

Hey Darren,
Thanks a million for being so kind with your scheduling. I'm extremely happy with the job you did on my 5th wheel, I can look at it and smile again. Thanks for everything Darren.
Ken S.
Placentia, CA

Excellent website. I have learned so much reading your pages. I usually don't email but I just had to say I am impressed. Thank you for your hard work!
Tressa W.

I have known Darren for over ten years. I am very particular with all my equipment and personal vehicles, and have been my share of other car detailers looking for the right mix. Darren stands out as someone that can be trusted to perform. He does what he says he is going to do, and does it when he says he is going to do it.
I have always been very satisified with his perofrmance and reliability.I know I can trust him at both my house and place of business with whatever I ask of him.
Kevin Erion, President
Erion Racing
Anaheim, CA

I have had the pleasure of knowing Darren Priest now for over ten years now and vcan honestly say he is one of the best detailers in the business.When I was younger and had more energy I used to wash and detail my own cars because I felt I could do a much better job than the average detail shop.
In addition all my vehicles have been black which makes detailing even more difficult.I was fortunate to have found Darren as he looks after my vehicles as if they were his own.
Darren comes to my residence to detail my wife's car and then to my office to detail my truck. He is very dependable and conscientious about showing up on time and typically calls us the night before to remind us that we are on his schedule.
Darren is a quality person and I have recommended him to my family and friends with complete confidence that he will exceed their expectations.
James Mc Grade, President
Val Mesa Realty
Fullerton, CA

Darren- I have used your services for nearly 17 years as you have always provided quality work and excellent service. I am always happy to recommend yur services to anyone who asks and continue to do so.
Regardless if I am home or not, I can trust you with my home and cars and never need to worry. In short, the workmanship you deliver in a reliable and consistent manner is the type of service I asppreciate. I consider you a friend-
William D. Endresen, President
Impac Commercial Captal Corporation
Irvine, CA

I met Darren Priest over 20 year ago, and for the past decade have been using his professional detail services.(Auto Fetish Detail) I have always appreciatedd the meticulous hard work Darren has put into our cars.He treats them like they were his own and it shows!
I trust that I will always recieve his consistent effort and results every time I schedule a detail.
Darren is also consistent when it comes to reliability. When we have an appoinment schedules, he is there on time, every time. I HIGHLY recommend Darren Priest to anyone who has a car they take pride in driving.
Kim Pugmire, President
Dispatch Transportation, LLC
Fontana, CA

Dear Darren- I wanted to let you know what a fine job you did on my Mercedes! Not only do you provide an excellent service, but also a service that saves me a lot of personal time through your professional detailing.
I will definetly recommned to my friends and business associates.
Sincerely,
Brent Cardwell, President
Great Dane Trailers
Los Angeles, CA

---

Auto Detailing Testimonials:

Auto fetish Detail
I hope that the many testimonials on this page will help you in making an informed decision when it comes to you and your world!
Thank you for giving us a chance!
Sincerely,
Darren Priest