Car Touch Up Paint

The better alternative!
Car touch up paint will become a concern for most people who have any concern for the beauty and value of their cars. Life is a jungle, and stone and rocks chips will be a reality of every car owners world.
Long or short, every road trip will be a new chance for more chips in your cars paint. The good news is that today, you have far more options than before. When it comes to car paint chips and scratches, most people live under the assumption that the standard car touch up paint, with the messy applicator brushes are your only solution. These traditional touch up paint applicators are readily available at the car dealership which sells your make of car, or at auto parts stores based on the color code of your make and model.
Car Touch up Paint:

Brush Tip Applicators
Most people are familiar with this type of touch-up paint applicators. While they offer a quick and easy fix for stone and rock chips in your cars paint, they also come with their share of drawbacks.
You must remember that the goal with these car touch up paint kits is to camouflage the chips and scratches so they are less visible. Nothing short of the body shop is going to make them invisible.

Good for an inexpensive method of diminishing the appearance of chips and deep scratches.

Paint is often temperamental: either too runny, or too thick unless you buy a quality kit like the TouchUpDirect below.
Does require at least a semi-steady hand. If you have the shakes or tremors; this might be problematic for you.

Car Touch up Paint:

Pen Tip Applicators
For most people including myself, these pen tip applicators seemed like the answer to the above problems when these pen tip applicators started making their way into the car paint touch up market. At a casual glance, they seem like the perfect fix; precise control and application of the paint into tiny rock chips in your cars paint. At least it seemed like the perfect fix to inefficiency of the brush tip applicators. But it ends up as a classic case of trading in one set of problems for another!
Hard to get paint to flow from precise tip; constantly a problem.
Suitable for paint chips of the mostly round nature.
Not suitable for any deep scratch of any length.
Short shelf life.
Insults Come in Many Forms
Your cars paint will be required to endure many forms of insults in the form of car paint scratches and chips. Let us examine these unsightly aesthetic insults, before we examine the solution.
Road Rash
This is simply what happens to the front end of your car over time, as the paint gets chipped up from debris hitting your cars paint at high speeds. Over time, the many chips can really detract and diminish the overall beauty of your cars paint. When thinking about trying to fill hundreds of paint chips on your front end, it might seem like a futile task. If you start with all the bigger chips, and work down towards the smaller and smaller chips, you will stand back and be impressed as to the overall look of the front end of your car. But using the traditional brush or pen tip applicators is a time consuming task.
Scratches
Scratches come in so very many shapes, lengths, widths, etc. Whether someone has keyed your car, or your car door has taken a shopping cart to the side, much can be done to cover up and hide life's little mishaps. I have seen some really bad repairs done to long scratches due to the hasty decision carried out by an unsteady hand.
The professional kits below will help remedy that problem.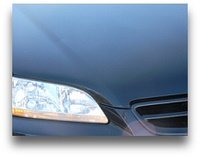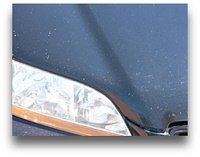 No one would deny the dramatic effect car touch up paint has on the front end of this Honda; what we want is a better solution to the inefficiency of the traditional car touch up paint applicators!
The better alternative....

Dr. Colorchip
Repair paint chips, certain types of scratches, and road rash professionally with Dr. ColorChip Paint Chip Repair Systems. Dr. ColorChip's incredible repair process results in smooth, perfectly matched paint with no paint blobs! High quality automotive paint and a proprietary blending solution fill and hide paint blemishes in two simple steps. This is what I call the better solution!
(By clicking on the link, it will take you to this red touch-up kit. You simply need to search for your own exact make, model, and color type)



Dr. ColorChip Ford Mustang Automobile Paint - Colorado Red/Torch Red D3 - Road Rash Kit
I recommend the Dr. Colorchip for road rash and chips in general.
If you have longer and deeper scratches, I recommend the kit below.
TouchUpDirect


TouchUpDirect Ford Fusion Exact-Match Automotive Touch-Up Paint - J7 Magnetic Metallic - 0.5 oz. Jar - Platinum Package
I recommend this kit for anything from individual chips to long scratches.

For an overall road rash problem on the front facing areas of your car, I recommend Dr. Colorship above.
Now that you know a better fix to the traditional car touch up paint methods, you can go out and raise the bar on the overall beauty and value of your car with the Dr. Colorchip application process. For other forms of car paint scratches and repairs, you can shop from the many repair kits contained in the right column.
"Serving Orange County, California for Over Twenty Years"
Home | About | About This Site | Privacy Policy | Contact
Back to How to Detail Your Car from Car Touch up Paint
Back to Expert Mobile Car Detailing Home