Cleaning Car Upholstery:
How to get professional results

In today's world of car upholstery cleaners, cleaning car upholstery will be a challenging task as most cleaners are formulated to be overly mild and overly safe due to what I call the idiot factor.
Manufacturers can't control which idiot is going to end up behind the trigger of their upholstery cleaner and therefore have to dumb it down to the biggest idiot in the room. I hate to sound so harsh (actually, I enjoy being this harsh and I only said that as as a formality of social etiquette) but this is our reality these days which is why most people after failed attempts with these overly mild car upholstery cleaners go in search of professional grade cleaners.

The Dirt is Only Going to Get Worse!

While there are a select few amongst us considered the diligent, over-achieving and hyper-vigilant, most of us are just a little too busy in life to deal with the duties required to keep our car interiors looking like show-room condition!  Day after day goes by and the dirt builds and builds until one day you get in your car and the glaring fact that your car upholstery is seriously dirty just can't be ignored any longer.
How to Clean Car Upholstery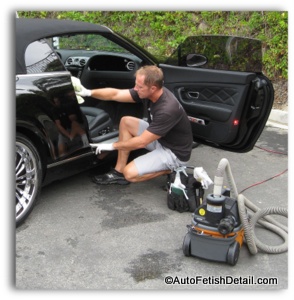 Exactly how does a person go about cleaning car upholstery in a way that is both effective and realistic for the average person. Like many areas of car ownership, sometimes we stand back and look at a problem situation like an overly dirty car interior and are completely clueless as to how to go about cleaning the years of dirt that has accumulated day after day.
Let's break down the process of cleaning your cars interior into simplified and doable steps:
Choosing a quality car upholstery cleaner.
Using the right tools for the job.
A few techniques to make your efforts more effective.
Effective Car Upholstery Cleaners

I will offer a few suggestions when it comes to picking a quality cleaner for your car's upholstery. Use the links to get your own products directly from AutoGeek.net:

Darren's Tips: The 303 brand of products are professional grade products suited for cleaning fabric and upholstery materials of all kinds. These products have been formulated for use in automotive, marine, RV, and the aerospace industries. While the obvious task of cleaning car upholstery is your immediate concern, shortly after people start asking about fabric protectors or fabric guard of some kind. I am also a big fan of treating carpeting and fabric upholstery with some kind of protectant that will not only guard against stains, but make your next car upholstery cleaning chore that much easier! Treating the freshly cleaned areas with a fabric protector really does make a difference and I can always tell very quickly when an interior has been treated as the dirt cleans up so much easier!
Endorsed by Leading Industries- 303 Products not only have a proven track record amongst professionals, but are recommended by top-name leading companies:




All-in One Car Upholstery Cleaner

Wile the 303 auto upholstery cleaning kit from above is an excellent choice, I know there are many out there who would like to keep things even more simple than what I have already suggested. To all of you out there, I am going to recommend a product from Meguiar's that I also use professionally and comes with many uses:

Darren's Tips: Any of my followers already knows I am a big fan of Meguiar's products and continue to be so! This APC (all purpose cleaner) is your ticket to cleaning car upholstery in a professional and simplified manner. The minor trade-off with this product is that it comes in a gallon size only. But the fact that you can custom blend or dilute this cleaner to any strength you need along with the fact that it has so many uses, this hardly represents a true trad-off!
Auto Upholstery Cleaning Tools

If you choose to not go with the 303 upholstery cleaning kit from above, you will need some tools to clean your car upholstery with:
Scrub brush.
Professional sprayer

Cleaning cloths or rags.
Dusting brushes while you are at it.
Mat & Carpet Scrub Brush
36 Ounce Detail Bottle
Don't Forget to Clean Car Vents

Since you will be cleaning car upholstery and no doubt will have dome a fabulous job, we don't want to forget to dust and clean the dash vents in your car; the dash vent brushes below will be the perfect addition to your other car upholstery cleaning tools:
Clean Vent Kit
How to Clean Your Car Upholstery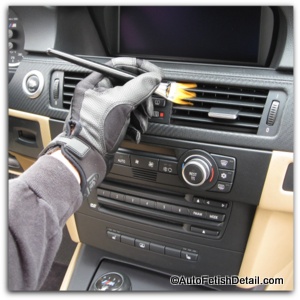 Now that I have laid out some professional grade upholstery cleaners and tools,you should follow these basic steps for maximum results:
Vacuum areas to be cleaned first; this will easily suck up any loose debris and dirt before you get the area wet with upholstery cleaner. You can even scrub the dry area first to break up dirt as you vacuum for even better results when you use the upholstery shampoo.
Spray area to be shampooed with a few light sprays of upholstery cleaner, scrub aggressively with plastic scrub brush, mop up area vigorously with cleaning cloths. Repeat as often as necessary to acheive desire results.
As a rule, people tend to over-saturate the area the first time around thinking that the more upholstery shampoo they use, the quicker and cleaner the area will get; lighter and repeated applications are better than thinking you can get it all in one heavy application.

You must also be realistic when shampooing car upholstery; excessively soiled fabric and carpeting may in fact not come completely clean if you have neglected required cleaning and maintenance long enough.
Auto Upholstery Fabric Guard

Some may consider fabric guard or protectors a waste of time and money. I know from years of professional experience that when car upholstery, cloth, fabric, or any other porous material within your car has been treated with some form of fabric protector, cleaning car upholstery is dramatically easier and you will get much better results. I apply fabric protector every time following my own carpet and fabric cleaning efforts in my own cars as well as my customers cars.
Stoner Fabprotex Fabric & Carpet Protector



Unless you have experienced the difference first hand when cleaning car upholstery of fabric that has been treated, you will have to take my word on this; it really is very effective.
No fabric guard will protect against every spill or stain; for that reason I prohibit any colored drinks, ink pens, or markers from stepping inside my own cars.
Use following the cleaning process each and every time.
Follow product labeling for best results.

Cleaning Auto Upholstery Summary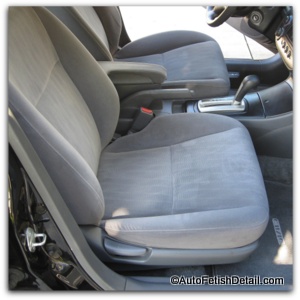 Most of you reading this have likely chosen a car upholstery cleaner off the shelves of your local retailer and have had discouraging results. With that said, let me end this page with some additional bullet points that will help in your understanding and also help be a voice of reason to your cleaning car upholstery efforts:
Both a quality product and technique is going to be the winning combination.
Follow product label instructions regardless of product chosen.
The lighter the interior of your car is, the more difficult ti will be to clean.
Many people do not realize just how dirty their car's interior has gotten and fail to put it into respective. I often see car upholstery fabrics and carpeting so dirty that if it was put into their house, there is no way they would try to clean it, they would simply replace it due to the fact of it being so incredibly dirty and yet because it is in their car, they think they are going to be able to clean it back to near original condition. No car upholstery shampoo in the world is going to be able to clean away years of neglect and/or abuse.
With that said, just as many people are pleasantly surprise at the results they are able to achieve with the right upholstery cleaner, tools, and techniques when cleaning car upholstery.

"Serving Orange County, California for Over Twenty Years"
Home | About | About This Site | Privacy Policy | Contact
Home Page

>>
Car Upholstery Cleaning Tips
>
Cleaning Car Upholstery