Leather Car Seat Covers:
The Pros and Cons of Leather and Sheepskin Seat Covers

Leather car seat covers are becoming more and more popular due to the fact that you now have more choices than ever! From leather accent seat covers, to sheepskin car seat covers.

Many people go in search of leather car seat covers for a variety of reasons:
A great way to change the color of your car upholstery in a fraction of the cost of custom upholstery.
A great way to cover and protect your originally upholstery to retain as much resale value when it comes time to sell your car or truck.
An easy "fix" when your upholstery has become damaged to the point where you mo longer can tolerate it and don't want the expense and hassle of custom upholstery.
Unlike traditional car seat covers, leather car seat covers add a layer of elegance and class to your vehicle.
Sheepskin seat covers offer unique benefits over traditional car seat covers that many people prefer.
Pros and Cons of Car Seat Covers

The Many Benefits of Sheepskin Seat Covers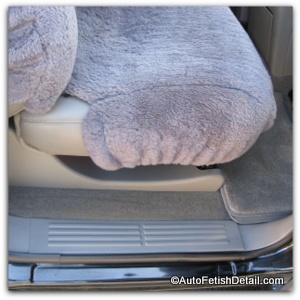 Layer of Protection: Sheepskins offer a layer of protection that creates a level of comfort and opulence to your cars interior that is above and beyond traditional car seat covers. Nothing enhances and adds an additional layer of opulence and protection to leather car seating in the unique way quality sheepskin seat covers do!
The Opulent Factor: Leather car seat covers add a level of opulence whether you are choosing to use them in a car with cloth seating or leather seating. The look of plush, natural sheepskins adorning your car seating adds a level of opulence in a way that only natural sheepskin covers can do.
Insulation: It doesn't take long to realize that while leather trimmed car upholstery adds its own level of opulence, leather car seating is by nature the worst of both worlds; hot and sticky in the summer, cold and uninviting in the winter. A bad combination that can easily be remedied with quality leather car seat covers traditionally in the form of natural sheepskin.
The Drawbacks of Sheepskin Seat Covers
Expensive: There is no mystery here; quality leather car seat covers are not cheap and this is not an area where getting "cheap" is recommended as there are many cheap versions of covers that will be nothing but disappointment.
Difficult to Install: Depending on the brand you choose, installing sheepskin seat covers can be rather time consuming. Read the reviews and make an educated determination based on you and your experience as a do-it-yourselfer.

Difficult to Clean: Most people who install these type of leather car seat covers never clean the sheepskins for multiple reasons: it would require removal to have them cleaned professionally (which once again is a pain in the butt), professional dry cleaning doesn't clean them very well and once a person does it once (if a person ever does) they quickly question the effectiveness of the dry cleaning process and quickly conclude it's not worth the trouble and expense.
Dirt is Collected Underneath: Anyone who has had sheepskins on their car seats for any length of time and has removed them for cleaning or to remove them permanently will come to the rude awakening of how much dirt is trapped beneath the sheepskins over time.

Before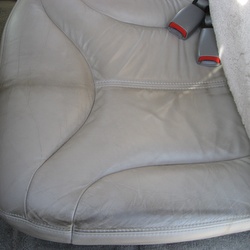 After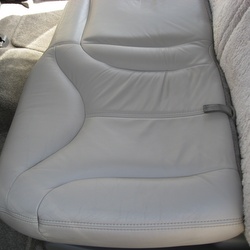 In the side-by-side pictures above, it is worthy to note a few key points when looking at these before and after pictures of leather seating that has had sheepskin seat covers in place for many years:
The dirt build-up in the picture at left is shocking to most people.
Despite this dirt build-up which can be cleaned using proper car leather cleaning techniques, the seating remains in excellent condition since the leather car seat covers have truly protected the leather seating. 
Leather Seat Covers Simplified

The list of pros and cons to using sheepskin seat covers should be taken into consideration before you buy. For most people, they simply purchase quality sheepskin seat covers, install them, and forget about them until the end of time. (well that last statement was over dramatized, but still not too far from reality) Let's examine the list of both sheepskin seat covers and leather car seat covers: 
added expense.
Difficult to clean. (Proper cleaning requires removal and a professional fur dry cleaning process. For most people; simple vacuuming and occasional brushing to fluff nap is all that is ever done aside from moping up any major liquid spills.)
Seat covers trap dirt between seat cover and seat material.
Very comfortable in any weather. (Think fluffy, cozy, quality sheepskin rug for your car seating.)
Sheepskins are especially welcomed in cold weather.
Sheepskins are also nice in summer to help keep you lower half dry against any car leather seating.
An added layer of opulence in your cars interior.
Ideal protection for your original car upholstery.
Quality Leather Sheepskin Seat Covers



Eurow Genuine Australian Sheepskin Sideless Seat Cover - Gray
100% Genuine Australian sheepskin seat cover.
Seat covers have quilted, plush, slip-less backing.
One inch thick wool pelt.
Accomodates safety belts and integrated side impact bags.
I can't speak for you, but over the course of my detailing career I have come to the conclusion that in most cases, using quality sheepskin seat covers offers an overall winning combination of benefits. Make sure to read all the positive reviews from actual owners and see why so many other people recommend these sheepskins.
Quality Leather Car Seat Covers


CAR PASS 11 Pieces Leather Universal Car Seat Covers Set - Black and Beige
Change the color and look of your cars interior with leather seat covers in minutes.
Airbag compatible.
Detachable headrest and arm rest compatible.
Easy install.
"Serving Orange County, CA for Over 25 Years"
Home | About | About This Site | Privacy Policy | Contact
Home Page

>>
Car Upholstery Cleaning Tips
> Leather Car Seat Covers