Leather Car Seat Covers

Many options, many choices
Leather car seat covers are becoming more and more popular due to the fact that you now have more choices than ever! From leather accent seat covers, to sheepskin car seat covers.

Leather car seat covers represent only a small fraction of the choices available when shopping for seat cover for your car.
Even more diverse is the reasons people want to install seat covers in there car. The following is simply a list of reasons that does not cover (pun intended) all reasons you may want to install seat covers in your own vehicle:

A great way to change the color of your car upholstery at a fraction of the cost of custom re-upholstery
A great way to cover and protect your originally upholstery to retain as much resale value when it comes time to sell your vehicle
An easy "fix" when your car upholstery has become damaged to the point where it becomes intolerable, and cleaning your car seat upholstery is simply unrealistic or so overwhelming you want a doable alternative like seat covers

Raise the level of opulence in your vehicle by covering them with real leather car seat covers, synthetic leather, or real leather sheepskin seat covers

Protection against pets and/or children (any pet owner or parent knows how rough pets and children can be on car upholstery)
Protection against sweat/body oils: fitness zealots know what it is like to get into their car after a long and sweaty work-out
Disposable protection: many seat covers are so cheap and easy to install, many people simply use these like disposable forms of protection
Change the look of your vehicles interior: car seat covers can be had in endless colors, fabrics, and patterns
Sheepskin Leather Car Seat Covers:

The pros and cons
I will start with sheepskin seat covers as these are indeed true leather, but "finished" differently than what most people would consider traditional car leather.
But regardless, sheepskins offer benefits that cannot be realize with the more traditional forms of leather car seat covers and remain fairly popular today (not as popular as the 80"s, but still relevant today)

While there are car seat covers so inexpensive that many people treat them like disposable covers, sheepskin leather seat covers are not that.
The cost of quality sheepskins seat covers for your car make that pretty clear when compared to the endless choices in much cheaper versions.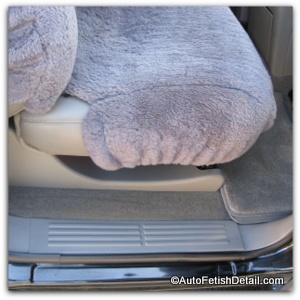 PROS:

Protective Barrier: Any seat cover is going to offer some form of protection to your original car seating material. Sheepskin leather seat covers are just going to do it in a much more comfortable and fabulous way.

The Opulent Factor: Sheepskin leather car seat covers add a level of opulence whether you are choosing to use them in a car with cloth seating or leather seating matters not.
Sheepskin seat covers are totally unique from other types of cloth or leather seat covers. The look of plush, natural sheepskins adorning your car seating adds a level of opulence in a way that only natural sheepskin covers can do.
Insulation: It doesn't take long to realize that while leather car upholstery adds its own level of opulence! But despite the luxury factor, it proves to be the worst of both worlds when it comes to the day to day living with leather car upholstery; hot and sticky in the summer, cold and uninviting in the winter.
But this bad combination can easily be remedied with quality leather car seat covers traditionally in the form of natural sheepskin.
CONS:
Expensive: There is no mystery here; quality leather car seat covers are not cheap and this is not an area where getting "cheap" is recommended as there are many cheap versions of covers that will be nothing but disappointment.
Difficult to Install: Depending on the brand you choose, installing sheepskin seat covers can be rather time consuming. Read the reviews and make an educated determination based on you and your experience as a do-it-yourselfer.

Difficult to Clean: Most people who install these type of leather car seat covers never clean the sheepskins for multiple reasons: it would require removal to have them cleaned professionally (which once again is a pain in the butt), professional dry cleaning doesn't clean them very well and once a person does it once (if a person ever does) they quickly question the effectiveness of the dry cleaning process and quickly conclude it's not worth the trouble and expense. (not to mention the residual smell associated with a dry cleaning service that is equipped to actually clean sheepskin)

Dirt Collects Underneath: Anyone who has had sheepskins on their car seats for any length of time and has removed them for cleaning or to remove them permanently will come to the rude awakening of how much dirt is trapped beneath the sheepskins over time.

Before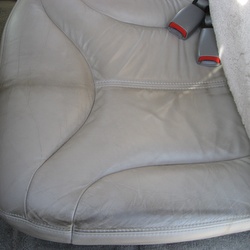 After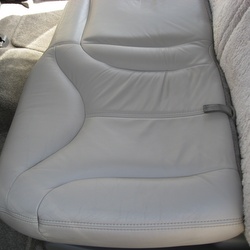 In the side-by-side pictures above, it is worthy to note a few key points when looking at these before and after pictures of leather seating that has had sheepskin seat covers in place for many years:
The dirt build-up in the picture at left is shocking to most people.
Despite this dirt build-up which can be cleaned using proper car leather cleaning techniques, the seating remains in excellent condition since the leather car seat covers have truly protected the leather seating.

Leather Car Seat Covers:

Define your true priority
If you are like me, you may not have realized how many types of car seat covers there are to choose from.
If you have your mind set on leather car seat covers than you have less to consider. But at this point you might possibly be freethinking your strategy.
Here are some things to consider:
Is having leather a true requirement?
When you say leather, do you mean traditional looking leather or sheepskin leather?
Have you considered how you would be maintaining the seat covers and the ability to clean them?
Are you trying to cover old car upholstery due to age and condition, or do you simply want leather in your car in the form of leather car seat covers?
The goal is to not switch you away from your original plan, but simply to get you to consider things you may not have considered before when shopping for new car seat covers.
Car Seat Protectors
There are so many choices when it comes to seat covers in general. From many types of materials, many color options, and textures of the materials used.
And most seat covers are made using a combination of materials anyways. The seating surfaces are typically the main material choice, while the sides and back are usually made with materials that aid in keeping the seat covers in place.



VIEWPETS Bench Car Seat Cover Protector - Waterproof, Heavy-Duty and Nonslip Pet Car Seat Cover for Dogs with Universal Size Fits for Cars, Trucks & SUVs(Black)
Simple, basic solution to protect your rear bench seats from pets, children, everyday use
Excellent Amazon reviews
Variety of colors
As simple and easy as it gets
Car Seat Covers


Gorla Premium Universal Fit Waterproof Car Seat Cover
Car seat covers, protectors, you can call them what you want
made to cover individual seats rather than the bench set cover from above
Ideal for temporary or situational use (think of after-gym time, swimming at the pool, or coming home from the beach)
Very basic, very effective, very simple
Excellent Amazon reviews
Leather Seat Covers Simplified

The list of pros and cons to using sheepskin seat covers should be taken into consideration before you buy. For most people, they simply purchase quality sheepskin seat covers, install them, and forget about them until the end of time. (well that last statement was over dramatized, but still not too far from reality) Let's examine the list of both sheepskin seat covers and leather car seat covers: 
Added expense.
Difficult to clean. (Proper cleaning requires removal and a professional fur dry cleaning process. For most people; simple vacuuming and occasional brushing to fluff nap is all that is ever done aside from moping up any major liquid spills.)
Seat covers trap dirt between seat cover and seat material.
Very comfortable in any weather. (Think fluffy, cozy, quality sheepskin rug for your car seating.)
Sheepskins are especially welcomed in cold weather.
Sheepskins are also nice in summer to help keep you lower half dry against any car leather seating.
An added layer of opulence in your cars interior.
Ideal protection for your original car upholstery.
Quality Leather Sheepskin Seat Covers



Sisha Winter Warm Authentic Australia Sheepskin Car Seat Cover Luxury Long Wool Front Seat Cover Fits Most Car, Truck, SUV, or Van (Grey Tips)
100% sheepskin
Plush, soft, comfortable
Remember these are ordered as a single seat


Eurow Genuine Australian Sheepskin Sideless Seat Cover - Gray
100% Genuine Australian sheepskin seat cover.
Seat covers have quilted, plush, slip-less backing.
One inch thick wool pelt.
Accommodates safety belts and integrated side impact bags.
I can't speak for you, but over the course of my detailing career I have come to the conclusion that in most cases, using quality sheepskin seat covers offers an overall winning combination of benefits. Make sure to read all the positive reviews from actual owners and see why so many other people recommend these sheepskins.
Leather Car Seat Covers:

Combo leather and other materials


OASIS AUTO OS-001 Leather Universal Car Seat Covers Automotive Vehicle Cushion/Cover for Sedan Cars, SUV and Small Pick-Up Truck Compatible with Toyota-Nissan-Honda-Jeep-Subaru (Brown, Full Set)
Change the color and look of your cars interior with leather seat covers in minutes.
Airbag compatible.
Detachable headrest and arm rest compatible.
Easy install.
Darren's Note: as you can see, not all leather car seat covers are created equally and perhaps I have even complicated the choice for you. People have different ideas when it comes to the types of seat covers when shopping for leather.
For some this means sheepskins, for others, it means more traditional type of leather.
Leather Car Seat Covers Summary
At this point I hope you have a bit more information in which to make a decision.
It is this thing called due diligence so you are in a position to make a more informed decision that will invite more of what you are after into your life.
I hope I have helped!
Sincerely,
Darren Priest
---