Professional Debadging Car Services
of Orange County

714/ 624-0804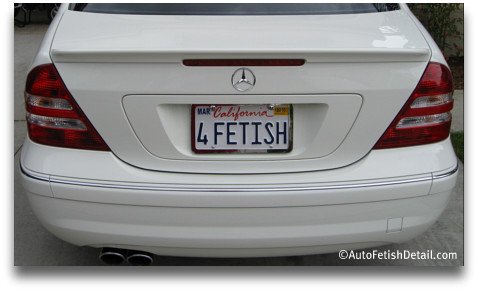 Above

Mercedes C230 with the car emblems removed for that "cleaner" look by removing extra embellishments put on by the car manufacturer.
What you need to know:
Q. I have heard of removing car emblems or car debadging, but what is it and why would someone want to do this?
A. It is the removal of emblems or badges put onto your car from the factory that may include the model, name of model, upgraded versions, etc. People either remove to create a more "clean" appearance to their car by removing extraneous embellishments, or to take their car into stealth mode so the upgrade model they are driving is not revealed. Or to disguise the fact that their model is the lower grade model.

Q. Is it something I can do myself?
A. Absolutely....with the right tools and products.
Q.How would I determine if I should hire a professional like you Darren, or attempt it myself?
A. Great question! Let me see if I can help by going down this checklist below:
Removing the Car Emblems Yourself:
---
Pros

Save money by doing it yourself.
Do it at your home according to your schedule.
Sense of accomplishment

Cons

Costs money for professional services like myself to your location.
You may end up causing damage that will either cost you more money to fix, or cannot be fixed at all.
You will spend roughly half the cost in tools, products, chemicals doing it yourself, (plus your time which I hope you place a value on your time) that you would to hire a professional like myself in the first place.
Debadging Car Professionally
---
Pros
Professional results are not DIY results.
Save you time and aggravation before you attempt and fail yourself.
No liability to you.
Convenient mobile service to your location, scheduled around your world.
No need to spend half your day on YouTube watching one endless video after another; all with different opinions on how to remove the car emblems yourself.
No expense or hassle tracking down and buying the tools and products to perform the job correctly.

Cons
Costs money.
No sense of accomplishment on your part.

---


Pricing:
Emblem Removal, Debadging, Replacement
Removal Only

When I say "only", this refers to pricing for me to come to your location and perform this service with no other detail services included. I will also add that when it comes to the removal of car emblems from the back deck lids of cars, the logo for the car manufacturer is not removable; only the insignias on either side of the middle logo, eg. S550, Bluetech, 4MATIC, 750li, 550i, etc. For example, the Mercedes 3-point emblem, or the BMW blue/white emblem, etc. are not removable. In every case I have tested, the manufacturer uses fasteners that go through the sheet metal of the rear deck lid to attach these logos to the car.
1 emblem set
$100.00-$125.00 (based on year of car and color of car; the older and darker the car is, the more it will cost.)

2 emblem sets
$150.00-$175.00 (based on year of car and color of car; the older and darker the car is, the more it will cost.)
3 emblem sets
$175.00-$200.00 (based on year of car and color of car; the older and darker the car is, the more it will cost.) 
*If you want any new emblems replaced you will need to purchase these in advance and pricing will be subject to over-the-phone quote. Believe it or not, the positioning of new emblems for replacement are as difficult as the removal process itself.
Removal as a Detail Add-On

If you want to add detail services to your car emblem removal job you can save yourself some money by combining the two. Just ask me over the phone and I can work together a price reduction to perform both services in the same trip.
Before and After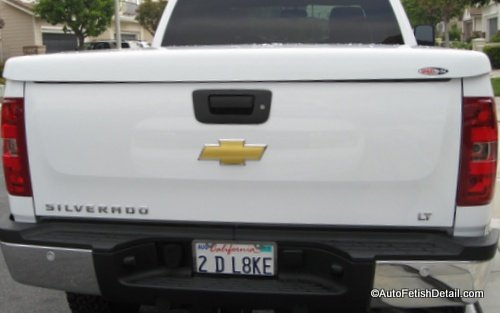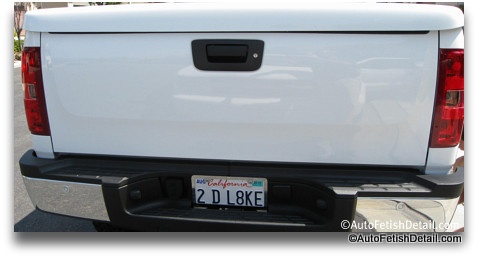 Car Emblem Removal: Chevy Silverado

Notice how the back end of this Chevy Silverado truck has a new. clean appearance after the car emblems and badges have been removed.
---
Darren's Additional Tips:

Helping you make an informed decision
Having done hundreds of these debaging car jobs over the course of my professional career, there are still a few questions you might want to consider.
Q. Darren, I was thinking of having the dealer perform this for me. After all, the dealer is used to working on cars like mine.
A. This seems like a logical conclusion, but unfortunately I have seen some of the worst mistakes performed by the very name brand dealerships so many people put blind trust in. After all, the dealer must know what they are doing or how else could they have such nice, fancy dealerships. And surely the manufacturer would never allow a dealership to perform less than acceptable work.Yeah I get it...that all makes sense.
But speaking from first hand experience, I have seen dealerships screw up some of the most basic of fixes; which removing the car emblems from off your car is not one of them.
Q. Why should I trust Auto Fetish do remove and/or replace the emblems from my car?
A. Like I said at the beginning, I have performed this service to countless cars, trucks, SUV's for decades. While videos give the appearance that this process is both easy and straight forward, there are many variables that must be taken into consideration that are unique to each and every job based on these many factors:
What model is the car?
How long have the car emblems been in place?
What color is the car?
Has it been repainted and new emblems been placed over the new paint?
Etc., etc.
Answers to questions like these can make the difference between marginal results and truly professional results.

---
Car Emblem Removal Videos

---
If you are among a minority of people that like to become informed consumers, then click on the link to take you to the fine print of my car detailing prices.
If you really like to cut to the chase then just call!
I promise to answer any of your questions in a candid and honest manner and help you decide the best decision for you and your world. I promise I am both friendly, polite, and informed myself!

"Serving Orange County, California for Over Twenty Years"
Home | About | About This Site | Privacy Policy | Contact
Home

>
Car Emblems Badges
>>
Debadging Car