Professional Removal:

Car Badges, Emblems, Decals
714/ 624-0804
Looking to have car badges, emblems or decals removed from your car, truck, or commercial equipment?
Message from Darren: Due to the volume of calls I get every day I am adding this message for your convenience. Virtually every debadging/emblem removal job is unique. There is no standard, textbook cost as many factors will effect pricing. For this reason the most immediate way to get a quote or schedule an appointment is to simply text me rather than call me:
714/ 624-0804
I have to screen all my calls or this hard working guy would never get an actual work done.
Please text the following info at a minimum:
What service you are needing done: removal of badges only, or removal plus installation of new badges/emblems?

What is make and model of your vehicle?
What color of paint is your vehicle?
What is the year of your vehicle? (the older the vehicle the more work involved)

If you are the detailed oriented type of individual, I will also be asking you the following:
How many badges total need removal?
How many badges/emblems you want replaced if you need this done?
Do you have replacement emblems already? ( I always recommend original equipment emblems purchased from dealer as a rule [these always fit best], but have seen a few after market versions that are of quality)
These are added notes that you should find useful:
Most jobs (removal of badges/emblems only) average between 20-50 minutes based on how many badges/emblems total.

People come to me (I make exceptions based on a case by case situation) and I am in the city of Anaheim Hills.
You are welcome to watch, or you can relax in my place and use my wi-fi if you prefer.
I am on a cash only basis.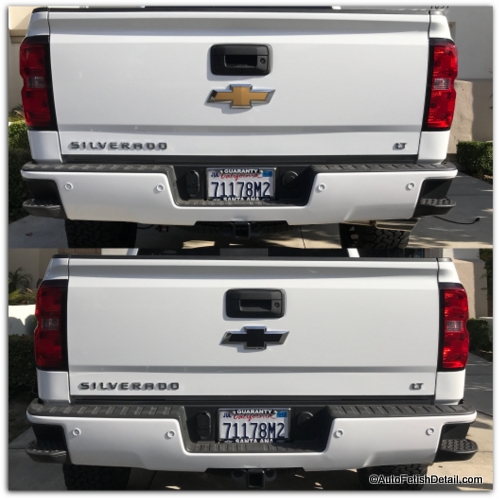 Auto Fetish has been debadging cars and trucks since 1988 when we first started servicing Orange County as one of the premier auto detailing services. I have performed literally countless car emblem/ debadging jobs over the past 2 decades. I could fill this page with picture after picture, but please see following pictures and links as additional reference.
Removing the truck badges from the back of this GMC Canyon for a cleaner more customized appearance.
Whether you are simply looking to clean up and personalize your car or truck by having the car badges and emblems removed, or replacing the stock emblems and badges with updated versions, we are your first stop as Orange County's leading service with over 25 years of professional experience.
Our attention to detail is not limited to profesional detailing services, but extends to any of the debadging and emblem removal jobs we do.
After all, one wrong move during the numerous stages of the debadging process and permanent damage can be the unwanted result.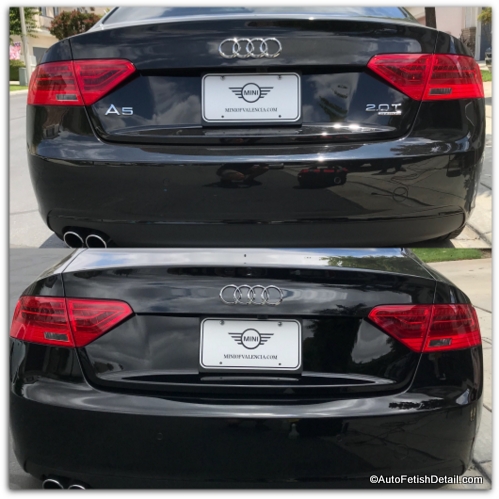 debadging and removing the car emblems from this black Audi A5.
Car badges removed.

Truck badges removed.

Car emblems replaced.

Truck emblems replaced.


Vinyl decals removed.

Truck rub rails removed.

Car Badges Emblems:

Professional Service
Professional Results!
Whether you are looking to simply remove a single emblem or remove all car badges emblems and stickers matters not.
"Experience is KING!"
The reality of every part of life often comes down to experience! Many guys can create and maintain the appearances of experience, but don't really have it.
We have performed hundreds of these types of jobs. And despite how easy many people (myself included) can make this look in a video, the truth is that every car is unique. And based on the car/truck with regards to the age, the color, and the specific emblems or badges being removed will determine the potential problems that can arise due to lack of experience.
Cutting corners on a moment when car badges emblems are being removed is not likely the place you want to save a buck by doing it yourself, or leaving it to the hands of the inexperienced
.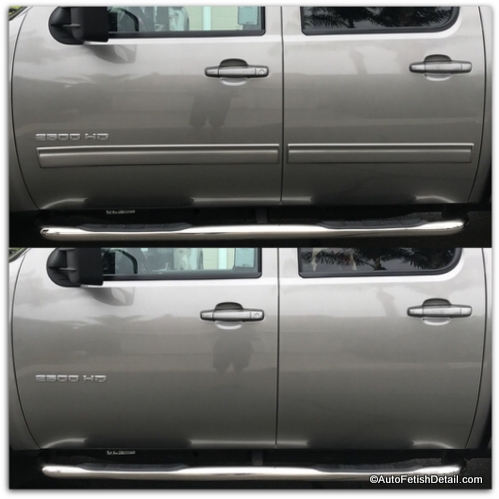 Removing the aging rub rails off the sides of this Chevy truck
When You Are Ready...
If you are ready to have a professional (that's me; Darren Priest) perform this for you please reference the following:
You can text me and I can give you a quote.
I will need to know the the type of vehicle, the age, the color, and which emblems you want removed.
I am mobile and can come to you, but most people will travel to me and save themselves some money as I charge more to travel to you. (I am in city of Placentia of Orange County)
Since every car/truck is different, the cost will be based on all variables.

As a starting point, a single emblem removal might cost $60, with a full debadging of a truck or SUV with many emblems to remove running upwards towards $200.
Once again, there are many factors that will affect the price and I will need to take all these into consideration so you get the results you are after. (remember the part above about experience; experience has taught me how to ask the right questions so I can deliver superior results)

I am on a cash only basis (Yes, the few have ruined it for the many)
I can set these jobs on weekday or weekend appointments.

Your car/truck should be relatively clean prior to me working on it.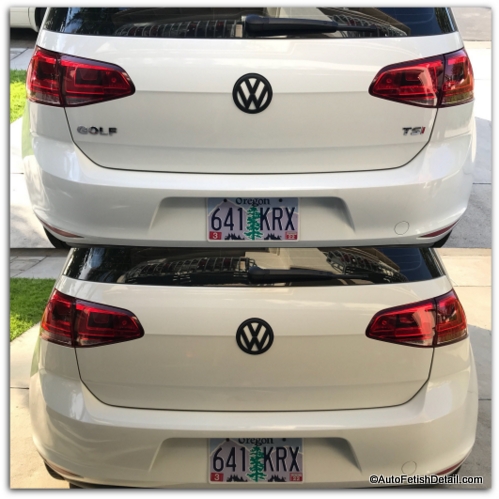 Can't Quite Decide?
If you would like to see additional examples you can see the links below. If you would like a more comprehensive tutorial regarding the car badges emblems removal process, you can click on this link right here: Car Debadging
Vinyl Decal Removal

Are you looking to have your company vehicle wrap or vinyl graphics removed with precision care? Want to become an informed decision maker prior to making an important decision?


Vinyl decal removal/vehicle wrap removal
---
Truck Debadging/ Truck Side Trim Removal

Chevy Truck Bowtie and Emblem Removal

See the before and after of this Chevy truck during the Bowtie removal process.
Chevy HD 2500 Car Emblem and truck Side Molding Removal


The owner of this new truck wanted us to remove the side moldings from his Chevy HD 2500.
Chevy HD 2500 truck emblem and side molding removal
Chevy HD 2500 Car Emblem and truck Side Molding Removal


Follow along as the discolored truck side moldings and truck emblems are removed for a much cleaner look.
Chevy HD 2500 truck emblem and side molding removal
Chevy Truck Emblem and truck Side Molding Removal


See this truck side molding removal project along with the removal of pin striping and emblems.
Chevy truck emblem and side molding removal
Dodge Ram 1500 Emblem Removal


See this project where a father wants to add a little customization to this Dodge Ram 1500 before turning over to his son.
Debadge Dodge Ram 1500 Truck Emblem

Dodge Ram 1500 Lettering Removal

Peak behind the scenes and follow along as we remove the Dodge Ram 1500 from this Hemi powered new dodge truck for a little personalization for our customer.
2014 Dodge Ram 1500 Badge Removal

Another Ram 1500 removal project for a Dodge truck owner who just took delivery of his new truck and wanted to personalize it.
---


Car Badges Emblems:
Do-it-Yourself Removal Tips
Set your car apart from the crowd by removing the unwanted car emblems with some specific tips from the Car Detailing Expert including actual tools/products to deliver professional results.

See how the owner of this Mercedes CLA250 "cleaned" up the unwanted car emblems from the back of the car with the removal of these car badges along with other examples.

Car Debadging and Understanding the Rules


Can't completely decide if you want to remove the car badges and emblems? Can't decide if you want to have a go at it yourself or hire a professional. Walk through the step s and become an informed person first.

Car Debadging: To Do or Not to Do

"Serving Orange County, CA for Over 25 Years"
Home | About | About This Site | Privacy Policy | Contact
Home Page
> Car Badges Emblems