Turtle Wax Ice Wax
Cool name, cool packaging, frigid results!

I find this newer product Ice Wax from Turtle Wax to be instantly appealing....at least as far as packaging and appearance is concerned. I am a firm believer that presentation is king! Turtle Wax hit the nail on the head with this one; from its cool packaging colors, cool name, and unique clear formulation.
I think between the iconic Turtle Wax name and the the way this product immediately pushes all those sensory buttons of us unsuspecting consumers looking for the next best thing in car wax and paint sealants, this product should see brisk sales out of the starting gate!
The Heat Gets Turned on this Ice Wax by Turtle Wax
All the greatest packaging and marketing in the world cannot compensate for inferior results and a frustrating user experience; at least not forever....

Easy to apply...actually, a little too easy
Safe for black trim.
Miserable to remove; unless your working on a white car and then you can't tell if it's off anyways
No dusting
Synthetic ingredients
No white residue
Safe for most exterior materials
Can be used in direct sunlight
At the end of the day, just a disappointing product in most every way!

This Ice Wax just doesn't stand up to real world use! Sure if you are looking for a new mantle piece to collect dust on your garage shelves, but if you are actually looking for a car care product that will not only perform, but do so with a user friendly experience, then I would pass on the Turtle Wax. Unlike days gone by where we as car owners and enthusiasts were limited to a few good products, now days we are literally drowning in a sea of choices.
The Good News!

Any trip on the Internet or the car care aisle of the local store will have your head spinning with countless choices when shopping for the best car wax or paint sealant.... thats the good news; lots of quality products to choose from!
Now the Bad News!

The bad news is that there are so many product choices, how are you supposed to know which one works and which one doesn't. Which brings us full circle to the very reason for this Ice Wax review. Chances are you have a garage full of detail products you have collected over the years; trust me on this, you are not alone!
The industry has most of us chasing our tails forever in search of the "Silver Bullet" of car waxes; the one last car wax you will ever need.

Car Waxing Made Simple

I have some further good news for you...
Turtle Wax Ice Wax simply will not perform.
I can show you a simplified approach that promises to deliver professional results.
I will break this down into just a few categories for you to pick and choose based on your particular situation. Just know that these are not the only products on the market that promise to perform, just the ones I happen to love, use professionally, and recommend consistently to people looking for that winning combination of benefits when it comes to finding a quality auto wax.
The Best Wax for Black and Dark Cars
Anyone who has ever owned a black or other dark colored car knows first hand the love/hate relationship that quickly reveals itself when it comes to washing, waxing, and detailing black cars. We love them when they are clean, but hate getting them there and know that it is only going to last for a very brief time!
With that said, using a black car to measure the performance of a car wax product is the true test of performance as black cars will show every flaw within the paint itself, as well as every short-coming of the car wax product you have chosen.
The Perfect Pair:

Meguiars Ultimate Paste Wax
A product I actually use professionally.
Excellent covering and hiding capabilities.

No dusting.
Can be used in direct sunlight.
Formulated using synthetic ingredients that outlast most traditional car waxes.
Easy on, easy off application.
Use every 4-6 months for protection.
Use on a freshly washed car that has been prepped using detailing clay for optimal results.
Meguiars Ultimate Quik Wax
Anther product I use professionally.
One of my all-time favorites!
You will not find an easier to use product.
Can be used in direct sunlight.
Non-staining formulation; can be used on all black trim pieces.
No dusting.
Use as a wax extender in between paste wax applications for that just wax look in a fraction of the time and to extend the life of your paste wax applications.
Amazing hiding and covering capabilities that equal paste wax performance.
The Lazy Mans Wax

The reality is that not only are we naturally lazy creatures, but most of us look for excuses not to wax our car, rather than excuses in which to wax them. If you subscribe to this way of life and want to keep things ultra simple, then I suggest the following car wax that is an ideal replacement for the Ice Wax.
Optimum Car Wax 17 oz.



For use on any colored car.
Non-staining formulation; use directly on black trim pieces.
A quality wax that is easy to use.
When you're tired of chasing your tail looking for a quality wax that won't break the bank, easy to use, and simplifies your life.
Use as often as you are willing for that just waxed look in minimal time, or at least every 3-5 months.



Ice Wax Review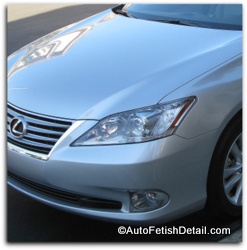 To wrap things up here, let's do a quick review of the take-away pointers of this Ice Wax review:
Ice Wax is not a recommended product; poor results and a poor user experience!
Keeping your car beautiful and protected can be much easier than most people realize.
When you are ready to simplify your life and achieve professional results, use the links above to get your own car wax products and start simplifying this one area of your life!
"Serving Orange County, California for Over Twenty Years"
Home | About | About This Site | Privacy Policy | Contact
Home Page

›
Car Wax Reviews
›
Ice Wax