Nu Finish Car Polish
The Car Polish That Isn't


Despite being labeled incorrectly, Nu Finish Car Polish remains as a very popular choice in car paint protection. Not only is NuFinish not a car polish, but is not a car wax either!
Based on my professional experience, most people do not understand the differences with much of the car care terminology when it comes to such things as wax, sealants, and polishes. With better understanding, you will not only be in a better position to make more informed buying decisions, but find yourself with the right product for the job.
The Car Polish That Isn't
Unfortunately, the industry is filled with much bad information and incorrect terminology, and Nu Finish
simply represents a shining example of this. The problem really stems from an ignorant consumer base with the industry merely following along by not wanting to "reinvent the wheel" as the adage goes. If society already thinks it needs a car polish, and society doesn't really know the difference anyways, big business is simply going to give the people what they! This is the way it has always been, and the car care industry is no different.
Nu Finish Car Polish: Fact or Fiction
I can tell you from first hand experience that NuFinish is a good product and delivers on expectations. I have also read many positive reviews of this well known product and it has a following of fans. What I can also tell you is that you have choices, and if you are looking to get superior results in the overall user experience as well as product performance, you have come searching in the right place!
Question and Answer with the Expert
The following Q.and A. session will not only leave you with more information than most "professional detailers" I come across here in southern California, but will help you become part of a select group of consumers called the informed!
Q.- Darren, how is it that Nu Finish is neither a car polish or car wax?
A.- For a product to be correctly labeled as a polish, it requires some form of abrasives as part of the ingredient list. For a product to be correctly labeled as a car wax, it must have some form of natural wax ingredient; Nu Finish car polish has neither abrasives or wax. Nu Finish should be labeled as a car paint sealant or sealer, as it is made using 100% synthetic ingredients.
Q.- Darren, why would I want a sealant over a car wax product?
A.- Depends. If you are looking for the ultimate in protection and durability, then a 100% synthetic sealant is the place to go. No car wax product will last as long as a quality synthetic sealant. So if you are looking for ways to wax less often, rather than more often, then a car paint sealant is your answer.
Q.- O.K. Darren, we get that NuFinish is incorrectly labeled, but does it work?
A.- Yes. As I have stated, Nu Finish is a good product, is easy to get, and provides a decent user experience.
Q.- So if we wanted a better user experience with professional grade products, what do you recommend?
A.- I am glad you asked! As a general rule, retail products will not offer the same level of quality and performance as professional grade products do; this is the case with every industry. Traditional retail products have too much of the idiot factor built into them; manufacturers must compensate for some of the idiots that find their way to their products! Not trying to be overly harsh here, just calling it for the way it works.
Preparation is Fundamental
Before you get too over zealous and simply want to click your way into some of the professional grade products, I need to help you lay the foundation for truly superior results. And these additional tips can be used whether you decide to use Nu Finish car polish or some of my specific alternatives. Choosing a quality car paint sealant is only part of the requirement for professional results; first you must prepare the surface first. Taking the necessary steps of preparation means application will be easier, just as the performance of the product will be better.
Detailing Clay: Prepare the Foundation
If you are not familiar with the clay bar or detailing clay, (one in the same) you are in for a real treat! This tool of the trade will raise both the user experience of any product, and increase performance of any product by creating the optimum surface prior to application. If you need further understanding on this unique tool of the trade, visit my comprehensive Q. and A. page on detailing clay.
Professional Alternatives to Nu Finish Car Polish
Once you have prepared the surface you are working with the clay bar first, use the following suggestions to match up your particular needs and wants.
The "I want to wax as little as possible" Choices
Unlike many enthusiasts who seem to create excuses to wax their cars more often then not, many of us simply want the ultimate in protection and durability so we can wax less often, not more often! As I have said repeatedly, Nu Finish car polish provides excellent protection, but suffers in the overall user experience due to application and removal. Any of the following will be your ticket as Nu Finish car polish alternatives:
Detailer's Pro Series Poli-Coat Paint Sealant
Meguiars #21 Synthetic Sealant 2.0
Wolfgang Deep Gloss Paint Sealant 3.0
Professional grade car paint sealants.
For anyone looking for ultimate protection.
For use on any car, boat, RV, or plane.
Not recommended for use on oxidized gel coat or fiberglass.
The "I want to have it all" Choices
Due to advances in chemical engineering, we are closer than ever to having "it all". A single product that has all the winning benefits with no down side. As a general rule, anyone with serious experience can tell you that synthetic sealants are the place for ultimate protection and durability, and that a natural carnauba based paste wax will be the place to go for the ultimate in visual enhancement, depth creation, and hiding capabilities.
But what if you could have it all?
The following are examples of just that; the winning combination that balances between protection and visual enhancement. Get all the protection of synthetic polymers just as the case of the Nu FInish car polish you came looking for originally, but formulated into a paste wax. If you are on a budget, than you will want to get the Meguiar's Ultimate Paste Wax. For those of you with discriminating tastes for nothing but premium level of performance, then the Wolfgang Fuzion is the ticket for you. Either product will deliver exceptional results though.
Meguiars Ultimate Paste Wax
Wolfgang Füzion Carnauba Polymer Estate Wax 3 oz. Mini
Nu Finish Car Polish Summary
You now know more than most of the so-called professional detailers I come across in my travels around Orange County, CA. Most professional detailers around here are nothing more than glorified mobile car washers at best.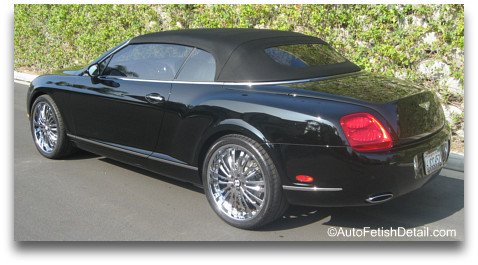 I hope you now understand the differences in car paint sealants and car waxes, as well as realize the choices you now have as a results of advances in manufacturing and chemical engineering.
"Serving Orange County, California for Over Twenty Years"
Home | About | About This Site | Privacy Policy | Contact
Back to Car Wax Ratings from Nu Finish Car Polish
Back to Expert Mobile Car Detailing Home