Remove Truck Side Molding
Chevy 2500 HD Silverado
Becoming very popular with people looking to clean up the look of their trucks, remove truck side molding is specialized area of auto detailing reserved for those with experience and patience. Today I had the pleasure of removing the side molding from this Chevy truck for a long time customer. Not only did he want the side molding taken off his truck, but he also wanted me to debadge the truck also.
Chevy 2500 HD Silverado
remove truck side molding- before
The shot above shows the truck side molding and car emblems still remaining. Not only do people like the look of cars and trucks with superfluous moldings and emblems removed, but it also makes for easier washing and detailing with less emblems and moldings to work around. Many people like the way this little moment of customization separates their car or truck from the crowds.
Remove Truck Side Molding-step 1
This shot actually highlights the first 2 steps rather than just the first step. After you remove the hard plastic emblems, there is thick, double sided tape underneath that must be removed. It is best to do the removing car emblems and side molding removal on brand new cars and trucks. The longer these items remain, the more difficult they are to remove. Usually the double sided tape requires much more effort than simply peeling the tape away from truck body panel as the picture implies.
Remove Truck Side Molding-step 2
the picture shows the shadow of the remaining adhesive residue left behind from the double sided tape. This step of the process is typically where most inexperienced guys short-cut the process, that only shows up later and becomes a problem. While white paint is generally the less problematic to work with, it also comes with its own trade-off's. If you want to remove the side molding from your truck yourself, you will need to be hyper-vigilant at this step of the removal process, as it will be difficult to determine if the adhesive residue is 100% off. If you are reading this page in attempts to remove these side moldings yourself, the products contained on the right column will help you get professional results for yourself.
Remove Truck Side Molding-step 3
Once again, if you plan on removing this side molding from your Chevy truck, it is best done when the truck is new. By placing the side you want to remove in the direct sun light and allow to heat up for a while, you will have some added help as it helps in releasing the adhesive. Most do-it-yourself videos suggest using a heat gun to heat up before removal; I find the added effort delivers very little pay-off. The double sided tape used to secure the truck emblems and truck side molding is the same, and requires the same process for removing. If you are attempting this after the truck is years old, plan on much additional work and effort. You can also plan on having your finger tips virtual peeled off as I find the best method is simply "rolling the tape off" with much pressure from your finger tips.
Remove Truck Side Molding-step 4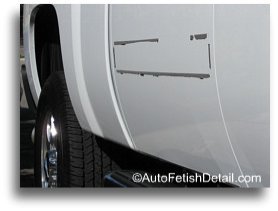 Here is the look of the double sided tape before removal of the side molding area; pretty basic really. This what you will find under each of the truck side molding areas. I have also been called out by people who have paid inexperienced guys to remove the truck side moldings, who have scratched up the paint significantly using inferior techniques. When it comes to your expensive car or truck, this is not the moment to cut corners and play it "cheap".
Here is the big pile of double sided tape and truck emblems. As you can somewhat see, the double sided tape is gooey and sticky.
Chevy 2500 HD Silverado
remove truck side molding- after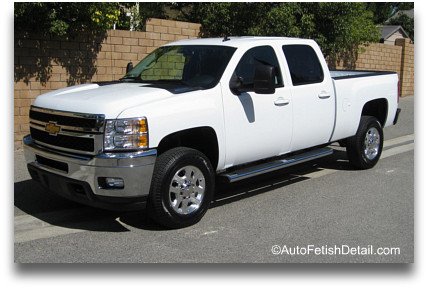 Like it or not, the truck is definitely has a "cleaner" look to it with the superfluous truck emblems and side moldings removed. Now when you continue to customize your truck with wheels and tires, your ey will not be distracted with these add-on embellishments. In case you are wondering, I charge approx. $250.00 to do a job like this on a brand new truck.
"Serving Orange County, California for Over Twenty Years"
Home | About | About This Site | Privacy Policy | Contact
Back to Car Badges and Emblems from Remove Truck Side Molding
Back to Expert Mobile Car Detailing Home