Removing Car Emblems
Mercedes ML 350 Project

Removing car emblems has grown in popularity over the past ten years and remains a very popular option for new car owners looking to add a level of personalization to their particular choice in cars.
Especially popular with Mercedes owners and Chevy truck owners, I will be highlighting how to remove car emblems for any of the Do-It-Yourselfer's out there looking to customize their ride with this process. Follow along as I bring you years of experience with my helpful pointers so you can get professional results yourself.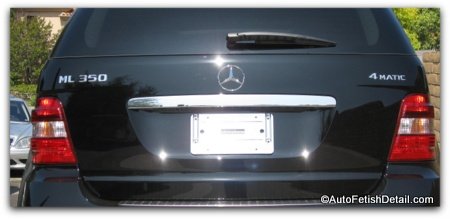 Basic Points of Removing Car Emblems

Before you start out on your project to remove the badges/lettering/emblems from your car or truck, it will be helpful to go through a preliminary checklist first. By reviewing these initial pointers you may either come to the conclusion that this DIY project is for you, or you may decide to hire a professional like myself to perform the car emblem removal project for you; either way I can help.
Removing the badges, lettering, or emblems from your car is better done sooner rather than later. Every step of the process becomes increasingly difficult as the years pass.

Most people with no experience over-simply the thought of this process, start into it, and then short-cut the process and end up with marginal results...or simply give completely up half-way through the process and end up calling someone like myself to complete the project.

Not all car emblems or badges are removable; meaning, they have no holes through the body panel for attachment.


As a rule, it will usually only be the manufacturers logo or insignia that has holes through the sheet metal of the body panel. (examples include the Mercedes 3-point logo, BMW blue and white, round logo, or the Hyundai stylized "H" logo just to call out a few examples)  All other designating lettering, badges, or emblems will be attached with double-sided tape only. If in doubt, check with a local dealership, online, or a body shop.



Mercedes ML350 4 Matic Emblem Removal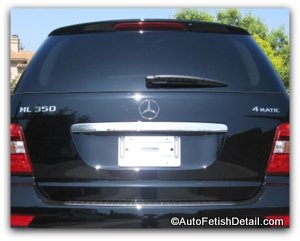 I will be taking you through the steps of removing car emblems on this Mercedes ML350 today. When it comes to the car emblem removal process, working on dark colored paints such as this black are the most difficult. This example also highlights the fact that on this particular car, the ML 350 along with the 4 Matic are removable while the Mercedes 3-point star is not.
Darren's Note:
The before shot of this Mercedes before removing car emblems. By removing the ML350 and the 4MATIC, we can clean up the back end, put your Mercedes in "stealth mode" as far as particular model, and make for easier washing and detailing of this area by removing additional emblems to wash and wax around.

Step 1: Remove Top Layer
Removing the Plastic Chrome Car Emblem

Removing the hard plastic car emblems is first on our list of removing car emblems job. These are usually made of lightweight, chromed plastic. Often, car emblems can be made of a rubberized plastic that makes them pliable, such as the case with the emblems on the Porsche models.
Regardless of material, these must be pried up and lifted off. The double sided tape used to attach these emblems to the car come in varying thicknesses depending on the make of the car. Mercedes happens to use a rather thin double sided tape. Removing these emblems can be accomplished in one of the following ways:
Simply prying edge with finger nail and lifting off with fingers.

Using dental floss or fishing line to "saw" and separate plastic emblem from body panel.

Grabbing each car emblem with pliers and lifting straight off.
Step 2: Removing Double-sided Tape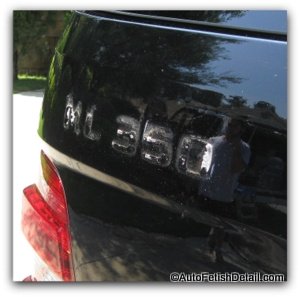 The picture to the right shows what is left over after the initial removing car emblems step. This step of removing the remaining double sided tape and adhesive will be the most challenging in my opinion. Most people get freaked out with the removal of the emblems themselves, and this is understandable as during removal, you realize that there is no going back at this point! But anyone with experience removing car emblems will tell you that removal of the underlying adhesive is the most difficult, and is the step that also produces the most damage to the paint underneath.
Darren's Tips:
There is no wonder product that will simply dissolve this adhesive and double sided tape easily. Regardless of the adhesive removal product you use, the material will break down gradually through repeated rubbing and application of the removal product; some products simply "break down" this adhesive quicker than others. When you have completely removed any last traces of adhesive or double sided tape, you will now have a clean and scratched paint surface! Yes, I did say scratched! This will be the result of so much rubbing with the cloth and adhesive remover. On light colored paint this will be much less noticeable, and this is the reason removing car emblems from dark colored cars is more difficult; its not the removing car emblems process that is difficult, it is the removing the scratching left behind that becomes difficult with dark colored cars.
3M Eraser Tool:
The Exception to the Rule

If you value your time as much as I do, I would suggest you get this amazing tool from 3M; called the eraser tool attachment. No magical adhesive remover exists which has been suggested by many companies to be the ultimate decal or adhesive remover. They all require additional steps and create a gooey and sticky mess when you start to use them. This 3M tool represents an amazing alternative to speed up this process without all the mess. It attaches to any drill motor and can be used by any beginner for truly effective removal of any car decals or double-side tape as is the case here with removing car emblems.
This picture shows me preparing to remove this set of decals and lettering using a 3M eraser tool that you can see attached to the end of my drill motor.

3m Eraser Tool

/Stripe-off Wheel



3M Stripe Off Wheel 07498, 4" Diameter x 5/8" Width, 3/8" Mandrel, Beige (Pack of 1)
Removing the double-sided tape is the most frustrating step of the process; save your self countless frustration and get one of these amazing tools.
Will not harm any paint.
Will not leave any abrasions regardless of color of paint working on.
Attaches to any drill motor.
I use at very low speeds despite that the tool is rated for upwards of 3500 RPM's.
For use after you have removed the top layer of the car/truck emblem. 
Will cut your job time by a minimum of half.
You need to be extremely cautious when using on painted fiberglass parts of your car: bumpers, certain plastic parts that have been painted, etc.

Darren's Tip:
If you are cheap and really have to save a buck, then you can remove the double-sided tape through the repeated process of adhesive removers to help dissolve the tape, and picking with your finger nail, and rubbing aggressively with some cloth. The trade off will be you save around $40 bucks by not having to purchase this tool, but you will be signing on to the following by not going with the Stripe Off Wheel:
A huge amount of frustration
Your time and effort
The wheel will leave no abrading to the paint; the excessive rubbing with adhesive remover will leave plenty of abrading to the paint which in turn will have to be polished at the end to remove.
Rapid Remover


Rapid Remover Adhesive Remover for Vinyl Wraps Graphics Decals Stripes 32oz Sprayer
As I said earlier; no magic adhesive remover works where you simply spray and wipe off.
Removing the double-sided tape with adhesive remover will be a gradual process as the chemical and your rubbing will break the material down slowly.
Rubbing alcohol can also be used but is even slower at breaking the double-sided tape down than this adhesive remover.
I have yet to find anything safer and more effective than the Rapid Remover!

Step 4: Polishing the Final Product

Depending on the following factors will determine what your final step will include:
What process did you use to remove double-sided tape and residual adhesive.
The color of the car/truck; dark colors show more flaws and imperfections.
Your level of perfection you require as a person.

This final step will be a case by case decision to make based on the above points. I will lay out the few options you have:
Polish By Hand:
You can use some form of car polish to hide and diminish any scratching or marring you may have put into your car paint.
Polishing by Machine:
For true professional results, you will have to use a car buffer of some kind, along with the appropriate polish to remove any trace scratches or marring left behind. You can follow this link to my other site where I help you decide on the most appropriate car buffer for you and your needs.
Don't Forget the Wax
If you have made it this far with removing car emblems from your car or truck, then don't forget to add a nice coat of wax for the final and finished product. You can see my best rated car wax page with help in finding the best wax for your needs.
Removing Car Emblems Videos
"Serving Orange County, California for Over Twenty Years"
Home | About | About This Site | Privacy Policy | Contact
Home Page

>>
Car badges emblems
>
Removing Car Emblems