Removing Decals
There is always more to it than you think!


Removing decals might seem like a straight forward and simple task to the casual observer. With an endless array of advertising and visual enhancements that can be found in every industry, removing car decals and other forms of graphics can quickly become an overwhelming project with nightmarish implications!
Sure you might call me dramatic, but unless you have experienced the joy and pleasure of removing the many forms of vehicle decal removal, you make judgements out of inexperience. Not only will the car decal removal process be affected by each and every form of decal, but the underlying material these visual enhancements are attached to will require a case by case process.
The Many Shapes and Sizes
With modern advances in production, vehicle wraps and decals are only limited by one's imagination. Just a few years ago, advertising on vehicles was limited to single color, vinyl graphics.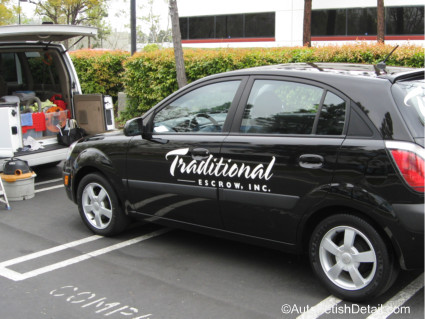 Now days, the industry has taken digital full color capabilities and applied it to the industry with what is called full vehicle wraps where literally, the entire vehicle can be "wrapped" in full color graphics. This has taken vehicle advertising to new levels of visual enhancement and stimulation.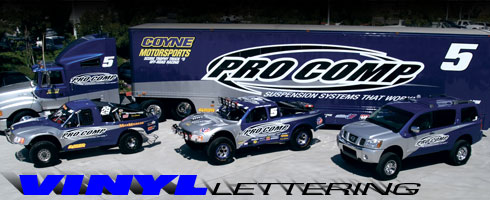 What Goes on, Often Must Come Off
Removing decals is becoming more and more a problem for people and companies looking to update new logos or advertising. In order to add the new, the old must be removed first. As a professional with many years of car decal removal experience, removing decals in the many configurations and applications they exist, is something not for the inexperienced. But since all vehicle decals are not crated equal, many vehicle decal removal jobs can be performed by the Do-It-Yourselfer. My years of experience has taught me a few things along the way that can make your job of removing car decals less of a nightmare! (There I go being dramatic again)
The Decal Removal Process
Regardless of the type of car emblems or vehicle decals you are removing, the process is always the same:
Removal of top material layer
Removal of underlying adhesive glue
Removal of adhesive glue residue
Repair or polishing of abraded underlying material
Removing vinyl decals or vehicle wraps can be broken down into those (4) steps. The same steps necessary in also removing car emblems and badges. Regardless of what visual enhancement is attached to your car, unless it is done so with fasteners, basic rules always apply:
Some form of adhesive glue will be used for attachment
Most glues are made to be semi-permanent
The (4) steps above will always be in every situation
Each step requires a specific strategy
Removal of Top Layer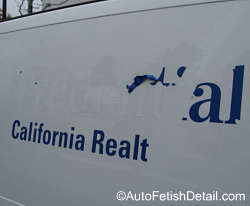 The first step in the process is removing whatever top layer exists. On car emblems this usually means chrome plated hard plastic, to semi-soft or rubberized material. On vinyl vehicle decals, this means the first layer of color decal. On vehicle wraps, this means the vinyl sheeting. For car emblem removal, this requires the use of fishing line or dental floss. For vinyl graphics and digital vehicle wraps, this means simply pulling and picking with your finger nails. Use of the plastic razor blades I made available over in the right hand column are also safe and effective for lifting the edge when removing decals; just use some common sense in regards to safe use. Some additional tips and points of concern are as follows:
Removing vinyl decals will be affected by every variable when it comes to the removing decals process; color, texture, size, width, age, etc.
While the popular belief of using a heat gun to heat up vinyl decals before removal exists, this method provides little help in most cases. For the additional time and effort, little benefit is obtained. Heat can make removal of decals somewhat easier but this depends on specific type of graphic material and age of material. Allowing vehicle to sit in direct sunlight is an effective way to heat up graphic if you have determined heat will speed up the removal process. During colder months, black vinyl trash bags cut open and laid atop of graphics will absorb all suns heat and heat up graphics quicker.
If vinyl car decals have become very old and brittle, it will require the meticulous and time consuming process of literally picking small pieces at a time for complete removal, as the decal will break apart into tiny pieces each time the attempt is made to remove. This is where many people become impatient and frustrated, and resort to hasty decal removal strategies that cause permanent damage!
There is no magical decal removal; despite what you have read.
Any decal or vinyl graphic is made with an impervious top layer that prevents the absorption of any "miracle" decal remover. this is simply the industry misrepresenting their product; they should all really be labeled as adhesive remover, not decal remover.
It is this top layer that must first be removed before any form of adhesive remover can begin to work. Any form off chemical that will actually remove the top layer and underlying adhesive, will also damage the painted or fiberglass surface below.
Removal of Adhesive Glue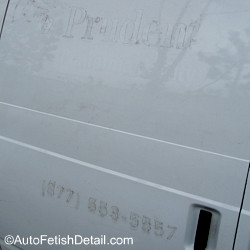 One of the many critical things we have learned is that no magic decal remover exists that you simply spray on from the beginning to remove car deals. After you have removed the top layer, you will have some level of adhesive to remove. This could be anything from a very thick and spongy material used for applying car emblems called double sided tape, to a transparent and tacky glue used on most forms of decals and vehicle wraps. Depending on the thickness of this glue, 100% removal will require much rubbing with adhesive remover, and will be a process of dissolving the adhesive little by little until completely removed. Since each decal removal job will be unique, you will have to experiment with the process to see which technique works best.
Removing Decals Strategies
Once you have removed top layer of decal, use the following strategies for the removal of the underlying adhesive:
Use adhesive remover with micro-fiber towel and simply rub until adhesive is completely gone.
For thicker adhesive glue's, I use a thick, terry cloth towel which has more "bite" than a micro-fiber, along with the adhesive remover to remove the thick layer first.
Can also use plastic scrapers from third column at right, along with adhesive remover to scrape off thicker adhesive glue's once the glue has been softened a bit the adhesive remover, so long as you have verified the material you are working on will not be damaged with this method.
Occasionally, the outline of the vinyl decal will create a hardened outline of adhesive that is especially difficult to break down with adhesive remover. I reach for a clay bar and use just like I was claying the car to remove this hardened outline of the adhesive.
Meguiar's Professional Clay Bar
Meguiars Professional Detailing Clay - C2000
Polishing the Abraded Area
There are a few factors that will determine how much polishing will be necessary after removing decals from any surface:
How much rubbing with adhesive remover was done.
the material you are removing the decals from.
The color of the underlying surface from which decals were removed.
Any surface you are removing decals from will be scuffed and marred during the removal process. On light colored surfaces, this marring and scuffing will be less visible; but trust me, it will be there. You simply are not looking in lighting that will expose the abrasions to the surface material. You need to find the correct angle and lighting in which to view this area of removal so as to determine the level of polishing required. I have laid out some tools and additional polishes you can use depending on the material you are working on.
Polishes that Work
There are endless choices when it comes to car polishes. For those of you who enjoy spending hours searching the Web for the "perfect" choice in car polishes, then have fun! But for those of you looking to know what actually works based on real world experience, then you are at the right place. I recommend Meguiar's polishes as I use them professionally and know they can deliver exceptional results.
Meguiars Swirl-Free Kit for Machine Application
Not only is this polish kit perfect for the beginner, but is the same polishes I use professionally and can be used for any level of polishing you are capable of. Also ideal for use on difficult fiberglass and gel coats. These polishes will work on which ever type of car buffer you decide to purchase or are currently using. These polishes will take your removing decals to a truly professional level with the ability to polish out and completely remove the scuffing left behind on these types of decal removal jobs.
The Car Buffer
Below are my top 2 choices in rotary car buffers. If you are looking to take your results to the next level, or happen to be sitting on the fence as to whether to learn and mater car polishing, look no further as I have personally tested and continue to use these 2 buffers in the professional world. These are truly professional grade machines!
DeWalt 849 Rotary Polisher 8.5 inch Pad Kit
Ideal for professional or home use.
Has all the features I require professionally.
Professional grade for even difficult fiberglass and gel coat polishing.
The type of polisher needed for truly professional results when performing decal removal jobs.
Makita 9227C Rotary Polisher 8.5 inch Pad Kit
The second of my top professional choices.
Professional grade.
All the features I require professionally.
Heavy duty built for difficult fiberglass and gel coat polishing.
The type of polisher needed for truly professional results when performing decal removal jobs.
Removing Decals from Fiberglass and Gel Coat
Because of the durable nature of fiberglass and gel coat, whether you are removing decals from RV's or boats, you will need the aggressiveness that can only be delivered by a rotary buffer and wool pads. Sure, if you are a beginner and want to learn to use a rotary polisher you can use the foam pads from above, but if you are looking to remove scratches and marring done in the car emblem or removing decals process, you will need to use a rotary polisher along with wool pads. The Meguiar's polishes from above are also an excellent choice for use with wool pads and can remove the color sanding marks of 800 grit sand papers, as well as any form of scuffing or marring that may remain after removing decals.
Polishing Fiberglass and Gel Coat
This kit from Makita is perfect as it contains the heavy duty polisher necessary for work on these heavy duty jobs, but also contains the wool pads necessary to actually remove scratches, not just polish them so you have shiny scratches. You can count on a certain level of scratching done removing decals and the removal of the adhesive.
Makita 9227C Rotary Polisher
Use with Meguiar's polishes from above.
Also perfectly suited for use on car paint for actual removal of car paint scratches.
With the combination of the Meguiar's polish kit from above, and this Makita kit, you will be set up to perform any level of car, boat, or RV polishing you could ever need! Perfect for removing the scratching done during removing decals jobs, car paint scratch removal, or oxidation removal of any kind.
Darren's Tips
There are many horror stories about the infamous car buffer and the damage they can do. Unfortunately people are too willing to repeat unverified information and stories which can deter others from experiencing what could otherwise be a good experience. If you have been sitting on the fence when it comes to car buffers and learning to master this skill, you need to realize that doing everything by hand is only good for so much. Polishing by hand will only take you so far and will never be able to duplicate the friction and consistency that car buffers can produce. It is only through this level of friction and heat production that scratches and oxidation can be effectively removed. It is one thing to polish scratches so they are now shiny scratches, but another thing to actually be able to remove them. With the combination of the above polishes and buffers, you can learn to apply whatever polishing is required by selecting the appropriate amount of aggressiveness through the selection of buffer speeds, polishes, and polish pads.
If you are first learning, simply select the lowest RPM speed on the buffer, start with the most mild of the 2 polishes above; Meguiar's 205, and use with the softest foam pad. It would literally be impossible to actually do any permanent damage to paint of fiberglass. The greatest danger at this level is ripping off trim pieces from a car, if that is what you are polishing on. Use my checklist from below to help improve your results.
Prevent swirl marks by keeping buffer as flat as possible to surface you are polishing on.
I usually polish cars and boats between 1200-1800 RPM's. The more aggressive I need the higher the RPM I will dial in.
To enhance the aggressiveness of any combination of pads, polish, and RPM's you are using, simply tilt the buffer so you are polishing with the edge of the buffing pad to create additional friction and force. Once you have obtained the results you want with the buffer, simply flatten the buffer out to remove swirl marks as a finishing step.
Use blue painters tape to cover any areas or trim pieces you want to protect from polishes and polishing pads.
Last Words of Advice
Removing decals is an undertaking many people are willing to try. Unfortunately, the job can get out of hand quickly, or many will not take the removing decals process to completion. I hope these steps will help you get the professional results you are after. The biggest problems I see out there with removing decals is these 2 areas:
People getting impatient and rushing the removal process using damaging techniques.
People not realizing the abrasions created and therefore neglecting the final step of polishing.
I hope my "removing decals" tips page has helped you become an informed Do-It-Yourselfer!
"Serving Orange County, California for Over Twenty Years"
Home | About | About This Site | Privacy Policy | Contact
Home >> How to Detail Your Car > Removing Decals