RV Cleaner Wax
Do these 2-in-1 products really work?
Most RV owners will be faced with removing the oxidation from their RV eventually. RV cleaner wax will seem like an obvious solution to most, but do these 2-in-1 products really work?
The shear size of RV's and boats make them problematic at best when it comes to the care and maintenance of these "large" toys of ours. For this reason, many people want to maximize their efforts and turn to the latest in RV wax and polishes. Having washed and waxed literally hundreds of RV's in the course of my professional career, I have learned a few things along the way when it comes to the best RV wax. Follow along with this question and answer session to become an informed consumer and RV owner.
Darren, We Have Questions!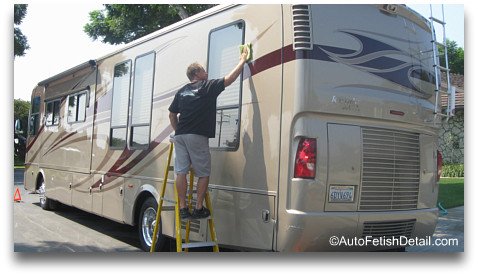 Does my RV really have to be waxed in the first place?
What kind of wax is the best wax to use on my RV?
Just what is a cleaner wax?
When should I use a cleaner wax on my RV or boat?
The topic of RV waxes and sealers is a confusing topic to most. With the industry forever trying to sell us more and more products, we are at the mercy of an industry that is often less than transparent. Let's see if we can't clarify a subject that leaves many confused and overwhelmed with frustration!
Does my RV really have to be waxed?
Simply put, YES! Just like car paint, your RV is subject to the damaging effects of weather in its many forms. Whether we are talking about fiberglass, gel coat, paint, or decals, everything needs protection from the elements.
Just what is the best RV wax?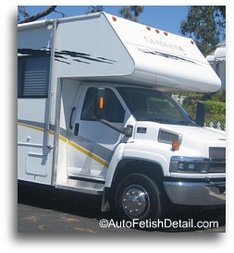 When it comes to the best in protection for your RV, most people usually mean the most durable, or the longest lasting form of protection. The ultimate in protection and durability is a synthetic liquid polymer. Period. Added confusion comes in the way of misleading marketing and ambiguous labeling of these products. Some of the most common are marine grade wax, boat wax, RV wax, fiberglass wax, etc., etc.
I heard the best RV wax is not really a wax at all.
Correct. As we just learned, the most durable form of protection will actually be a synthetic sealer. And it is the technology behind engineered polymers that you will find this protection available. Unfortunately once again, the industry has done much to add to an already confusing topic. Not only are we constantly being mislead, but the industry will often co-mingle terms and be very inconsistent with its use of terminology.
What is the exact purpose of a RV cleaner wax?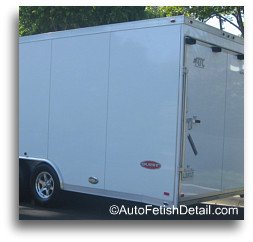 The industry has long engineered what we can call multipurpose products, or a 2-in1 type of product. Advances in chemical engineering allows us the ability to remove oxidation at the same time we are applying a layer of protection. This is the beauty behind an RV cleaner wax.
When would I need to use an RV cleaner wax?
Due to the size of RV's and boats, most often this means outdoor storage. The weathering process causes the shine to dull and become chalky in feel and appearance. This process is called oxidation, and left alone, will only worsen over time. It is best to maintain your RV so that the oxidation process never occurs, but once it has, using an RV cleaner wax is an effective alternative to removing the fiberglass oxidation.
Can I successfully use an RV cleaner wax by hand, or do I have to use a buffer?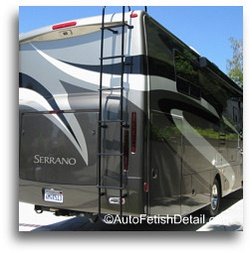 Yes, you can have much success applying an RV cleaner wax with what I call heavy handed application. Just as the name implies, you can remove mild to medium levels of fiberglass and gel coat oxidation through the use of a heavy handed approach. Keep in mind that your hand will never be able to duplicate the pressure, consistency, and speed, that a quality car buffer can generate, but experience has shown me that more people than not, find this heavy handed approach sufficient.
I am unsure as to whether detailing clay is necessary for use on RV's and boats.
Just like car paint, detailing clay is effective for use on all types of RV's, toy haulers, and trailers. Any hard surface that is exposed to the elements will benefit from the use of detailing clay to remove embedded pollution. Use detailing clay on all your paint, glass, fiberglass, or gel coat surfaces prior to using any wax or RV cleaner wax products. The areas most effected by this "pollution" will be the rear-end and the front cabs of class C motor homes, but your entire RV will be vulnerable to the many forms of pollution present in the air. The clay bar is also very effective for bug removal after those long road trips.
Recommendations from the Expert
Of course I wouldn't leave you hanging without adding my personal recommendations. Whether you are in the position to simply wax your RV for protection, or are facing some level of fiberglass oxidation, follow below as I lay out my professional recommendations.
The Best RV and Boat Wax
You will not find a more durable product than a liquid, synthetic sealer known as a polymer sealant. They may be called many things, but they all work on the same technology. Whether you are looking for the ultimate in protection for your boat or RV, shop from the synthetic polymer sealants from below.
Meguiars #21 Synthetic Sealant 2.0
Gel Coat Labs All Marine Surface Sealant 16 oz.
Either of these products offer the ultimate in protection for paint, fiberglass, or gel coats.
Effective on RV's and boat's with little to no form of oxidation.
Best RV Cleaner Wax/Sealants
When dealing with mild cases of fiberglass oxidation on your boat or RV, choosing a quality RV cleaner wax like the ones below allow you to combine 2 steps into 1. Formulated using added cleaners, now you can restore the shine while adding a layer of protection. Choose either the cleaner wax or cleaner sealant from below. I still use the Meguiar's product below at a professional level as it really performs in the real world!
Meguiars Mirror Glaze #50 Marine/RV Cleaner Wax
Gel Coat Labs One-Step Micro-Polish and Sealant 16 oz.
Effective for use on mild to moderate levels of fiberglass oxidation.
Combination products to clean and protect in one step.
Can be used by hand or with polisher.
Very user friendly.
Heavy Boat and RV Oxidation Removal
If you are adventurous and are looking to take your RV's protection and appearance to the next level, there is no other way than through the use of a rotary, high-speed buffer and professional grade products! I have laid out 2 kits for you below that are professional grade and promise to deliver superior results! Despite what bad information you have previously heard, gel coats and fiberglass require much higher levels of friction and heat for truly effective results when it comes to polishing. This also happens to be the good news if you are sitting on the fence as to trying your hand at a professional high speed buffer. Due to the durability of gel coat and fiberglass, it is virtually impossible to do any form of damage while learning the ropes with a high speed polisher.
Makita 9227C Rotary Polisher
An incredibly user friendly polisher.
Comes with all the features any professional would demand.
The actual car buffer I have used for years at a professional level on cars, boats, and RV's.
Combine this polisher with the Meguiar's polishes just below for a complete polishing kit for all your car, boat, and RV polishing projects!
Meguiar's Professional Polishes
Polishes are not all created equal. Don't make polishing your gel coat or fiberglass more difficult by choosing products that will only cause frustration and additional work. The actual polishes I use professionally to polish car paint, gel coats, and fiberglass. You will not find a more user friendly set of polishes! Also comes with foam pads ideally suited for the polishing of car paint. By combining the Makita polishing kit with this kit from Meguiar's, you are now positioned to handle any level of polishing job on all car paint, gel coats, and fiberglass!
Meguiars Ultra Polish Kit with 6.5 Inch Pads
DeWalt and Gel Coat Labs Kit
If you are a DeWalt or Gel Coat Labs fan, then this kit is ideally suited for you. As the name implies, Gel Coat Labs formulates their products geared towards use on gel coats and fiberglass. This DeWalt polisher is also the only other polisher next to the Makita above I have used continually at a professional level. This polisher has all the features any professional would need and can withstand the demands necessary for gel coat and fiberglass polishing!
Gel Coat Labs DeWalt DWP849 Total Polishing Kit
In closing, I hope I have helped you become an informed consumer with my page on RV cleaner wax, and helped your relationship between you and your RV become a better one!
"Serving Orange County, California for Over Twenty Years"
Home | About | About This Site | Privacy Policy | Contact
Home Page

>>
RV Detailing
>
RV Cleaner Wax