RV Cleaner Wax


You are asking the wrong question

s

Looking for the best RV cleaner wax will turn up as many answers as people you are willing to ask the question of.
Does the best cleaner wax for your RV really exist?
What is the difference between a regular wax and a cleaner wax?
Is RV cleaner wax any different than a regular cleaner wax for a car?

The answer to these questions represent just the tip of the ice berg. And if you have a thirst for knowledge, as well as a healthy level of perseverance, this "ice berg" of a subject is massive, expansive, and deep!

Like every other subject dealing with what is now called "surface car care" has been butchered and bastardized beyond belief!
But here you are as an RV owner (or potentially an RV owner) looking to add some level of visual enhancement and protection to your RV.
Hang on....we are entering rough waters!
"I have found most people do not really understand their RV. They haven't been taught, and in many cases have been mislead by the industry. Lack of knowledge means lack of getting the right results."
RV Cleaner Wax:

Starting with the basics
Since you are here looking for a cleaner wax for your RV, I will have to assume you want to wax your RV at a minimum, but accept that your RV may need more than just a good coat of wax on it.
If you are willing to put the time into with reading this page, I can help you start asking the questions you likely have not been asking, but should be asking.
Searching for the best cleaner wax to use on your RV might be what you think you need. But in many ways this is more about selling you product rather than educating you as an RV owner.
"RV's are not cars....usually."
While there are the obvious differences in the two animals, there are also some commonalities. Before we get into the commonalities, we will start with the construction of RV's.
True depth of understanding means we need to start below the surface of this massive ice berg where the critical knowledge exists.
If you are one of those "Cliff Note" type of people, then the "tip of the ice berg" answer will be just fine for you:
Do a search for the best RV cleaner wax, wax your RV with it, and stand back and prepare yourself for disappointment. (not in every case, but most cases)

Not all RV's are constructed the same, made with the same materials, the same processes, or the same finishes. Simply put: not all RV's are created equal.

How is an RV Made?
We are not going to cover how everything is made when it comes to your RV. I simply want to deconstruct how the construction process works at the foundation of your RV "Box".
After-all, it is the "box" of your RV that you will possibly be applying some kind of wax or cleaner wax product to. (the "box" is that big compartment sitting on top of the chassis of your RV)

I just need to help you figure a few things out so you know what you are shopping for and what you are about to do.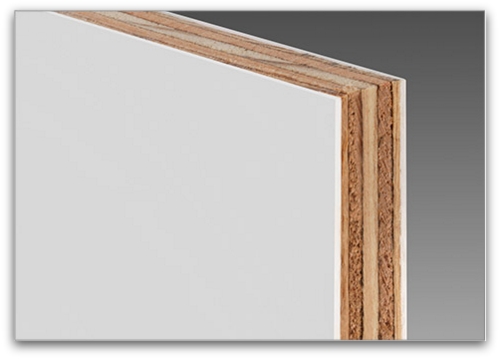 This is a cross section of your typical RV sidewall. Plywood sandwiched between fiberglass cloth that is reinforced with a gelcoat resin. In some cases, no fiberglass cloth is used for reinforcement, but only has the gelcoat resin sprayed onto the plywood.
The basic steps in RV construction:
Start with wood panels for the "box"
Apply either fiberglass cloth and a polyester or epoxy resin (Gel coat) over the fiberglass cloth (the combination of fiberglass cloth and the resin creates a stronger panel. On big-rig or semi-trailers, this construction process is called FRP: fiberglass reinforced plywood)
Apply only the polyester or epoxy resin directly on the wood panels without any fiberglass cloth reinforcement

Add color pigments to the resin to create a desired colored panel (most RV's are made using white as the pigment color. Beige is the second most common pigment color)
Paint the panels that have been gel coated using traditional car paint formulations, and using traditional car painting techniques (this means these panels can be painted just like you would paint a car. In most cases, this means using what is called a 2-stage paint method: base coat of color, followed by a top coat of clear)
Darren's Note: The reality is that RV's in general are made and assembled in a modular fashion. This means that the side panels are constructed separately, and generally the front and rear "caps" are constructed differently.
Most front end caps are made using molds to form the front and the rear ends. All the various components or modules are then assembled together making up your RV or trailer. This means that the construction process for the walls is not necessarily the same as the front or rear end.
The more critical point of this is knowing that regardless of how the separate components are made, it is the top layer of material, paint, or decal that we are most concerned with.
What is the Difference Between Gelcoat and Fiberglass?
Fiberglass and gel coat are frequently confused by people, as well as misused by people. There is a difference despite how many people are inconsistent in how they use these terms.
Very few people understand the difference between fiberglass and gel coat. This is common problem, especially with boat owners who will talk about their fiberglass boat, talk about fiberglass boat restoration, or talk about the gel coat on their boat.
A classic case of misinformed people using terminology with no standardization of rules.

Gelcoat is actually the top layer of your RV that you will be dealing with. Some RV's have been painted (just like car paint) and some RV's simply have colored gel coat (typically white in color)
This means that ALL RV's are constructed using the gel coat process, but not all RV's have paint applied to this gel coat as the finish coat.

Which then means some of you will be dealing with using an RV cleaner wax on oxidized gel coat, while others of you will be dealing with traditional car paint.

***With every rule, comes the exception to the rule. When I say "ALL", I am referring to virtually every type of RV, 5th Wheel RV Trailer, or Toy Hauler RV Trailer. There are RV trailers that are constructed using corrugated aluminum or corrugated vinyl panels which I will be discussing further down this page.
Different Types of RV's:

Gel coat, Full paint, partial paint, clear coat, and corrugated
Gel coat is a polyester resin that is applied directly over the wood sidewalls of your RV that give it that durable and shiny appearance. It is the same material used in making boats. In most cases, the gel coat resin is also colored using white pigment. White is the preferred color since white is a neutral color that also naturally hides and conceals aging, weathering, and superficial "damage".

But the gel coat resin can be colored with any color wanted and/or needed. There is no limitation to how gel coat resin can be colored, or to the pattern of colors that can be used.
Boats are also constructed much in the same way using fiberglass cloth, or fiberglass fibers that are mixed in with the initial layer of this resin.The major difference is that this resin gel coat is used in a mold to form the boat structure, while this resin gel coat is applied to wooden panels to construct RV's with.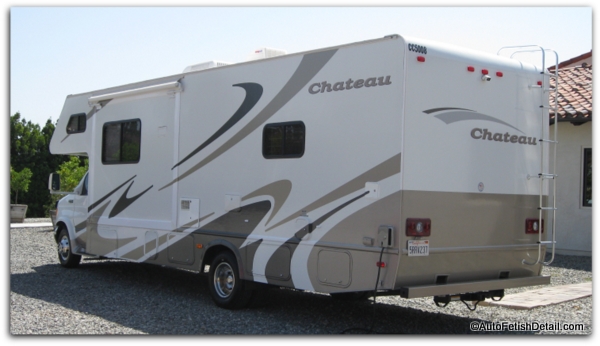 Here is a very traditional RV (class C RV) with all 3 "elements" going on: gel coat, paint, and vinyl decals.
Virtually any material can be painted. Any RV, regardless of what your particular RV is constructed with, could be painted. This doesn't mean your particular RV is painted, it just means it could be painted.
In many ways it depends on how much you are willing to pay. In the world of RV's, the more you pay, the more paint you will get on your RV until you reach the threshold of what is called full-body painted RV's.
RV with Full Body Paint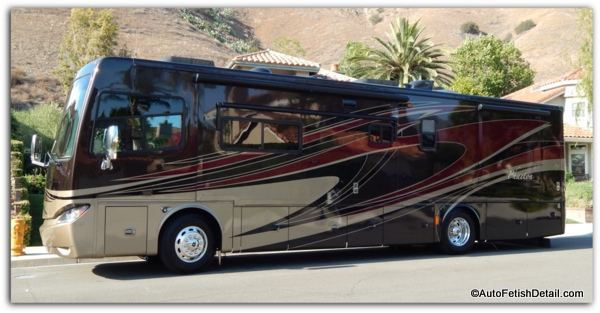 RV with full exterior body paint
Finished just like a car with 2-stage paint
This means color coat finished with a top layer of clear coat
RV with Gel Coat and Decals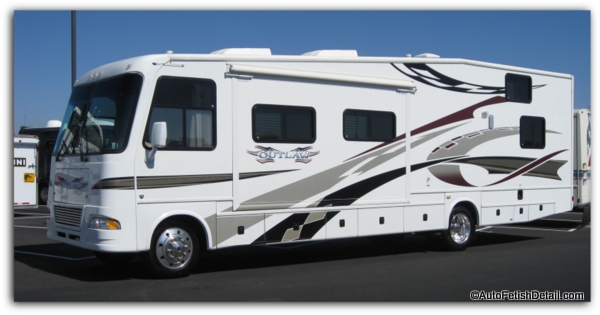 The most common RV: gel coat with vinyl decals
The gel coat resin has been colored white
Decals are laid on top of unpainted gel coat
RV with Gel Coat, Decals, and Partial Paint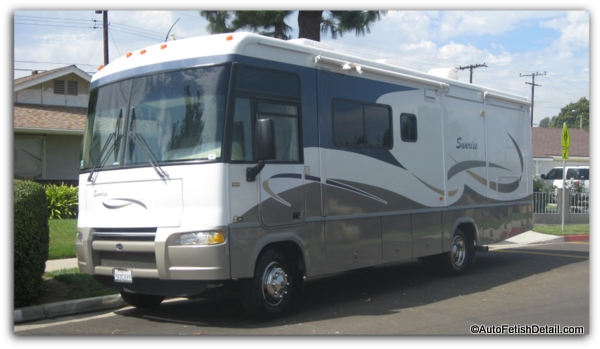 RV with all three: gel coat (white areas), paint (champagne color on bottom half) and vinyl decals (swirls and accent stripes)
The black section from the front windshield back is also black paint
RV trailer with Corrugated Siding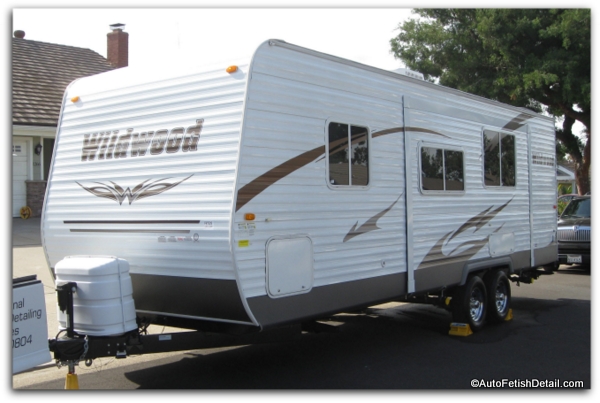 This is corrugated siding
As a rule, you will only find corrugated siding on trailers
Corrugated siding is the most "entry-level" RV trailer you can get
The extreme lower section has been painted (gold/champagne color)
This trailer also has vinyl graphics on front and sides
RV Trailer with Corrugated Siding: Paint and Decals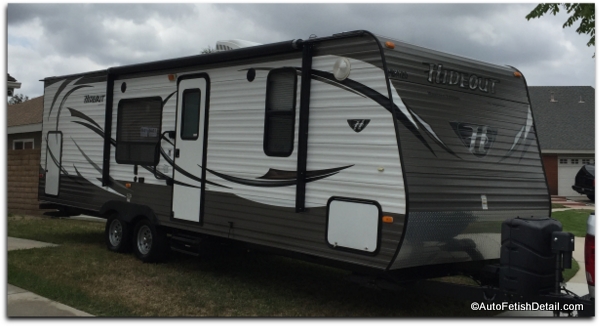 Corrugated RV trailer
Paint and vinyl decals
Top and bottom half is paint
Accent decals
5th Wheel with Gel Coat and Decals (and some paint)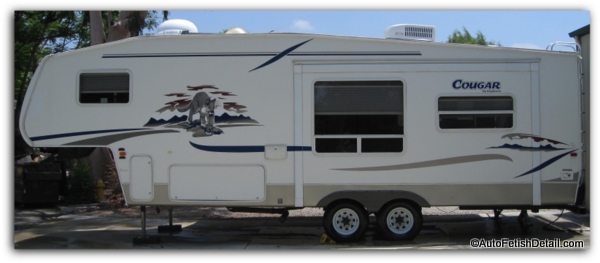 5th Wheel with mostly white gel coat
Extreme bottom half is paint
Vinyl decal enhancements
Aluminum RV Trailer (Airstream)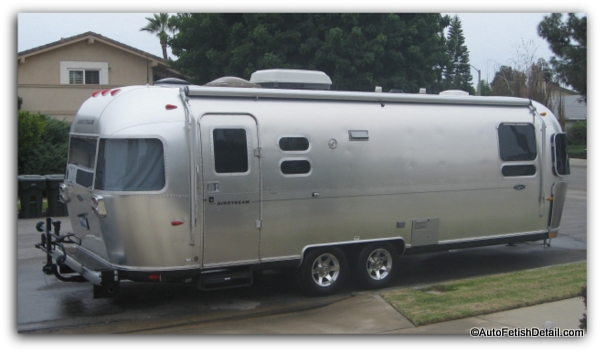 Modern day Airstream trailers are still made out of aluminum, but are then clear coated (same type of clear coat used on cars and full body paint RV's)
You treat these trailers just like you would car paint or full body paint RV's
You would not use aluminum polish  on this as you are not actually touching the aluminum
Rv with Full Body Paint and extended roof curbs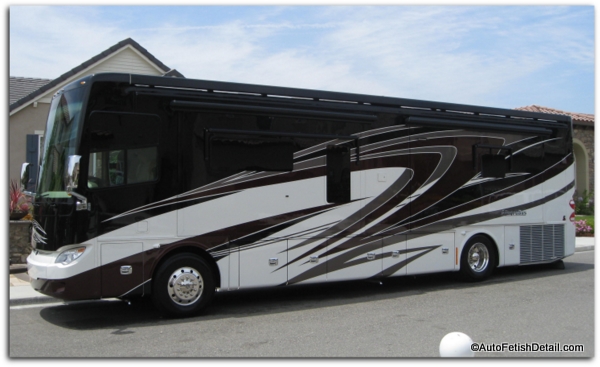 RV with full body paint
Extended roof curbs (more painted "real estate" to take care of)
RV Van Conversion with no Clear Coat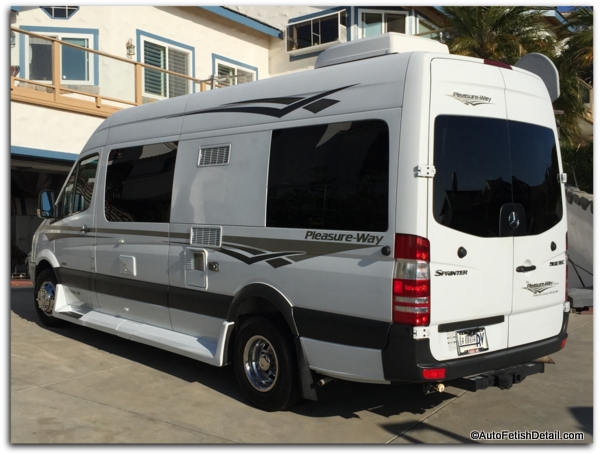 RV van conversion

Full body paint with no clear coat

Accented with vinyl decals
RV Van Conversion with Full Body paint and clear coat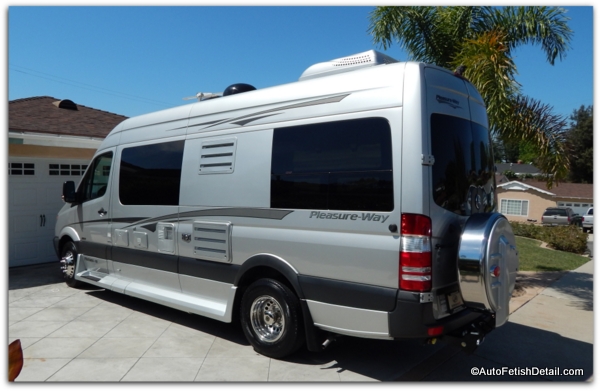 Sprinter conversion van
Full body paint with clear coat
Accented with vinyl decals
Washing, Waxing, Polishing Your RV

The varieties of RV's, trailers. and toy haulers is enough to make a persons head spin!

Pretty much anything goes and many of you will be dealing with RV's that have a variety of finishes as illustrated by the pictorial examples above, and listed out in the following bullet points:

Gel coat (generally white in color, but beige being the next most common colored gel coat)

Single stage paint (A color coat of paint with no clear coat as the top layer. These will generally be white as virtually any other color of paint used will require being finished with a clear coat)
2-stage paint (full body RV paint models. These will be painted with color paint coats first, then finished with a clear coat)
Vinyl decals (all decals are different: different colors, different textures)

Corrugated siding (this can be aluminum of fiberglass/plastic vinyl)

Painted corrugated siding (any type of corrugated siding that has been painted)

Now the question becomes as to what you are supposed to do as an RV owner when looking to wax your RV:
Do you go with a dedicated RV cleaner wax?
Can you just use that car wax you already have?
Do you need to use an actual polish first?

We will break this down together and help you get what you really came looking for (as opposed to what you thought you knew, and came looking for)
RV Cleaner Wax:

Moving forward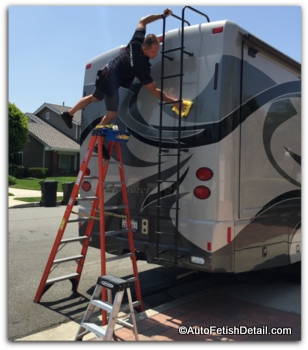 Because of the many ways RV's can be constructed and finished, it is hard to know where to begin based on your specific RV and the manner in which it has been "finished", decorated, or embellished:

What exact materials or finishes make up your specific RV
How to properly identify the many finish types and materials

What products/techniques should you use based on your specific RV
I will do my best to answer all these questions in an order that will help lay the ground rules down.
Should You Use RV Cleaner Wax?

Yes and no.
I think the best way to deconstruct much of what you need to learn is by starting with the reason you came here to begin with: RV Cleaner Wax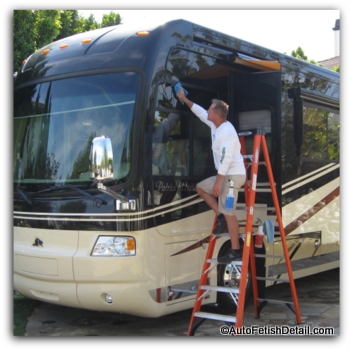 Cleaner wax is simply any wax product that has added chemicals that perform "cleaning" while also waxing (Cleaning in this context is chemicals that help remove additional "dirt" that washing and basic waxing does not remove. Chemicals that also aid in restoring shine and depth. You can also call this oxidation removal)
While the term "polish" is a massive generalization that is used with no regard to any standard rules, any manufacturer can label any product as a "polish" regardless of its chemical formulation or regardless of whether it has any form of abrasives. The general default of most manufacturers is to label these non-abrasive products as cleaners, ie cleaner waxes.

Reading most RV cleaner wax labels will be confusing at best, and outright misleading at worst (most RV cleaner waxes will say that the product will remove light oxidation and restore depth and shine. Some will even go as far as saying the product will remove light or fine scratches. These products will certainly restore some degree of shine and depth, but since there are no actual abrasives to these RV cleaner wax products, they are not capable of actually removing at a permanent level, any real paint damage, blemishes, or scratches)

There are cleaner waxes made for every industry: cars, boats, RV's, Aerospace
These cleaner waxes rely on chemicals do do "additional" cleaning rather than that of abrasive technology that can perform "cleaning" as well as paint correction, or defect removal at a permanent level.
RV Cleaner Wax:

Asking the better questions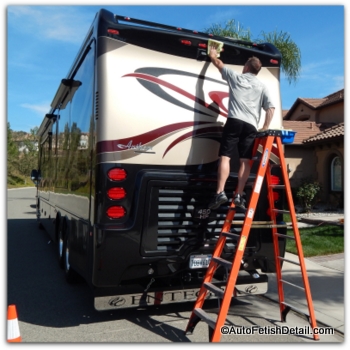 Choosing a top rated RV cleaner wax is the simplest way for you to get started. But an RV cleaner wax may not be the best way to get the results you are looking for.
Going through a checklist based on what you are dealing with might prove helpful. For every RV is different and your situation is unique from any other persons situation.
So the real question to me as a professional is more about choosing between an RV cleaner wax: a product that allows you to remove light oxidation, while simultaneously applying some form of protection with wax.
Or choosing a dedicated compound that can remove light to heavy amounts of oxidation, but will require you to apply an RV wax following your use of a dedicated compound.

It all depends on numerous factors:
How severely oxidized or neglected your RV is (heavy, moderate, or just a mild freshening-up)

What type of material you are working with (gel coat, single-stage paint, 2-stage paint, vinyl decals)

Your expectations for end results (some people pursue perfection while others lean into minimal efforts)

The simplest of answers would be to start with an RV cleaner wax and see how well this product works in your situation. Does it deliver the results you are happy with, or does it prove that you in fact, need a much more aggressive product like the compound below?
With that said, I actually like using the compound first in every situation as I know that it is perfectly suitable for any RV with only light amounts of oxidation, but has the ability to cut through heavy layers of oxidation; especially if you use a machine polisher to do the polishing.
After I use the compound and do the heavy lifting, then I come back through and use the RV cleaner wax to take the shine to the next level while also adding protection along the way.

Paint, Gel Coat, Decals:
What are they, what to use, what to do??

Imagine...all you asked for was RV cleaner wax.
A relentless volume of words later and we are still in the learning curve. Learning so you can be a more fully informed consumer and RV owner!
RV Paint and Car Paint:

Single Stage and 2-Stage paint
Paint: there are two types of painting methods (Notice the distinction between painting methods, versus paint formulations or paint colors in general. There are thousands of colors and thousands of specific formulations, but we are talking painting methods here):
Single Stage Paint

: paint with no clear coat applied. This means the paint coat is left uncoated and exposed to the elements.

Two-stage Paint

: paint that has been clear coated. Clear coat is at a basic level, paint with no pigments in it. This clear coat was introduced into the paint method back in the eighties and has now become the industry standard on cars and in this case, RV's when they are painted. This clear coat creates true UV protection as well as creates additional depth and gloss to the colored paint coat below.
Darren's Note: What this means to you is that clear coat is good. Clear coat is essentially the same as paint itself. Any wax or cleaner wax product you could use on paint, can be used on clear coated paint surfaces also. If your RV is painted, you can assume that in virtually every case, it will be clear coated also (2-stage paint).
Clear coat does not oxidize the way uncoated paint does (nor does it oxidize like gel coat does; regardless of the color of the gel coat). If you are old enough to remember the paint jobs on cars from the 60's, 70's, or much of the 80's, you will remember how paint would become a bit chalky, become faded, and you could rub your finger hard on the surface and create a little shine as you rub some of that "dead" paint off with your finger. The kind of "stuff" we referred to as oxidation.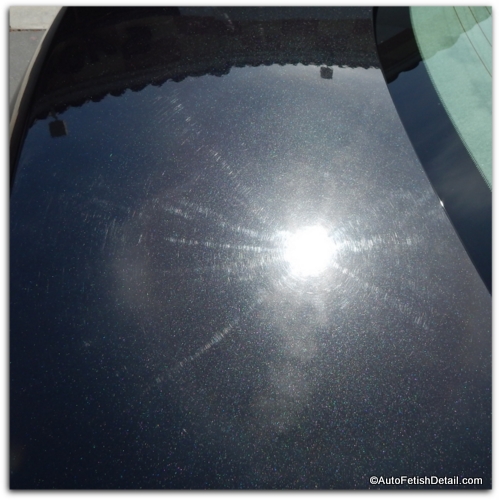 Here is what is called "spider webbing" on car clear coat. This is the trunk lid (boot) of a Chrysler 300 with metallic black paint. This shows the typical appearance as clear coat ages, looses gloss, dries out, and has endless fine scratches that when observed in sunlight, creates a spider webbing effect and is commonly mislabeled as "swirl marks" due to the circular pattern that is created. The sun, being a circle in overall shape, creates this pattern of fine scratches into a circular pattern.
Clear coat does not respond to the elements the same way as single-stage paint or gel coat does. Clear coat does not become chalky and there is no color to it. Mostly what happens to clear coat is that it "dries out" and looses its original luster or shine.
Waxing any clear coated paint job (your car or RV) will naturally make it look better. Wax products in general (regardless of whether you have a wax product that is labeled as a car wax or an RV wax) serves two distinct purposes:
Create shine and gloss, while helping to conceal very minor, superficial paint blemishes
Add a microscopic layer of "protection" (protection can mean a lot of things and is a massive generalization. I could rub Vaseline on my car and claim that I have now added a layer of "protection" to my car or RV. many manufacturers of wax products claim to protect against "harmful UV rays". I have yet to see this proven. The main reason clear coat is what I call the true UV inhibitor is due to a measurable thickness that literally diffuses, or filters out some, or most of the UV rays before the UV rays hit the color coat. the thicker the clear coat, the greater the UV protection will be. I challenge anyone to measure the thickness of that "good coat of wax" you just put onto your car paint or RV paint. I also challenge any manufacturer to verify and prove the "chemical" or ingredient they are using that truly has the ability to filter out UV rays)
Gelcoat:
White or Colored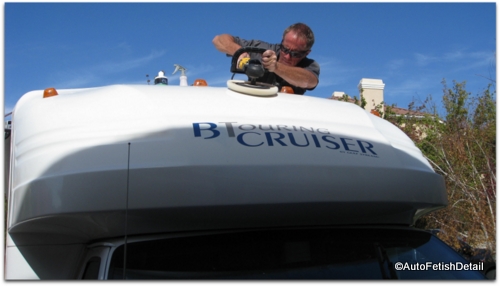 Here I am atop of this C class RV polishing the front overhang to remove the oxidation from the gel coat. I am using the CSi Rip Cut for heavy oxidation removal.
As an RV owner you will be working with gelcoat that is either bare (typically white or a light beige) or has been painted.
Gelcoat is also the same material that boats and bathtubs are made with as the top coat. If you are a boat owner, the only difference is that boats are generally made with color pigments added to the gelcoat process to create the colors, where RV's are either painted like cars, or decorated using cheap (yes I said it) vinyl graphics.
Despite the fact that gel coat oxidizes so easily, it is a very tough and durable material that holds up against the elements very well. Add to these points is that the gel coat process is also a rather inexpensive material to use in the construction of big items like boats and RV's.

Gel coat is relatively cheap
Gel coat is a strong, durable material

The problem is that gel coat it is also very prone to oxidizing when exposed to the elements of weather, sun, and dirt, and water of any kind.
And because gel coat oxidizes so easily, I always recommend using an RV cleaner wax regardless of how new or perfect your RV is. The oxidation process happens immediately once your RV has been exposed to the elements for even the shortest amount of time.

RV Cleaner Wax:

What, Why, and When
What is an RV Cleaner Wax: An RV cleaner wax is a two-in-one product that removes oxidation and staining from your RV while at the same time leaving a layer of protection in the form of waxes, silicones, or synthetic sealants. (Even though a product is labeled as a "wax", does not necessarily mean it has any actual wax in it. "Wax" in the world of cosmetic car care can be used as a blanket statement for many products used for visual enhancement and protection of car or RV paint)

Why is RV Cleaner Wax Made: To remove light oxidation while applying a coat of wax or sealant.
When Would You Want to Use an RV Cleaner Wax: This is really the million dollar question of this page. And this is where most people get tripped up. The simple answer is that any RV cleaner wax can be used on your RV whether it is painted or unpainted gelcoat.
Most people will default to RV cleaner waxes or a general cleaner wax for their car with the goal to make their paint look better without having to machine or hand polish. This is usually the case when a car owner or RV owner accepts that their car or RV can look better than it currently does, is in need of waxing, but would like to raise the level of performance by using a RV cleaner wax that has been marketed as being the "better" choice when you want maximum gains, with less effort.
RV Cleaner Wax:

Light Duty Oxidation Removal
If your RV, boat, or toy hauler have little to no oxidation I recommend a simple cleaner wax like the one's below. What most people don't realize that even if your boat or RV has some shine to it, there is always going to be some degree of oxidation and a cleaner wax is always my first pick even if I think the RV or boat is in excellent condition and appears to have no oxidation.
A quality cleaner wax will always prove to deliver better results over a straight RV or marine wax and is a great way to maintain your RV or boat in excellent condition.



Meguiar's M5032 Marine/RV One Step Cleaner Wax - Liquid - 32 oz.
Top rated RV cleaner wax.
Perfect for ongoing waxing that your boat and RV will require on a regular basis.
Recommended even if you think your RV is in excellent condition and has no oxidation to it.
Recommended for your un-painted RV. (can still be used on painted RV's, but this wouldn't be my first choice)
Can be used by hand or machine (as a rule, I always recommend using a quality dual action polisher whenever working on RV's and boats. Any cleaner wax will prove far more effective and you will stand a fighting chance against trying to wax such large items without rubbing until your arm wants to fall off)



3M Marine Restorer and Wax (33.8-Ounce)
Another top rated RV cleaner wax (labeled as a marine restorer officially, but formulated for any gelcoat/fiberglass surface)
From a long established trusted name in all types of polishes and compounds.
Can be used by hand or machine. (as a rule, I always recommend using a quality dual action polisher whenever working on RV's and boats. Any cleaner wax will prove far more effective and you will stand a fighting chance against trying to wax such large items without rubbing until your arm wants to fall off)
Heavy Duty Oxidation Removal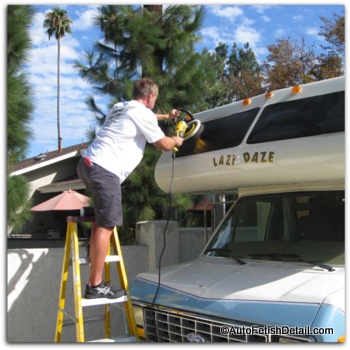 Using the CSi Rip Cut compound to polish the oxidized black, false widows on this Lazy Daze RV overhang.
Many of you will be up against serious levels of oxidation and only the most aggressive compounds will prove effective.
While these types of heavy compounds seem scary to most, you need to understand that because gelcoat is such a tough and durable material, it would be very difficult to mess up. This is not car paint you are working on!
The product I have used professionally for over 15 years is the CSi Rip Cut Compound. It's list of features makes this my "go-to" compound regardless of whether I am working on RV's or boats to remove oxidation.



CSI Rip Cut Compound Quart 62-M200-Q
This is not an all-in-one type of cleaner wax like the ones above
This is a heavy duty compound that has been my "go-to" compound for RV or boat gel coat

Can be used by hand or machine. (as a rule, I always recommend using a quality dual action or rotary polisher whenever working on RV's and boats. Any cleaner wax will prove far more effective and you will stand a fighting chance against trying to polish such large items without rubbing until your arm wants to fall off)
Follow up with your choice in an RV cleaner wax

Can be used in direct sunlight on hot gel coat (perfect since most RV's or boats will be outdoors as you polish them)
This compound also finishes down to a high gloss shine when you are using a machine polisher

Darren's Note: Like anything else in life, not all compounds or polishes are created equal. I love this compound and consider it my sure thing as I know that no other compound has ever performed like this compound does.
If you are serious about removing the oxidation from your boat or RV, you can't go wrong with this. But keep in mind like any compound you might choose, lenty of work on your part will still be required. This is not some magic formulation that will simply remove all the oxidation with a light buff with your hand or machine.
Gel coat is a very tough material and requires much more aggressive polishing than that of a car. While this is labeled as a marine compound, gel coat is the same material used to make boats just as it is the same material used to make RV's.
his product is suitable for not just heavy oxidation removal, but for light oxidation removal. You don't have to worry about this product being too aggressive for your RV or boat.
Most people greatly underestimate just how much oxidation their RV or boat has until they start working on it.

All-in-One RV Care


Meguiar's M4965 Marine/RV Fiberglass Restoration System
This kits has all formulations designed specifically for each step of the process

The compound in this kit is less aggressive than the stand-alone compound of the CSi Rip Cut Compound

I recommend this kit for the seriously committed and for RV's with light to moderate levels of oxidation. (for heavy oxidation, I definitely recommend the CSi Rip Cut Compound)

Follow up with a cleaner wax (yes; I always recommend a cleaner wax on any RV or boat despite how perfect it is or even if you feel you have polished it to perfection)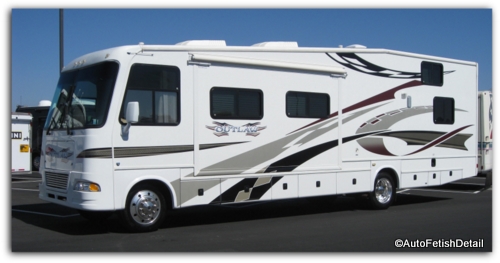 In closing, I hope I have helped you become an informed consumer with my page on RV cleaner wax, and helped your relationship between you and your RV become a better one!
Sincerely,
Darren Priest
---