RV Cleaning Tips
Expert tips for easier RV ownership
RV cleaning is no fun for any of us! These big ticket items come with big needs of care and maintenance. While in many ways RV's can be treated like over-sized cars with regards to cleaning and detailing, the biggest factor is the enormous size of RV's! Because of the amount of real estate these land behemoths consume, regular care and maintenance often go neglected.
Ultimately you left with (3) choices when it comes to the washing, cleaning, and detailing of your pride and joy called RV: forget it, do it yourself, or hire it out. For many, the best day of RV ownership is the first and last day of ownership; this page is dedicated to making the time in between a little more enjoyable! If you are looking to hire it out, you can follow this link to RV detailing of Orange County, CA.
RV Cleaning Tips and Resources
Having worked on hundreds of RV's, Motorhomes, Motor Coaches, and Toy Haulers over the past twenty-plus years, I am including this page of useful RV cleaning and maintenance tips. Not only will I be laying out specific tips to save you time and money, but actual products that will help you get professional results normally reserved for veteran detailers like myself.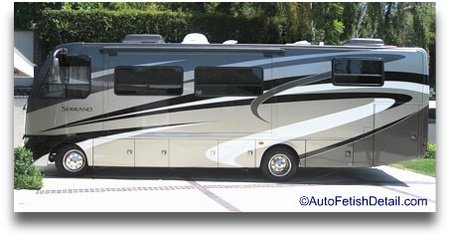 The good news is that most of your car care products are the very same products you can use on your RV's, motorhomes, boats, and toy haulers. Despite the fact that RV's are constructed of numerous types of building materials, they all have a few things in common:
They need regular washing; dirt and sun are the biggest enemies.
They all need some form of protection from the elements in the form of waxes or sealants.
Follow along as I outline strategic tips of RV cleaning and maintenance for your new RV's, as well as the RV's that are looking a little rough around the edges.
---
RV Washing
As any RV-er knows, these "toys" are big! Washing your RV alone is problematic alone without even considering the waxing and detailing your RV. My experience has shown that a few common questions exist as to how to wash an RV or motorhome. The bigger the RV the bigger the hassle, and some professional tips will help to get you better results.
Dirt and sun are your RV's worst enemies; respond accordingly.
Most retail RV washing products are overly mild and will offer very little in the way of actual rv cleaning.
RV wash and wax products are even more mild and recommended only on RV's in truly excellent condition.
Do not use municipal water and allow to drip dry; the minerals in this type of water will create hard water spots that can etch into materials.
The objective of washing your RV is simply to get the dirt off of it. Using a soft brush is recommended to break loose the superficial dirt. Follow these additional RV cleaning and washing tips:
RV Washing Tips for RV's in Excellent Condition
If you are the proud owner of a brand new RV in excellent condition, or have the means to store your RV indoors, then you are ahead of the curve. Any quality car washing or RV washing product will suffice for basic RV washing. The higher-end RV's with full paint are especially suited for these types of products and will provide excellent results. Shopping for a multi-use product like a wash and wax will add even more visually fulfilling results.
Required Tools and Products for RV Washing
The following are my recommended picks for the necessary tools and products for basic RV washing. Use any of the secure links below to get your own.
Shurhold Soft Yellow Deck Brush, 10 Inches
Meguiars Mirror Glaze #54 Mirror Glaze Boat/RV Gel Wash
Shurhold Deluxe Water Sprite Mop
Darren's Tips
If you are working alone, then pick the early morning or early evening when there is no direct sunlight to avoid water spotting in the heat. Start with the roof and work your way down onto the sides picking and finishing one side at a time until completion; this means both washing and drying one side at a time. Whether you are working alone or have some help, the The Water Sprite mop is an absolute must! The best way to avoid water spots and for professional results. It's like having an extra helping hand; no more climbing up and down the ladder endlessly trying to dry all the siding!
RV Washing Tips for RV's w/ Mild Oxidation
Most RV's are stored outdoors and are subject to the elements of weather. With this comes oxidation in its many levels. If you have an RV with mild levels of oxidation to the fiberglass or gel coat, then washing your RV with the kind of wash product from above will do little more than remove superficial dust and dirt. Once the fiberglass begins to oxidize and turn chalky, it begins to "soak" up the dirt. This makes for harder washing and waxing. Any of the traditional RV wash products will be ineffective at removing this embedded dirt from the oxidized surface, and this is where it can get tricky. I personally use a pump type of sprayer to spray some form of degreaser or heavy duty cleaner to the wet sides of the RV and scrub. It will be through the combination of the manual agitation and the heavy duty cleaner that you will be able to remove the typical black drip stains and embedded dirt from the oxidized siding.
Most retail, all-purpose, heavy duty cleaners will suffice and will provide better and deeper cleaning of oxidized fiberglass siding of RV's. You will have to experiment with this on your own to see what cleaner provides acceptable results. Just keep the (3) points in mind:
Fiberglass siding is very durable by nature, despite what we have been lead to believe.
Most retail RV and car wash products are overly mild and will be ineffective for this kind of dirt.
Test your choice of heavy duty cleaner in an inconspicuous area first.
"Serving Orange County, California for Over Twenty Years"
Home | About | About This Site | Privacy Policy | Contact
Home Page

>>
RV Detailing
>
RV Cleaning