Dry Car wash

Welcome to the world of advanced chemicals
Dry car wash is a term most people will not fully understand. The fact is most people have not even heard of it nor understand it.

I have been a huge fan of what is often called waterless auto detailing or waterless washing. I also know that every person I have taught how to do this has never gone back to traditional methods of washing their cars.
Dry Car Wash

Going counter to most of what you know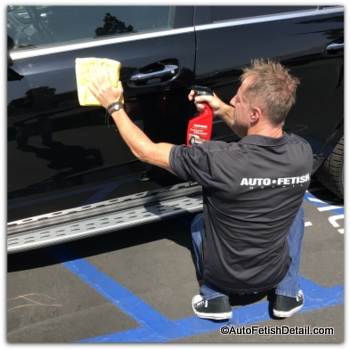 To keep this ultra simple for better understanding, I am going to take you through the key points you need to know, without the points that will only complicate the subject. For every subject has the ability to be complicated by people with limited experience and knowledge.
Q. What is dry car wash or dry car washing?
A. Dry car wash is any product used to remove the dirt from your car that traditional car washing with water would do. Dry car washing is simply the act of using one of these products to clean your car.
Q. Why would you want to dry wash your car?
A. It can saves mounds of time and can produce better results than traditional car washing methods.
Q. Why was dry washing your car even developed?
A. The original and accidental reason is the time savings that can be achieved compared to traditional methods. This then ushered in the realization of the massive water saving benefits of dry car washing.
Q. How exactly does dry car washing even work?
A. The best comparison I have found is to think of using a furniture polish like Pledge to clean/dust your household furniture. You simply choose your preferred brand of furniture polish, spray your dusty furniture, then wipe to perfection. Waterless car wash products use the same concept, but do so with products specifically formulated to work on car paint.
Q. But my car gets dirtier than my furniture; will this not scratch my car paint.
A. Depends. It is impossible to wash your car in any manner without doing some form of scratching or abrading regardless of the chosen product or method. Your car has thousands of scratches on the paint already. It is part of having a car that must endure the elements of life, weather, outdoors. You could make a full-time career out of washing your car in the most gentle ways just to prevent scratches or abrasions. But most people have a life. Most people want a better return on their time that traditional car washing methods deliver. For this reason waterless car washing represents the winning balance for everyone I have ever taught. So while it is completely realistic to accept that some scratch/abrading might be part of the dry car wash method, it becomes such a trivial part of the equation that everyone I have shown considers it a non-issue.

Q. I am still worried about washing my car without water.
A. I completely get it. Until you have experienced not only the ease of this method, but the finished results, it will be hard for any person to wrap their mind around this revolutionary concept. But once you try, you will become a committed follower!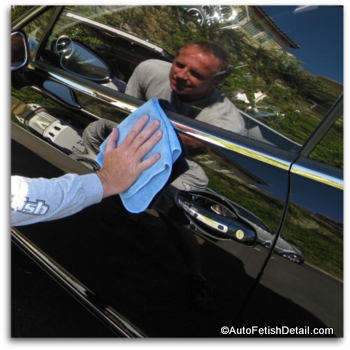 Darren's Tip: Let me be a voice of reason here. During non winter months, the majority of the dirt on your car is in the form of water soluble dust. These unique waterless car wash products are engineered and formulated to encapsulate the dirt/dust particles, lubricate the space between the dirt particles and your paint so that you can wipe the dirt away and leave behind a glorious shine you will be truly amazed by.
---
Dry Car Wash Products


Aero Cosmetics Wet or Waterless Car Wash Wax Kit 144 Ounces. Aircraft Quality for Your Car, RV, Boat, Motorcycle. The Best Wash Wax. Anywhere, Anytime, Home, Office, School, Garage, Parking Lots.
One of my personal favorites.
Number one rated dry car wash on Amazon.
As easy as easy can get.
Spray over dusty car, section by section and buff as you go.
Cleans and protects as you go.
Will not stain black trim.
Can be used in direct sunlight.


Chemical Guys WAC_707RU_16 EcoSmart-RU Ready to Use Waterless Car Wash and Wax (16 oz)
Another quality waterless dry car wash formulation.
Clean, shine, and protect all in one.
Top rated dry car wash product on Amazon.
Can be used in direct sunlight.
Won't stain black trim.


Griot's Garage 10984 Spray-On Car Wash 22oz
Another top rated waterless dry car wash product.
Can be used in direct sun.
Won't stain black trim.
Clean, shine and protect all in one.
Waterless Wash Cleaning Cloths
Now that you know about waterless washing, you need to get the second most important part of the equation. Nothing works better than a quality micro-fiber cloth.
The cloths below represent the winning balance between size, thickness, and cost.



Chemical Guys MIC_506_12 Professional Grade Premium Microfiber Towels, Gold (16 in. x 16 in.) (Pack of 12)
Ideal for many uses of auto detailing, but definitely ideal for use with any of the waterless wash products.
Safe, economical, and top rated.
Don't underestimate the performance of a quality micro fiber cloth.
I hope after reading through this page you will begin to expand your mind to the possibilities of this unique technique of washing your car without using gallons upon gallons of water. Once you try you will never go back!
Sincerely,
Darren Priest
---