Mobile Car Washing
Q. and A.

Mobile car washing here in Orange County, CA is a popular way to have your car washed at work or home. Typically these same mobile car wash services also provide many additional detail services. Auto Fetish Detail not only operates differently than most mobile car wash services, but differently than most mobile car detailing services here in Orange County. Use the following Q. and A. session to see how we operate in a way that creates a higher level of value to you and our current customers.
Q. Does Auto Fetish do mobile washing?
A. No, not in the traditional sense. This simply means that if you are looking for a basic mobile wash job, or looking for weekly mobile washing services, we are not the choice for you.
Q. How can we detail a car if we do not do mobile washing?
A. This is one key area we are different than the other traditional mobile detail services here in Orange County. We actually place a value on your money just as much as we value our own money. This is why we teach our customers how to get the most out of our detail services, and one of the best ways to do this is to have your car washed prior to our detail appointment. This simply means that you are paying us to do what we do best and that is detailing, not washing. This may seem rather strange at first, but suddenly becomes very clear upon closer examination for most people.
Q. I have a weekly mobile detailer that washes my cars each week, why would I choose Auto Fetish for my detailing services?
A. We are a professional detail company and specialize in custom and personalized detailing. It really has to do with the level of professionalism and experience you are looking for. It is very easy for guys to get into the mobile washing business, and then offer detail services to their customer base. While these detailers can perform standard detail services, they simply lack the skill set and experience necessary to deliver professional grade results when it comes to all areas of specialized car detailing. This higher level of professionalism may or may not be for you; only you can decide that.
Q. It seems strange to use a mobile detailer only for the washing, and Auto Fetish to do any actual detail services?
A. At first, many people feel as if they are "cheating" on their mobile car washing service; we can't decide that for you. Just know that we have many accounts that simply do not trust their entry level mobile car wash service to the higher levels of expectations they have for their cars. Trust us on this one; you will get over it quickly.
The Auto Fetish Difference
At Auto Fetish Detail we actually make decisions and build our services as though we were in your shoes. This means we make decisions and operate as though it was our cars and our money being spent. Yes we realize this is a novel approach to doing business, but is mostly a direct result of our own frustrations of the over-promise and under-deliver mentality that seems to dominate so many other areas of life.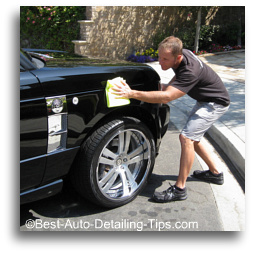 Car Detail Professionals, Not Car Wash Professionals
Since we are charging you to detail your car, then we think it makes sense to have us do what we do best and that is car detailing! Most people simply look at the detailing process in the traditional way that includes having your car washed at the same time your car is detailed; we think this is poor use of your money. Many people do not realize that in order for us to do any actual detailing, we have to remove the superficial dirt from your car first. This is the same superficial dirt that a $10.00 car wash will remove. We see no sense in paying car detailing rates for the car wash process.
Keeping it Simple
It is this simple; if you want maximum results with your money, have your car washed a day or two prior to our appointment.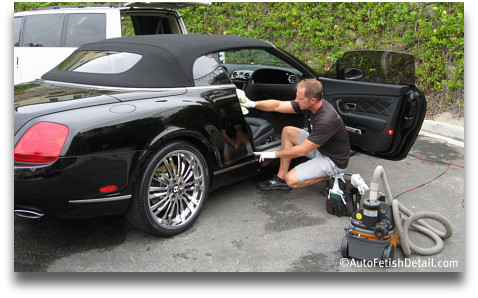 If this is not important to you and you prefer the ultimate convenience, then don't worry about it as we will simply take care of the washing as part of the overall process when we show up to detail your car. We still have many customers who simply demand the ultimate convenience and you might be one of them. We can discuss this over the phone when you call.
The Auto Fetish Difference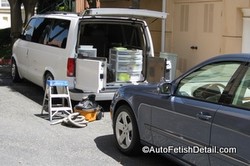 It is really all about maximizing your dollar and increasing the value of my detailing services to you. If you value your money as much as I do, then I am simply showing you how to get more for your money; have your car washed first before I come to detail it, and I will then spend 100% of the cost of the detail doing just that...detailing!
Sincerely,


"Serving Orange County, CA for Over 25 Years"
Home | About | About This Site | Privacy Policy | Contact
Home Page

>>
FAQ page
> Car Washing