RV Decals
RV decals come in many shapes, sizes, and materials. Often what is looked at as a decal, is really painted graphics. Our first goal will be to identify the various types of RV graphics and decals one might come across.
Once we have determined what type of decals we are working with, then we can discuss care and maintenance of the decals you might find on your motorhome, toy trailer, RV, etc. My experience has shown that most people confuse the various types of graphics, and therefore remain confused as to what is considered proper care of these visual enhancements.
What Do I do?
Can traditional car wax be used on the graphics?
Is there special wax for the siding, and a different wax for the graphics?
Someone told me to wax around the graphics as traditional wax will turn the graphics white over time.
RV's Are Not Cars
While this seems obvious, the point is that when it comes to our RV's, we cannot automatically assume that traditional car care products will work. Actually, most car care products will work, the main difference between cars and RV's has more to do with the size of these things.
Painted Siding - Painted Graphics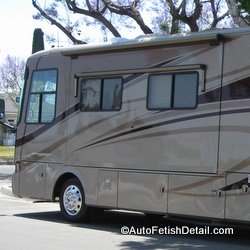 Reserved mostly to the high end market of RV's, these forms of expensive home on wheels, come with specialized building methods and graphics. The siding on these "diesel pushers" are fully painted, with fully painted graphics.
Smooth Siding/FRP - Vinyl Adhesive Graphics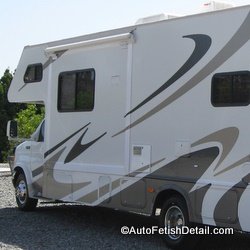 The most common among RV's and toy haulers are the FRP, or "fiberglass reinforced plywood". This type of manufactured RV makes up the bulk of the RV market. The RV decals used on these are traditional vinyl graphics made to be semi-permanent, and usually contain UV inhibitors to reduce fading.
Corrugated Aluminum - Adhesive Graphics
The difficulty with maintenance on these is the uneven surfaces of the corrugated panels. To make things even worse, these "tongue and groove" (my term) aluminum panels are very often the textured variety. Waxing and removing wax becomes very problematic due to all the tiny nuances of the textured panels.
Care of Your RV Decals and Graphics
As a general rule, any traditional car wax can be used on RV decals and graphics. The same protection you apply for the paint and fiberglass siding, will also benefit the decals and graphics.
Recommendations From The Expert
When it comes waxing your RV's, toy haulers, msotorhomes, boats, etc. I recommend two specific products. These are not the only ones that work, but two that work are readily available.
Meguiar's Polymer Sealant #20
Because most RV owners are looking to wax less often, rather than more often, I recommend a quality liquid polymer sealant. These modern day engineered wonders will outlast a traditional carnauba paste wax 10 to 1. This one from Meguiar's is a prefect solution for fighting the elements your RV's are required to endure. Suitable for use over any of your smooth vinyl RV decals. If your RV decals have any form of texture to them, I would recommend the spray wax below as an alternative.

Meguiars Mirror Glaze #20 Polymer Sealant
The best in polymer technology.
Perfect for large items such as boats and RV's
Perfect for use when you are looking to wax less often, rather than more often.
Meguiar's Ultimate Quik Wax
Meguiar's Ultimate Quick Wax is a spray detailer and wax all in one. Use as a stand alone wax after using the clay bar, or to enhance and refresh any wax already on your paints finish. This product is so easy to use, and very light in consistency, I actually use this as a Quik Detailer; this way I am also getting added wax protection and enhancement each time. Recommended for any dark colored cars after washing for added depth and glossing. Ideal for hot climates, as can be used in direct sunlight on hot paint.

Meguiars Ultimate Quik Wax
Use as final step after waxing to create additional shine and depth.
Perfect for use in removing any residual dusting after waxing.
Bridges the gap between washing and waxing.
Contains polymers for added durability.
Perfect for extending wax jobs.
Ideal for post washing for paint enhancement for glossing and depth.
One of my personal favorites.
So easy to use, you will find you are willing to use often.
Additional RV Decal Tips
You can also determine if you have decals by the ability to get your finger nail under the edge or not; painted graphics/decals will not have a defined edge.
Traditional car waxes are suitable for your RV's.
Once you have allowed bare fiberglass siding to oxidize, (this is where the siding gets chalky) it will be next to impossible to get it back to original condition. You can read my page on fiberglass restoration to see the process whether we are talking boat or RV. This includes bare fiberglass which is actually colored fiberglass, commonly referred to as gelcoat as is the case with boats.
As a general rule, any wax that is suitable for your cars paint, is also suitable for your RV's, motor homes, toy haulers, and boats.
You can wax over any smooth sided RV decals or vinyl graphics.
Graphics with any kind of texture should not be waxed with traditional waxes. If you have any form of textured rv decal, use any of the new non-staining spray waxes readily available; the Meguiar's spray wax above is a perfect example.
Polishing is different than waxing.
Because of the size of even the smallest RV's, polishing, or oxidation removal, should be left up to an expert; actually team of experts.
Removing vinyl graphics can be a major pain in the backside, so read my page on removing decals for some insider tips that would also apply to RV decals.
Using traditional paste waxes that haze up,(the kind that turn white over time) will "cake" into the tiny texture crevices of the textured aluminum siding; I recommend some of the latest spray waxes instead.
If you are keeping your textured sided RV outdoors, I think it might just be a little more realistic to accept the fact that the siding is going to oxidize, the RV decals will fade, and you should simply use a strong cleaner when washing your RV to clean and remove the black drip stains.
Decals will often start to lift and peel around the edges as they weather and dry out. I do not know of any product you can use to glue these back down. I have used a straight edge razor blade to trim this excess off; use extreme caution if you do attempt this yourself!
Thank you for visiting RV Decals and becoming an informed RV owner and person.
"Serving Orange County, California for Over Twenty Years"
Home | About | About This Site | Privacy Policy | Contact
Home Page

>>
RV Detailing
>
RV Decals