RV Decals
RV decals come in many shapes, sizes, and materials. Often what is looked at as a decal, is really painted graphics. Our first goal will be to identify the various types of RV graphics and decals one might come across.
Once we have determined what type of decals we are working with, then we can discuss care and maintenance of the decals you might find on your motorhome, toy trailer, RV, etc. My experience has shown that most people confuse the various types of graphics, and therefore remain confused as to what is considered proper care of these visual enhancements.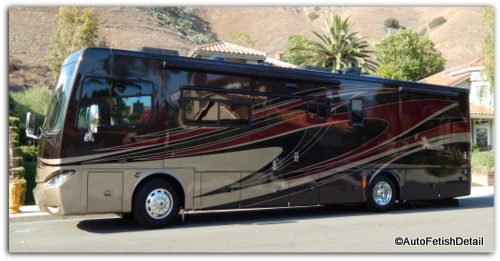 Here is a shot of a Phaeton diesel pusher RV with full body paint
How do you determine if your RV has decals or full body paint?

Do RV decals need to be waxed?

What kind of wax can I you use on your RV decals?

Can the same wax I use on my RV siding be used on the vinyl decals?
Decals on a RV:
3 basic categories
Virtually every RV, toyhauler, 5th wheel, or trailer will have some form of graphics. The greater question is trying to determine what type of graphics are on your particular RV.
And this can be reduced down to 3 different versions or possibilities. I will list based on most common, to least common:
White Fiberglass RV with Vinyl Decals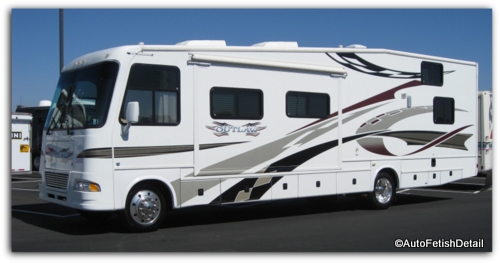 The RV above is what is considered your entry level RV due to the fact that it all white fiberglass siding and strictly vinyl decals.
White Fiberglass RV w/ Partial Paint and Decals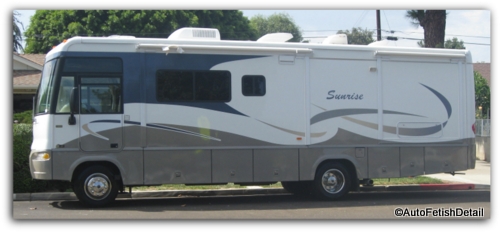 The RV above is your next level, or mid-level RV due to the fact that it has both paint and vinyl decals.
The bottom gold colored area and the big blue section towards top and front are painted areas. The rest of the graphics are vinyl decals.
RV w/ Full Body Paint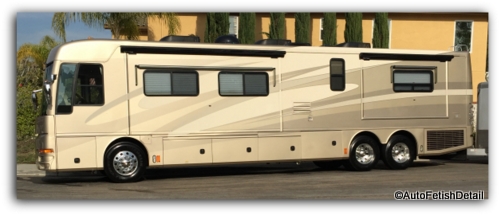 The RV above is your high-end RV due to the fact that it has full body paint. All the various graphics have been painted on.
Waxing Your RV

Once again I am going to break down the various categories of these land yachts with regards to RV decals.
What to do and what not to do.
Corrugated Aluminum RV with Vinyl Decals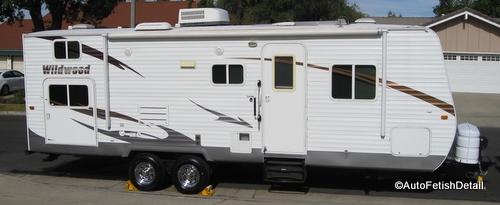 The above RV trailer is the worst of the worst due to the fact that is has uneven siding (corrugated) that is a baked enamel paint, and vinyl decals.
These types of RV's are as difficult to maintain as anything can get. Not only will the pre-painted aluminum corrugated siding be problematic enough, but you also have the notoriously problematic RV decals to contend with.
Bare Fiberglass With Paint and Decals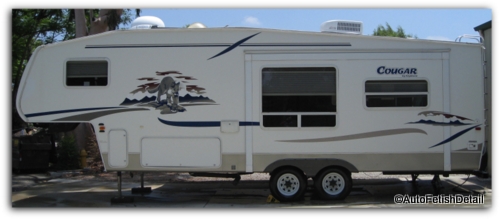 Here we have a 5th RV that is made the same way any traditional RV is with the fiberglass siding and decals. Only the very bottom gold section has paint on this RV.
Bare Fiberglass with Paint and Decals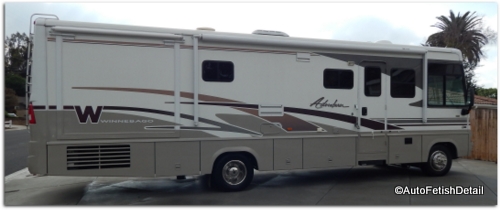 This Winnebago is a combination of bare fiberglass siding, painted areas, with vinyl decals.
RV With Full Body Paint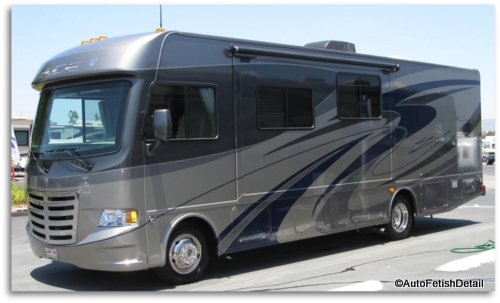 Care of Your RV Decals and Graphics
As a general rule, any traditional car wax can be used on RV decals and graphics. The same protection you apply for the paint and fiberglass siding, will also benefit the decals and graphics.
The following products are all suitable and will deliver exceptional results for any of the many versions of RV's as listed above.
All these spray waxes or sealants can be used on any RV type of surface, any type of RV decal.
Fiberglass siding.
Corrugated siding.
Vinyl RV decals.
Full body paint RV's
Darren's Note: Since RV's come in so many configurations regarding fiberglass siding, paint, RV decals, etc., the spray waxes/sealants below are an easy way to handle the care and maintenance of all materials/surfaces of your RV.
See fiberglass wax if your RV has oxidation to it.


Turtle Wax T-477R ICE Spray Wax - 20 oz.


CarGuys Hybrid Wax Sealant - Most Advanced Top Coat Polish and Sealer on the Market - Infused with Liquid Carnauba for a Deep Hydrophobic Shine on All Types of Surfaces - 18 Ounce Kit


Chemical Guys WAC_808_16 Hybrid V7 Optical Select High Gloss Spray Sealant and Quick Detailer (16 oz)
Additional RV Tips
You can also determine if you have decals by the ability to get your finger nail under the edge or not; painted graphics/decals will not have a defined edge.
Traditional car waxes are suitable for your RV's.
Once you have allowed bare fiberglass siding to oxidize, (this is where the siding gets chalky) I do not recommend these products, but you can see fiberglass wax for the different levels of oxidation if you are dealing with oxidized RV's.

As a general rule, any wax that is suitable for your cars paint, is also suitable for your RV's, motor homes, toy haulers, and boats.
With the recommendations on this page, you can wax over any RV decals or vinyl graphics.
Graphics with any kind of texture should not be waxed with traditional waxes. I only recommend the products on this page to wax the actual vinyl RV decals.

Polishing is different than waxing.
Because of the size of even the smallest RV's, polishing, or oxidation removal, should be left up to an expert; actually team of experts.
Using traditional paste waxes that haze up,(the kind that turn white over time) will "cake" into the tiny texture crevices of the textured aluminum siding; I recommend the products on this page instead.

If you are keeping your textured sided RV outdoors, I think it might just be a little more realistic to accept the fact that the siding is going to oxidize, the decals will fade, and you should simply use a strong cleaner when washing your RV to clean and remove the black drip stains.
Decals will often start to lift and peel around the edges as they weather and dry out. I do not know of any product you can use to glue these back down. I have used a straight edge razor blade to trim this excess off; use extreme caution if you do attempt this yourself!
Thank you for visiting and becoming an informed RV owner and person.

"Serving Orange County, CA for Over 25 Years"
Home | About | About This Site | Privacy Policy | Contact
Home Page

>>
RV Detailing
> RV Decals