RV Wax
Why the best wax for your RV may not be wax at all!

For most of you, the quest for the best RV wax will start among traditional car care products. Then shortly along the way you will start to consider the possibility that specialized products must be made for the RV and boat trade due to the fact that RV's and boats are made of fiberglass and gel coat, not car paint.
Your quest is most likely what brought you to this page looking for what might be considered the best wax for your RV, motor home, diesel pusher, etc., etc. After all, it does make sense that a special wax would exist for these special materials. Before long, you will find yourself more confused than ever due to the many forms of marketing and labeling that exist for these kinds of projects.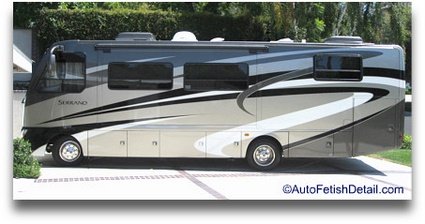 You Have Questions. I have Answers

Does my RV really need to be waxed?
Is there any truth behind these "Marine Grade" waxes?
Darren, can you show us what you use professionally?
Let's go through these and further questions so you not only become an informed consumer and RV owner, but you can actually go away with some working knowledge and a solution to what you are in search for.
First Things First...
What Kind of RV are You Trying to Wax?

Before I can help you find the top rated wax for RV's, you must first identify what type of material you are going to battle with!
Yes, for some of you, this will mean a battle!
Darren's Footnote: I receive many calls from frustrated RV owners in search of solutions and answers to their questions. I am going to step in and become a voice of reason to many of you. Some of you will be taken aback with my candid suggestions, but upon this new perspective, most of you will come to the same conclusion that I have. I have been working on RV's as long as I have been working on cars and boats; they are not the same and my tips come from dealing with hundreds of RV's and RV owners.
Understanding the Basics of RV Washing and Detailing

RV's come in a wide range of configurations with regard to exterior materials and surfaces. The following list represents most situations when it comes to choosing the best RV wax for your particular RV model or type:
Fiberglass/Gelcoat:
These are the most common as they start at entry level pricing and continue towards the higher-end RV's with full paint.
Mostly white; sometimes cream colored.
Usually have some form of decal striping, lettering, etc.
May also have limited use of paint such as the bottom half or stripes applied with paint.
Fiberglass/Gelcoat becomes hazy, uneven, and chalky over time.
Corrugated Fibergalss/Aluminum:
Corrugated RV's can be smooth sided or texture corrugation.
These represent the true entry level RV, toy haulers, or trailers. (that is code for: "these are the least expensive to purchase")

Are usually white, but can be any color ultimately. 
Usually have many vinyl decal stripes and lettering.
Fully Painted:
Just as the name implies; these have full 2-stage paint. (Just like car paint, these have a base color coat with a top clear coat)
These are the easiest to wash, wax, and detail.
These are also the most expensive; which is why they are less common than the other types of RV's.
Bare/coated Aluminum:
These are rare and nowadays only represent the Air Stream line-up of trailers.
Older models are bare aluminum and can be polished. All new models have a clear-coat applied over the aluminum and can be maintained like any car paint.

Fiberglass/Gel Coat RV

This class A motorhome represents the majority of RV's on the road. With that said, RV's come in hundreds of configurations and this one is fiberglass/gelcoat with paint and vinyl graphics.
The white sections represent the fiberglass/gelcoat, the bottom section is paint, and all the individual stripes are vinyl decals.
Darren's Recommendations:
Any form of car wax, RV wax, or marine wax can be used on the bottom, painted section.

The fiberglass/gelcoat sections will become dull, hazy, and chalky over time. Unless your RV is in pristine condition with no forms of oxidation, you will require the use of some form of RV wax with either chemical cleaners or abrasive cleaners that have the ability to remove the oxidation. 
You can either remove the oxidation first with an individual product, or you can use a RV cleaner wax and accomplish 2 steps in one.
Fiberglass / Gelcoat Wax

To make things simple, and since virtually every RV with any form of bare fiberglass or gelcoat will have even trace amounts of what is considered oxidation, you might as well start with a two-in-one RV wax product that has some level of cleaner along with protection. My experience has shown that even RV's stored in-doors will still require some level of cleaner formulated into the wax or sealant product. Let me offer a few recommendations:

Gel Coat Labs One-Step Micro-Polish and Sealant 16 oz.
Called marine or boat wax since it is formulated for fiberglass/gelcoat which is what your RV is.
Can be used by hand or machine.

Marine 31 All-In-One Gel Coat Polish & Wax
Called marine or boat wax since it is formulated for fiberglass/gelcoat which is what your RV is.
Can be used by hand or machine.

Meguiars Mirror Glaze #50 Marine/RV Cleaner Wax
Can be used by hand or machine.
If you don't like to venture off the beaten path, then this product from Meguiar's is the one for you.
Any of these products will perform desired results when choosing a quality RV wax that is a one-step product.
Heavy Duty Fiberglass/Gelcoat Retoration

If your RV is need of some serious oxidation removal and you are looking to take RV waxing to the next level because you know that your RV is way past the point of simply washing and applying some RV wax due to heavy oxidation, you may want to consider the following kits that are suitable and ideal for both boat and RV fiberglass restoration.
DeWalt DWP-849X Marine 31 Boat Oxidation Removal Kit
Everything you will need to restore the beauty and shine to your fiberglass RV siding. (and boat if you have one of those also!)
Comes with the exact car polisher I use professionally on cars, boats, or RV's.
Gel Coat Labs DeWalt DWP849X Total Polishing Kit
Everything you will need to restore the beauty and shine to your fiberglass RV siding. (and boat if you have one of those also!)
Comes with the exact car polisher I use professionally on cars, boats, or RV's.
Darren's Professional Tips

Experience has taught me that the majority of RV and boat owners not only do not understand the nature of the beast when it comes to gelcoat/fiberglass, (one in the same...almost. Even though the materials are actually different, these are terms people interchange and simply refers to the top layer of their boat or RV. Officially fiberglass refers to the fiberglass cloth used to reinforce the substrate, and resin is applied to the cloth to form a hard material, then a top-coat made of gelcoat is the finish coat or top layer of material that we are dealing with and referring to here.) but often make an unfair comparison to car paint...
they are entirely different and working on them, maintianing them, doing anything with gelcoat/fiberglass is very differ than dealing with car paint. If you are ever questioning as to which is better to maintain and deal with when it comes to RV's in any configuration, I will take a fully paint RV any day of the week!
Here are some tips to be mindful of when using RV wax, polish, or any form of RV care and maintenance:
Car paint is not fiberglass or gelcoat.
When waxing or polishing, keep in mind that gelcaot/fiberglass is what I call an unstable material. This means after you have waxed or polished a section, it will appear perfectly uniformed in appearance from one direction, but blotchy from a different direction or lighting; this is part of that "nature of the best" I was referring to.
When using RV wax, boat wax, RV polish, etc., it will require more work, more passes, more pressure, more of everything if you are making a natural connection to working on car paint; it really is a different animal.
Gelcoat and fiberglass is a very durable material and very forgiving...so if you have been looking for an excuse to buy a professional buffer and finally learn how to do car polishing, boat polishing or RV polishing, then this is the good news. It is harder work than that of car paint, but it is almost impossible to screw anything up...and I am referring to using a rotary, or high-speed buffer which is what I strongly recommend.
A DA, dual-action, random orbital, etc., can be used when applying RV wax, RV polish, etc., but because fiberglass and gelcoat is such a tough and durable material, it really is deserving of the higher speeds and friction that can only be created with a rotary buffer like the one from DeWalt above.
RV Decals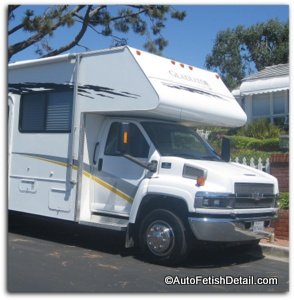 When it comes to RV decals, there a re few things to keep in mind:
There is no set rule for RV decals; it really comes down to a case by case judgement call.
Most RV decals will be a thorn in your side as they will fade, crack, and peel over time.
If you have a brand new RV and you are looking to extend the life of your RV along with the decals themselves, I recommend using a liquid wax that is a non-staining formulation; will not stain black trim or porous materials. Many RV decals have decals that are textured and traditional waxes and polishes will remain and stain the RV decals. I have a recommendation below.
Not all RV decals are created equal and depending on the color of the RV decal, some colors of decals will fade, and weather differently. These different colored decals will also cause different levels of staining and discoloration underneath if you decide to remove the decals. Darker colors seem to leave a yellowish discoloration after decal removal.
If you are considering decal removal, keep in mind it is far more work than most people realize, there will be adhesive to remove after the top layer has been removed, and if your RV has spent anytime in the sun, it will have a shadow left behind that is virtually impossible to remove completely; even with heavy duty polishing or colorsanding.
RV Wax Summary

We have covered a lot on this RV wax page so I wanted to recap so as to tie things together for you and you have some actionable steps to take. Instead of using specific RV's to offer recommendations, I am going to offer specific products and apply suggested uses for these products:
Marine 31 Gel Coat Spray Wax Plus
Use on any fully painted RV.
Use on any brand new fiberglass/gelcoat RV with no signs of oxidation.
Use on any RV decals/stickers.
Use on all black trim pieces of your RV including but not limited to: black window frames, side mirrors, decals, etc.
RV's with Gelcoat/Fiberglass Siding

For any RV with fiberglass/gelcoat siding that has any form of oxidation to it, refer to my suggestions at the top and pick one of the one-step cleaner waxes as suggested from above.
As far as trying to polish or wax any of your RV decals, if there is any form of texture to the decal, I do not recommend using any polish or wax on them, but use the spray wax from just above.
With that said, every decal is different, and some of them can be brought back to life with some cleaner wax or polish; simply test in a small area and test each individual RV decals to verify results first.
Home | About | About This Site | Privacy Policy | Contact
Home Page

›
Car Wax Reiews
›
Best RV Wax