NuFinish Car Polish
The polish that isn't!

While NuFinish remains as a blatant example of misrepresentation and faulty labeling by the industry, it also continues to remain a very popular product. This product is neither a car wax nor a car polish, and simply represents only one example of a long list of cases where the car care industry continues to muddy an already confusing area of car care.
Correctly labeled, this product would be labeled as a car sealant, due to its synthetic ingredients. Perhaps the greater question at this point is whether this once a year car polish actually delivers acceptable results or not. And if not, what alternative exists to this sealant that does deliver professional grade results.

The Once a Year Car Polish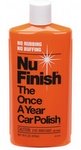 Of course the misrepresentation does not stop with the mislabeling of the product itself, but adds additional insult by calling it the "once a year car polish". This is simply a case of the industry pandering to our lazy tendencies as people and creating a false sense of security. Of course once again, NuFinish is not the only offender of this false sense of security as many sealant manufacturers claim anything from 6 months to 12 months of protection when using their paint sealants.
I realize that we all want to believe and many people do, but I can assure you no paint sealant is going to last 12 months! But with that said, many experts in the industry insist that synthetic sealants will in fact out perform natural based car wax products with regards to durability.

Paint Sealant vs. Car Wax

Now that we have clarified the fact that Nu Finish is a paint sealant and not a wax, why would a person choose a paint sealant over a car wax product. Let me break the pros and cons down for you.

Pros:


Most "experts" accept that synthetic sealants will outlast natural car wax products.
If you accept that fact, then sealants represent a way to wax less often rather than more often.
Create a slicker feel to that of a natural car wax product.

Cons:

Typically more dusting during take-off than traditional car wax products.
Does not hide and conceal like a traditional carnauba paste wax does.

NuFinish Alternatives

While Nu Finish does indeed work and represents an easy solution to car paint protection, I do know that alternatives exist that will deliver a much better overall user experience. Follow below to see my recommendations from professional grade car paint sealants. So let's go from good to great in our car waxing and protecting efforts!

Detailer's Poli-Coat Paint Sealant Buy One, Get One Free!
Meguiars #21 Synthetic Sealant 2.0
Wolfgang Deep Gloss Paint Sealant 3.0
Prima Hydro Seal Paint Sealant 32 oz.
Laying the Foundation
Before you go rushing off to apply your choice in car paint sealants, let me add a note about preparing the foundation first. Even if you choose to not follow any of my professional recommendations and still used Nu Finish car polish, you will get better results if the paint surface has been prepared first by using detailing clay to remove any form of embedded pollutants. You can refer to my page on the "clay bar car" which features my Q. and A. session.

Darren's Application Tips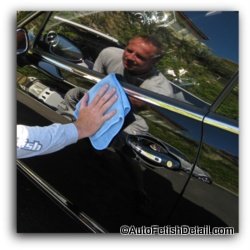 Any of the above recommended paint sealants will work beautifully for you; it is not an area that needs to be over thought. The good news is that many products exist today that will deliver superior results to traditional retail products of the past, and finding the winning ticket for yourself will often come down to the specific nuances of any given product. So don't over think and pick from any of the quality choices from above. In case you are wondering, I use the Meguiar's product from above as my NuFinish alternative in my professional world of auto detailing.

"Serving Orange County, California for Over Twenty Years"
Home | About | About This Site | Privacy Policy | Contact
Home >> Car Wax Reviews > Nu Finish