Micro Fiber Detail Cloths:

Could these be the 9th wonder of the world?!
Micro fiber detailing cloths are at the top of the list of the most critical and industry changing "tools" according to most detail professionals!

But despite these textiles wonders, I am amazed at how many driveway detailers and enthusiasts are still using old school terry cloth rags, bath towels. and even baby diapers for the many steps of the detailing process.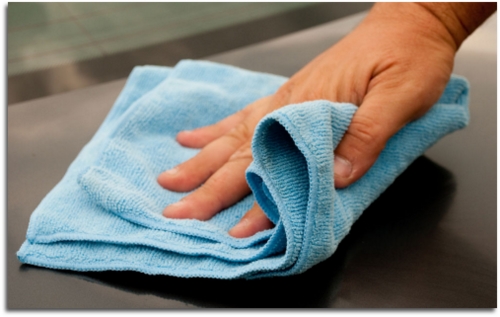 What Makes Micro Fiber Detailing Cloths So Amazing

I could write a book on micro fiber, how it was developed, the endless varieties, etc. until you were bored out of your mind. With that said, there are a few critical points that any car enthusiast should now about micro fiber detailing cloths.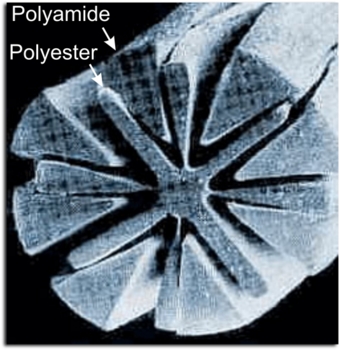 What Is Micro Fiber: Officially, it is any fiber with a diameter of less than ten microns (a stand of silk is approximately ten microns in diameter, a human hair is approximately 50 microns in diameter). Most micro fiber is made of polyester and polyamide.
Split Fiber Micro Fiber: The really magic comes with split fiber cloths. The picture above is a cross section of a split fiber micro fiber cloth. This is the kind of fiber used to make virtually all micro fiber detailing cloths. The beauty of the split fiber is its ability to pick up dirt within the gaps created in the split fiber versus a s more solid, single strand of fiber as in the case of cotton cloths and towels.
Split Fiber Micro Fiber Detailing Cloths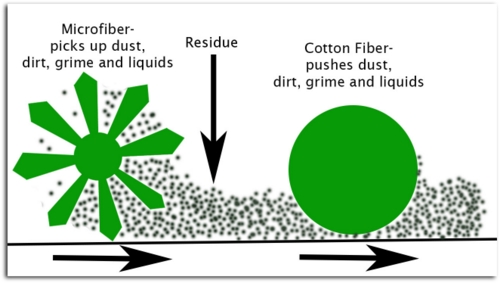 The illustration just above illustrates how effective split micro fiber cloths are at removing dirt and dust far more safely and effectively from any surface.
So whether you are choosing to use a micro fiber to apply a quick detail, remove polishes and waxes, or clean the upholstery of your car, the micro fiber cloth will be far safer and more effective than any other type of cloth you could reach for.
Electrostatic Charge: Due to the millions of fibers rubbing together,  an electrostatic charge is created that actually attracts dirt and dust. Once the micro fiber is washed, this electrostatic charge is broken and the dirt is released and then the dry micro fiber cloth can begin the process all over again.
No Lint: Unlike natural cloths (think of your bath towel and baby diapers) that leave loads of lint, micro fiber cloths are lint free. This is a dream come true for any detailer! (micro fibers will eventually break down through normal use or improper cleaning/drying. This can show up as tiny fibers that are left behind as you are working)
Incredibly Absorbent: While many versions exist, not all micro fiber is created equal. You have micro fiber that can be made using different raw materials to be soft, but actually repel liquids. Then you have micro fiber that is made to be soft, pick up dust and dirt safely and effectively, and to be highly absorbent. To achieve all the benefits of the micro fiber detailing cloths, the micro fiber needs to be made using not only the combination of polyester (cleaning abilities) and polyamide (absorbent abilities), but needs to be split fiber. It is with all three of these factors that we have the amazing capabilities of today's micro fiber detailing cloths.

Micro Fiber Detail Cloths:

So many choices!
When it comes to selecting from among the top rated micro fiber towels and cloths, it is not a one-towel-fits-all moment. Since micro fiber detail cloths can be made in endless versions, I will recommend the micro fiber cloths so you can match up the right cloth for the job!
Car Washing/Drying:
---


Meguiar's X2000 Water Magnet Microfiber Drying Towel
Number one rated micro fiber drying towel.
The winning combination of soft and absorbent.
A must have if you are washing your car at home. (if you are still using bath towels slap yourself at least twice in the face!)
Say good-bye to lint forever!
The winning balance in size. (many drying cloths will be promoted as extra big, or extra absorbent and big. The problem with these over-sized drying "sheets" is how difficult they quickly become when they get wet. You soon find out how difficult it is to wring out one of the over-sized drying towels. When it comes to bigger is better, bigger not only means bigger, but more difficult.
Window Cleaning Micro Fiber Detail Cloths:
---


(5-Pack) THE RAG COMPANY 16 in. x 16 in. Premium South Korean 70/30 Blend 400gsm Waffle-Weave Microfiber Detailing and Drying Towels
One of the actual window cloths I use professionally (I have numerous types as I am continually testing)
I prefer the waffle weave over the smoother, dedicated window cleaning cloths as they don't roll up on me when I am doing the windows like I find the thinner, smoother window cloths to do.

I prefer the 16x16 size as they fold up to the perfect size for my hands versus the smaller ones that can become saturated too quickly, or the bigger ones that become too large to manage.


THE RAG COMPANY (3-Pack) Dry Me A River Professional Korean 70/30 Microfiber Waffle-Weave Drying & Detailing Towels (16x24, Navy Blue)
Same as the above window cloth, just slightly bigger as a 16x24,
Many guys prefer this larger size.
I simply like the brand, the weave, and the quality of both versions as they are both from the same company.

These are also a darker blue that will hide staining as you use them more and more.


(3-Pack) THE RAG COMPANY 16 in. x 16 in. BLUE WAFFLE-WEAVE 370gsm Microfiber Detailing, Window / Glass and Drying Towels - LINT-FREE, STREAK-FREE
A dedicated window cleaning cloth of the waffle weave variety versus other dedicated window cloths that are the  smoother versions.

Overlock stitched edge

Made by the well known Rag Company.



Basic Cleaning/ All-purpose Micro Fiber Detail Cloths:



---


Dry Rite Premium Professional Microfiber Cloth - Pack of 24 Best Cleaning Towels for Fine Auto Finishes, Chrome, Kitchen, Bath, TV, Great for Glass- Non Scratching, Use Wet/Dry- 16x16
I prefer these for general cleaning and detailing.
Economical for when a quality micro fiber is not a requirement.
I prefer black as it hides any staining as you use them repeatedly over time.
Many of you that don't want to overthink things can get away with these alone for all your detailing needs.
You can find cheaper all-purpose micro fibers on Amazon, but these tend to be rather small and you end up going through more of the smaller ones than these 16x16 inch cloths which I find are the winning size of most micro fibers that I use.

Wax/Polish Removal Micro Fiber Detail Cloths:

---


Korean Plush Edgeless Detailing Towels 16"x16" 4-pack (Grey)
True premium grade.
Quality, plush, and edgeless.
As good as good gets when it comes to a micro fiber ideally suited for removal of wax, polishes, or application of quick detailers.


Premium Microfiber Towels by Armour Car Care | Professional Grade Car Detailing Kit Cleaning Products | Super Absorbent, Thick, Swirl & Scratch Free | 16 x 16 inches | Pack of 6 Towels
Quality, plush, and edgeless.

Not the same level of quality of the one's above, but still an excellent micro fiber.
Ultra Thick Micro Fiber Detail Cloths:

---


(3-Pack) THE RAG COMPANY 16 in. x 16 in. EVEREST 1100 White Ultra-Plush Korean 70/30 Professional Microfiber Detailing Towels
Extra thick and plush ideally suited for waterless washing, no-rinse washing, or spray detailers.
I definitely recommend the extra thick micro fiber towels when performing any rinseless, waterless detailing.



Super Plush Microfiber Auto Detailing Towel, 1200 GSM Professional 70/30 Blend, 16 in. x 16 in, Orange (3pack)
Extra thick and plush ideally suited for waterless washing, no-rinse washing, or spray detailers.
I definitely recommend the extra thick micro fiber towels when performing any rinseless, waterless detailing.
Micro Fiber Detail Cloths Summary
Like just about every other area of detailing, micro fiber detail cloths is a topic that appears simple and straightforward; until it's not!
The good news is that you have so many choices and you can truly choose the perfect micro fiber cloth for the job you need to perform. The bad news is that you are overwhelmed by too many choices and too many opinions.
My goal has been to bring this convoluted topic into a more manageable understanding with limited choices that you can move forward with, rather than being stuck with an inability to take action!
Sincerely,


"Serving Orange County, CA for Over 25 Years"
Home | About | About This Site | Privacy Policy | Contact
Home Page

>>
Detailing Tips
> Micro Fiber Detail Cloths