Teflon Car Wax:
Are we being mislead as consumers?


Teflon car wax is a topic within the world of auto detailing filled with much bad and misleading information. Let me give you a brief peak behind the curtain of Marketing 101 and car paint care for a moment; it is called guilt by association. Simply attach yourself to a well known product or person, and you gain automatic credibility; happens all the time with celebrity endorsements! In the case of "Teflon", manufacturers use the notoriety of the DuPont Teflon name by adding some insignificant amount of DuPonts' "active" ingredient, and voila'! We have instant credibility!
Guilt by Association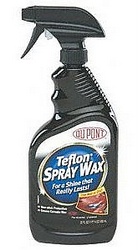 This practice is used by far more than the car care industry as the DuPont name is universally known. The car care industry has added the name brand version of liquid polymers known as Teflon, to many products like waxes, cleaners, and dressings.
Within the world of car care products, there are endless terms and labels that are continually misused, interchanged, and misleading. Teflon, sealants, and waxes are simply just a few and the subject of polymer technology and Teflon is only part of the many! I am unsure as to who was the first manufacturer to add "Teflon" to car wax, which matters not. The critical thing to know as a consumer is that the real science or magic behind the Teflon name is simply polymer technology. Or the use of synthetic ingredients that are designed to out-perform and out-last natural based formulations made typically with carnauba wax ingredients.
Teflon Car Wax: The Critical Information

Because DuPont and Teflon is such a well known name and used in so many applications, it was simply a matter of time that the car care industry started to use this well known name to sell more and more products to ignorant people.
What You Really Need to Know....
Searching for a true DuPont Teflon car wax will be an exercise in frustration as the product virtually is non-existent these days.
There are far better products on the market if you are sold on the idea of synthetics, polymers, or Teflon car wax.
The majority of car waxes will be a hybrid blend of both natural carnauba wax and synthetic ingredients. Because of this, I don't spend much time over-thinking this area and really look for products that come with what I call the winning combination of benefits.

Darren's Simplified Approach to Car Wax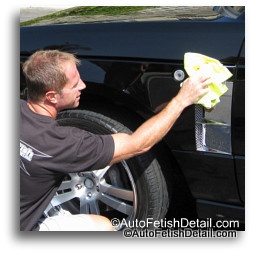 If you enjoy roaming the Internet for hours reading one car wax review after another, trying to decide on the best car wax or the best car sealant...
then by all means, have at it!
But if you are really looking for time tested and proven products that promise to perform and want to get down to business, let me offer my professional recommendations:
The "Silver Bullet" of Car Waxes

If I had to live with a single product that could be used on any color of car and offer a user friendly experience in most areas of the real world, I would go with the following:
Meguiars Ultimate Paste Wax
Excellent results on any colored car.
Made using Meguiar's Hydrophobic Polymer Technology...see what I mean... ambiguous terminology most of us would need a dictionary to interpret! (actually this literally means "water-fearing" synthetic formulation)
One of my favorites and one I still use professionally.
Use as your foundation of protection and visual enhancement on clean paint that has been prepped using a quality clay bar.
Reapply every 4-6 months.
As user friendly as any paste wax you are going to find.
Very economical proce point.
Excellent hiding and covering capabilities that make this an excellent product for dark and black cars.
Meguiars Ultimate Quik Wax
As easy to use as any product on the market.
Excellent covering and hiding capabilities that rival any quality paste wax for dark and black cars.
I use both professionally and personally on my own cars and customers cars.
So easy to use I use every week for that just waxed look.

Ideal replacement for that Teflon car wax you went in search of.
Non-staining formulation which means you can wax directly over any vinyl black trim pieces and actually protects these trim pieces right along with your car paint!
Use as a wax rejuvenator, wax refresher, wax extender....call it whatever you want, but just use it in- between your applications of the paste wax.
Can be used in direct sun on hot paint!
Other Teflon Car Wax Alternatives

In the rare event that you are anti-Meguiar's and are looking for additional synthetic car paint sealants over the Teflon car wax you were in search of, any fo the following will also be excellent alternatives:
Detailers Pro Series:

Just like the Meguiar's combo from above; use the liquid polymer sealant as the foundational base coat, and use the spray detailer in between to energize and rejuvenate existing wax or sealant.
Wolfgang Concours-Series

Just like the Meguiar's combo from above; use the liquid polymer sealant as the foundational base coat, and use the spray detailer in between to energize and rejuvenate existing wax or sealant.
Teflon Auto Wax Summary

If the idea of synthetic car paint sealants are a new concept to you, I think you are in for a real treat. Use this checklist to see if they might be for you and as a review for what we have covered:
Synthetics create a more slippery end result as compared to natural carnauba wax products.
Marketed as longer lasting protection over natural carnauba products.
If you have a light to medium colored car, any of the (3) choices above will work. If you have a dark or black car, I would go with the Meguiar's Ultimate Paste along with the Meguiar's Ultimate Quik Wax. (even though the Meguiar's have the term wax as part of the labeling, they are indeed made using synthetic ingredients; only one of many cases in which the industry continually adds to the confusion instead of trying to clarify and educate.)
Make sure to prep your car first with a quality clay bar.
"Serving Orange County, California for Over Twenty Years"
Home | About | About This Site | Privacy Policy | Contact
Home Page

›
Car Wax Reviews
›
Teflon Car Wax