10 Best Car Waxes


"With advances in chemical engineering and formulating, you are now drowning in a sea of endless choices. Do you really want to read a thousand reviews on the 10 best car waxes... or follow my lead as a detail professional?"
Looking for the best car waxes will be a frustrating process for most people. The reality is that we are on information overload; much of which can be blamed on the Internet. Now with a click of the mouse you can do a search for the best car waxes and come up with a mind blowing 8,700,000 results! But hey, good luck with that!
---

Choosing from the 10 Best Car Waxes

Rather than bury you with the top 10 car waxes based on what the ignorant masses would have you buy, I am going to show you what I use as a professional.
There will be 3 different grades:
Consumer grade.

Enthusiast grade.

Professional grade.
Despite how they are labeled, my recommendations will all deliver professional level results.



Meguiar's Ultimate Liquid Wax - 16 oz.
C

onsidered both consumer and enthusiast grade.

Thin-Film technology delivers effortless application and removal.

Can be applied in direct sunlight.

Will not stain black trim and un-painted materials.

Advanced synthetic polymer technology.

Creates a super hydrophobic (water fearing) barrier that allows for maximum water-beading results.

One of my personal favorites.

Excellent overall reviews.

For any beginner car owner or person looking to get into professional detailing who doesn't want to over-think or over-spend, but simply wants terrific results.



One of my personal favorites.

Considered true professional grade (notice the pricing)




One of the paste waxes I use professionally.

Excellent for any colored car.

As easy as easy gets!

Excellent reviews!




See video review at my YouTube channel below.


Wolfgang Füzion Carnauba Polymer Estate Wax 3 oz. Mini
Professional and enthusiast grade.

For those who demand the best of anything (hence the price)

As easy as easy gets!

Hand-crafted blend of both synthetic polymers and carnauba wax.

Smaller size of 3 oz. (trust me; this is plenty for any car owner. A very little goes a long way!)

One of the waxes I use professionally for those discerning customers. (that is code for picky)
Understanding the User Experience

What you are looking for in a product as a car owner may not be what the next guy is looking for in a product and unfortunately, no single product exits as being the best auto wax;
Wolfgang Fuzion car wax
You may easily get caught up in visions of grandeur as you dream of choosing from the top 10 best car waxes and renewing the love affair you once had with your car by applying a nice coat of wax.
But finding the best car wax is largely a matter of personal opinion based on other factors that are easily dismissed or completely overlooked. It is what I call the user experience.
After all, finding a quality car wax is of no good if it is so difficult to use that this said car wax never finds its way onto your car! Don't underestimate the power of stellar performance in the way of a products ability to deliver an exceptional user experience.
All the products from above promise to do just that. Maintaining the beauty and health of your car paint is far easier than fixing the health and beauty of your car paint if allowed to become neglected.

Darren's Professional Side-bar Tips:

Many people still exist who have either never heard of detailing clay, (also referred to as the clay bar or surface preparation bar) or still think they can bypass this very important and critical step of proper car paint care. If you are one of these people, you are grossly mistaken, and not only will any of the 10 best car waxes below perform less than acceptable, but your end results will also be less than superior. I cannot stress enough how necessary using the clay bar as part of the waxing process plays in the overall experience from start to finish! I get more positive feedback from first time users regarding the use of detailing clay than on any other subject! See this page for a complete Q. and A. session to explain proper use of detailing clay with expert recommendations.
Also worthy of noting is that detailing clay will not save damaged paint or be a substitute for paint polishing. (this link will open into my other website) If your paint is damaged or severely neglected, no car wax in the world is going to allow you to bypass the necessary steps of recovery or restoration your car paint may be in need of.
Whether we are talking about car wax or paint polishing, experience has shown that many people come to the table with unrealistic expectations. Any of my car wax recommendations below are excellent products and will produce excellent results. Ultimately a users preference will be about the subtleties of a particular product. Once again, if you are looking for some wonder wax to fix all your car paint problems or just have unrealistic expectations in general, no car wax in the world is going to fix this!

10 Best Car Wax Summary

Any search online will produce and endless stream of reviews and opinions. I have tested these products out in the real world of professional detailing and they promise to deliver.
As an ending note, let me add a few points: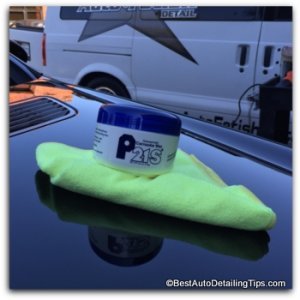 Using P21s to enhance the flawless finish on this car
Contrary to this page defining the 10 best car waxes, the waxes I have chosen are not only some of my favorites, but promise to perform for you.

Rather than bury you with choices until you are frozen in anxiety, I have limited my top rated picks.
Do not fall prey to the age old slogan of "more is better". Applying car wax does not require a heavy layer of wax. In fact, you could adopt the "Less is better" mentality and you will find that your user experience is as rewarding as your finished results.
You can apply any of these car waxes in any method you choose (hand or machine).
You can use any applicator cloth you want so long as it is either a foam, micro-fiber, or supplied wax applicator pad. (if you use my Amazon links and make a purchase, simply do a search within Amazon at the same time for any wax applicators and read the reviews)
All of these products can be used in direct sunlight on hot paint by adjusting your application method. But as a rule, any product will be easier to use when applying on a shaded surface.
Use any of these waxes to produce added gloss and depth, while adding a layer of protection.
Regardless of your exact choice of my 10 best car waxes, I recommend an application of every 3-6 months. The more or longer your car is subject to dirt and sun on a daily basis, the more frequently you should be applying wax.

"Serving Orange County, California for Over Twenty Years"
Home | About | About This Site | Privacy Policy | Contact
Home Page

›
Car Wax Ratings
› 10 Best Car Waxes