Auto Detailing Business Tips

For anyone with a natural passion for cars, starting an auto detailing business for many seems like a natural fit. Having been in the business at a professional level for over twenty years, I speak from the experience of owning and growing my own successful detailing business.
Throughout this twenty-plus year road, I have come full circle in many ways. I started out as a one man operation, hired and assembled multiple mobile auto detailing trucks and crews, operated a fixed location doing wholesale and retail auto detailing, to then downsizing back to mostly a one man operation specializing in high-end clientele.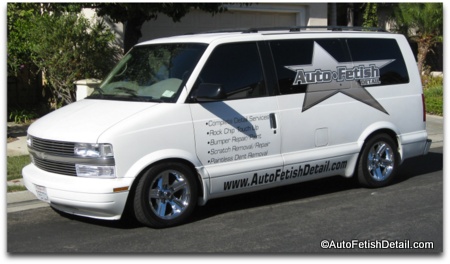 The Easy Part
For most guys... and gals, the easy part is having a passion for cars. The hard part is everything else past that. It seems like a natural fit to start an auto detailing business when you love cars and you love making them shine. Often, we lack enough information and experience to even ask the right questions. Many guys make the mistake of oversimplifying the moment and think that all that is really required is this passion for cars. While this is critical to the equation, hard work is also a critical part of the equation.
A Car Detailing Business Can Be Anything You Want
I have always used my car detailing business to work for me and my life; not the other way around. I have customized my detailing business around the things that were important in my life at the time.
Life is forever evolving and I have always tailored my business around the things I valued most in the moment:
Raising kids

Continuing education

Hobby's

Etc., etc.



Now I have structured my detailing business to provide the necessary income I need on a part time basis, so I can develop my websites about detailing cars and everything in between. Having this much experience, I have much I can show and teach you:
How to specialize in any of the niches within the car detailing world.

How to make more money than any of your competitors

How to build a recession proof business

Methods and techniques that allow you to make full-time income, with part time effort.

Superior products that will take you from inexperienced to professional in half the time.
Best Auto Detailing Tips

At this point I have a few options for you if you are serious about breaking into the business of professional auto detailing:
The Best Website Business Plan

One of the most commonly asked questions from people just like yourself who are seeking to enter the world of professional detailing is how to go about getting a website.
I can tell you a couple thugs about this subject that are taken from my years of experience:
My website is where I get 85% of my business each and every month.

I do it without paying any form of advertising. (this is different than paying a company to host my domain/website)

Because I have taken the time to not only learn how to build a website, but learn how to become relevant with the search engines (called SEO, or search engine optimization), I do not have to pay for any form of marketing or advertising.

And because of the time and effort I have put into this, 80% of my detail work is within a 10 mile radius of my home!

And just like a complete beginner wanting to learn how to detail a car or start an auto detailing business, you will not even have enough knowledge or experience to ask the right questions when it comes to building a website.

Most of you will race to the first "free" platform and work to build the coolest, fanciest website that ever existed only to find out that without the knowledge and skills to become relevant with the search engines, your website will never be found by anyone unless you pay to be relevant month after month through Google Adwords.



Looking to create your own online business doing something you are passionate about?

Don't know where to turn?

Don't think you have the skills to succeed?

Don't even have enough information to be asking the right questions?

Watch the video above (not below, as that will be an advertiser through Google) to check out how I was able to build two successful online websites starting out with zero computer and internet skills.
I hope I have given you a few things think about if you are considering starting an auto detailing business.
Regardless of which path you take, I wish you much success!
Sincerely,
Darren Priest
---