Buff A Car

Safely Polish Your Car Like A Rock Star!
You really can buff a car like a rock star even if you are a complete beginner. Even if you have never held a car buffer in your hand.

With the latest in car buffer design and engineering, the industry has designed specific car polishers that bridge the gap between complete beginner and seasoned pro like myself.
After reading my recommendations and reviews, you will have enough information to finally make the leap from average to supreme shine!

Buff a Car?

Your Biggest Mistake!
The biggest mistake you are likely making as a beginner is thinking that bouncing from one review to another is finally going to get you somewhere.
In many ways it's not your fault but simply a by-product of this thing called the Internet. But the Internet allows anyone with an opinion to become a self-proclaimed expert on any subject which only adds to your confusion and frustration.
So the biggest tip I can give you is to follow my lead as I am going to speak from 3 specific areas that will set what you read here apart from elsewhere:
I speak from personal experience having tested all the top rated car polishers.
I am a professional detailer with over 30 years of experience.
I have taught countless guys how to buff a car safely and effectively to achieve professional level results.
So unlike the Internet trolls or so-called experts, this time you really are dealing with an experienced professional. I have no personal agenda as I represent no brand or manufacturer, but will speak solely on experience from all three of those areas.

Wax On, Wax Off

What Do You Really Want To Do
What I need to clarify here is the difference between waxing your car with a buffer, and polishing your car with a buffer.
Many guys go looking how to buff a car when really all they want is a car buffer to apply and remove car wax so they don't have to do it by hand. If you are one of these guys then you really don't need to over-think things here and you can choose this top rated, entry level car buffer below.



BLACK+DECKER WP900 6-Inch Random Orbit Waxer/Polisher
As safe and basic as a car buffer can get.
Super light and compact.
Perfect for applying car wax or to perform very light car polishing.
Not your daddy's bulky, rattle-your-arms-loose orbital car buffer you grew up seeing in daddy's garage.
Not the buffer you want if you actually want to permanently remove paint flaws and blemishes from your cars paint.
Definitely not the car buffer if you want to buff a car like a rock star.

Buff A Car Like A Rock Star!

Say Good-bye to Daddy's Buffer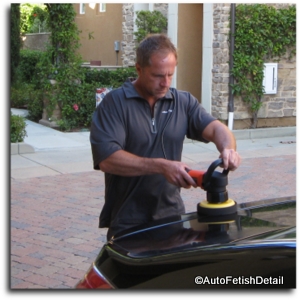 If you can answer yes to most of these questions, then I have some solutions and recommendations for you:
You have never touched a buffer before or have extremely limited experience.
You are not quite sure which buffer would be best for a beginner.
You know your car could look better if you could polish the paint.
You want permanent results when you buff your car.
You are ready to buff your car for head turning stares.
If you can answer yes to most of those, then you are ready to jump into the world of both professional grade buffing as well as super safe buffing.
What Would Darren Do (WWDD)
Finding the right car buffer to buff a car is definitely an important part ot the car poliswhing experience, but the real key is more about finding the best car polish to use with any car buffer you choose.
So often I am asked by my long term followers what I would do if I was them. Which is another way of saying,  'Just tell me what you would do Darren!"
And so I am going to tell you:


CSI Ceram-X Polish 62-203-Q Quart
My choice as the best car polish regardless of polisher, pad, car, color, etc., etc. (can also be used by hand)
Not a compound, but a highly refined polish
Formulated using controlled abrasive technology that outperforms the outdated diminishing abrasive technology
Nano-emulsified for a tighter consistency and a superior car polish
Waterborne technology (this means that unlike other compounds or polishes that contain the traditional heavy solvents that are used as the "carrier", this product literally uses filtered water as the "carrier" of the abrasives and other key ingredients
The waterborne technology allows you to use polish in direct sunlight on hot paint
Will not harden to the cement-hard white residue like traditional car polishes
Easy clean up with water sue to this waterborne technology
Can be used on any color car paint, cured or fresh paint, hard or soft clears
Contains no fillers (what you see as you are working is what you get)
Say good bye to come-backs by saying good-bye to swirl marks and holograms
Darren's Tips: As a rule, you apply this polish directly to center of polishing pad. Start with higher RPM's when doing the heavy lifting of paint polishing (1200-1500 RPM's for any rotary, or a 5-6 0n any dual-action polisher)
Once you have done the initial "cutting" or defect removal, dial your speed down and finesse the paint to perfection (600-800 RPM's for any rotary, or 3-4 for any dual action polisher)
Since temperature and humidity is always going to affect any product, if you ever have the polish build-up in any unwanted manner or area, simply use a wet micro-fiber cloth (tap water wet) to simply wipe off. You can also reactivate the polish by spraying the polishing pad with a light mist of tap water to reactivate the polish that still remains on pad.
Many car polishes are formulated with lots of added fillers and silicone's to deliver a very friendly and dust free experience. The problem is that while these other polishes may seem more friendly to use, they are simply covering up any swirl marks you may be leaving in the pant. So limited dusting when using this polish actually represents a good thing so you can truly see what you are getting as you polish without fear of simply covering up any unwanted swirl or hologram marks.

Best Car Buffer for a Beginner

Not All Buffers Are Created Equal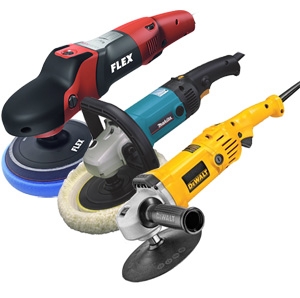 The simple answer for you as a beginner will be in the form of a random, dual-action car polisher. These professional car buffers (polishers and buffers are different terms for the same piece of equipment. There is no standard label in the industry so I will use the terms interchangeably)
Let go of the bad stories associated with the high-speed, rotary car polishers that swirl around the Internet. (pictured here) Stories of burned clear coat, burned paint, and swirl marks. These buffers are excellent pieces of equipment in the right hands, but require much more training before most guys can feel completely safe when it comes time to actually buff a car.

Random, Orbital Car Buffers

Your Solution to Safe and Effective Car Polishing
Below I will lay out the top rated buffers within the world of car enthusiasts and detail professionals like myself. The following recommendations also represent what I consider the winning balance in benefits and features.
My recommendations also include top rated car polishing kits. Kits are an ideal way to keep things simple (no sourcing from endless choices in polishing pads, compounds, and polishes) and to save money with bundles.



Mothers 40-90032 Wax Attack 2 Polishing Kit
Comes with everything needed for safe polishing that will deliver permanent results to remove oxidation, restore depth and shine, remove water spots, and other paint blemishes.
As safe as safe can get.
Super light and compact for easy use.

Perfect kit if you are on a tighter budget but still want to produce professional results.
Perfect for anyone who likes to approach anything new with extreme caution and wants to test the waters of buffing a car before dropping more serious money onto the subject.
Comprehensive kit that will take you from start to finish. ( I do recommend you get yourself a quality clay bar kit to prepare the paint surface first by decontaminating the paint. This will create a silky smooth surface that will make your car polishing efforts far better)



Griot's Garage 11620Z Orbital Correcting and Wax Kit
This particular kit is even more comprehensive as it contains detailing clay to decontaminate your paint before polishing.
Powerful, lightweight, and durable.

Griot's is one of my favorite companies who not only produce excellent tools and products, but has excellent customer service.
For anyone committed to achieving professional results, is on a limited budget, and wants to keep life super simple by getting everything all in one bundle.
Buff A Car Like A True Professional
The following buffers are where you will find hard core enthusiasts and true detail professionals. Due to how safe random, dual-action car buffers are designed, these buffers are also suitable for any true beginner. (You know the kind that have never touched a buffer before)



Griots Garage BOSS G21 Long-Throw Orbital Polisher Deluxe Kit
Quality at every step of the way!
When you are ready to buff a car, you will buff like a true professional.
One of my favorites!
The most solid, well built buffer I have ever owned and used.
Also the heavier of the car buffers that you will either like or dislike.

Some guys prefer a heavier buffer like this one as it gives them an added sense of security since the buffers added weight feels more solid. ( I personally prefer a lighter buffer like the Rupes below)
The last polishing kit you would ever need and would last you a lifetime.


Rupes LHR15 Mark II Big Foot Random Orbital Polisher Deluxe Kit
Many professionals consider this the leader of the pack of all car polishers.
The Rupes polisher comes in two sizes: a 15mm and a 21mm throw. (Throw is how wide in millimeters the polishing head will extend)
This is the smaller version by Rupes with a 15mm throw. (as a rule, I have found that most guys prefer the smaller 15mm polisher. I personally prefer the bigger 21mm polisher)
Everything needed for professional grade results when buffing your car.
This Rupes car polisher is part of their second generation line.


Detail King DELUXE KIT Rupes LHR 21 Mark II Big Foot Random Orbital Polisher
The larger, 21mm throw polisher. (My personal favorite)
This is also the Mark II which is the second generation polisher.
As good as good can get.
Lighter than the Griot's 21 mm polisher that I personally appreciate when doing lots of polishing.
Darren's Professional Tips: As a beginner you will most likely be working on a budget. And even if you have money to burn, nobody likes disappointment. I know I don't and for this reason I want to add a couple of key factors in deciding to buff a car and trying to pick the best, top rated car buffer that will be the perfect fit for you and your world.
I get the dilemma! It is real and significant. Just know that as a beginner, your lack of experience will keep you from understanding the subtle nuances when it comes to using the higher end polishers from both Griot's and Rupes. Look at this as the good news as you will not know the difference as a direct, side by side comparison and therefore will not be disappointed. I can promise you that regardless of any of the car polishers from Rupes or Griot's, you will NOT be disappointed.

I have owned and used both Rupes and Griot's for years professionally and still switch back and forth. Often in life a simple change is a good thing if you have that luxury like I do as a professional. If I had to choose a single buffer from this page to buff a car with, it would be the Rupes 21mm Mark II car polishing kit. I prefer the lighter weight of the Rupes, but also like the larger throw of the 21mm since most car panels are typically large and mostly flat. A larger throw buffer allows me to cover more area faster than with the smaller throw buffer.
Once again as a beginner, you will not have the experience to know the difference so don't overthink it at the beginning before you have even buff a car for the first time.
I will also add in closing that when I want to buff a car I am always going to go with my "sure thing" when it comes to the polish I choose which is why I lay out my professional recommendation of the CSI Ceram-X car polish I think everyone should be using to buff a car.

I hope I have helped eliminate much of the confusion that exists out there and I wish you success in your won world.
Sincerely,


---
"Serving Orange County, CA for Over 25 Years"
Home | About | About This Site | Privacy Policy | Contact
Home
>
Auto Detailing Tips
>> Buff a Car