Buffing Your Car

You really can do this!
You want some head turning shine! Buffing your car is the best way to do this and likely the reason you are here looking for a top rated car buffer.

But in today's world of the Internet, car forums, and social media, you are probably drowning in a sea of endless opinions from one so-called expert or social media troll! The good news is that even if you have never held a car buffer in your hand, you can realistically buff your car and achieve show car results the very first time.

Buffing Your Car

What Makes this Possible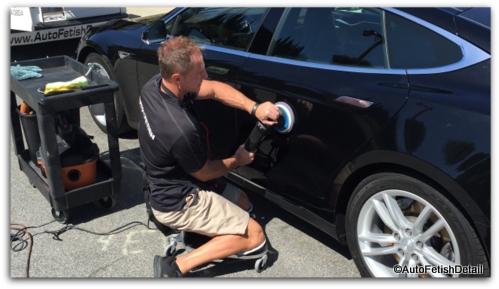 You are likely here because you own a car and you realize your car can look better than it does and polishing the paint is a sure way to create some head turning shine.
You are also dealing with a fair amount of fear and resistance due to your inexperience. But the good news is that with today's newly engineered car buffers and polishers a true beginner can safely polisher their car. (buffer and polisher are the same. Some people/companies call them one or the other. There simply is no consistency in the industry on this term)
This means that even yourself, likely a complete beginner, can get a car polishing kit and create a new level of shine at home in your own driveway or garage!
Car Waxing or Car Polishing
If you are here simply looking for the perfect buffer to apply wax rather than truly buffing your car, then you needn't go any further than one of these entry level random orbital buffers like this one below.
Unlike the big, bulky, rattle-your-teeth-loose car polishers your father had that mostly collected dust on the garage shelf, this light-weight car polisher is ideal for simple car wax applications or perhaps very light polishing.



BLACK+DECKER WP900 6-Inch Random Orbit Waxer/Polisher
Perfect way to make waxing your car easier than ever.
Apply and remove car wax in a fraction of the time.
When it comes to applying wax or very light polishing, you don't have to over-think this one.
The simplest way to add an extra level of shine to your car paint when suing this with car wax, sealant, or light polish.
The Best Car Buffer for Beginners
Producing professional level results starts with choosing the right car buffer for polishing your car. And there is no better place to start than with some form of random, dual action car polisher.
And I don't mean entry level like the the random orbital from above. I am talking professional duty random orbital car buffers that will actually have the power to perform true car polishing.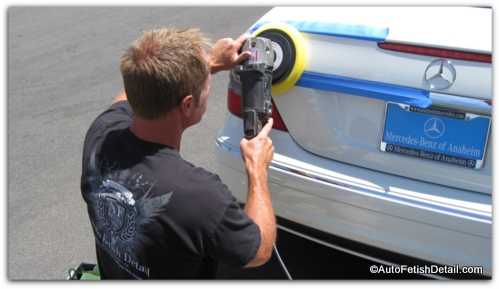 But unlike the scary high-speed rotary polishers that fill any beginners head with visions of burned paint edges and swirl marks, these ultra safe car polishers allow any beginner the ability to safely buff a car.
The Best Car Buffer:

The Winning Balance
As a beginner, your choice as the best car buffer for a beginner will be finding the winning balance of features and benefits. As an experienced professional, this will also include finding the right car polishing kit that will also include the the winning balance of products that will make getting started easier, not harder.
Below are my top picks for car polishers that are ideal for any true beginner.



Mothers 40-90032 Wax Attack 2 Polishing Kit
As safe as safe can get.
Comes with everything needed to restore depth and shine to your car.
The perfect kit for buffing your car if on a tight budget but need some shine put back into your cars paint.
The perfect kit for the less-committed who like to test the waters first.
Comes with polisher, polishing pads, compound, finish polish, and paint sealant to take your car polishing from start to finish. ( I do recommend you decontaminate your paint first with a quality clay bar kit. This will fully prepare your cars paint by removing any paint contaminants for a silky smooth surface that will make polishing your car much easier regardless of car polisher you choose)


Griot's Garage 11620Z Orbital Correcting and Wax Kit
This kit is as comprehensive as any car polishing kit will get. (the only kit that even comes with detailing clay to decontaminate your paint first)
The actual random orbital polisher I first started with and still have today. (now I use it for the messy work of wet-sanding with sanding discs)
Durable, powerful, and light-weight.
For anyone who is committed to professional results, but still working on a tight budget.
For anyone truly committed to producing professional results, but wants to keep their life ultra simple with this all-inclusive kit that will last you a lifetime.
Griot's is one of my favorite company that is known for quality and stellar customer service.
Buffing Your Car:

True Professional Grade
Welcome to the world of professional grade car buffers and products. The two following kits are reserved for the truly committed who want nothing but the best. Either of these kits are what hard core enthusiasts and true auto detailing professionals use.



Griots Garage BOSS G21 Long-Throw Orbital Polisher Deluxe Kit
Excellent everything! Buffing your car is going to be great!

Produced by a company that is seriously passionate about car care.
One of my personal favorite car buffers.
This particular buffer is the most solid, well built buffer I have ever owned or used.
This particular car buffer is also slightly heavier than the Rupes below which you may or may not like. (some guys prefer a heavier polisher as it gives them a sense of stability when polishing)
The last polishing kit you would ever need. (this doesn't mean you won't go looking for another polisher in the future, but this will be because you simply want to, not need to.)


Rupes LHR15 Mark II Big Foot Random Orbital Polisher Deluxe Kit
What many professionals consider the king of all car polishers.
This polisher comes in two sizes: a 15mm and a 21mm throw. (Throw is how wide in millimeters the polishing head will extend)
This version here is the smaller, 15mm throw. (as a rule, I have found that most guys prefer the smaller 15mm polisher. I personally prefer the bigger 21mm polisher)
Everything needed for professional grade results when buffing your car.
This is the Mark II which is the second generation of these polishers.



Detail King DELUXE KIT Rupes LHR 21 Mark II Big Foot Random Orbital Polisher
The larger, 21mm throw polisher. (My personal favorite)
This is also the Mark II which is the second generation polisher.
As good as good can get.
Lighter than the Griot's 21 mm polisher that I personally appreciate when doing lots of polishing.
Darren's Tips: Choosing the best polisher for yourself is a very difficult decision for most guys. I get the frustration of trying to decide the perfect polisher so you aren't disappointed. Just know that as a beginner, you will lack the experience to fully appreciate the subtle nuances that are found within the different polishers at this level of polishers with the Rupes and the Griot's. This in many ways is the good news as it should relieve some of the pressure of over-thinking your choice as a beginner. I can promise you that regardless of your choice when it comes to the professional level polishers, you will be happy and set for a very long time regardless of choice.
I own both Griot's and Rupes and know the quality built into either brand. I also know that either brand will also deliver when it comes to the polishing pads, compounds, and polishes. Once again the differences can only be a appreciated by a seasoned veteran like myself and therefore you don't need to overthink this part of the equation either.
Your biggest challenge will be to not overwhelm yourself by reading one opinion after another. Ultimately everyone is going to offer their subjective opinion that is based on them as an individual rather than speaking from experience as a trainer. Having trained so many guys just like yourself who are complete beginners, I offer up opinions based on the massive amounts of feedback from guys I train.
Buffing your car doesn't have to be as complex as you have likely been lead to believe. I hope these reviews are helpful and that buffing your car brings you as much satisfaction as I experience!

Sincerely,


---
"Serving Orange County, CA for Over 25 Years"
Home | About | About This Site | Privacy Policy | Contact
Home

›
How to Detail Your Car
› Buffing Your Car