Buffing Your Car

You really can do this!
You want some head turning shine! Buffing your car is the best way to do this and likely the reason you are here looking for a top rated car buffer.

But in today's world of the Internet, car forums, and social media, you are probably drowning in a sea of endless opinions from one so-called expert or social media troll! The good news is that even if you have never held a car buffer in your hand, you can realistically buff your car and achieve show car results the very first time.
Buffing Your Car

What Makes this Possible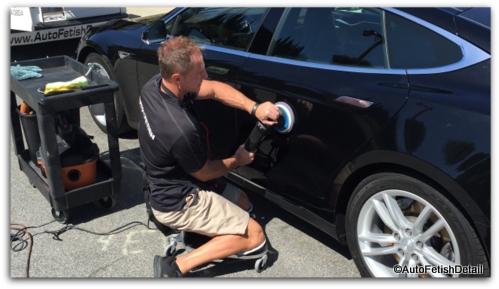 You are likely here because you own a car and you realize your car can look better than it does and polishing the paint is a sure way to create some head turning shine.
You are also dealing with a fair amount of fear and resistance due to your inexperience. But the good news is that with today's newly engineered car buffers and polishers a true beginner can safely polisher their car. (buffer and polisher are the same. Some people/companies call them one or the other. There simply is no consistency in the industry on this term)
This means that even yourself, likely a complete beginner, can get a car polishing kit and create a new level of shine at home in your own driveway or garage!
Car Waxing or Car Polishing
If you are here simply looking for the perfect buffer to apply wax rather than truly buffing your car, then you needn't go any further than one of these entry level random orbital buffers like this one below.
Unlike the big, bulky, rattle-your-teeth-loose car polishers your father had that mostly collected dust on the garage shelf, this light-weight car polisher is ideal for simple car wax applications or perhaps very light polishing.



BLACK+DECKER WP900 6-Inch Random Orbit Waxer/Polisher
Perfect way to make waxing your car easier than ever.
Apply and remove car wax in a fraction of the time.
When it comes to applying wax or very light polishing, you don't have to over-think this one.
The simplest way to add an extra level of shine to your car paint when suing this with car wax, sealant, or light polish.
The Best Car Buffer for Beginners
Producing professional level results starts with choosing the right car buffer for polishing your car. And there is no better place to start than with some form of random, dual action car polisher.
And I don't mean entry level like the the random orbital from above. I am talking professional duty random orbital car buffers that will actually have the power to perform true car polishing.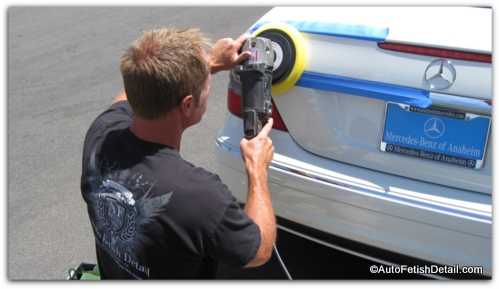 But unlike the scary high-speed rotary polishers that fill any beginners head with visions of burned paint edges and swirl marks, these ultra safe car polishers allow any beginner the ability to safely buff a car.
The Best Car Buffer:

Entry level car polishing kits for beginners
As a beginner, your choice as the best car buffer for a beginner will be finding the winning balance of features and benefits. As an experienced professional, this will also include finding the right car polishing kit that will also include the the winning balance of products that will make getting started easier, not harder.
Below are my top picks for car polishers that are ideal for any true beginner.

Mothers Car Polishing Kit



Mothers 40-90032 Wax Attack 2 Polishing Kit
As safe as safe can get.
Comes with everything needed to restore depth and shine to your car.
The perfect kit for buffing your car if on a tight budget but need some shine put back into your cars paint.
The perfect kit for the less-committed who like to test the waters first.
Comes with polisher, polishing pads, compound, finish polish, and paint sealant to take your car polishing from start to finish. ( I do recommend you decontaminate your paint first with a quality clay bar kit. This will fully prepare your cars paint by removing any paint contaminants for a silky smooth surface that will make polishing your car much easier regardless of car polisher you choose)
Griot's Garage Car Polishing Kit


Griot's Garage 11620Z Orbital Correcting and Wax Kit
This kit is as comprehensive as any car polishing kit will get. (the only kit that even comes with detailing clay to decontaminate your paint first)
The actual random orbital polisher I first started with and still have today. (now I use it for the messy work of wet-sanding with sanding discs)
Durable, powerful, and light-weight.
For anyone who is committed to professional results, but still working on a tight budget.
For anyone truly committed to producing professional results, but wants to keep their life ultra simple with this all-inclusive kit that will last you a lifetime.
Griot's is one of my favorite company that is known for quality and stellar customer service.
Buffing Your Car:

Professional Grade Car Polishing Kits for beginners to Advanced
Welcome to the world of professional grade car buffers and products. The two following kits are reserved for the truly committed who want nothing but the best. Either of these kits are what hard core enthusiasts and true auto detailing professionals use.
Both kits contain the exact type of buffers (dual-action, random orbital) I recommend for any person looking just starting out. Buffing your car has enough fear attached to the subject that you can confidently know that these type of car buffers represent not only the safest way to buff your car, but these two machines will not limit you in potential as they truly are professional grade car buffers.
Maxshine Pro M15 Car Buffing Kit



Maxshine M15 Pro Series II DA Dual Action Polisher & Polisher- M15 pro Armory Kit
Excellent everything! Buffing your car is going to be great!

Produced by a company that is seriously passionate about car care
One of my personal favorite car buffers
What I consider the wining balance in performance, power, and cost

Everything you will need buffing your car to create that shine you are after

The last polishing kit you would ever need. (this doesn't mean you won't go looking for another polisher in the future, but this will be because you simply want to, not need to.)
Darren's Tips: This car polishing kit from Maxshine is a great kit that has just about everything you will need in buffing your car. The only caveat is that this kit does not contain detailing clay like the kit below from Adam's. While you may think using the clay bar to decontaminate your paint prior to buffing you car is one more step you want to put off, I strongly recommend you take the additional time and effort to decontaminate your car paint with a clay bar kit as this will effect not only the end results, but your user experience as you are buffing your car.
Adam's Polishes Swirl Killer Car Buffing Kit


Adam's Swirl Killer 15mm Polisher - Orbital Polishing Paint Correcting Buffer Tool - Car Scratch Remover, Correcting Polish - Use Post Car Wash Clay Bar & Pre Wax or Ceramic Coating (Ultimate Kit)
The most comprehensive car polishing kit you will find 

A polishing kit that not only comes with a serious car buffer, but extras that will allow you do achieve better results as it contains detailing clay, detail spray, and micro-fiber cloths
Since this kit is so comprehensive, you will not be required to source the detailing clay and micro-fibers separately
One of my favorite car polishing kits
Buffing Your Car Summary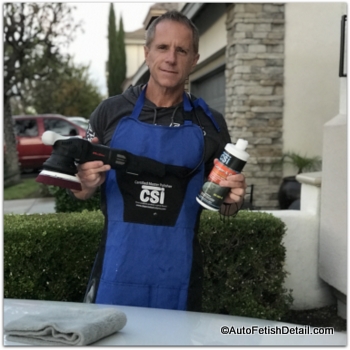 Darren's Tips: Choosing the best polisher for yourself is a very difficult decision for most guys and girls. I understand the frustration of trying to decide on the perfect polisher so you aren't disappointed.
Just know that as a beginner you will lack the experience to fully appreciate the subtle nuances that are found within the different polishers, pads, and car polishes themselves. This is where experience comes in. And if you are a complete beginner, you simply will not have any experience to fall back onto.
This is both the good news and bad news. In this moment it also means you don't have to obsess n over-thinking things. The best thing to do is simply get you starting in buffing your car and based on what you have read, you are now informed enough to make a good decision.

If you obsess about finding the best car buffer or car polishing kit when buffing your car, you will not only drive yourself crazy, but you will also not get any shiny paint in that process of endless research!
So just do...
Because at the end of the day you never know how "into" car polishing you will be. It may literally be a one-time-only moment, or you may find yourself shopping and collecting more and more car buffers simply because you can and you want to.
Everyone is different and you simply cannot predict the future. Which is why I urge people to educate themselves, and then pull the trigger on a choice and move forward from there.

Your biggest challenge will be to not overwhelm yourself by reading one opinion after another. Ultimately everyone is going to offer their subjective opinion that is based on them as an individual rather than speaking from experience as a trainer. Having trained so many guys just like yourself who are complete beginners, I offer up opinions based on the massive amounts of feedback from guys I train.
Buffing your car doesn't have to be as complex as you have likely been lead to believe. I hope these reviews are helpful and that buffing your car brings you as much satisfaction as I experience!

Sincerely,
Darren Priest
---