Car Interior Cleaning Tips

The industry has you chasing your tail
Welcome to car interior cleaning tips!
You didn't know this but the industry has you chasing your tail.

If you were to follow the lead of the industry, your garage shelves would be lined with endless dedicated cleaners all labeled specifically based on the countless types of materials you will encounter when trying to clean the interior of your car.
And if you are tired of being seduced by the next shiny object the industry dangles in front of you, then you have come to the right place.
Car Interior Cleaning Tips

Simpler, Smarter, Easier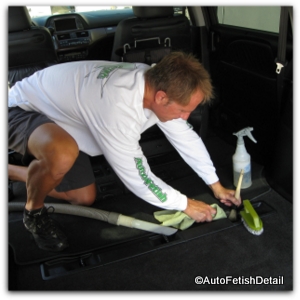 I am going to break this page down into sections based on products, tools, and techniques. All designed to show you a much better way to get the results you want with less time, less effort, and less products!
Sounds like a WIN to me! I hope you agree...
Car Upholstery Cleaners
Rather than bury you with the vast sea of automotive upholstery cleaners, I am going to limit my recommendations to three basic choices (you will understand why I am offering up three as you read further). This one topic alone is saturated with endless options where the industry has you thinking you need individual products for every material within your cars interior.
But this just isn't the case...



Adam's Carpet & Upholstery Cleaner 16oz
One of my favorite ready-to-use (RTU) car upholstery cleaners.
Despite the labeling, this cleaner can be used on any surface within your cars interior: cloth, velour, fabric, vinyl, and even car leather.
For anyone who has limited use for an upholstery shampoo. (This means you basically just have one or two cars to clean and take care of)
Professional results in a retail type version.


Griot's Garage 10956 Interior Cleaner 22oz
Another one of my favorite ready-to-use (RTU) car upholstery cleaners.
Professional results in a retail version.
Also for for anyone who doesn't need gallons of upholstery cleaners.
Suitable for any material within your cars interior: cloth, velour, fabric, vinyl, and even car leather.


Chemical Guys CWS_103_16 Fabric Clean Carpet and Upholstery Shampoo and Odor Eliminator (16 oz)
Concentrate; mix according to directions.

One of my top performers when cleaning car upholstery!

Economical and you won't have to pay a boat load in shipping costs compared to gallon sized cleaning concentrates. (can anyone say Meguiar's APC)

Professional results!

One of my top picks in an upholstery cleaner.

I add this car upholstery cleaner for anyone looking to get more for their money with the anticipation of using more upholstery cleaner, not less.

Car Interior Cleaning Tips:

The right tools


Ridgid WD4070 4 Gallon Portable Vacuum
If you don't have a dedicated shop vac for your car; it's about time!
A dedicated car vacuum will be way more convenient than you realize.
Pre-vacuuming before you shampoo your cars upholstery is more important to getting the results you want than most people realize.
One of the biggest car interior cleaning tips I can recommend is not only a dedicated car vacuum, but pre-vacuuming before you start to shampoo.
The exact detail vacuum I use professionally.
The winning balance between size and performance!


Rubbermaid Professional Plus Scrub Brush, Scrubbing Brush (FGG23712)
One of my first picks as an upholstery brush.
I like the handle for maximum leverage in a hand size scrub brush.
Stiff bristles ideally suited for the more durable materials in your cars interior: floor mats, carpeting, vinyl, hard plastic.


OXO Good Grips Heavy Duty Scrub Brush
Another great choice as part of my car interior cleaning tips.
Fits nicely in your palm for great control.
Can fit under tighter areas than the handled scrub brush above.
Very stiff bristles ideally suited for the more durable materials within your cars interior: floor mats, carpeting, vinyl, hard plastic.
One of my go-to car upholstery scrubbers.


Chemical Guys ACC_S95 Long Bristle Horse Hair Leather Cleaning Brush, , 1 Pack
Dedicated leather scrub brush.

Natural horse hair bristles.

Most people are overly cautious when it comes to cleaning and scrubbing leather; this is your perfect brush.

Softer and gentler than the other brushes above.

.


COCODE Detail Brush (Set of 5), Auto Detailing Brush Set Perfect for Car Motorcycle Automotive Cleaning Wheels, Dashboard, Interior, Exterior, Leather, Air Vents, Emblems
Perfect set of detail brushes.
Ideal blend of boars hair and synthetic bristles.
Can be used wet or dry based on your needs.
Versatile detail brush set for both interior and exterior detailing.
Comes with 5 sizes for the perfect fit.
Car Interior Cleaning Tips:

The right steps, the right techniques
Despite what you may think, cleaning the interior of your car does not require carpet extractors, commercial equipment, or even specialized equipment.
So far I have laid out easy to get products and tools that will deliver truly professional results. Now I want to lay out the necessary steps for success as part of my car interior cleaning tips that promise to put a smile on your face.
I know this represents a big buzz-kill to many of you. But vacuuming first truly serves an important step to your success. Teaching you this would be among the most useful car interior cleaning tips due to so many people who overlook this important step. Removing dirt that is dry is far easier than dirt you need to use a cleaner on. And there is no better way to removing as much dry dirt as possible first than there is with vacuuming. I even go as far as scrubbing any areas with one of the chosen scrubbers above to further loosen embedded dirt that you can simply vacuum up prior to introducing a liquid cleaner to the equation.
One of the biggest mistakes people will make will be to over-saturate the area being cleaned with far too much upholstery cleaner. You simply need to spray the area to be cleaned with 3-5 sprays of your chosen cleaner as the initial cleaning. Dismiss the idea of thinking you will be able to remove all the dirt with one big sloppy application of upholstery cleaner.
After you have sprayed cleaner, then you scrub to break up dirt. Pick the most appropriate scrub brush and scrub away. What is cool is you will instantly see what appears as thought the dirt disappears right before  your eyes. This is a great motivator to clean more and more within your cars interior.
Despite the dirt disappearing before your eyes as you scrub, you need to mop up the area you have just scrubbed with some type of clean cloth. I always prefer the use of a micro-fiber cloth over any other type of cloth. Micro-fiber cloths are far more absorbent and don't leave lint.


MR. SIGA Microfiber Cleaning Cloth, Pack of 12, Size: 15.7" x 15.7"
I consider micro-fibers as the 9th wonder of the world!
Highly absorbent and lint free!
If you do use them to clean your car interior with and are used to other cloths, it will take some getting used to as they will grab materials due to the very fine fibers. This will feel different than traditional cotton cloths. But once you adapt, you will never look back as they are that great!
These cloths represent the winning balance of size, thickness, and cost as to my choice in cloths for my car interior cleaning tips. (you can spend far more but you don't have to over-think micro-fibers for car interior cleaning)
I hope at this point you have come to some new conclusions with my car interior cleaning tips designed to empower you with professional experience so that you too can get professional results.
I promise if you follow the recommendations on this page you will not only produce amazing results, but your results will put a huge smile on your face!
Sincerely,


---
"Serving Orange County, CA for Over 25 Years"
Home | About | About This Site | Privacy Policy | Contact
Home

›
How to Detail Your Car
› Car Interior Cleaning Tips