Car Interior Cleaning

Car interior cleaning is a subject that has been grossly complicated by the industry itself. Take a look at the inside of your car to observe not only the many forms of dirt, but the many forms of materials of which you will be required to try and clean!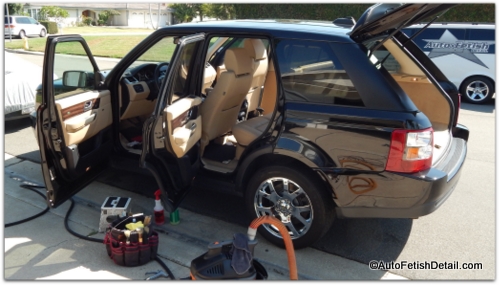 The industry would have you buy a special cleaner for every type of material used to build your car. But if you were to follow the lead of the industry, you would have a mountain of products:
Carpet cleaner
Vinyl cleaner
Leather cleaner
Plastic cleaner
Interior shampoo
All purpose cleaner
Multi-surface cleaner
"Darren, car interior cleaning shouldn't be so confusing but I find myself quickly overwhelmed!"
Car Interior Cleaning Made Simple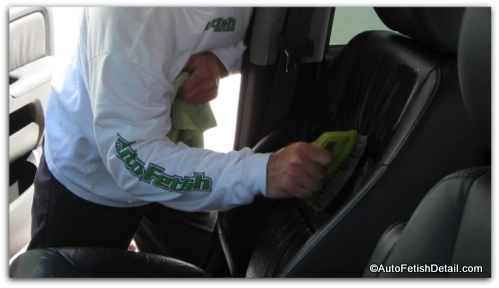 Let me bullet point some critical points before I lead to the products that will simplify your world and help you produce professional level results.
The perfect car upholstery cleaner does not exist (no product will take out every form of dirt/stain within your cars interior.
Many people have unrealistic expectations (you can't clean 5-10 years worth of acculturated dirt and expect this area of your car to look perfectly new. No car upholstery shampoo is going to be able to do that)
Regular, basic cleanings will always trump any fervor induced cleaning attempts unleashed on years of untouched dirt in your car. (regular and frequent cleanings are both far easier and quicker in the long run)
With a few exceptions, virtually any basic cleaners (like the one's below) can be used to clean any material or surface within your cars interior.
Car Upholstery Cleaners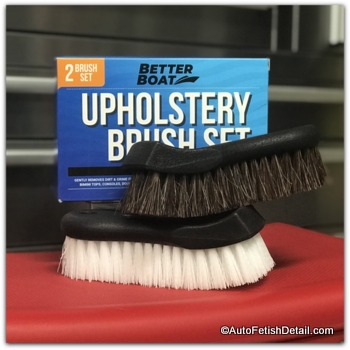 Choosing the best car upholstery cleaner will actually be more about choosing the right"delivery system" rather than thinking you are going to find the "best"!
I have divided the sections into (2) groups based on the volume of car upholstery cleaner needed:
Driveway Detailers:
Likely to only need a limited amount to first start with.
Doesn't want to complicate things, but keep things super simple.
Doesn't want to have to source a separate sprayer/bottle for their choice in a top rated car upholstery shampoo.
Doesn't want to deal with proper dilution ratios.
Professionals:
Likely to be doing (or at least hoping) to do many cars.
Wants the performance, but needs to think economically for the bigger picture of running a professional detailing business.
Values economy over convenience.

Car Interior Cleaning:

What Would Darren Do (WWDD)
Often I am asked by people what I would do.
"Darren, just tell me what you would do!"
For this reason I will start out the actual products and tools I use professional and let you know straight away what it is exactly that I do in fact do....

Car Interior Cleaner


Simple Green 13005CT Industrial Cleaner and Degreaser, Concentrated, 127.8 Fl Oz, Pack of 1
What I consider the winning balance of features and benefits
Biodegradable, non-caustic, non-flammable, VOC compliant
Safe for your health, safe for the environments health
A concentrate so you can custom bland to suit your needs
For car upholstery cleaning, I dilute mine down 10:1 (1 part concentrate mixed with 10 equal parts of water)
Car Interior Cleaning Brushes



Upholstery Cleaner Scrub Brush Set Cleaning Brush and Horsehair Detailing Brush for Car Interior, Seats, Boat, Couch, Sofa and Carpet
As basic as basic can get.
Can be used on virtually any surface you would be cleaning with the car upholstery cleaner.
Paying for nothing more than an effective and basic scrub brush.
The exact brush I use professionally for car interior cleaning.


Commercial-Grade Non-Abrasive White Cleaning Pad 5 Pack By Mop Mob. Large, Multi-Purpose 10 in x 4 1/2 in Scouring Pad Fits Universal Holders. Great For Scrubbing Sinks, Tile, Windows and Fine China
Non-abrasive (safe for virtually any material in your car)
Easily shapes to the contours of your car upholstery for car interior cleaning
Comes in long lengths which means you get more pad for your money, but you can cut to the exact size that is perfect for you
The exact scrub pads I use professionally
Car Interior Cleaning Cloths



Kirkland Signature Ultra High Pile Premium Microfiber Towels (36-Pack)
I only use micro-fiber cloths regardless of the detailing task I am doing
Micro-fibers are safer, more absorbent, and lint free than any of your 100% cotton towels you may currently be using
The exact micro-fibers cloths I use professionally for 80% of all my interior/exterior detailing tasks (I do keep the more expensive micro fibers on hand for specialty requirements)

Driveway Detailers
I acept that there will be those of you who require the use of dedicated car upholstery cleaner and do not want to default to an all-purpose cleaner like I do.
If you are one of those people you can use the following recommendations below.


Adam's Carpet & Upholstery Cleaner - Easy to Use and Effective on Even the Worst Stains - Safe, Non-toxic and Hypoallergenic (16 oz)
Who would have thought an enthusiast grade car upholstery cleaner could be this good!
Just tested this past year and absolutely love it!
As simple and easy to use as you are going to find.
Ready to use and comes in its own sprayer.
Safe for every material/surface of your car (refer to product labeling)


Griot's Garage 10956 Interior Cleaner 22oz
Griot's Garage is another leading brand of enthusiasts to professionals.
Yet another of my favorites ideally suited for anyone looking to keep things super simple.
Promises to deliver professional results.
Safe for every surface/material of your car (refer to product labeling)
Professional Detailers:


3D Upholstery & Carpet Shampoo - 16 oz | High Foam Stain Remover | Clean & Deodorize | Odor Eliminator | Made in USA | All Natural | No Harmful Chemicals
One of my favorite choices in a professional line.
Very economical since it is a concentrate. (You pay for the acting ingredients, not the water)
Can be custom diluted based on your needs and manufacturer's labeling.
You will not be disappointed!
Clean virtually anything in your cars interior.



Chemical Guys HOL315 Carpet and Upholstery Cleaning Kit (3 Items), 16. Fluid_Ounces
Clean everything in your cars interior
Professional grade auto upholstery cleaner
Cloth, fabric, leather, vinyl, etc., etc.
One of my top picks for a professional car upholstery cleaner that is also a concentrate
Very economical
Car Interior Cleaning Detail Brushes
Unlike the car upholstery scrub brushes from above that will be needed for the bulk of shampooing and cleaning your car interior, the brushes below represent duties of cleaning and detailing the inside of your car with brushes that are of more precision in detailing the nuances and intricate areas of your cars interior.



Maxshine Ever So Soft (ESS) Detailing Brush, Set-Small+Large
Perfect set of detail brushes for the extra sensitive areas of your cars interior

Two sized brushes makes for a perfect detail brush set

One could be dedicated as a dry detail brush, the other could be dedicated to use with car interior cleaners
Car Interior Cleaning Summary
Pick your choice in a top rated car upholstery cleaner.
Mix as directions indicate (if you purchased a concentrate)
Pre-vacuum any carpeting/cloth upholstery.
Spray are directly with a light application of car upholstery cleaner.
Agitate area with your choice in a scrubber.
Mop up with any clean cloth ( I prefer micro-fiber cloths)
Repeat as necessary based on your results and proper appropriate expectations.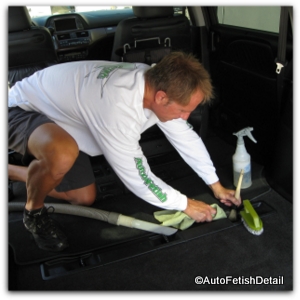 Car interior cleaning shouldn't feel like you have to learn rocket science just to have a clean car!
But the industry would have you buy a "special" cleaner for every material within your cars interior when one of the products from above (regardless of which "version" you choose) will deliver exceptional results for every surface/material.
Say good-bye to all the special labeling, packaging, and marketing that will be nothing more than glorified redundancy that will also make you lighter in your wallet.
Sincerely,
Darren Priest
---