Car Leather Conditioner
Fact or Fiction
Your search for the best car leather conditioner will prove to be a frustrating search for most of you. This is one of the areas of auto detailing and leather car care that is filled with bad information at best, and outright lies at worst!

Car leather upholstery of today is much different than the car leather upholstery of yesterday. The good news is that conditioning the car leather is less a requirement of modern day automobile leather than ever before; the bad news is that many of you will not accept this.
Car Leather Conditioner:
The first problem
Based on my decades of experience as a car detailing professional, the first problem I see is that the industry itself wants you to remain stuck in outdated thinking and understanding.
Despite that car leather used to make modern day cars has changed, the industry does not want to educate you as a car owner and consumer to the advances made in car leather upholstery.
---
Darren's Side Bar:

(The products below a perfect examples of products that would actually work for you, but are also part of the ongoing problem of selling you products based on outdated information)


Chemical Guys Leather Cleaner and Conditioner Complete Leather Care Kit (16 oz) (2 Items)
The products above (packaged and marketed exclusively for the use of cleaning and conditioning your car leather) represents a perfect example of what the industry sells to you based on outdated information
If you wanted to keep things super simple and seriously don't want to overthink trying to find the best car leather cleaner of best car leather conditioner, then here you have a winning combination for you: bot a car leather cleaner and conditioner
This will work for you, but are they products designed for natural leather, or for the leather in your car that has an actual clear coating on it?
Manufactured by a company with a great reputation for making very god car care products
Darren's Note: These two products will definitely work on cleaning and conditioning your car leather. They just aren't the products I would choose first. But like I said; if you want simple and easy, then you needn't look any further.
You can also see a popular blog that is clearly written by what I call non-professionals. People who simply regurgitate bad or outdated information all in the name of selling you more of what I call the "problem". outdated information repeated by people or companies with zero to little actual industry experience. At car leather conditioner reviews, Carbibles list all the top performing car leather conditioners based on what the industry itself has lead you to believe.
You can also see another very popular blog clearly written by non-professionals repeating bad information all in the name of selling you more of the same outdated products propped-up on outdated information. Truecar.com has a page that will lead you down this same old path of bad information to get you to buy more of the same 'ol outdated car leather conditioners. If you were to follow their guidelines, they actually teach you to clean car leather with a car leather conditioner.

---
Back to My Tutorial:

The leather used in the manufacturing of your car is still actual leather, but now it is what is most commonly called coated car leather. This means that the leather used to make your car leather upholstery, is tanned in what you might call traditional tanning and dying methods, but is then coated with a clear protective, water-based coating as the final step before this leather is then used to make your leather car upholstery.
While you may not only find this shocking and disappointing, the reality is that this is the good news. Now your car leather will not only hold up to normal wear and tear better, but will is also prove easier to clean and maintain your car leather upholstery.
To me and my world of expertise; this is a good thing!
Car leather Conditioner:
The second problem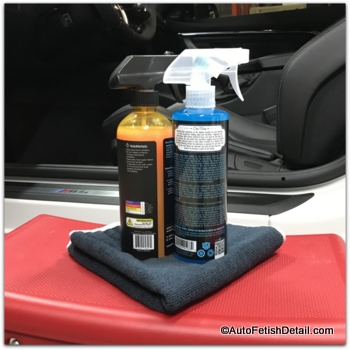 The second problem has very little to do with your car leather upholstery or finding the best car leather conditioner, but everything to do with human nature.
Laziness!
Yup. I said it.
We are naturally a lazy species of animals. We want what we want without having to wait or put in much effort. We simply want what we want and we want it right now.
But what has anything of this to do with your car leather and car leather conditioner?
I am glad you asked. (even though you probably didn't ask)
There is simply so much hype, bad information, and misinformation surrounding the topic of the leather in your car:

How special it is
How delicate it is
How expensive it is
How you have been taught to use special car leather cleaners
How you have been taught to use special car leather conditioners
This is a lot of variables that go into the subject of your car leather, cleaning it, conditioning it, what to use, what not to use, how to do it, how often to do it, etc., etc. etc.
Blah, blah, blah, and more blah!!
Car Leather Conditioner:
Have you been lied to this whole time...
Maybe.
That question and the answer to that question really depends on who you ask. If you ask me I would say that in all fairness, you have certainly been mislead...intentionally.
If the manufacturers that were making these amazing car leather conditioners came clean and told you that you are not actually conditioning natural leather any longer, but "conditioning" a natural material (leather) that has now been coated with a synthetic coating, then how much of these outdated car leather conditioners would these companies continue to sell?
Probably not as much as they are selling you now. because you as a car owner with car leather upholstery think you are actually going to find the best car leather conditioner, apply it to you car leather, and you will actually be conditioning your car leather.
But the reality is that you are applying a car leather conditioner to a synthetic coating.
Kinda sucks doesn't it!

Car leather Conditioner:
So is car leather conditioner bad for your car leather?
The simple answer is no. At least not in most cases.
The more complex answer is that it depends on the car leather conditioner you choose. Like everywhere else in life, not all leather conditioners are created equal.
If you accept that your car leather upholstery has a clear protective coating, then what you are "conditioning" is this clear protective coating. The ability of any product to soak in, penetrate, or condition, will be severely limited.
Remember, we are no longer dealing with the type of uncoated leather you are likely used to with your leather shoes, handbags, some household furniture (even household furniture is typically coated leather also due to its resilience in wear and tear), leather belts, leather wallets, etc., etc.
SO in answer to that question:
"Is a car leather conditioner bad for your car leather?"
The simple answer is no. But to help you become a more educated and informed car owner and consumer, I want full disclosure for people in understanding your car leather with updated information.

Bad Behavior Repeater Over and Over!

Like many areas of car ownership, proper car leather care is neglected from the beginning by most, and these same people find themselves scrambling for ways to make up for lost time.
Not only do people neglect the cleaning and maintenance of their car leather, but also want to take short cuts. The cruel irony is that a worse problem is actually created for themselves through repeated applications of car leather conditioner on dirty car leather. Over time, a grungy mix of dirt and conditioner accumulates that is both damaging and unsightly to your cars leather, vinyl, or other plastic trim pieces that people typically apply conditioners to.
Before Cleaning

Acura LX dash with excessive conditioning build-up from repeated uses without cleaning prior to new applications of leather and vinyl conditioners.


After Cleaning

The same Acura LX dash that has been cleaned showing the before and after use of a new white rag; can you guess which side of the rag above contains all the excessive dirt and dressing build-up?

The (2) side by side images is a dramatic example of the kind of build-up that I am referring to when it comes to using leather conditioners, vinyl dressings, etc. Some things to note from the pictures above:
The dash on the left would appear healthy and shiny to most people.
The owner put new applications of vinyl dressing/conditioners on the dash regularly without cleaning first.
The rag on the right shows how much dirt I was able to clean off. I had folded the rag in half so you could see the dramatic difference between the new side of the rag and the dirty side of the rag.
This same effect happens to your car leather if you are guilty of doing the same thing: repeat applications of your favorite car leather conditioner without properly cleaning your car leather first..each and every time!
Car Leather Conditioner:

What Would Darren Do (WWDD)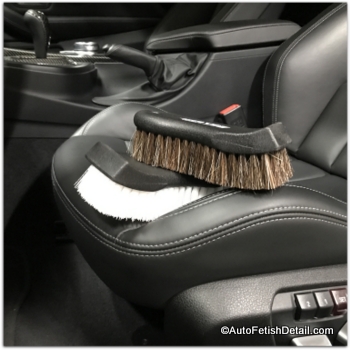 With all this new understanding, you may be sitting there scratching head head wonder what to do. So often in my professional world of auto detailing I am asked my many frustrated people simple what I would do, or what I would use, or a question similar in nature.
So I am not just going to tell you what I would do or use as a car leather conditioner, but I am also going to tell you the exact steps and methods I do to clean car leather, maintain it, and condition it.
Pre-vacuum ( I realize this may not make sense, but if you examine your car leather you will realize how much dry dirt and debris collects in all the many seams of your car leather. Much better to remove this dirt while it is dry)
Use your choice in a car leather cleaner along with a scrub brush and a micro-fiber cloth to systematically break down not only the different sections of your cars leather to be cleaned, but break eat seat down into sections for cleaning (this allows you to manage the cleaning process better and allows for a more thorough job on your part)
Spray each section with enough cleaner to lightly cover the area to be cleaned, scrub with scrub brush to beak free dirt, then mop up with micro-fiber cloth (Know that it is much better to perform repeat applications of these steps until desired results are achieved, rather than being overly hasty and saturating your car leather with excessive amounts of leather claner and having the unrealistic expectations that you will be able to fully clean your car leather in a single application of cleaning)
Apply your choice in a car leather conditioner using a micro-fiber cloth that is not the one you used for the cleaning (Use a separate micro-fiber cloth for this step)
perform these exact steps as often as you want to keep your car leather clean and conditioned



Car Leather Cleaner:

Keeping it simple
Just like our discussion regarding car leather conditioners, car leather cleaners has the same hype and bad information built into the subject.
Cleaning your car leather does not actually require you to source a dedicated car leather cleaner. There are many out there and you can find examples of my recommendations further down this page, but the reality is that you can use basic, all-purpose cleaners that are not only perfectly safe, but effective at cleaning your car leather.

Car leather Cleaner


Simple Green 73434010 14010 Industrial Cleaner & Degreaser, Concentrated, Lemon, 1 gal Bottle
My "go-to" all-purpose cleaner for most every cleaning job within my cars interior
Safe for all materials: Car leather, fabric, velour, plastics, vinyls, dashboards, etc.
This is a concentrate which makes it very economical (this means you can custom dilute it based on your specific cleaning needs)
For cleaning car leather I start with a dilution ratio of 10:1 (this means one part concentrate with 10 equal parts of water added to it)
Because it is a safe and effective cleaner, I have found countless uses for this product ( I use this in endless ways for the car cleaning process, household cleaning, and garage cleaning projects)
No rinsing necessary (just use as directed and mop up your dirt, and you are done)
Darren's Tips: This as well as many other non-leather cleaners will say not to use on leather, but this is a very broad statement made by manufacturers as a cover their ass moment. Car leather is coated and it is perfectly safe.
Car leather Cleaning Brushes


Upholstery Cleaner Scrub Brush Set Cleaning Brush and Horsehair Detailing Brush for Car Interior, Seats, Boat, Couch, Sofa and Carpet
My "go-to" brushes for all things car interior cleaning
Not packaged as car upholstery cleaning brushes, but perfectly suited for all your car interior cleaning needs (brush set has two types of brushes so you can match the right brush based on your cleaning task)
One brush is made from natural horse hair which is ideal for cleaning car leather
The other brush is made with stiffer, synthetic bristles for heavier duty materials or cleaning (I do use the synthetic bristles on car leather that is excessively dirty. Just know you are in control. This means you can use the amount of pressure needed to be effective while still being safe. Car leather is far more durable than most people think)
Car leather Cleaning Cloths


Kirkland Signature Ultra High Pile Premium Microfiber Towels, 36 Count (Pack of 1), Yellow - 713160
My "go-to" cloths whenever I am working to clean and detail my car or a customers car
Micro-fiber cloths are the 9th wonder of the world!
Safer, more absorbent, and lint free cleaning than the traditional cloths you are likely using
regardless of the job; I am using a micro-fiber cloth
These are economical (you can spend far more on micro-fiber cloths, but when it comes to cleaning car leather, these are both safe and economical)
Car leather Conditioner:

Darren's shocking answers
I get it. That statement seems a bit over-the-top. But what I am going to suggest to you will be so counter to what the  industry has taught you.
It's not the only way to condition your car leather, but it is the way I condition my car leather. I have two choices as to what I call my car leather conditioner

Car leather Conditioner:

Conditioner without the shine
Who would have ever thought of using a spray wax on your car leather
If you accept the fact that your car leather truly has a clear coating on it, and you use wax on the clear coating on your car paint, then it should start making some level of sense to you
You can spray directly onto your car leather and wipe in, or do what i do and spray your micro-fiber cloth (yes, once again, I always use micro-fiber for everything) and wipe into/onto your car leather upholstery
This is not your ordinary car wax (this is a non-staining formulation which means it will never turn chalky white and can literally be used directly on the exterior black trim safely and effectively also)
My "go-to" car leather conditioner for 15 plus years
Car Leather Conditioner:

Conditioner with some shine


CSI Nu Tyre Lotion Quart 62-208-Q
Once again: the shocking recommendation
A tire dressing for your car leather??
A tire dressing as a car leather conditioner??
Yes, and yes!!
My "go-to" car leather conditioner if I want some shine as part of the equation (not everyone likes shine on the inside of their cars materials. If you like some shine without the hyper-shine, then the Nu Tyre Lotion is the product for you
Apply to micro-fiber cloth and apply to your car leather upholstery
This is also my "go-to" tire dressing

Car Leather is Car Leather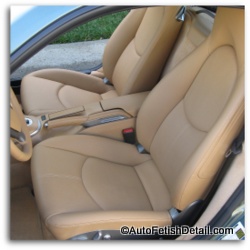 What I mean by this is just that; your car leather is car leather! It is not your baseball glove leather, it is not your shoe leather, it is also not your sport jacket leather.
While most of those leathers are not finished and tanned using the same methods as car leather, the finishing processes of today's car leather is much more resilient and durable to withstand the day to day use of your cars leather upholstery.
Car leather of today is finished using a water based clear coating that is resistant to liquid spills and dirt, and in case you have not connected the dots yourself, this also means that this same coated car leather also resists the use of traditional car leather conditioners the car industry would have you think you are required to use.

Professional Application of Car Leather Conditioners

Since I have thrown a lot of new information at you and many of you will find this hard to process, I am going to bullet point it for you so as to bring all this info into practical application before I get into my actual auto leather conditioner recommendations:
Modern day leathers found in virtually EVERY car/truck/van will be made using what is called coated leather; it is finished with a water-based clear coating to withstand and handle the day to day use of your car leather....this is really good news. (the only exception I have found is in the Ford truck, Kings Ranch Edition)

Because the leather is coated, your car leather is much more maintenance free and also easier to clean when needed. (for specific professional advice, you can visit car leather cleaning)
Leather dressings and conditioners are mostly going to be purely superficial enhancement rather than thinking your leather will actually absorb and become enriched by your choice as to the best car leather conditioner.
If it helps you make sense of your world and you sleep better at night, by all means apply that leather conditioner over and over again (personally and professionally I like the satin look of perfectly clean leather over that of glossy, sometimes greasy look and feel of auto leather that has been conditioned with traditional car leather conditioners. But with that said, not all leather conditioners are created equal and applying a quality leather conditioner will add enhanced shine and create a feel that many people prefer that can only be had with use of traditional leather conditioner
Car Leather Care Kits:
If you must...

If you simply cannot embrace any or all of what I have taught so far, then I am going to recommend the following products you can default to if you find greater peace of mind.
The following products will "work" for your car leather, they simply are not the products I default to as a professional or as a car owner myself.
I am a big fan of car care kits; you get multiple products at a reduced rate over buying individually. If you are looking to simplify your life and want an all-in-one kit for all your car leather cleaning and conditioning, then the following kit is ideal:


Chemical Guys Leather Cleaner and Conditioner Complete Leather Care Kit (16 oz) (2 Items)
Complete car leather kit.

From cleaning to conditioning.

Economical way to clean, treat, and care for automotive car leather.





Meguiar's G7214 Gold Class Leather Cleaner and Conditioner
Top rated leather conditioner.

A trusted name that has been around since the beginning.

Even more convenient in that you get an all-in-one cleaner and conditioner.


Black Leather Car Conditioner

If you have the "pleasure" of owning a car with black leather, you will be faced with additional challenges due to the leather being black.
After cleaning black leather, it is normal to have an inconsistent appearance once you are finished the cleaning process. In my world; this inconsistent appearance is unacceptable.

A quick and simple solution is to switch from a traditional car leather conditioner like the one's above, and use this aerosol spray dressing that is super easy and super effective.
Not only does it work well in conditioning the car leather, but creates a nice uniform appearance to any car leather, vinyl, plastic, etc.
And perfectly safe and effective for using on car leather that we have now learned is coated car leather...



Stoner Car Care Trim Shine Protectant - 12 oz, 91034
Perfect for use on black car leather.

Evens out the unevenness created after cleaning car leathers that are black or dark in color.

Designed to be sprayed and left alone; (I prefer to spray and wipe quickly with a micro-fiber to cut down the shine.)

Non-greasy, light, and easy to use.




One of my favorite products I have been using for years.



Pay Auto Leather Conditioner Forward

Thank you for visiting this Auto Leather Conditioner Reviews. I bet you know of at least one other person who would benefit from the information I have taken so much time to produce. Whether this be friend, family, car forum, or car club, please help me spread the word by posting this to your Face Book, Twitter, or forum account!
Or just send them the link and pay it forward in that manner. I have made it super easy to spread the word with my "Socialize It" button box at the very bottom of this page.
Sincerely,
Darren Priest
---