Car Leather Conditioner

Fact or Fiction
Your search for the best car leather conditioner will prove to be a frustrating search for most of you. This is one of the areas of auto detailing and leather car care that is continually misrepresented by the industry through less than honest advertising.
Car leather upholstery of today is much different than the car leather upholstery of yesterday. The good news is that conditioning the car leather is less a requirement of modern day automobile leather than ever before; the bad news is that many of you will not accept this.

Experience of the Professional

Experience has shown me that when it comes to the proper care of your cars leather interior, most people side-step the most important role of cleaning, and jump straight into finding and using the best rated car leather conditioners. A bad habit practiced by many unsuspecting car owners of applying layer upon layer of what they consider the best in leather conditioners directly on dirty car leather!

Bad Behavior Repeater Over and Over!

Like many areas of car ownership, proper car leather care is neglected from the beginning by most, and these same people find themselves scrambling for ways to make up for lost time. Not only do people neglect the cleaning and maintenance of their car leather but also want to take short cuts. The cruel irony is that a worse problem is actually created for themselves through repeated applications of car leather conditioner on dirty car leather. Over time, a grungy mix of dirt and conditioner accumulates that is both damaging and unsightly to your cars leather, vinyl, or other plastic trim pieces that people typically apply conditioners to.
Before Cleaning

Acura LX dash with excessive conditioning build-up from repeated uses without cleaning prior to new applications of leather and vinyl conditioners.


After Cleaning

The same Acura LX dash that has been cleaned showing the before and after use of a new white rag; can you guess which side of the rag below contains all the excessive dirt and dressing build-up?

The (2) side by side images is a dramatic example of the kind of build-up that I am referring to when it comes to using leather conditioners, vinyl dressings, etc. Some things to note from the pictures above:
The dash on the left would appear healthy and shiny to most people.
The owner put new applications of vinyl dressing/conditioners on the dash regularly without cleaning first.
The rag on the right shows how much dirt I was able to clean off. I had folded the rag in half so you could see the dramatic difference between the new side of the rag and the dirty side of the rag.


Car Leather is Car Leather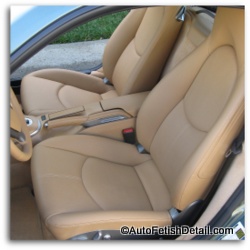 What I mean by this is just that; your car leather is car leather! It is not your baseball glove leather, it is not your shoe leather, it is also not your sport jacket leather. While most of those leathers are not finished and tanned using the same methods as car leather, the finishing processes of today's car leather is much more resilient and durable to withstand the day to day use of your cars leather upholstery. Most car leather of today is finished using dyes and clear coatings that are resistant to liquid spills and dirt, and in case you have not connected the dots yourself, this also means that this same car leather also resists the use of car leather conditioner.
The Good News and the Bad News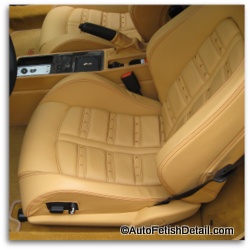 As I stated previously which deserves repeated attention, is the fact that your car leather will resist any form of car leather conditioner that you think will penetrate and actually improve or nourish your cars leather upholstery.
For most of us this actually represents good news as this eliminates the use of car leather conditioners. But many will find this unacceptable and many will not let go the fantasy that through repeated applications of the best auto leather conditioners, you can transform your cars leather from good to great!
Just like every where else in life we generally get what we pay for. This simply means the more you pay for your car, the more you can expect to not only get the use of more leather, but better and better car leather. No car leather conditioner in the world is going to transform marginal leather into fabulous leather.
Letting Go...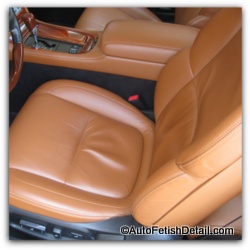 For many people, the thought of not using a quality car leather conditioner is diabolical! I find it interesting that in many cases this also comes from the same people who also happen to be the very people unwilling to fulfill even the most basic requirements of car leather care; that of cleaning car leather first and foremost!
It will be hard for many of you to let go the notion of slathering the best auto leather conditioner on your cars leather on a Saturday afternoon when you finally feel motivated. Experience has shown that simply keeping your car leather clean is priority one, and car leather can last a lifetime by simply keeping it clean. I have cars that I have professionally maintained for over 10 years where the car leather looks as good as day one, and have never used any form of car leather conditioner.
Professional Application of Car Leather Conditioners

Since I have thrown a lot of new information at you and many of you will find this hard to process, I am going to bullet point it for you so as to bring all this info into practical application before I get into my actual auto leather conditioner recommendations:
Modern day leathers found in most cars will be made using what is called coated leather; it is finished with a water-based clear coating to withstand and handle the day to day use of your car leather....this is really good news.
Because the leather is coated, your car leather is much more maintenance free and also easier to clean when needed. (for specific professional advice, you can visit car leather cleaning)
Leather dressings and conditioners are mostly going to be purely superficial enhancement rather than thinking your leather will actually absorb and become enriched by your choice as to the best car leather conditioner.
If it helps you make sense of your world and you sleep better at night, by all means apply that leather conditioner over and over again; personally and professionally I like the satin look of perfectly clean leather over that of glossy, sometimes greasy look and feel of auto leather that has been conditioned. But with that said, not all leather conditioners are created equal and applying a quality leather conditioner will add enhanced shine and create a feel that many people prefer that can only be had with use of leather conditioners.
Let me show you what will work if you are still in search of a quality auto leather conditioner. It really is an area that doesn't need to be over-thought as conditioning your cars leather is not like the good 'ol days of breaking in that new baseball mitt that required repeat applications of that secret leather conditioner, along with hours of manual manipulation.
Not only will car leather not respond in the same manner, but with the way modern day car leather is made, we really have the best of both worlds; excellent car leather that requires little maintenance, and leather that looks amazing from the get-go.
Car Leather Care Kits

I am a big fan of car care kits; you get multiple products at a reduced rate over buying individually. If you are looking to simplify your life and want an all-in-one kit for all your car leather cleaning and conditioning, then the following kit is ideal:



Chemical Guys Leather Cleaner and Conditioner Complete Leather Care Kit (16 oz) (2 Items)
Complete car leather kit.

From cleaning to conditioning.

Economical way to clean, treat, and care for automotive car leather.





Meguiar's G7214 Gold Class Leather Cleaner and Conditioner
Top rated leather conditioner.

A trusted name that has been around since the beginning.

Even more convenient in that you get an all-in-one cleaner and conditioner.


Black Leather Car Conditioner

If you have the "pleasure" of owning a car with black leather, you will be faced with additional challenges due to the leather being black.
After cleaning black leather, it is normal to have an inconsistent appearance once you are finished the cleaning process.In my world; this inconsistent appearance is unacceptable.

A quick and simple solution is to switch from a traditional car leather conditioner like the one's above, and use this aerosol spray dressing that is super easy and super effective.
Not only does it work well in conditioning the car leather, but creates a nice uniform appearance to any car leather, vinyl, plastic, etc.


Stoner Car Care Trim Shine Protectant - 12 oz, 91034
Perfect for use on black car leather.

Evens out the unevenness created after cleaning car leathers that are black or dark in color.

Designed to be sprayed and left alone; (I prefer to spray and wipe quickly with a micro-fiber to cut down the shine.)

Non-greasy, light, and easy to use.




One of my favorite products I have been using for years.



Pay Auto Leather Conditioner Forward

Thank you for visiting this Auto Leather Conditioner Reviews. I bet you know of at least one other person who would benefit from the information I have taken so much time to produce. Whether this be friend, family, car forum, or car club, please help me spread the word by posting this to your Face Book, Twitter, or forum account!
Or just send them the link and pay it forward in that manner. I have made it super easy to spread the word with my "Socialize It" button box at the very bottom of this page.
"Serving Orange County, California for Over 25 Years"
Home | About | About This Site | Privacy Policy | Contact
Home Page

>>
Car Leather Interiors
> Car Leather Conditioner