Car Seat Cleaning Products:

You have been mislead by hype!
Do you really want to know what the best car seat cleaning products are, or do you really just want a clean car. Specifically a clean car interior!
I am willing to bet what you really want is clean car interior, and you simply accept that you will be required to use some kind of car upholstery cleaner to get what you are really after.
A really clean car interior with less effort, not more effort!

This is where I am come in...
and with me I bring 30+ years of professional experience that is not built upon me working for a specific manufacturer of car upholstery cleaners, but the real world of professional auto detailing.

Today is world of information overload!
Endless websites and blogs written by companies and people with little actual experience at best, or zero experience at worst.
All in the name of trying to sell you "stuff" that is simply more of the same stuff you have been lead to believe is the best car cleaning products.
Here are a couple examples of articles written by non-professionals all with the simple goal to sell more products:
Car Seat Cleaning Products:

Keeping it simple and effective
If your eyes have already glazed over at the thought of trying to find the best car seat cleaning products and shampooing your car upholstery, I have some good news for you:

"Cleaning your car seats and upholstery is much easier and simpler than you have likely been lead to believe."
Unfortunately for people like yourself, car care and auto detailing is an industry filled with plenty of bad information.
An industry that would strongly persuade you to buy more product snot less products.
"What if I told you that a single product can be used to clean your entire car upholstery regardless of the material?"
Wold you even listen?
Car Seat Cleaning Products:

One product; endless uses!


Simple Green All-Purpose Cleaner - Stain Remover for Clothing, Fabric & Carpet, Cleans Floors & Toilets, Degreases Ovens & Pans (Original, 32 oz Spray and 2-67.6 oz Refill)
One product, endless cleaning possibilities!
Concentrate (this means you can custom blend based on your cleaning needs)
Safe for virtually every material within your cars interior (car leather, fabric, velour, plastic, dashboard, door panels, floor mats, etc., etc.

My "go-to" al purpose cleaner that replaces so many of the dedicated, special cleaners this industry wants you to believe you must have
Safe for your car interior, safe for you

Darren's Tips: I decided a few years ago hat I not only wanted to simply my professional world of detailing, but I also wanted to find car seat cleaning products that were also friendlier to my health while still being effective at cleaning car upholstery.
This is when I took a household all-purpose cleaner I grew up using and started to experiment with it within my professional world of auto detailing. The more I used it, the more uses I found for it. And not just in cleaning car seats, but cleaning so many things on and in my car, but around my house.
Also noteworthy is that most car seat cleaning products will say "do not use on leather" unless it is a dedicated car leather cleaner. Just know that if you have car leather seats, this product is safe due to the fact that the car leather in your car is coated with a clear protective coating. This means you are not really cleaning a natural material (leather), but a synthetic material called a water-based clear coating.

Car Seat Cleaning Products:

Dedicated car upholstery cleaners
I get it...
You might be resistant to using a car seat cleaning product that is not actually labeled specifically as a car seat cleaner or car upholstery cleaner.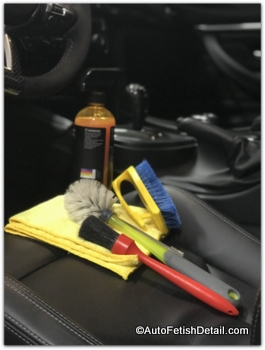 You might also consider the Simple green above as overkill for you and your world of simply cleaning one or two cars at most. I get the strain on your psyche.
For this reason I offer up traditional car upholstery cleaners directly from the world of detailing and car care. Not only are these made specifically as car seat cleaning products, but come in smaller, ready to use formulations that have the ability to make things super-simple for you and your car cleaning jobs.
If you are one of those individuals, see my recommendations below:

Adam's Carpet and Upholstery Cleaner


Adam's Carpet & Upholstery Cleaner 16oz
One of the latest car upholstery shampoos I have tested.


I was amazed that a retail/enthusiast grade upholstery shampoo was able to perform at the same level as any of my professional grade upholstery shampoos.

Formulated without the traditional colors and scents of car upholstery cleaners.


You will not be disappointed!

Ready to use; no diluting necessary.

Can also be safely used to clean your car leather.

Griot's Garage Interior Cleaner


Griot's Garage 10956 Interior Cleaner 22oz
Griot's Garage is a leading brand among any car enthusiast.

Another one of my favorite, ready to use car upholstery cleaners.

Promises to perform to the level of any professional upholstery cleaners I have ever used.

You will not be disappointed.

Can also be safely used to shampoo your car leather.

I offer up two recommendations here to at least give you a choice. With that said, either one of these products will perform for you. You can always read the Amazon reviews for your final decision, but I have tested and used both and know that both car upholstery cleaners will perform for you.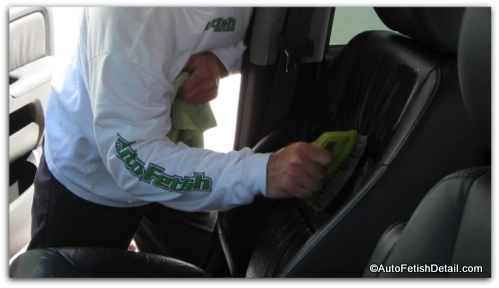 Car Seat Cleaning Products and Steps

I am willing to bet you are looking to not just clean your car seats, but clean the many other surfaces and areas of your cars interior. So let me lay out the exact steps I follow whether you truly just want to clean your car seats or do a complete detail on your cars interior:
Vacuum
Spray area to be cleaned with upholstery/all-purpose cleaner
Scrub with upholstery scrub brush
Mop up area with micro-fiber cloth

Repeat until desired results have been achieved
Car Upholstery Cleaning Tools
finding the best car seat cleaning products will do you very little if you are not using the right tools to clean your car seats or clean the rest of your cars interior.
The right tools are just as important as using the right upholstery cleaner.

Car Upholstery Scrub Brushes


Upholstery Cleaner Scrub Brush Set Cleaning Brush and Horsehair Detailing Brush for Car Interior, Seats, Boat, Couch, Sofa and Carpet
These brushes are labeled as boat upholstery scrub brushes, but they are perfect for cleaning car seats or virtually every other surface in your cars interior
Set comes with two types of scrub brushes making this the perfect car upholstery scrub brush set
One brush is made of soft horse hair for the more delicate jobs like cleaning car leather seats
The other brush has stiffer synthetic bristles perfect for heavier duty cleaning like floor mats, fabric, nylon seats, etc.
Car Upholstery Cleaning Cloths


Kirkland Signature Ultra High Pile Premium Microfiber Towels, 36 Count (Pack of 1), Yellow - 713160
My "go-to" detailing cloths regardless of what detailing task I am performing
Micro-fiber cloths are the winning balance: softer, more absorbent, and lint free cleaning as compared to other types of cloths
I ONLY use micro-fiber regaldess of whether I am detailing exterior or exterior of car (the micro-fiber cloth is just that good)
You could spend more on fancier micro-fiber cloths, but these are perfect for use with any car seat cleaning products you will choose
Car Seat Cleaning Products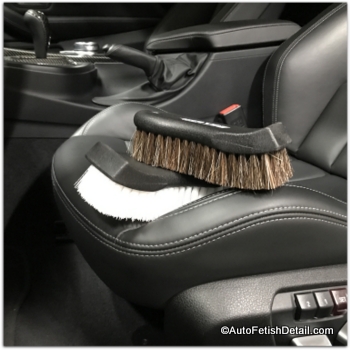 In review I will leave you with the following checklist for cleaning and shampooing your cars interior:
Not all car upholstery shampoos are created equal; I have provided you with my professional choices.
Always start by reading manufactures labeling (It's amazing what you can learn by reading first)
Not every stain will come out of your cars upholstery (you need to be realistic here.)
If your car has been neglected long enough, basic dirt will eventually discolor lighter materials. For this reason regular cleanings are the best way to prevent permanent damage and staining.

As a rule most people are very happy with the results they are able to achieve with a quality upholstery cleaner and the right scrub brushes.

Repeat applications using lighter amounts of your car seat cleaning products is far better than to unrealistically think you can clean all the dirt in a given area with an excessively heavy application of upholstery cleaner.

I hope this information has helped and now you feel empowered to go out and tackle the dirt within your own car. My car seat cleaning products I have recommended are the first place to start.

Sincerely,
Darren Priest
Darren's links to bad information written by "non-professionals. As I said at the beginning; most websites and blogs are written by people with little to zero real-world experience. Companies with the ability to create a great appearance at a casual level, but simply repeating bad information and bad recommendations:
AutoGuide.com Car Upholstery Cleaners

---