Car Seat Cleaning Products:

The Good News!
How could car seat cleaning products have any good news to it you might ask. The really good news would be if I told you you don't really have to clean your car seats.

Or perhaps I could tell you that I had a car upholstery cleaner that would do all the cleaning for you. Of course neither one of those statements is true. You really do need to clean your car seats.
Car Seat Cleaning Products:

Keeping it simple and effective
Before you wonder off I can tell you that that I still have some good news for you and that is this:
"Cleaning your car seats and upholstery is much easier and simpler than you have likely been lead to believe."
Unfortunately for people like yourself, car care and auto detailing is an industry filled with plenty of bad information. An industry that would strongly persuade you to buy more product snot less products.
"What if I told you that a single product can be used to clean your entire car upholstery regardless of the material?"
Wold you even listen?



Adam's Carpet & Upholstery Cleaner 16oz
One of the latest car upholstery shampoos I have tested.


I was amazed that a retail/enthusiast grade upholstery shampoo was able to perform at the same level as any of my professional grade upholstery shampoos.

Formulated without the traditional colors and scents of car upholstery cleaners.


You will not be disappointed!

Ready to use; no diluting necessary.

Can also be safely used to clean your car leather.



Griot's Garage 10956 Interior Cleaner 22oz
Griot's Garage is a leading brand among any car enthusiast.

Another one of my favorite, ready to use car upholstery cleaners.

Promises to perform to the level of any professional upholstery cleaners I have ever used.

You will not be disappointed.

Can also be safely used to shampoo your car leather.

I offer up two recommendations here to at least give you a choice. With that said, either one of these products will perform for you. You can always read the Amazon reviews for your final decision, but I have tested and used both and know that both car upholstery cleaners will perform for you.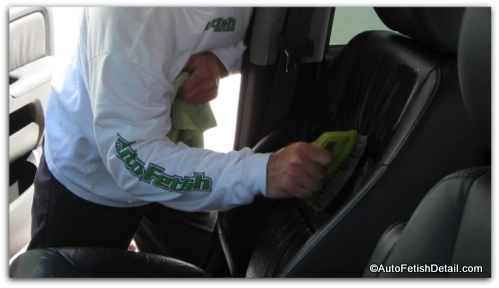 Car Upholstery Cleaning
Let me lay out the super simple steps when you are ready to use these car seat cleaning products.
Pre-vacuum all areas first: Most people know this, but many people don't understand why.

It may seem obvious to you, but experience has shown me that people don't understand the importance of this. The more you are able to vacuum up as loose, dry dirt, the easier and more effective your car upholstery cleaning efforts will be. This also applies to pre-vacuuming any car leather seating you will be cleaning. I will go so far as to pre-scrub all the fabric and carpeting areas while I am vacuuming to break up dirt and debris for an even more thorough vacuuming job. Once again; the more you can vacuum up dry dirt before you shampoo the better.
Spray area from your choice in car seat cleaning products: repeat applications are better than a single, heavy application.
A little will usually go a long way so don't over saturate the area of your car you are shampooing. Use lighter, repeat applications.
Scrub area with your chosen tool of car upholstery cleaning.
Now that you have sprayed the area to be cleaned, simply scrub vigorously with appropriate scrub brush to break up dirt.
Now you are ready to mop up the dirt you have released in the process. With either of these upholstery shampoos you don't need to worry about rinsing this areas. Simply spray, scrub, and mop up until you have achieved desired results. Any clean cloth will do, but I prefer a micro fiber cloth as these cloths are incredibly absorbent.

Car Upholstery Cleaning Tools
Since I am giving you my pick in top rated car upholstery cleaners I want to add my chosen tools of shampooing.



OXO Good Grips Heavy Duty Scrub Brush
Not too stiff, not too soft.
If I had to pick a single scrub brush to clean the interior of your car, I could easily live with this one.
Safe for any material within your car: carpeting, velour, leather.
Remember, you always remain in control. If you are fearful, simply use very light pressure until you build the confidence as to what kind of pressure you determine appropriate for the material you are shampooing.


Nanoskin (85-634) 8.5" Carpet & Floormat Scrub Brush, Black Nylon
My second favorite upholstery scrub brush.

More aggressive than the one above.

The extended handle makes it ideal for additional leverage when going in level 10 for serious scrubbing!

A scrubber I also consider a must have; especially for floor mats.


Chemical Guys ACC_S95 Long Bristle Horse Hair Leather Cleaning Brush, , 1 Pack
Dedicated leather scrub brush.

Natural horse hair bristles.

Most people are overly cautious when it comes to cleaning and scrubbing leather; this is your perfect brush.

Softer and gentler than the other brushes above.
Car Seat Cleaning Products
In review I will leave you with the following checklist for cleaning and shampooing your cars interior:
Not all car upholstery shampoos are created equal; I have provided you with two excellent choices.
Always start by reading manufactures labeling (It's amazing what you can learn by reading first)
Not every stain will come out of your cars upholstery (you need to be realistic here.)
If your car has been neglected long enough, basic dirt will eventually discolor lighter materials. For this reason regular clearings are the best way to prevent permanent damage and staining.

As a rule most people are very happy with the results they are able to achieve with a quality upholstery cleaner and the right scrub brushes.

I hope this information has helped and now you feel empowered to go out and tackle the dirt within your own car. My car seat cleaning products I have recommended are the first place to start.

Sincerely,


"Serving Orange County, CA for Over 25 Years"
Home | About | About This Site | Privacy Policy | Contact
Home Page

>>
Car Upholstery Cleaning Tips
> Car Seat Cleaning Products