Car Touch Up Paint
Does a simple fix exist for a common problem

Car touch up paint will become a concern for most people. Life is a jungle and very few areas of the world represent this more for your car than the open roads and highways!
Eventually your car will pick up a scratch or two along the way. Whether these car paint scratches are accidental or from an inconsiderate person who decides to seek revenge on your car in the form keying your car and leaving a permanent, uninvited mark on your car!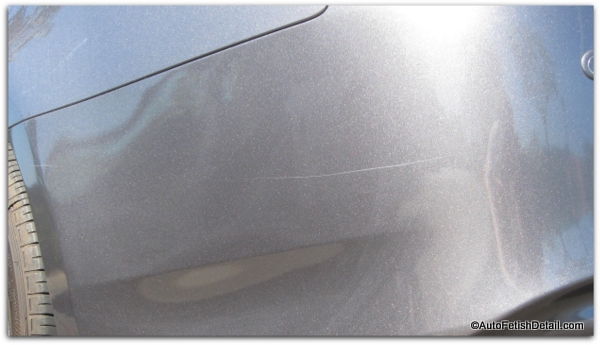 The picture above is a perfect example of the very common scratches I see on my customers cars. And generally they ask me if I can't just use some car touch up paint to "fix" this type of scratch.
This type of scratch is what we call in the industry as a hairline car paint scratch.

Which the answer is NO! For the very reasons I outline below.
Car Touch Up Paint:

Different types of car paint scratches
The problem is that not all car paint scratches are created equally! Literally every scratch, every chip will be unique in character and require a unique approach as to how you go about fixing these unwanted marks on your car.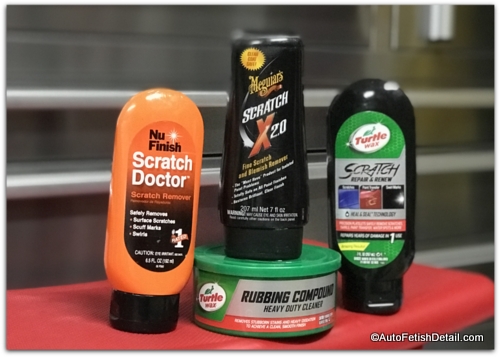 Most of you will be dealing with scratches that represent what I call more traditional scratches in the form of hairline car paint scratches (see picture at top of page). These kinds of hairline scratches will not be the moment where you reach for your traditional car touch up paint that typically comes in the form of a brush or pen like applicator.
A car scratch must be wide enough and deep enough to actually "accept" touch-up pint into it, rather than just lying on top of the scratch. Sure this car touch up paint may indeed cover the unwanted scratch, but ti will also extend outside the specific scratch thus creating a different sort of unwanted effect.
Car Touch Up Paint:

Scratch removers, not touch-up paint
I am a big fan of approaching any problem with the least aggressive approach. While many may argue that using a car touch up paint applicator of some sort would be the least aggressive, in most cases it will prove not only ineffective, but result in a more unsightly problem for most of you.

Turtle Wax Scratch Repair Kit


Turtle Wax T-234KT Premium Grade Scratch Repair Kit
My favorite car paint scratch repair and car touch up paint kit
Contains sanding discs for scratch removal
Contains rubbing compound
Contains a clear coat touch up pen for many car paint scratches that simply need a layer of clear coat added to conceal the car paint scratch
Darren's Tips: Any discussion on car paint chips, scratches. or transfer is a subject that gets complex very easily. Most people have very unrealistic expectations for fixing these types of unwanted car paint damages.
This is simply due to the fact that very few people understand the nature and variety of the different types of paint damages. As I have said, these scratches and chips are all truly unique in nature. With that said, the Turtle Wax kit above represents one of my favorite car paint scratch repair kits that has the ability to remove or diminish the most common types of car paint scratches, but also comes with a clear coat, car touch up paint pen that works great at hiding and concealing paint scratches that cannot be fully removed with the other "tools" contained in this kit.

Darren's Note: You can see my video review I did on my YouTube channel of this kit:
Turtle Wax Scratch Repair Kit Video Tutorial

Meguiar's Scratch X 2.0
If you are looking for a more "lazy man's" approach to fixing car paint scratches of many kinds and are not interested in finding the best car touch up paint pen or brush, then The Meguiar's scratch remover is likely the best fit for you.



Meguiar's G10307 ScratchX 2.0 - 7 oz. – Safe Scratch and Swirl Remover
A type of "rubbing compound" in a very user friendly size
Perfect for the first-step in dealing with car paint scratches, blemishes, chips, and scuffs on your car paint
Formulated with micro-abrasives that are needed to actually remove or diminish the many types of damages on your car paint
Safe, but aggressive enough to actually do some good
Not so aggressive that you need to be fearful
Use with a micro-fiber cloth and test light at first, then move forward with more pressure and more rubbing as needed
Car Paint Scratches:

What you need to know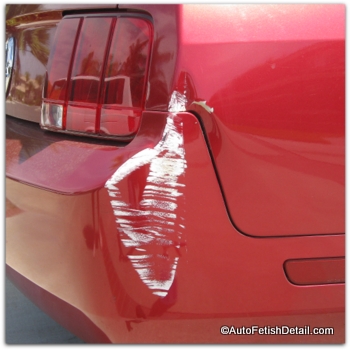 Most people simplify the topic of car paint scratches and think that one solution (car touch up paint) is a fix for every car scratch. This is simply not true. Every scratch will be truly unique in length, depth, and width.

Some marks are not scratches but transfer marks.
The good news is that many times the scratch you think is an actual car paint scratch, is really what is called paint transfer. These marks are much easier to deal with than an actual scratch in your car paint.

You need to perform the finger nail test.
Each scratch will need to be tested to determine the steps to take to remove the mark. Simply scrap across each mark with the tip of your fingernail to help determine whether it is an actual scratch, or some form of transfer that sits on top of the paint. This test will also help you determine how deep the paint scratch is.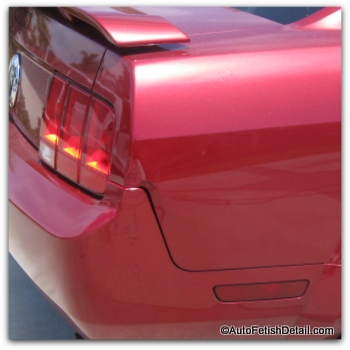 Darren's Tips: The picture above shows significant damage to the bumper of this Ford Mustang that is mostly due to paint transfer. Once I removed the paint transfer first, the scratches below were then revealed and I was able to move forward with a combination of car paint scratch removal, along with using traditional car paint touch up in the form of a brush and pen applicator.
You can see the results below after I was finished performing my magic and saving this customer over $2500 that would have been required to fix at a typical paint and body repair shop. (if you examine this repair, you can see how the damage was not isolated to just the bumper, but also the quarter panel. This is not a perfect fix, but for this customer who was looking at over $2500 in repair costs, what I was able to do was a perfect trade-off!
Car Touch Up Paint:

Touch-up pens


ACDelco 19328527 Summit White (WA8624) Four-In-One Touch-Up Paint - .5 oz Pen
This touch-up paint pen is for white car paint
Use the link and look up your exact color to get the touch up paint color for your car


Turtle Wax 50758 Color Magic Scratch and Chip Repair Pen, Universal Black
This touch up paint pen is for black car paint
Turtle wax makes numerous car touch up paint pens for universal colors
Car Paint Scratches:

Car touch up paint, paint transfer, paint scuffs
Once again, not all car paint scratches, scuffs, chips, and paint transfer are created equally. What you will be up against when it comes to the many types of assaults on your car paint will be many and represent a variety of problems.


Car Touch Up Paint Summary
tIf you have made it this far down the page, you should have not just better understanding, but additional products in which to approach the specific problem you are facing that caused you to go in search of car touch up paint in the first place.
I hope that I have helped and wish you much success!
Sincerely,
Darren Priest
---