Get Your Classic Car Care Questions Answered
Classic car care has such a huge following among car enthusiasts, I wanted to include a page with some of my tips from the world of professional auto detailing.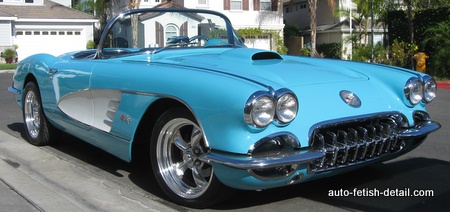 1959 Corvette frame off restoration-my kind of classic car!
Even though classic cars have original paint that includes lacquers and enamels from the past, when they go through the restoration process, they will often have what is called 2-stage paints.
Without trying to explain the difference of all the many paint types, I can simply tell you what works and what doesn't. And because of modern day advances in chemical engineering, we can now buy a car wax product that will work on any kind of paint.
It is a Confusing Market Out There
We have been so mislead and confused by the big car care companies, all in the name of selling us more product. We have been lead to beleive we need a special wax for:
Clear coats
Enamels
Lacquers
Modern day paints
Black paint
Red paint, etc.
Do We Really Need So Many Products?
I say no!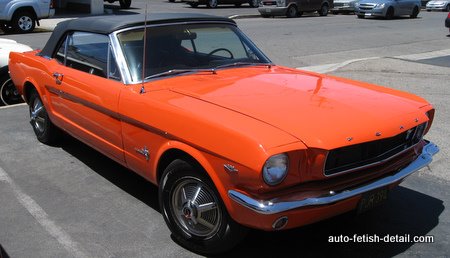 1965 Mustang convertible
Having been in the car detailing business first hand for over twenty years now, I have to stay on top of the latest and greatest products; if I don't learn what does or doesn't work, I am out of business!
With classic car care, the same rules apply to classic cars as they do to current cars:
Regular dusting and/or washing
Regular waxing for both protection and visual enhancement
Using the clay bar as needed on the paint
If you want to read what I use on all my customers cars whether it be classic cars, exotics, foreign or domestic, you can follow this link to my choice in best auto wax.
The biggest problem you and I face when performing auto detailing services with classic car care is to be careful. The older the car is, the more fragile body trim and interior trim pieces are going to be.
An extra level of awareness must be applied when working on these cars, as you never know just how well a certain piece of trim is attached to the car.
The nice thing about these modern day waxes, is that they can be used on all exterior materials including that vinyl convertible top of the Mustang pictured above.
"Serving Orange County, CA for Over 25 Years"
Home | About | About This Site | Privacy Policy | Contact
Home Page

>>
Detail Tips
> Classic Car Care