Cleaning Car Seats:

Easier than you ever thought
Cleaning car seats is far easier than most people realize. Forget about bulky and troublesome carpet extractors and special equipment.

With the products, tools, and techniques I am going to help you get fantastic results with very little effort. Your car seats are the first things you tend to see as you get into your car. Having dirty car seats gets annoying very quickly for most people.
We are going to put an end to that!

Cleaning Car Seats the Easy Way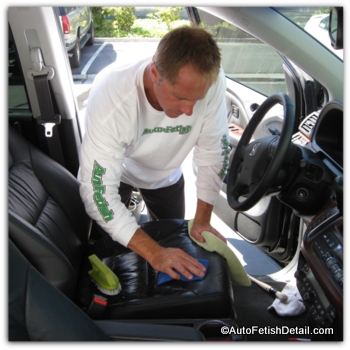 I have found that most people are not looking for perfection when it comes to their cars. Not that we can't reach pretty close to perfection, but what we are after here is simple ways to achieve acceptable results.
And regardless if you have leather car seats, cloth car seats, or velour cloth seats, the products, the tools, and the techniques are all the same.
Cleaning your car seats along with the rest of your car upholstery really is far easier than most people have been lead to believe.
Car Seat Upholstery Cleaners:


Adam's Carpet & Upholstery Cleaner 16oz
One of the latest car upholstery shampoos I have tested.


I was amazed that a retail/enthusiast grade upholstery shampoo was able to perform at the same level as any of my professional grade upholstery shampoos.

Formulated without the traditional colors and scents of car upholstery cleaners.


You will not be disappointed!

Ready to use; no diluting necessary.

Can also be safely used to clean your car leather.


Griot's Garage 10956 Interior Cleaner 22oz
Griot's Garage is a leading brand among any car enthusiast.

Another one of my favorite, ready to use car upholstery cleaners.

Promises to perform to the level of any professional upholstery cleaners I have ever used.

You will not be disappointed.

Can also be safely used to shampoo your car leather.
I am giving you two choices here. I do this not to confuse you, but most people like at least two options without being overwhelmed by the endless options that exist out there.
One of your biggest problems will be to prevent your self from reading endless reviews from all the so-called experts out there.
You will find you only become more and more frustrated as you read people with little to no experience offering up their two cents as to the best products, or the best techniques.
I am trying to keep this simple for you and show you how easily this really can be.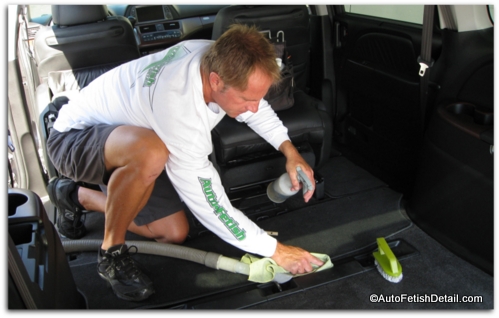 Cleaning Car Seats:

Simple Steps to Success
Now that I have laid out two of my favorite car upholstery shampoos, let me lay out the basics steps to be used regardless of the car seats that need cleaning:
Many people know this; very few people realize how important this is. Vacuuming first is not only the best way to remove the dry dirt and debris before you shampoo, but when it comes to cleaning car seats made of cloth, it is far easier and quicker to remove dry dirt and debris through vacuuming, than shampooing dirt away.
I will go so far as to scrub the cloth car upholstery with my chosen brush very vigorously to further break up any loose, dry dirt. Once again, this initial step is very effective to getting professional results before you introduce your chosen car upholstery cleaner into your dirty car seats.
Remember this pre-vacuuming also applies to leather or vinyl seating as dry dirt and debris wil hide and settle into the seams of the seating. Spraying your leather/vinyl seats with a liquid cleaner is only going to turn this loose dirt into a sloppy mess.
Once you have pre-vacuumed you simply spray area to be shampooed with 3-5 full sprays of upholstery cleaner. I prefer to break cleaning car seats into sections that are manageable. This means I may spray only individual panels of the car seating as sewn together by the manufacturing as these separate panels have already been broken down for you. Remember to not over-saturate as it is always better to do repeat applications rather than think you will get all the dirt by spraying large amounts of car upholstery shampoo. This includes both the cleaning of car leather and vinyl, or cloth seats.
That's right; the next step is to scrub wet area with your chosen scrub brush. You can choose your choice of cleaning weapon from my recommendations below. Scrub vigorously to the degree you determine to be appropriate. Scrub aggressively enough to break up the dirt, but not so aggressively as to damage the material.
Yup; you simply mop up the area you have just scrub to remove the now broken up dirt from your car seat. I prefer a micro- fiber cloth as these are more absorbent than any other traditional cloth. If you have never used one before you will notice that they seem harder to use in mopping up the shampoo and dirt due to the fibers that seem to naturally grip any other material. Just know that this actually represents a good thing due to the ultra fine fibers of a micro-fiber cloth.
Just remember that the ultra fine fibers means you are absorbing more of the shampoo/dirt solution thus making your efforts in cleaning car seats more effective and efficient.
As stated above; you repeat your light shampoo applications as many times as necessary to achieve desired results or until you determine that no more dirt is able to be removed.
Darren's Note: Many people have unrealistic expectations due to inexperience. If you are cleaning car seats that have years of accumulated dirt, it may be likely you are not able to remove all the discoloration that will be a natural byproduct of dirt allowing to remain on your car seating for years. Eventually even "normal" dirt will discolor light colored car seating if allowed. For this reason it is always better to do casual or hasty car seat cleaning at regular intervals than to be tempted to kick the can down the road thinking you will eventually get to cleaning your car seats at some point in the future. This point in the future as a rule is usually very far into the future which means the dirt starts to stain and become permanent.
Imagine if your car upholstery was in your house; would you think that the level of dirt present before cleaning your car seats was realistic or would you accept that the material would need replacing due to the excessive dirt? This is just a way to have realistic expectations, not a way to discourage you from attempting to clean your car seats.
Cars are certainly different than your household carpeting or furniture, so your expectations will naturally be different with your car than with a comparison to your household furnishings. Just know that virtually in every case I have seen in my professional world that cleaning car seats in the exact manner I have laid out always produces much wanted and needed results that will put a smile on your face!
Cleaning Car Seats:

Tools of Engagement
While a top rated car upholstery shampoo is critical, you should not over-look finding the right tool for the job



OXO Good Grips Heavy Duty Scrub Brush
Suitable for use on any material in your car: cloth, velour, leather car seating.
Not too soft, but not too stiff.
If I had to live with a single scrub brush to clean my car seats I could live happily with this one.
If you are fearful at first, just remember you remain in control. Simply scrub lightly at first and precede as you become familiar with this tool.


Nanoskin (85-634) 8.5" Carpet & Floormat Scrub Brush, Black Nylon
More aggressive than the scrub brush from above.
The handle makes for good leverage when trying to scrub in tighter areas whether you are cleaning car seats of cleaning any other area of your cars interior.
Especially useful for shampooing floor mats where you will need to be more aggressive than cleaning car seats.
One of my favorite detail scrub brushes.


Chemical Guys ACC_S95 Long Bristle Horse Hair Leather Cleaning Brush, , 1 Pack
Natural horse hair scrub brush.
Ideally suited for cleaning leather car seats if you find yourself fearful of using any of the traditional scrub brushes from above.
Definitely softer than the scrub brushes from above.


MR. SIGA Microfiber Cleaning Cloth, Pack of 12, Size: 15.7" x 15.7"
The micro-fiber cloths are perfect for cleaning car seats of any other car upholstery cleaning.
You really don't have to over-think the micro-fiber cloths in this moment.
Very economical for this type of dirty work.
Perfect size that are more suited than many of the cheaper and smaller sized micro-fiber cleaning cloths.
In review I will leave you with the following checklist for cleaning and shampooing your car seats:

Not all car upholstery shampoos are created equal and my two recommendations will provide you with excellent results.

Always start by reading manufactures labeling (It's amazing what you can learn by reading first)
Remember to remain realistic as not every stain will come out of your cars upholstery. This is not to discourage you as I promise you will be amazed, but I also don't want you being disappointed due to unrealistic expectations.

If your car has been neglected long enough, basic dirt will eventually discolor lighter materials. For this reason regular clearings are the best way to prevent permanent damage and staining.

As a rule most people are very happy with the results they are able to achieve with a quality upholstery cleaner and the right scrub brushes.
I hope I have now given you the motivation to take matters into your own hands. You will truly be amazed out how much good damage you can do once you are armed with the right products, tools, and knowledge.
In a matter of a short time and some effort, you can transform your car into a level of clean you didn't think was possible!
Sincerely,


---
Home Page

>>
Car Upholstery Cleaning Tips
> Cleaning Car Seats