Removing Truck Side Trim Molding

Chevy Truck 2500 HD
Removing truck side trim moldings became very popular in the early 90's when both lowered and lifted Chevy Suburbans were all the rage. With the intent to "clean-up" the appearance of a persons truck or Suburban, as well as customize their ride from the crowds, this became a popular trend.

Back in the early 90's, the side trim moldings were manufactured in black plastic and held on with double sided tape. Today's truck side trim pieces are held on with the same double sided tape, but are generally color matched to the color of the truck.
Here we have a Chevy heavy duty 2500 with discolored, fading, yellowing side trim molding that is severely aging the appearance of this truck.
Today, many guys choose to remove the side moldings from their trucks for the same reasons as back in the early 90's. You might find these are the same reasons you may want to consider removing truck side trim moldings from the side doors of your truck:
Your truck side moldings have discolored, faded, or turned yellow.


You want to "clean-up" the appearance of your truck.

Washing and detailing is made easier by the removal of these side moldings (or rub rails).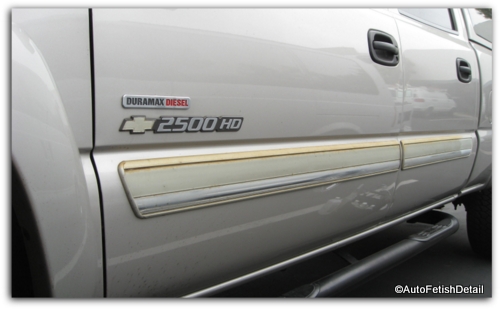 Here is a close up of the very common problem with the truck side trim (rub rails) that have discolored and faded due to sun exposure.

Faded Truck Door Side Molding:

You have 3 options
When you break it down you will find that when it comes to your faded and discolored truck door side rails, you have 3 options:
Live with it (this means you do nothing but do your best to ignore it...virtually impossible!)
Remove them yourself (doable for many guys)
Hire an expert like myself for removing truck side trim moldings that you no longer want on your truck.
I am going to assume that you are here either looking for a professional to remove your truck door side trim pieces, or debating on whether to do it yourself.
It is a difficult decision for most, but hopefully after reading through the steps of removing truck rub rails, you will be at least capable of making a more informed decision!
Here we see a shot once I had gotten into the process of removing truck door side rails. It happens one step at a time.

How to Remove Truck Side Trim Moldings
It is essential that you understand the numerous steps involved in this process. Basically the steps for removing door side rails are the same steps required to debadge or remove the emblems from your car or truck.
Removal of the top, side door trim pieces.
Removal of the underlying double sided tape used to secure the trim pieces to the doors.
Removal of underlying adhesive residue.
Polishing the paint (this will be a case by case judgement call based on what you find)
Removal of the top rub rail, side molding, or door trim piece
Doesn't matter what you call these side door attachments, the removal process is really very simple if you understand that almost in every situation, the door side trim rails are held in position with very strong, double sided tape.
Faded truck side door rails showing the front discolored side rails, and the back side with the double sided tape that has also been removed.
Whether we are talking Chevy, GMC. Toyota trucks, Suburbans, Yukon's, Denali's, etc. And while these side rub rails are meant to last forever, it is still very possible to remove them once you decide to make that commitment.
Unlike the removal of smaller, more delicate car/truck emblems that include letters, numbers. or logos, the side door rub rails can literally be lifted at a leading edge with your fingernail, and literally pulled off without necessarily trying to heat them up with a heat gun.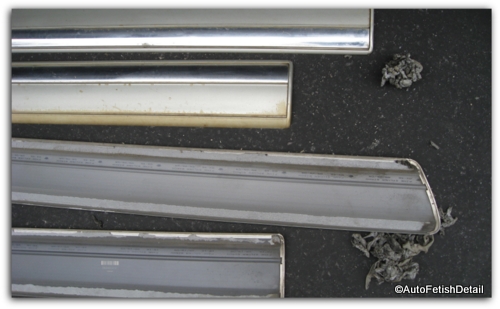 Discolored faded truck door rails showing both the front and backside.
The above picture is the molding removed from the truck doors. The discoloration is very apparent here and you will notice I have laid out the moldings so as to see the front and backside.
Notice the backside and you can see how there are 2 strips of double-sided tape that run the length of each of the moldings where they adhere to the truck. I also included the wads of double sided tape to show the amount of tape removed in the process.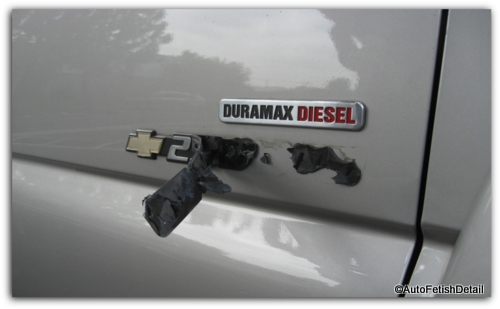 Truck emblem removal
On this particular job the customer also requested to have the truck emblems or badges removed while I was removing truck side trim moldings.
You can see the double sided tape exposed as I have pulled the truck emblem back to reveal how these truck emblems and rub rails are attached.
Removing Truck Side Trim Molding:

Removing double sided tape
When it comes to removing the double sided tape, you have two basic options:
Use your hands and fingers to peel, roll, and pick your way to success (I don't recommend this if you want any skin left on your finger tips)
Use what is called an eraser wheel. (The preferred and far easier method)
The most difficult part of removing the side door trim pieces from your truck or car will be the removal of the double sided tape used to attach the rub rails to the truck or car.
You have to keep in mind that these exterior side rails are meant to remain in place for the life of your car or truck. Before I discovered the amazing 3M eraser wheel, we used to do this by hand and suffered the consequences for weeks after we had also rubbed our finger tips off during the process.


3M Stripe Off Wheel 07498, 4" Diameter x 5/8" Width, 3/8" Mandrel, Beige (Pack of 1)
This 3M eraser wheel will blow your mind! How something that feels like a firm pencil eraser can remove the double sided tape without any damage to your car paint is beyond comprehension! I am still amazed every time I perform one of these jobs.
Whether I am debadging a car or truck, or in this case removing truck side trim molding, I rely on this amazing drill attachment to do the worst part of these jobs.

Removing Truck Door Rails:

Using the 3M Stripe Off Wheel
Once the double sided tape has been removed, in EVERY situation there will be some sticky adhesive residue you will need to remove. Ironically enough, this process is where many guys get themselves into trouble despite this step of the side rail removal process that appears so simple.



Rapid Remover Vinyl Letter Remover 32 oz. Bottle with Sprayer Adhesive Remover for Vinyl Wraps Graphics Decals Stripes
Many guys will not take the time to get adhesive remover that is as effective as the Rapid Remover and lose patience very quickly when they attempt to remove the residual adhesive.
Instead of using an adhesive remover that truly breaks down the adhesive, guys end up rubbing and rubbing trying to force the adhesive off manually, instead of dissolving it chemically like the Rapid Remover can do.
The excessive rubbing now causes the paint to become abraded and polishing will then be required. With that said; if your truck is old enough and the door side rails have been in place for many years, you will have to polish the paint at this point anyways.
Here is a shot of the truck once the side trim, double sided tape, and the adhesive have been removed and now I have taped off the vulnerable edges before I proceed to polish.
Due to the age of this particular truck, it was necessary to polish the paint. Once truck emblems and side rails have been on your truck long enough, there will always be a wear pattern that will be left behind due to the dirt that gets trapped around the perimeter that will abrade the paint. Using a polisher like the ones recommended on this random orbital buffer page will remedy this problem for you.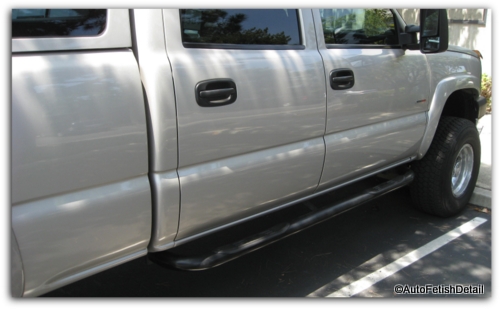 The finished product with the faded truck side rails removed and years of age taken away from this truck with its updated appearance.
As you can see compared to the original version of this truck with its faded side door rails that had aged this truck significantly, by removing the side door rails, this truck has shed years from its age and provided the customer with a renewed love affair with his truck.
I hope you have enjoyed the information and tips provided along the way!
Sincerely,
Darren Priest