Super Clean Degreaser

Out with the old. In with the new
Super Clean Degreaser used to be one of my favorite cleaner degreasers. But times change and I discover new products along the way.

Super Clean is a very effective cleaner and degreaser, but it is not without its limitations like everything else in life.
the goal is always to find what I call the winning balance of benefits and features. Only you can ultimately decide what that looks like in your world, but you will always be required to trade one benefit at the expense of another benefit.
Super Clean Degreaser
The pros and cons



SuperClean Multi-Surface All Purpose Cleaner Degreaser, Biodegradable, Full Concentrate, 32oz
While I have tested the Super Clean Degreaser in many ways and in many jobs, I have fallen away from keeping this as part of my ongoing arsenal of detailing products.

Super Clean degreaser presented many winning features, but it also comes with many unwanted features.
Very effective
Very economical
Very caustic to your health
Very strong on your lungs when using it
Good-bye to Super Clean
After my fair time with the Super Clean product, I came to the conclusion of a better way of doing things. Not all decisions are based on the performance of a product.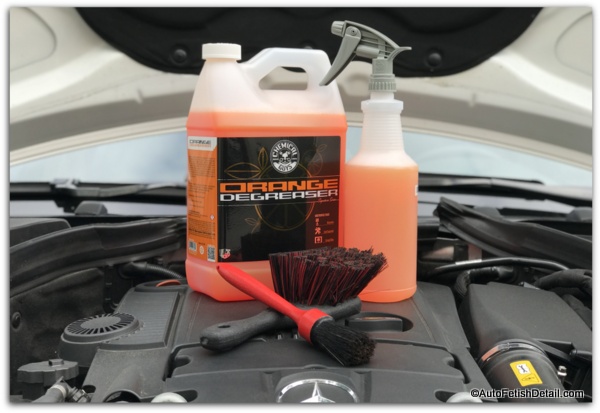 I often also make decisions based on what I call the user experience. It is one thing for a product to produce the results you want, but this does not guarantee a desirable user experience.
Inhaling the ultra-strong vapors of the Super Clean degreaser grows old rather quickly. Aside from its random availability on Amazon, I was tired of having the inside of my lungs feeling burnt from using the Super Clean.
So....out with the old, in with the new!



Chemical Guys CLD_201 Signature Series Orange Degreaser (1 Gal)
Professional citrus based formulation

Highly concentrated
Can be diluted down to custom fit your needs
No more "burning lung" effect
Darren's Tips: Decades ago I used to overthink the products I chose to buy and use professionally. I got caught up in all the endless hype and marketing of so many of the products sold to the detailing industry in general, as well as the hoe hobbyist.
I love this product for its effectiveness as well as its versatility.
The ability to buy a concentrate makes this very economical, just as its ability to custom blend to meet my specific needs makes this a winner in my book.
I don't just use this for detailing, but anytime I need extra cleaning power around the house and garage.

Super Clean Degreaser Summary

Now you know what Darren uses.
Very frequently people want to skip to the end and ask me what I would do if I was them. This is most people's way of saying they don't need all the extra information, they just want to know what I would do, or use.
And now you know!
I wish you much success in your cleaning efforts!
Sincerely,
Darren Priest
---