Auto Detailing Checklist:

What To Expect the Day of Service
Auto Fetish Detail
714/ 624-0804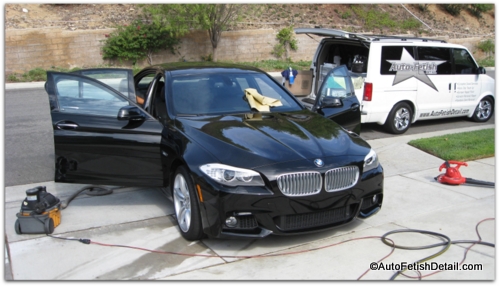 The Detailing Checklist
You call to book appointment around your schedule.

I show up on time to your place for our detail appointment.

I detail your car and put the love back into the relationship between you and your car.

You are so amazed with the results of your car it effects every area of your life in a positive way.

You go onto win the lottery, lose ten pounds over night, and  find out a long, lost relative left you a massive inheritance!



O.K., those last two were a dramatization of course...and this car detailing checklist is certainly oversimplified based on all the time and effort I put into my mobile car detailing services. So keep reading for actual usable information...

The Comprehensive Checklist and Need to Knows
I will start out by telling you that I run things differently than most professional mobile car detailers. As part of my win/win philosophy of business, I have structured my detail service with my customers in mind first. A win/win business model simply means that the more I deliver what you want as a person, the more I get what I want as a business owner.
One way in which I do this is by teaching my customers that they can maximize their dollar by having their car washed prior to our appointment. This way I can get down to doing what you have paid me for and that is auto detailing, not auto washing. Paying me to do the grunt work of washing simply doesn't make sense to most people.
This would be like paying your house cleaner to pick up all the toys and clothes, before they can even begin to actually clean. I realize that there are those of you out there that expect this type of service, which I certainly can accommodate to. You are the boss and I am in the business of delivering what you want as the customer, but I have found that most people appreciate the opportunity to fully maximize their spending dollar with us.
Just know that I value your money, just like I value my own money. Simply put, if you would like to maximize your dollar with me and my services, have your car washed a day or two prior to our appointment! Nothing fancy required here; just run it through for a basic wash at your local car wash, or have your regular detailer wash it as normal. (Yes, many people have a mobile car wash service and choose us for any actual detailing services.)
Auto Detailing Checklist:
Forms of Payment
For first time customers I accept cash only. If this sounds like a bummer to you then you can thank those few individuals and companies that burned it for the rest. Unfortunately in life as is often the case, "The few ruin it for the many". If you are a business owner and are going to use a company check, we can verify this at the start. I have found most people do not have a problem with this policy since ultimately, you as the customer are in the driving seat and can verify my results in the moment before I am paid. I have found that usually the very people that have a problem with certain policies, are the very people that I need to be concerned by as a business owner; one of the ironies of life I guess.
Auto Detailing Checklist:
What we need as service providers
We don't really need much but since we operate differently than others, I have included this section.

Since we do detailing and not mobile washing, we do not carry pressure washers attached to big water tanks like you may have seen most other mobile detail operations use.
95% of the time we are working at the homes of our customers where we have access to water and electricity. This means we may need to use your water outlet, and definitely means we will be running an extension cord from an electrical outlet.
You and your neighbors both will enjoy not listening to a noisy pressure washer and generator while we are performing the magic on your car!
Auto Detailing Checklist:
Interiors First
We generally will start by detailing the interior of your car first, depending on if I am working on your car myself or if I have a helper.
I will meticulously clean and shampoo everything within your cars interior. This means the appropriate cleaner whether I am cleaning your cars leather, vinyl materials, or cloth and carpeting. All seats get moved forward and backwards to gain full access to underneath.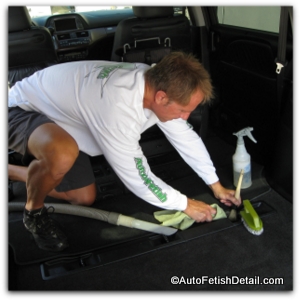 In SUV's and trucks, we lift and fold all additional seating to access all materials underneath. Every cubby hole and compartment is opened and detailed. The only exception is the middle arm rest console that many cars have. If you have not removed personal items prior, then we consider this area personal space and do not remove personal items in order to clean.
As a general rule, we only spot clean headliners as this is usually sufficient for most cars. This includes any of the higher-end cars with either suede or Alcantara headliners.
Auto Detailing Checklist:
Paint Detailing
It is one thing to have a nice car, but entirely different to have a car that truly "pops" to life because of superior paint detailing! The kind of shine on a car that causes your head to turn as it rolls through the intersection in front of you. The kind of paint detailing that leaves your cars finish feeling like waxed glass. So shiny and smooth you will fight to keep your hands off.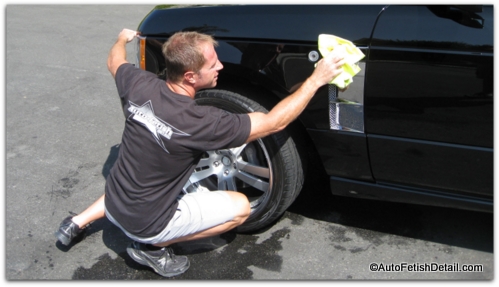 This kind of detailing perfection will not be easy to find; fortunately, you have come to the right place, as I have the skills, techniques, and experience to deliver these kinds of results.
The Auto Fetish Experience
If you are the type of person who places a high value on your time, and has a discerning and critical eye for quality, then perhaps we are a good match. Give me a call directly to discuss your specific needs with detailing services for all your cars, boats, RV's, etc.
Service in a friendly and professional way.

Results delivered consistently; each time, every time.

All done in a way that interrupts your life as little as possible.

Service in a manner that develops trust at every level.
Sincerely,
Darren Priest
---