Black Car Wax:

Fact or Fiction!
Black car wax is one of these areas of the auto detailing world that is based on the power of suggestion. The logic is that a car wax made using black wax, or black colored car wax would deliver better results for anyone waxing a black car.
This logic is easy enough to follow. But simply because something appears logic at a casual observation does not mean it is where your critical thinking should end.
I am unlikely to be the only one constantly frustrated by this industry that continues to produce more and more products. The top priority of these manufacturers seems to be more about producing products that strategically separate us from more of our money than anything else!
Black Car Paint:

The Love/Hate Relationship
Whether this is your first time or not, owning a black car quickly reveals itself as a love/hate relationship. Most of us will agree that very few cars will create as dramatic of an emotional response as a freshly washed and waxed black car can provoke!
But waxing a black car or maintaining a black car is not for everyone! Only the truly committed or the true gluttons of punishment will be willing to sign onto this challenge...and a challenge it is!

This BMW is an amazing example of black paint done right; and no, I didn't use black car wax.
While you are not a professional, there are things you can do to get the kinds of results normally reserved for veteran professionals. Before you rush out and start shopping for what you have determined to be the best car wax for black cars, be sure to follow along as I also lay out some added strategies I use professionally that you can use to get better results yourself.
Black Car Wax:

Asking questions you did not know to ask
Q - Does colored black car wax really work better than traditional car waxes?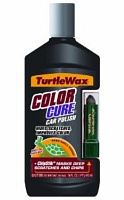 A - Yes and no. Car waxes and sealants will help to cover and conceal unwanted paint flaws while creating a better reflective surface. If you are dealing with the common problem of random deeper scratches, then colored car wax or black car wax "kits" can offer temporary aid in diminishing these deep forms of scratches in the car paint, but you must remember, that this only serves as a temporary fix at best. These very limited kits actually contain a colored wax "Crayon type" stick you can use to literally fill very deep or wide scratches with before you apply a top coat of colored or black car wax.

Q - Is there any other forms of black car wax I could use?
A - Yes. There are limited companies that make colored black car waxes; Zymol has a wax called Ebony that is engineered for cars with black paint and no clear coat to it.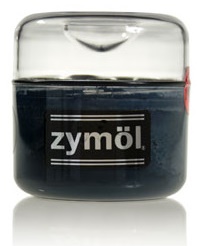 This Zymol is an example of colored black car wax. I can't speak for you, but if this whole colored car wax thing was actually legit, then why are not more companies making waxes to match the actual color of all car paints out there, rather than just black or white cars. As I have also seen car waxes "specially" formulated for white cars.
If in fact this black car wax from Zymol is labeled as a specially formulated black wax for black cars that don't have clear coat, then what good is it since virtually every car on the road made since the mid-eighties will have a clear coat?
I have to come to the conclusion that this is yet another form of marketing hype.
"So Darren, if this colored car wax thing is all a bunch of industry hype, what do you recommend as the best wax for black cars?"
Glad you asked.... 
Black Car Wax:

What Would Darren Do (WWDD)
I am of the opinion that regardless of what you consider the best black car wax or the best car wax in general is, the best wax in my world is a quality car wax that I am actually willing to use.
Let me explain...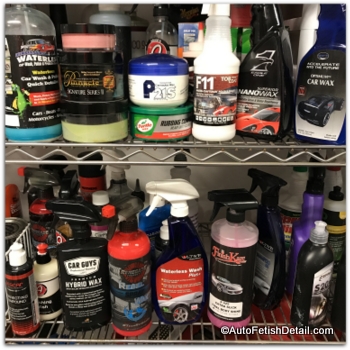 Often in the attempt to find the very best of anything, we are sold on a particular product based on slick marketing and labeling. While the company making the product will highlight all the benefits, what you won't know is the actual user experience.
This means a product truly can be "the best" based on certain features or benefits, but the user experience is absolutely horrid. It is at this point I have to ask myself:
---
"how good can it really be if the product is so miserable to use! If a product delivers such a bad user experience, then what good is it?!"

---
My experience as a professional detailer and overall car enthusiast has taught me that the best car wax for me is a car wax that I am willing to use. And by "use"; I mean regularly and consistently. Like myself, you likely have a garage shelf (or two, or three) full of car waxes that are either labeled as black car wax or best car wax.
Maybe all these various products aren't labeled directly as the best car wax or black car wax, but imply or suggest that the wax is ideal for use on black cars or dark colored cars. The point being that I am certain I am not the only guy in town with a garage loaded up with endless choices.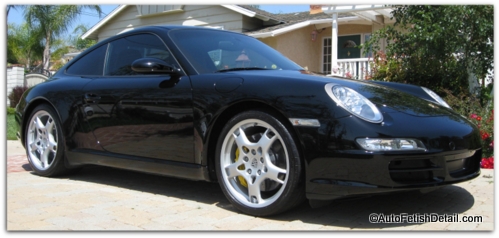 While you might consider signing onto a black car wax as an added strategy, I still adopt the strategy that the easier the car wax is to use, the more I will be willing to wax my car.
And often with car wax it is not just about how good it looks or how long it lasts, but the more often I am willing to use the car wax. And just like the saying "Size matters", I am a fan of the saying "Frequency matters".
Wax is a renewable product. A sacrificial layer. A chore that you either do yourself or pay somebody else to do for you. More wax is good. Less wax is less good.
And by more I don't mean more layers; I mean more frequently applied!!

Q-7 Spray Wax:

The best wax for black cars or any car!
The most versatile wax I have ever used
The actual wax I use professionally
Can be used in direct sunlight on hot paint
Non-staining formulation
Can be used on any paint type: clear coat, lacquers, ceramic clears, etc. (not intended for matte finishes)
Use on paint, chrome, wheels, and black trim
Darren's Tips: I have done many videos for my YouTube channel testing and demonstrating the endless varieties of car wax in general and black car wax specifically. While I have been using this exact wax for over 10 years, it has only recently become available to the mainstream public through Amazon specifically.
I was first mesmerized by this specific spray wax for three (3) reasons in particular:
It's ability to be used on hot paint in direct sunlight!
Not only the ability to not worry about it staining black trim like most other traditional waxes, but it's ability to actually enhance and protect black trim just like it does car paint!
Super easy to use!

I was blown away when I was first introduce to these two key points and have been a fan ever since. So regardless of whether you believe in the hype of black car wax or not, the CSI Q-7 spray wax represents the overall winning balance ideally suited for any paint color, car type, or environment. Having the ability to not only work in direct sunlight as a mobile detailer and also not worry about staining black trim has saved me so much time and aggravation over traditional car wax products.
Not only were those two features instantly appealing to me as a professional detailer, but then I experienced first hand just how easy this wax was to apply and to remove! In my line of work time truly is money and this was a real game changer in some very specific and unique ways!
The Q-7 wax can be applied with the foam applicator pad below by spraying wax directly onto applicator, then wiping onto paint for a nice, evenly distributed layer. Or you can spray the paint surface directly and wipe into/across paint evenly, then flip micro fiber cloth over and buff with dry side of micro fiber cloth.

Q-7 Detailer:


Taking your car waxing to the next level!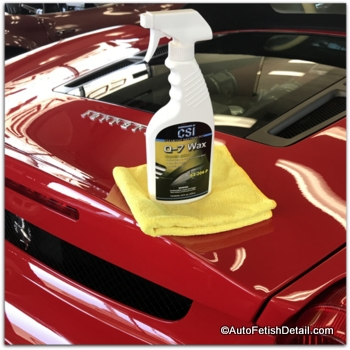 In the past I have never really bought into the whole "system" approach pushed by so many cosmetic car care manufacturers. "Our products are meant to be used with our other products because they were formulated as part of our systematic approach."
To me this was simply more marketing hype to get us to either buy additional products that I questioned the significance of, or get us to by more of from a specific manufacturing brand of products. It wasn't until I had the ability to question the formulator of CSI that has gotten me to embrace the true science and chemistry behind a "systematic" approach to products in the way they are formulated.
It doesn't mean that products from different manufacturers cannot be used with products from a different manufacturer, it just means that chemists and formulators do in fact formulate products in a manner that makes them ideally suited for one another.
ClearCoat Solutions is not unique in this way. Most companies formulate and recommend their products be used their other products. Typically each manufacturer has it's own line of job specific products that are within their overall product line. These job specific products will be part of their "system" approach. Their paste wax is meant to be used with their quick detailer. Or their leather cleaner is meant to be used with their leather conditioner.
If you are using the Q-7 as a stand alone spray detailer then simply spray directly onto car surface and spread with micro-fiber cloth. Flip cloth over and buff to perfection. If you are using as a pre-conditioner with the Q-7 Spray Wax, then spray Q-7 Detailer diorectly onto foam applicator pad below and wipe on paint surface in an even and uniform manner.

I am about to tell you yet another way in which CSI Q-7 spray wax and detailer are not only different, but truly formulated to be used in a way that makes them truly unique.



CSI Q-7 Detailer Quart 62-205-Q
Use as a stand alone quick detailer or as a pre-conditioner before using the Q-7 Spray Wax
Can be used in direct sunlight
Easily cleans away finger prints, smudges, dust, and dirt
Perfect for on-site cleaning and touch-ups during car shows, meet-ups, etc.
Nano-emulsified for a tighter consistency with regards to the chemical engineering
Can be used on any surface other than actual porous cloth upholstery (this means it can be used on all interior hard surfaces including leather)
Can be used on all exterior surfaces and is a non-staining formulation (will not stain black trim)
Darren's Tip: While either of these products can stand alone on their own merits, when used together, they really "shine" (pun intended of course!)
The CSI Q-7 Detailer has the ability (when used first before the Q-7 wax) to actually "condition" the paint surface that allows the Q-7 wax to perform to an even higher standard.
Apply the Q-7 Detailer directly to an applicator (a foam applicator is recommended) and then spread an even and thin film on all painted surfaces. DO NOT REMOVE at this point. The Q-7 Detailer will fill any microscopic pits/divots, scratches, abrasions before you apply the Q-7 spray wax.
The Q-7 Deetailer also acts as a primer for the Q-7 wax that adds additional gloss, depth, and protection your car car paint.

Once you have applied the Q-7 Detailer, apply the Q-7 spray wax in the same manner. Spray directly onto an applicator and apply an even coat directly onto the Q-7 Detailer. Once the Q-7 spray wax has dried to a haze, proceed to remove with a clean micro-fiber cloth (micro0-fiber is always the preferred cloth)
Using these two products in this counter-intuitive manner will produce a gloss and depth that is hard to achieve with even the most expensive of car waxes!
Foam Applicator Pad:

Applying black car wax, car wax, spray wax, etc.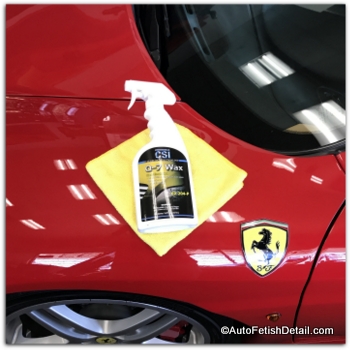 Whether we are talking about foam polishing pads or foam car wax applicator pads. The use of "foam" in the world of auto detailing has become the widely accepted material of choice for some very specific applications. While this foam applicator pad is labeled as a tire dressing applicator, that is my least favorite use for these applicator pads.
I prefer these pads for applying waxes of any type (paste, liquid, or spray) and specifically for use with the Q-7 Detailer and Q-7 Spray Wax. Unlike some of the traditional applicator pads that come with a paste wax, these pads not only give you more control during application, but keep your hand free and clear of the product and paint during application by raising your hand away from the contact point. These pads also have a much more user-friendly grip that adds to the overall user experience.



Adam's Hex-Grip Pro Tire Dressing Applicator - Ergonomic Design Makes Detailing Your Tires Easier - Mess Free Application Tire Dressings - Durable, Washable, and Reusable
Use to apply your choice of any black car wax, car wax in general, or the Q-7 products
When I am using the Q-7 Detailer and Q-7 Wax as a combo strategy, I use a separate applicator for each product
Ergonomically more friendly and effective than traditional flat, foam applicator pads
Black Car Wax:

Waxing the hard way
I accept that there are many "purists" out there. Guys who are forever committed to old ways of waxing your car. For guys like this; nothing will replace the tried and tested carnauba based, paste wax. For all of you out there then I will offer up the following:

P21s Carnauba Wax
Considered enthusiast to professional grade.

Exclusive Carnauba-beeswax blend.

One of my professional favorites.

Won't leave white reside or stain black trim.

Can be finessed to be used in direct sunlight.

Amazing reviews.
---
Wolfgang Fuzion Estate Wax


Wolfgang Füzion Carnauba Polymer Estate Wax 3 oz. Mini
Considered enthusiast to professional grade.

Amazing user experience.

Hand-crafted blend of carnauba wax, German Super Polymers, and proprietary ingredients.

Won't leave white residue or stain black trim.

Amazing reviews.

For those that demand the best regardless of price.

Smaller container than traditional waxes. (don't be mislead by the smaller size of this wax. Know that 3 oz. is plenty of wax to wax your car many times. Very little is needed to wax your car)
Black Car Wax:

Darren's Professional Tip
Let me add a little tip from my professional world. Working on black cars is also a love/hate relationship and can often be very tricky. While virtually any other car paint color will be far more forgiving, when it comes to waxing a black car everything will be a determinant regarding the results you will be able to produce.
Here are a few of my additional tips: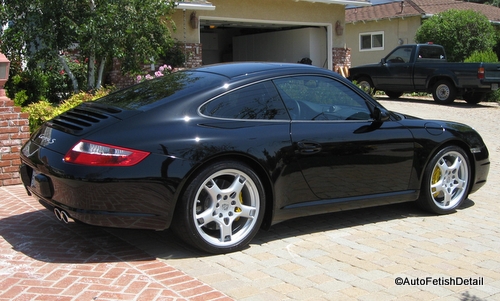 Any of the wax products from above will deliver excellent results.
Always refer to the labeling for manufacturers directions as a starting point. (they are the one's who formulated the stuff, so at least start with their directions before you start breaking the rules)

The differences between them will be subtle (except the price) and will be mostly about the user experience rather than the actual performance with regards to visual results. (as a rule, you do get what you pay for. So the more you are willing to pay, generally the better user experience as well as the better finished result)
While all these waxes can actually be used in direct sunlight (some actually say you can; some will advice against it), you will have an easier time applying the wax on a shaded surface out of the direct sunlight.
As a rule, most beginners think that "more is better". This is not the case and that idea should be dismissed as you will find yourself creating additional work for yourself. All that is needed is a very thin film of wax during application.
The preferred "tool" for removal is a micro fiber cloth, not a baby diaper. (that is so two decades ago)

You can either wax your entire car, then come back around and remove. Or go from panel to panel to apply and remove. It will make no difference with these products as to how long you allow them to remain on your car paint. Leaving the wax to sit on your paint before removal will not add any additional level of protection of visual enhancement. (despite the opinions of your well, but misinformed friends, or what the label says. If you are one of those extra, extra thorough kinda person, then simply reapply a second coat for your peace of mind.)
You can apply and remove car wax in any pattern of your choosing. Unless you are using an abrasive cloth, applying any car wax in a circular pattern will not produce swirl marks. (once again, despite what you may have heard or read from other so-called experts)
Layering wax (repeated wax applications within same period of time) will not produce additional layers of wax or create wax build-up. If this was actually possible, you could eventually transfer all the wax from the container and build up the same opaque effect on your car, thus hiding the color of your paint all together. You will have either been diligent enough to cover each panel fully with a thin layer as described, or you haven't. If you suffer from OCD and want to apply a "few good coats of wax" just to be safe, then by all means have at it. Whatever it takes to make sense of your world. Just know it is not going to create additional protection.
Make sure your paint has been washed and you have used the clay bar to remove embedded pollutants from your paint prior to the wax application. (this is often overlooked by people and is a very critical step to truly silky, smooth paint)

Waxing a Black Car:

That final step of perfection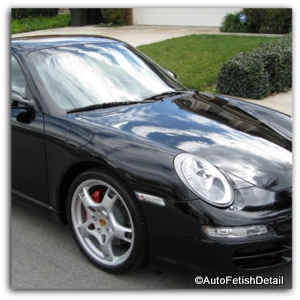 Waxing a black car is tricky under the best of circumstances regardless of using my recommendations on this page or not. I have offered the best solutions to waxing a black car or shopping for the best black car wax. It is up to you as to how you proceed from here.

Not only is paint different from car to car which will affect the wax you have chosen, but the weather itself will affect the process and the end results.There really is many factors to consider when waxing any car, and waxing a black car only creates additional problems.

With tall that said; you are actually informed as a car owner now and have a fighting chance at producing the same professional results that I have been delivering to my very particular and finicky customers for over 30 years!
I wish you much success!
Sincerely,
Darren Priest
---