Auto Clay Bar

The wonder putty you won't believe!
The auto clay bar is a modern day wonder that still remains obscure to the mainstream consumer. Despite certain controversy behind this useful and critical tool of car detailing, it remains as the chosen process for removing airborne contaminants that embed into your cars paint that normal washing and waxing will not remove.
Because of the amount of pollution floating around the air in today's world, detailing clay will be a necessary part of ongoing car paint care. I still come across many people who have never heard of these surface preparation bars. Even if a person has heard of them it is unlikely they really understand the clay bar process.
Understanding How Detailing Clay Works

Having been in the detailing business for 25+ years, I existed before the clay bar was even known among professionals like myself. This peculiar mass of clay changed my professional world forever with its amazing capabilities.
I can't stress enough how important this "tool" is to creating a silky smooth and contaminate free paint surface.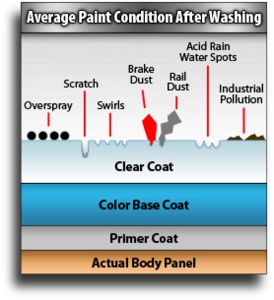 The graphic at right illustrates how airborne contaminants (often called industrial fall-out, fall-out, rail dust) can be seen embedded into the cars paint. Surface prep bars commonly called auto clay bars or detailing clay, are used to remove these forms of contaminants from your car paint. These forms of pollution will cause your paint to feel gritty, rough...an overall texture that cab not only be felt, but heard as you rub your hand back and forth across the body panel.
Paint Texture is Not Good!

Something else to note is that if you are not using the clay bar as part of your ongoing paint care maintenance, then any of your efforts to protect and beautify your cars paint will be less than effective. Even if your car is fresh off the dealer lot, your paint will still have some form of pollution embedded that will create a texture; remember, textured paint is no good!
How to Use Detailing Clay
This is not rocket science or brain surgery here folks; it is very simple and basic:
The air is full of pollution.

These air borne particles will attach to the surface of your car: paint, glass, chrome, etc.

Normal washing and waxing will not remove this "fall-out". (and no, polishing will not do the trick either)

Use on a freshly washed car preferably on a cool, shaded surface.

Use the spray lubricant to wet the area first, then simply place the auto clay bar on the weted area and rub back and forth with very minimal pressure. It is more about how many times you pass the auto clay bar back and forth than applying a bunch of pressure to remove these contaminants.

Wipe up your mess when done and proceed to apply your choice in a

quality car wax

.
Auto Clay Bar Reviews and Recommendations

The area of detailing clay is not an area that needs to be over-thought....just so long as you know that this part of surface car care and car paint care and is not an option. If you have never used auto clay bar or detailing clay then you are in for a real treat.
Silky Smooth, Glistening Paint!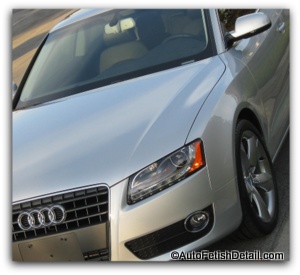 Of all the many topics I write about and talk with people about, this subject is one of those areas where people really have an amazing reaction once they experience the end result first hand of car paint that has been freshly clayed and waxed; to this day I still can't help but smile in delight as I glide my hand across a car I have just wax that was first prepped using a quality clay bar!
Entry Level Clay Bar Kits

As I said earlier, you don't have to over-think this area of surface paint care with your cars paint; while not all clay bars are created equal, they all perform and do the job as needed. And unless you are a professional detailer who plans on doing hundreds of cars, any of the below recommended auto clay bar kits will work just fine for you and will provide years of use. (yes, I really said years)

Meguiar's Smooth Surface Clay Kit



Meguiar's G1016 Smooth Surface Clay Kit
Includes two smaller clay bars.

Includes lubricant spray.

Includes micro fiber cloth.

No. 1 rated clay bar among Amazon.




Trusted name in cosmetic car care.
---
Mothers Clay Bar Kit:



Mothers 07240 California Gold Clay Bar System
Includes two smaller clay bars.

Includes Showtime detailer as clay lubricant.

Includes micro fiber cloth.

Trusted name in car care.

Top rated clay bar kit within Amazon.
Enthusiast Grade Clay Bar Kits

---
Griot's Garage



Griot's Garage 11291 Paint Clay and Speed Shine Kit
Enthusiast grade clay bar kit.

A trusted name in cosmetic car care among enthusiasts and professionals.

I have come to know that Griot's produces excellent products that do perform to professional levels.




Comes with a single clay bar (bigger) that will last most of you years of use.

Also comes with their form of a spray detailer called Speed Shine. (One of their excellent products)

Comes with micro fiber cloths and latex gloves.
Pinnacle Ultra Poly Clay



Pinnacle Ultra Poly Clay Special
Another professional grade clay bar kit.

Comes with one, full-sized clay bar.

Comes with Pinnacle's clay lubricant.

Comes with (2) micro-fiber cloths.
Darren's Professional Tips and Recommendations

Like I said previously, if you have never used the clay bar before and are on the outside looking in, and continue to sit on the fence as to whether or not to commit to this, I can assure you, you will not be disappointed! Use the following tips to further your efforts towards true professional results: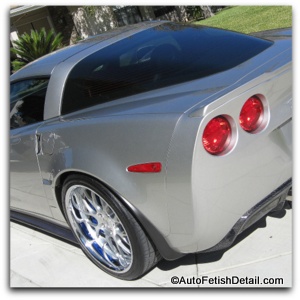 Use on any car for the first time; even a new car straight from the dealer lot!

It will be part of ongoing maintenance as pollution is everywhere and your car will eventually build up new levels of these air borne contaminants.

Use on any hard surface from paint, to metal, to glass.

Use on a cool, shaded surface. (can be used in the sun but it will require more lubricant to keep surface wet, and you will get more of what I cal "skid marks" from the clay bar rubbing paint edges)

You will cause "skid marks" when using as you rub either heated areas of the paint, or edges of the body panels. Don't be concerned by this as it is completely normal with any clay bar. Simply increase the amount of lubricant, and/or remove these skid marks when you apply the car wax.

If you are working in the shade and air temperatures are not extreme, you can save time by using the clay bar on your freshly washed car after the final rinse before you dry the car off. Simply spritz your wet car with a little lubricant to break down surface water tension and you can spend half the time claying your car.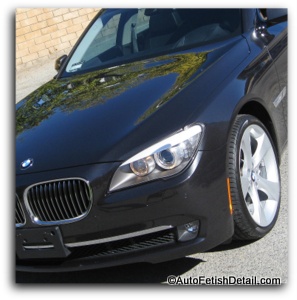 It is not necessary to remove or wipe your car down prior to an application of car wax if you are pressed for time. But professionally I will use a dampened chamois or micro-fiber cloth that I have spritzed a few shots of quik detailer or clay bar lubricant on and completely wipe the car down after the clay bar process. This removes all traces of water spots, dirty clay lubricant, and additionally preps the car for wax.

Remember to clay all your windows for better results when it comes time to clean your windows.

If you do drop the clay bar on the ground, a simple inspection of the bar to remove any dirt particles that may have stuck to the clay bar is all that is necessary. The clay bar is somewhat sticky, but firm enough that most dirt and particles from the ground will not embed into the clay bar. Most manufacturers will advise you to throw the clay bar out and start with a new one. (Gee, I wonder why they would advise you in this way?) I have yet to ever throw away a clay bar in over 25 years from it falling on the ground. I suppose if you were actually working on the beach and it fell directly onto the sand this might be suitable advise....I doubt any of us have the priveledge of working right on the beach to detail our cars though...I know I don't!

If you prefer a more solid and hard clay bar during use and you live in extremely hot conditions, you can place the clay bar in ice water for a few minutes to harden it up. Make sure to mold the clay bar into a comfortable working position first prior to making the little bugger overly stiff!
Auto Clay Bar Summary

I hope I have opened your eyes to an amazing tool of the trade that still remains off-radar to most people...the auto clay bar or detailing clay. Pay this forward by sharing the link to any of your buddies whom you think would also benefit from all this info!
"Serving Orange County, California for Over 25 Years"
Home | About | About This Site | Privacy Policy | Contact
Home Page

>>
Clay Bar
>
Auto Clay Bar