Boat Detailing
of

Orange County
(714) 624-0804


Welcome to Boat Detailing of Orange County where you are just a phone call away from customized mobile boat detailing services here in Orange County, CA.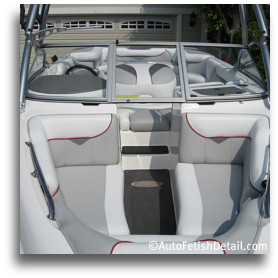 Similar to RV owners, boat owners have as many unique requests and needs as the many types of boats themselves! Most boat detailing consists of a "buffet line" approach of picking and choosing; lots of that, a little of this, and a little of that over there! Whether your boat has the privilege of being stored indoors and simply needs regular maintenance detailing, or your boat has become oxidized and needs professional fiberglass oxidation removal, we come with over 20+ years of professional boat detailing experience.
Boat Detailing of Orange County
Your choice in experience!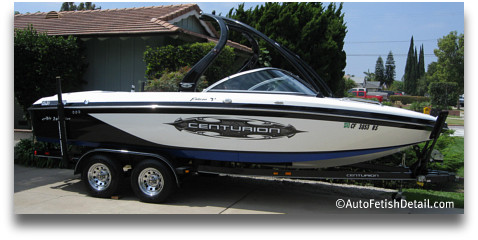 Just because a guy can detail a car, does not make him qualified to detail your boat. Car paint is not gel coat, just as car interiors are not boat interiors. The methods of polishing and waxing are different for boats than they are for cars. Just as the methods used to clean and shampoo car interiors will prove mostly ineffective for the levels of dirt that are often part of the boat detailing experience. Follow along as I help you become an informed and educated boat owner, and help you decide if Auto Fetish Detail is the right fit for your choice in boat detailing of Orange County!
Boat Polishing and Waxing
While most car care products will perform adequate results on boats, specialized products and techniques can provide a much higher level of results. The industry has no shortage of misinformed and inexperienced car detailers that are more than happy to provide you with marginal results. But if you are looking for candid and open communication to assess the best and most appropriate boat detailing services, you have come to the right place. From complete fiberglass oxidation removal jobs, to simply the best in boat waxing, we are here to help you not only get the results you are looking for, but become an informed boat owner and consumer in the process.
Interior Boat Cleaning and Detailing of Orange County


Boat Detailing of Orange County has the experience to achieve maximum results when it comes to the cleaning and detailing of your boats interiors. Traditional methods and products used to clean car interiors, provide only marginal results when it comes to the deep grime often found within boat interiors. This picture to the right illustrates the difference in results. This boat interior has been cleaned using traditional car cleaning techniques on the one half, and using superior boat cleaning techniques on the other half; can you see a difference?
The Many Variables of Boat Detailing and Cleaning
Just as there are unlimited configurations when it comes to boats, boat owners come with just as many unique needs and wants. Boat detailing of Orange County will help you decide the level of service you require that is appropriate for you and your world.

As a general rule, we remove each removable piece of seating for complete cleaning of individual piece itself, as well as underneath seating and any storage compartments. But you as the boat owner may not require this level of comprehensive boat detailing.

Whether we are talking car detailing or boat detailing, detailing is all about the details.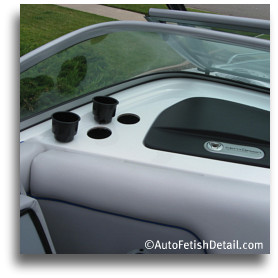 Not only does professional level results require professional products and techniques, but higher levels of patience in order to get the details right! From the cup holders to the many individual compartments, Auto Fetish Detail also brings higher levels of patience to see the job through to completion.
Boat Detailing of Orange County


We have learned through years of experience, that not everyone is going to place a value on the same things. As mentioned before, boat detailing often means configuring services based on specifics of you as a person, the type of boat, along with the condition of your boat. Itemizing your boat detailing service based on needs and wants is a necessary and a much appreciated approach for most boat owners.
Does your boat simply need washing and waxing?

Is your gel coat in need polishing before it can be waxed?

Is your boat stored indoors and needs basic detail services?

Is your boat coming back from a week at "The River" and you are looking for "house keeping" services along with detailing services.

Does your ski and wake-board tower need polishing while the rest of your boat simply waxing?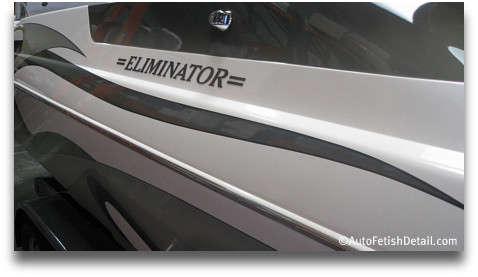 As you can see, the process can become "detailed" quickly when deciding on the appropriate boat detailing services you require. See our boat detailing of Orange County price list below for help in determining a good starting point when considering hiring us for mobile boat detailing service.
Boat Detailing of Orange County Price List:


Use the following boat detail pricing as a guideline. Ultimately, services will be priced based on the condition of your boat and the level of detail perfection your expectations require.
General Boat Detailing
$10.00 - $15.00 per foot
Once again, boats represent many variables with regards to condition and construction configurations. For example, a closed bow versus an open bow boat is one of many variables, just as a deep-V hull versus a low hull ski-boat.
Washing of boat and trailer.

Clay bar gel coat.

Application of marine grade sealant to boat, trailer, out-drive.

Complete shampooing of interior seating, underneath seating, carpeting, vacuuming including all storage bins.

Detailing dash components including gauges and surrounding gel coat.

Cleaning of wheels.

Dressing trailer tires.
Fiberglass Boat Scratch and Rub-Mark Removal
Most boats have their share of miscellaneous scratches and transfer marks from docks, fender/bumper guards, other boats, etc. We can do much to remove these various forms of scratches and transfer marks during the boat detailing process. This is where experience really helps in determining the best solution based on the specifics of the moment. Many inexperienced car detailers will simply take an aggressive compound to your boat, along with a high-speed buffer as a fix-all solution. Many times more mild forms of treatment can be a better alternative. Experience will dictate the best solution based on both effective and efficient techniques and product choice. This can be added to your boat detailing requests and will be priced fairly based on specifics of you and your boat.
Fiberglass/Gel Coat Polishing Restoration
This is an area that can complicate things quickly when trying to price. You can figure an additional charge of $85.00 per hour if oxidation removal is necessary. Usually we price separately as many customers request limited areas of oxidation removal in conjunction with normal detailing of boat. An additional $150-$350.00 is normal for many boat owners looking to rejuvenate the top surfaces of their boat through polishing. Of course boats come in so many lengths and configurations so these are merely examples based on many years of experience.
Misc. Boat Detail Pricing
The following are additional charges to be added to basic boat detail pricing:
Engine Detailing
Decal removal
Outdrive detailing
Water spot/scum removal
Polishing prop
Excessive dirt in the interior
Boat Detailing of Orange County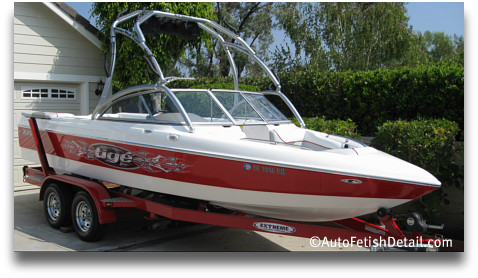 I realize this may get overwhelming when trying to figure out pricing; but no need to stress! Simply call us directly and we promise to be both knowledgeable and candid in helping you come to a conclusion that works for you and your world; whether you choose us for your boat detailing needs or not!
Sincerely,
Darren Priest