Boat Detailing
Orange County
714/ 624-0804
Detailing boats is a specialized area of auto detailing. Boat Detailing Orange County is your choice in experience! Just because a guy in the car detailing business can do a car detail, doesn't mean he is qualified to work on boats.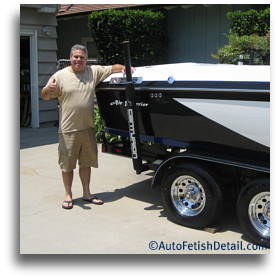 Boats, RV's, or watercraft are unique and come with different needs than do cars. Traditional auto detailing products and techniques will not always do the trick.You have paid a small fortune for your toys of various sorts...I suggest you act accordingly and find someone qualified to deal with the many specialized needs of boats.
Boats are not Cars!
This is what I call the elusive obvious. Clearly, boats are not cars, and yet time and time again, many people make the assumption that since a guy can detail a car, he is automatically qualified to detail boats.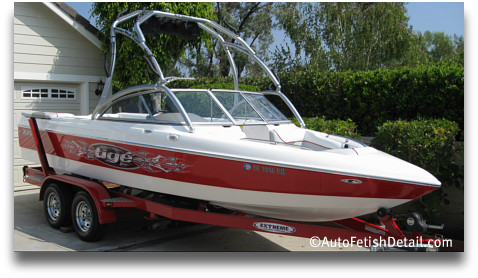 Boats don't come cheap and trying to save a buck with your choice in detailing services is probably not going to be very prudent in the moment. Think about all the many materials and variables that make up your boat:
Boats are made up of so many different types of materials; all of which require specific products and techniques for optimum results. For truly professional boat detailing results, years of experience is a requirement. Auto Fetish Detail brings twenty-plus years of boat detailing in Orange County to the table!
Boat Detailing Orange County
Just like boats, boat owners come with many variations. Each person is going to have different needs and wants from the next person; for this reason communication is king! In order for me to deliver professional results to you, I must assess your particular situation with regards to what you value most with boat detailing Orange County.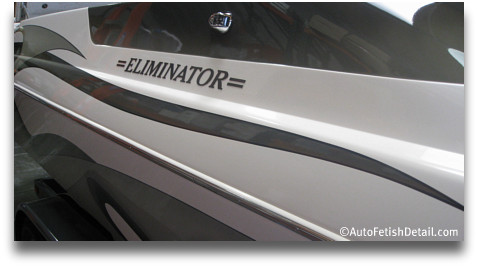 If you are looking for a "one size fits all" type of boat detailing quote, then perhaps I am not the mobile detailing service for you. I cater to people looking to get maximum value for their money when it comes to having their boats detailed.
Hiring Boat Detailing Orange County
There is very little that is basic when it comes to having your boat detailed. Because of this I will have to ask numerous questions when you call for some mobile boat detailing Orange County service.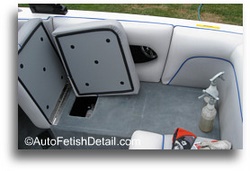 As a standard rule, when we are performing our detail service to your boat, we will be removing all removable interior pieces and cleaning very thoroughly underneath and all around.
Detailing is just that; detailing. From the cup holders to the storage compartments, we have the patience developed from years of boat detailing experience to see the job through to completion!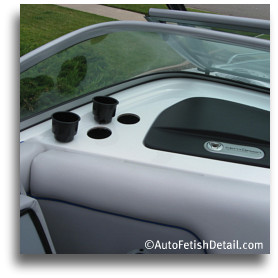 Gel Coat is not Car Paint
Once again, while this may seem obvious to many, the differences can be dramatic depending on the detail services we are providing.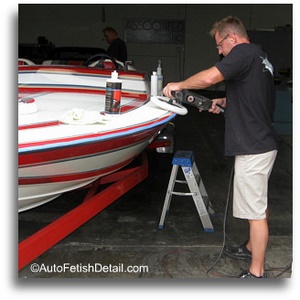 Boat washing and waxing can be pretty straight forward, but boat polishing and gel coat restoration is dramatically different than working on car paint. We will use 10 times as much product and effort when trying to remove oxidation from your boats gel coat. And for truly professional gel coat oxidation removal, experience is required. It is one thing to take a car buffer to the gel coat and make it shine in the moment, but an entirely different matter to be able to remove the oxidation 100% and have a polish job that lasts indefinitely!
Boat Detailing Orange County:

Experience is the Difference!
We have done hundreds of boats throughout the years. From ski boats sitting on trailers, to motor yachts sitting in the harbors. I have done work from San Diego Harbor, to Dana Point Harbor, to Newport Harbor.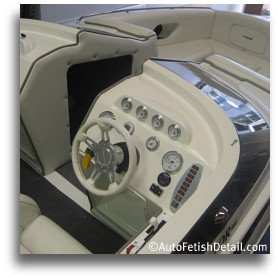 I have developed processes to get the kinds of results that are uncommon in the world of boats, motorhomes, and personal water craft. If you are frustrated by the current results you have been getting, then give me a call and I can show you a difference first hand.
Boat Detailing Orange County Pricing
General Boat Detailing
$10.00 - $15.00 per foot
Once again, boats represent many variables with regards to condition and construction configurations. For example, a closed bow versus an open bow boat is one of many variables, just as a deep-V hull versus a low hull ski-boat.
Washing boat trailer
Clay bar gelcoat
Application of marine grade wax: boat, trailer, outdrive
Complete vacuuming, shampooing of interior: seating, underneath, all compartments, storage bins, etc.
Cleaning of wheels
Dressing trailer tires
Fiberglass Boat Scratch and Rub-Mark Removal
Most boats have their share of miscellaneous scratches and transfer marks from docks, fender/bumper guards, other boats, etc. We can do much to remove these various forms of scratches and transfer marks during the boat detailing process. This is where experience really helps in determining the best solution based on the specifics of the moment. Many inexperienced car detailers will simply take an aggressive compound to your boat, along with a high-speed buffer as a fix-all solution. Many times more mild forms of treatment can be a better alternative. Experience will dictate the best solution based on both effective and efficient techniques and product choice. This can be added to your boat detailing requests and will be priced fairly based on specifics of you and your boat.
Fiberglass/Gel Coat Polishing Restoration
This is an area that can complicate things quickly when trying to price. You can figure an additional charge of $85.00 per hour if oxidation removal is necessary. Usually we price separately as many customers request limited areas of oxidation removal in conjunction with normal detailing of boat. An additional $150-$350.00 is normal for many boat owners looking to rejuvenate the top surfaces of their boat through polishing. Of course boats come in so many lengths and configurations so these are merely examples based on many years of experience.
Misc. Boat Detail Pricing
The following are additional charges to be added to basic boat detail pricing:
Engine detailing/degreasing
Decal removal/lettering removal
Out-drive polishing
Water-spot/scum removal
Boat Detailing of Orange County
I realize this may get overwhelming when trying to figure out pricing; but no need to stress! Simply call us directly and we promise to be both knowledgeable and candid in helping you come to a conclusion that works for you and your world; whether you choose us for your boat detailing needs or not!
Things to Consider When Pricing Boat Detailing Services
Do you want everything detailed: outside, inside and trailer?

Does the gel coat need polishing or just waxing?

Is the boat coming straight back from two weeks of "the River", or has it been sitting in-doors collecting dust?

Perhaps the boat only needs waxing, but the ski tower needs polishing and waxing?

Do you want each and every storage bin emptied and vacuumed, or are you looking for less comprehensive detailing?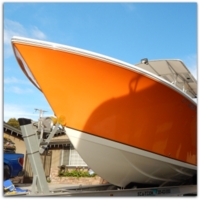 See how quickly I can complicate things for you? Don't get too stressed out just yet, simply give me a call and together we can assess your particular situation, budget, and needs. I promise I am both friendly and knowledgeable, and conduct business in a straightforward and honest manner.
Sincerely,
Darren Priest