Cleaning Detailing:

The Auto Fetish Way!
When it comes to cleaning detailing of your cars, boats, or RV's, you have two choices...either take on the job yourself, or have it professionally done.
Auto Fetish Detail, AKA Expert Mobile Car Detailing of Orange County, CA, is the premier mobile car detailing service built upon the following: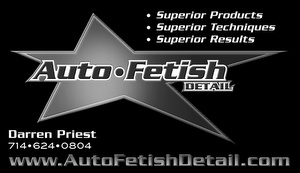 Business in a way that creates trust at every level.

Service in a way that interrupts your life as little as possible.

Techniques and products that produce superior results.
I bet I am just like you; frustrated by the "business as usual" mentality. I have spent the last twenty-plus years developing unique methods of auto detailing that has one objective in mind:
"Producing results. The results you are looking for."
After all, isn't this what it really comes down to; can someone deliver the results:
Paint so shiny you have to stare.

Paint so silky smooth you can't keeps your hands off.

A clean so clean it will make you smile.
Cleaning Detailing:
The Auto Fetish Difference!



I will add that I am not the cleaning detailing service for the masses. I truly believe we get what we pay for and auto detailing is no exception. My customers tend to have the following:
A discerning eye for quality and details
Place a high value on their time
Place a high value on trust
A need for service that simplifies their life, not complicates it
If you are ready to experience the difference twenty-plus years of experience can produce with your detailing needs, call me directly and let me show you first hand how I can produce the results for you, in a way that is also the most appropriate for you and your world.

Sincerely,
Darren Priest
---