How to Clean Car Interiors

Darren's Steps to Success!
How to clean car interiors is a major concern for any car owner. The good news is you have come to the right place!

I am about to use my 30-plus years of professional auto detailing experience and help you filter through the hype, the bad information, and the endless opinions of all the so-called experts and show you how to go from where you currently are, to success!

How to Clean Car Interiors

Far easier than you think!
Despite what you have been told or what you think, cleaning your car upholstery is easier than most people realize.
Forget about the heavy duty carpet extractors, the specialized products, and specialized tools. I am going to break this down to simple, easy, and effective.

The Big Lie of the Industry
One of the biggest lie's of this industry is the need for 10 different specialized cleaners based on the exact material:
Carpet shampoo
Vinyl cleaner
Leather cleaner
Multi surface cleaner
Interior shampoo
All-purpose cleaner
Upholstery shampoo
All these cleaners are going to be what you will be up against. Most people like yourself will soon become overwhelmed at all the choices trying to decide which cleaner is safe or appropriate for the type of material in your car you are trying to clean.

The Good News
Yes, there is good news. You seriously need only a single type of cleaner. How to clean car interiors really can be as simple as a single cleaner.
Just remember that based on the manufacturer, this single type of cleaner can be called many things, but ultimately are all the same: An all-purpose cleaner. And just like the name implies; it can clean virtually any material, and most surfaces within your cars interior.
Deciding Your Needs
Next step will be to decide your needs based on you and your world. For most of you reading this, a single, sprayer bottle of cleaner will work just fine. But with that said, I have laid out additional choices for those of you looking to get more cleaner in a more economical size.



Adam's Carpet & Upholstery Cleaner 16oz
I recently just tested this upholstery shampoo and it blew me away!

I was amazed that a retail/enthusiast grade upholstery shampoo was able to perform at the same level as any of my professional grade upholstery shampoos.

You will not be disappointed!


Griot's Garage 10956 Interior Cleaner 22oz
Griot's Garage is a leading brand among any car enthusiast.

Another one of my favorite, ready to use car upholstery cleaners.

Promises to perform to the level of any professional upholstery cleaners I have ever used.

You will not be disappointed.

How to Clean Car Interiors:

Professional Detailers
If you are entering the world of professional detailing your needs are going to be different. Instead of cleaning the car interior of just your own car9s), you will be going through much more interior cleaner and therefor buying in bulk will make more sense due to the cost savings.



Upholstery & Carpet Shampoo 16 oz
One of my favorite car upholstery cleaners suitable for all your car interior cleaning.
Concentrate so you can custom blend based on level of dirt.
Economical concentrate formulation.
Not just for professional detailers but anyone looking to do more cleaning, not less.


Chemical Guys CWS_103_16 Fabric Clean Carpet and Upholstery Shampoo and Odor Eliminator (16 oz)
Another one of my top picks when it comes to how to clean car interiors.
Concentrate so you can custom blend.
Economical concentrate for more cleaner versus the ready to use interior cleaners above.
You will not be disappointed.
Tools for Professional Results
The right car interior cleaner is obviously the starting point when how to clean car interiors is your goal. Finding and using the right tools for the job will be your next priority.



OXO Good Grips Heavy Duty Scrub Brush
If I had to live with a single car upholstery brush I could certainly live with this.
Versatile: not too stiff, but stiff enough to be effective.
Safe for any material in your cars interior for cleaning: velour, carpeting, cloth seats, and even leather.
Remember, you remain in control based on how aggressively you scrub and the amount of pressure you use.


Nanoskin (85-634) 8.5" Carpet & Floormat Scrub Brush, Black Nylon
My second most favorite interior scrub brush.
Compact head to reach tighter areas.
Handle allows you greater leverage for tough areas to reach or when more aggressive cleaning is needed.
Stiffer bristled brush than above.
Ideal for heavier cleaning needed for most floor mats.


Chemical Guys ACC_S95 Long Bristle Horse Hair Leather Cleaning Brush, , 1 Pack
Dedicated leather scrub brush ( the brushes above are completely safe for cleaning car leather, but I realize most beginners are very cautious when cleaning car leather)
Natural horse hair brushes are softer than the nylon brushes above.
It's All About the Details
Just like a lot of areas of life; you have this thing called the ripple effect. Typically how to clean car interiors will start with the obvious areas and quickly bleed into the other details of your cars interior.
And when it comes to the more intricate areas of your car, you will also need the appropriate tools for this type of cleaning.



Chemical Guys ACC_S90 The Goat Boar's Hair Detail Brush
If I had to pick a single vent dusting brush; this would be it.

Long enough to get deep inside your car vents.

Soft and gentle enough to safely dust just about anything within your car (not that I have yet to scratch anything with this brush)


Makeup Brush Set, USpicy 32 Pieces Professional Makeup Brushes Essential Cosmetics With Case, Face Eye Shadow Eyeliner Foundation Blush Lip Powder Liquid Cream Blending Brush
I often find myself going outside the detail industry to find the perfect tools.
These make-up brushes will give you an endless assortment of dusting and detail brushes for every job possible.
Ultra safe fro any surface you will find in any car.
How to Clean Car Interiors:
Bringing it all together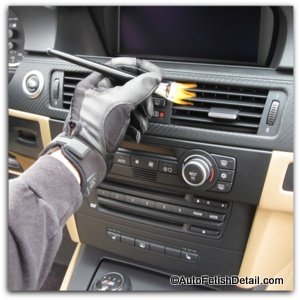 Now that I have laid out the products and the tools, let me show you the exact steps of how to clean car interiors:
Vacuum all areas first to remove dry dirt/debris. (Trust me, you will want to remove/vacuum as much of the dry dirt before you introduce any liquid cleaners to the occasion)
Decide which area of your car you want to clean.
Break areas down into sections and focus on each section at a time.
Spray the area with your chosen cleaner. (Don't over saturate. A few sprays per section is a good starting point)
Scrub area with your chosen scrub brush to break up dirt.
Now mop up area with a micro-fiber cloth (my preferred cloth, but any cloth will work)
Repeat as many times as necessary to obtain desired results. (it is always better to do light applications than to think you are going to get all dirt in one, heavy application)
Remember to be realistic when attempting to clean car interiors. Your carpeting and seating may be so neglected that if these were in your house, you know you would simply want to replace them as cleaning them would appear to be unrealistic. But I get it; replacing car interior parts is both expensive and in many ways unrealistic. Also know that despite how dirty your car interior may be, you will be greatly surprised how these products and tools will perform for you if you apply a little elbow grease.
I promise a short while in your car, armed with these products and tools and you will be completely impressed at the results you will get even if you are unable to obtain perfection.
Sincerely,


---
"Serving Orange County, CA for Over 25 Years"
Home | About | About This Site | Privacy Policy | Contact
Home Page

>>
Car Upholstery Cleaning Tips
> How to Clean Car Interiors