How to Clean Car Interiors

Darren's Steps to Success!
How to clean car interiors is a major concern for any car owner. The good news is you have come to the right place!

I am about to use my 30-plus years of professional auto detailing experience and help you filter through the hype, the bad information, and the endless opinions of all the so-called experts and show you how to go from where you currently are, to success!
How to Clean Car Interiors

Far easier than you think!
Despite what you have been told or what you think, cleaning your car upholstery is easier than most people realize.
Forget about the heavy duty carpet extractors, the specialized products, and specialized tools. I am going to break this down to simple, easy, and effective.
The Big Lie of the Industry
One of the biggest lie's of this industry is the need for 10 different specialized cleaners based on the exact material:
Carpet shampoo
Vinyl cleaner
Leather cleaner
Multi surface cleaner
Interior shampoo
All-purpose cleaner
Upholstery shampoo
All these cleaners are going to be what you will be up against. Most people like yourself will soon become overwhelmed at all the choices trying to decide which cleaner is safe or appropriate for the type of material in your car you are trying to clean.

The Good News
Yes, there is good news. You seriously need only a single type of cleaner. How to clean car interiors really can be as simple as a single cleaner.
Just remember that based on the manufacturer, this single type of cleaner can be called many things, but ultimately are all the same: An all-purpose cleaner. And just like the name implies; it can clean virtually any material, and most surfaces within your cars interior.
Deciding Your Needs
Next step will be to decide your needs based on you and your world. For most of you reading this, a single, sprayer bottle of cleaner will work just fine. But with that said, I have laid out additional choices for those of you looking to get more cleaner in a more economical size.



Adam's Carpet & Upholstery Cleaner 16oz
I recently just tested this upholstery shampoo and it blew me away!

I was amazed that a retail/enthusiast grade upholstery shampoo was able to perform at the same level as any of my professional grade upholstery shampoos.

You will not be disappointed!


Griot's Garage 10956 Interior Cleaner 22oz
Griot's Garage is a leading brand among any car enthusiast.

Another one of my favorite, ready to use car upholstery cleaners.

Promises to perform to the level of any professional upholstery cleaners I have ever used.

You will not be disappointed.

How to Clean Car Interiors:

Professional Detailers
If you are entering the world of professional detailing your needs are going to be different. Instead of cleaning the car interior of just your own car9s), you will be going through much more interior cleaner and therefor buying in bulk will make more sense due to the cost savings.



Upholstery & Carpet Shampoo 16 oz
One of my favorite car upholstery cleaners suitable for all your car interior cleaning.
Concentrate so you can custom blend based on level of dirt.
Economical concentrate formulation.
Not just for professional detailers but anyone looking to do more cleaning, not less.


Chemical Guys CWS_103 Foaming Citrus Fabric Clean Carpet & Upholstery Shampoo (16 Oz), 16. Fluid_Ounces
Another one of my top picks when it comes to how to clean car interiors.
Concentrate so you can custom blend.
Economical concentrate for more cleaner versus the ready to use interior cleaners above.
You will not be disappointed.
How To Clean Car Interiors:

Tools for Professional Results
The right car interior cleaner is obviously the starting point when how to clean car interiors is your goal. Finding and using the right tools for the job will be your next priority.

Car Detailing Vacuum



RIDGID 50313 4000RV Portable Wet Dry Vacuum, 4-Gallon Small Wet Dry Vac with 5.0 Peak HP Motor, Pro Hose, Ergonomic Handle, Cord Wrap, Blower Port
The latest version of my favorite car detailing vacuum
Forget big and bulky, over-sized detail vacuums
The detail vacuum is perfectly suited to be the perfect size along with a perfect amount of power
Detail Vacuum Hose and Accessories


RIDGID VT2534 6-Piece Auto Detailing Vacuum Hose Accessory Kit for 1 1/4 Inch RIDGID Vacuums
Once again: how to clean car interiors is so much about finding the right tools
This vacuum hose and accessory kit will take the detail vacuum above and take you from good to great with the longer hose and accompanying accessories
Many additional attachment tools so you can customize your tips to your job at hand
Car Interior Cleaning Brush Set


Upholstery Cleaner Scrub Brush Set Cleaning Brush and Horsehair Detailing Brush for Car Interior, Seats, Boat, Couch, Sofa and Carpet
If I had to live with a single car upholstery brush set, I would choose this set

One brush made of boars hair for gentle cleaning
One brush made of stiffer, synthetic bristles for heavier duty cleaning

The versatility of this brush set is ideal as you can determine from moment to moment which brush is most appropriate based on the cleaning and detailing job your are performing

Remember, you remain in control based on how aggressively you scrub and the amount of pressure you use
Not labeled for the automotive industry, but ideal for use in your cars interior
How to clean car interiors is just as much about finding the right tools as it is fining the right car upholstery cleaners

Micro-Fiber Cleaning Cloths


Kirkland Signature Ultra High Pile Premium Microfiber Towels, 36 Count (Pack of 1), Yellow - 713160
I only use micro-fiber cloths regardless of the detailing task
Micro-fibers are the winning combination of features: the softest cloth, the most absorbent, and lint free
When it comes to cleaning car interiors, you don't need to over-think your choice in a micro-fiber cloth (You can spend a whole lot of money on very high-grade micro-fibers, but how to clean car interiors is not the time to over-pay for a micro-fiber cloth)
The exact micro-fibers I use professionally (Yes, I spend plenty of money on finer grade micro-fibers, but I reserve those for detailing tasks that require a higher-grade of micro-fiber)
These micro-fibers are so inexpensive that I almost treat them as disposable: I use the brand-new, virgin cloths for the nicer tasks of detailing, then progressively down-grade them to dirtier and dirtier tasks until they have been used and washed so many times that I reserve them as basic garage towels that are for jobs so messy, I don't want the cloth going through my wash machine
Darren's Tips: I remember when I used micro-fiber cloths for the first time after using traditional terry cloth towels to clean car interiors. The microfiber cloths "grabbed" the material and it was harder to use.
But like any new "tool", there is an adjustment period. Using micro-fibers to clean a car interior is no exception. Anyone asking me how to clan car interiors is going to get the same recommendation as well as the same professional tip from me about switching  away from cotton, or terry cloth towels and switching to micro-fiber cloths to do all your car interior cleaning.
Not only is the adjustment period well worth it, but as you get accustomed to using the micro-fibers you will learn first hand how truly superior these cloths are to any other cloth:
The safest and most gentle cloth material you can use
The most absorbent cloth material you can find
And as lint free as you will ever find
Whether you car interior has leather, cloth, or vinyl seating matters not as I ONLY use micro-fiber for both interior and exterior car detailing and cleaning.
I start out with these micro-fiber cloths using a virgin cloth for the finest, most delicate tasks of detailing, then they get demoted down the more I use and wash them for progressively dirtier and dirtier tasks of detailing.
This can be seen in the 3 various staged of devolution of the very micro-fiber cloths I am recommending.

It's All About the Details
Just like a lot of areas of life; you have this thing called the ripple effect. Typically how to clean car interiors will start with the obvious areas and quickly bleed into the other details of your cars interior.
And when it comes to the more intricate areas of your car, you will also need the appropriate tools for this type of cleaning.

Fine Detailing Brushes


Detail Factory Ultra-Soft Detailing Brush Set
Two brush set perfectly suited for finer, more delicate jobs of dusting and cleaning
Once again I can dedicate one brush to dry detailing and the other brush to wet use with my car upholstery cleaners
Synthetic bristles, but super soft
One of my favorite detail brush sets
How to Clean Car Interiors:

Bringing it all together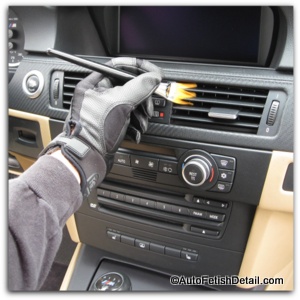 Now that I have laid out the products and the tools, let me show you the exact steps of how to clean car interiors:
Vacuum all areas first to remove dry dirt/debris. (Trust me, you will want to remove/vacuum as much of the dry dirt before you introduce any liquid cleaners to the occasion)
Decide which area of your car you want to clean.
Break areas down into sections and focus on each section at a time.
Spray the area with your chosen cleaner. (Don't over saturate. A few sprays per section is a good starting point)
Scrub area with your chosen scrub brush to break up dirt.
Now mop up area with a micro-fiber cloth (my preferred cloth, but any cloth will work)
Repeat as many times as necessary to obtain desired results. (it is always better to do light applications than to think you are going to get all dirt in one, heavy application)
Remember to be realistic when attempting to clean car interiors. How to clean car interiors is as much about the right cleaners and tools as it is abut maintaining realistic exceptions when cleaning a car interior.
I have sen car interiors so dirty and neglected, that if this amount of dirt was present in their home, it would not even be a consideration to clan it as replacement would be the only option.
But I accept that people's expectations for their car's interiors are different than that of their home.

Also know that despite how dirty your car interior may be, you will be greatly surprised how these products and tools will perform for you if you apply a little elbow grease.
I promise a short while in your car, armed with these products and tools and you will be completely impressed at the results you will get even if you are unable to obtain perfection.
Sincerely,
Darren Priest
---