Turtle Wax Ice Wax

The retail product that delivers!
Ice wax from Turtle Wax is a retail product that has me perplexed! Never would I have thought that an off-the-shelf product could deliver the kinds of results I am able to achieve from this product from Turtle Wax!

No professional detailer would ever admit to using this at a professional level, and yet I find it is able to deliver truly professional results.
Add to that it's amazing user-friendly features and it is a product that is hard to beat!



Turtle Wax T477R ICE Premium Spray Wax with Foam Applicator & Microfiber Towel
As easy as easy can get!

Spray on, and wipe off. (Does not need to haze up)

Safe on all exterior parts (won't stain black trim)

Can be used in direct sunlight.

Use as often as you are willing (You don't need to worry about wax build-up or over-waxing your car)

Get that just-waxed look in a fraction of the time of traditional paste waxes.
So Many Choices, So Many Voices!


The bad news is that there are so many product choices, how are you supposed to know which one works and which one doesn't. Which brings us full circle to the very reason for this Ice Wax review. Chances are you have a garage full of detail products you have collected over the years; trust me on this, you are not alone!
The industry has most of us chasing our tails forever in search of the "Silver Bullet" of car waxes; the one last car wax you will ever need.

Car Waxing Made Simple

The reality is that not only are we naturally lazy creatures, but most of us look for excuses not to wax our car, rather than excuses in which to wax them. If you subscribe to this way of life and want to keep things ultra simple, then Ice Wax will be a perfect solution for you and your world!

For use on any colored car.

Non-staining formulation; use directly on black trim pieces.

A quality wax that is easy to use.

When you're tired of chasing your tail looking for a quality wax that won't break the bank, easy to use, and simplifies your life.

Use as often as you are willing for that just waxed look.

No more spending half a day just to wax your car.
Ice Wax Review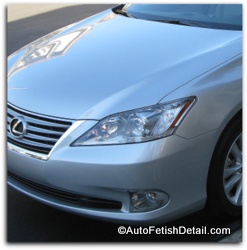 Let's do a quick review of the winning benefits this car wax can bring to you and your world:
Super convenient to use.

Very inexpensive.

Will not stain black trim.

Can be used in direct sunlight.

Can be used as often as you are willing for that just waxed look.

Does not haze up and will not leave white residue in seams and crevices of your car.

An of the shelf product I can fully recommend!
Darren's Tip: Regardless of the car wax you choose, you don't want to forget to decontaminate your paint prior to applying your choice with any car wax.
Removing embedded paint contaminants will make any product you use perform better and also give you a better user experience.
So make sure to pick a clay bar kit and prepare your paint first, then apply the wax.

"Serving Orange County, CA for Over 25 Years"
Home | About | About This Site | Privacy Policy | Contact
Home Page

›
Car Wax Reviews
› Ice Wax