Mothers Paint Chip Repair

Do any search for Mothers paint chip repair and you will find a short list of useful reviews.

Mostly because this product has been unavailable for some time. Having been released in 2011, the product soon became unavailable. Which makes me wonder what was wrong with it in the first place as to not remain around.
Mothers Car Paint Chip:

A Better Alternative
Fortunately you have a person like me around that can go through the learning curve first! I am also the one to endure the frustration with some of the many paint chip repair kits and products out on the market.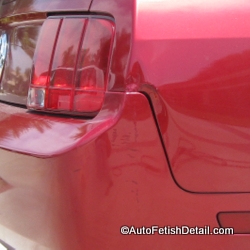 *This repair has limitations. The biggest one being that the sheet metal of the fender was damaged and no repair kit will fix that.

In testing many of these paint chip repair kits I have come across a kit that blends the traditional lack-luster DIY kits to what I consider a professional repair kit.



Turtle Wax T-234KT Premium Grade Scratch Repair Kit
Blends a basic, DIY car paint scratch repair kit with professional level "tools" that other basic kits do not include.

Comes with 4 levels of sanding discs to perform what is called wet sanding.

Comes with rubbing compound to remove sanding marks after you have sanded areas of damage.

Comes with clear coat pen to fill in deeper scratches that cannot be sanded away, but have not gone all the way through to bare metal. 




Ideal as no power tools are required for truly professional results.
Managing Expectations
Something I have to do with my own profession detail customers is manage expectations. I am the person with experience and I know the severe limitations that are part of paint chip repair.
Because you will likely have far less experience than I do (or none at all), then I need to manage your expectations as a do-it-yourselfer.
Every scratch is unique and each scratch must be finessed to find the winning balance of techniques that will produce the best results.
No kit comes with a magic wand that can instantly create perfection. (Perfection is called the costly body shop)
There is also no process that can magically allow you to fill scratches with tocuh-up paint and blend into surrounding paint work for a truly seamless appearance. There is ALWAYS going to be a visible line of demarkation.

This kit is as good as I have come across.
My YouTube Tutorial and Demo
I was so in love with this kit (While still maintaining realistic expectations, I show a video review of a kit that is my choice for a Mothers paint chip repair kit.
See Darren demonstrate this exact kit on YouTube:
"Serving Orange County, CA for Over 25 Years"
Home | About | About This Site | Privacy Policy | Contact
Home
>
Auto Detailing Tips
>> Mothers Paint Chip Repair