Mothers Paint Chip Repair

Do any search for Mothers paint chip repair, and you will find a very short list of reviews. At one time the Mother's chip repair for car paint was relevant.
Not so any longer.

This product has been unavailable for some time. Having been released in 2011, the product soon became either irrelevant, or was taken off the market (which is usually the reason). Which makes me wonder what was wrong with Mothers paint chip repair in the first place as to not remain around.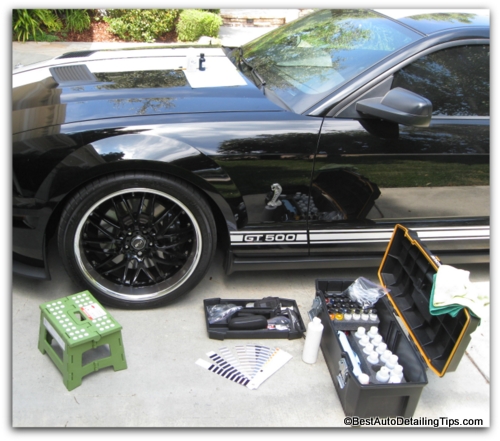 Here you can see my professional chip repair kit. A chip repair kit that has a color match swatch palette, many paint colors to custom blend to match the paint I am working on.
In this picture above you can see the professional car paint chip repair kit I use. A kit that costs about $1,000.
A kit that is not only far to expensive for any do it yourself car paint chip repair, but also requires a learning curve that also makes this unrealistic for any home repair job.
This kit (along with a trained technician) can perform exceptional results, but it still is unable to fill and blend a car paint chip perfectly.
And with that said, this kit also has many additional tools/products far past just the touch-up paint color:
Color swatch chart to match and custom blend paints

Solvent to prepare surface being repaired
leveling tools to level scratches and chips that are large and deep
Leveling solution that allows you to use a chemical to finesse the leveling of the touch-up paint applied
Filler material that is similar to wood putty that dries hard to fill very deep scratches and chips before you apply the actual paint color

Various size touch-up paint brushes
Mothers Car Paint Chip:

What now?
Since Mothers paint chip repair is no longer available, you are left with a few choices moving forward. In most cases, people simply get some touch-up paint from a local car dealership based on the type of car you drive.
Every car has a color code on it so you can order/buy the exact color in the from of touch-up paint from the dealership.
the kit below is a kit that will allow you to take the factory touch-up paint and get better finished results when you are doing a home repair job on your car to touch-up paint chips and scratches.

This kit allows you to "finesse" with added tools and chemical solution

Eliminate ( or at least diminish) those unwanted paint blobs very common on do it yourself car paint touch-up repairs
Still not a perfect fix, but you can achieve far better results using this kit along with the factory touch-up paint
Mothers Paint Chip Repair

Easy fix alternative
If you are part of the "bare minimum" group of people, I have a solution for you that would represent what you might call the "first-responder" to your car paint chip or scratch.
This touch-up paint pen is the same as a traditional touch-up paint pens or brushes, but this has clear coat versus any paint that has color to it.
As a rule, any car made in the last 15 years will have what is called 2-stage paint. This means that a color coat is applied (1st stage) and then a clear coat is applied over the color coat (2nd stage) as part of the car painting process.
And for this reason, this clear coat touch-up pen is a super easy way to camouflage and conceal many of the scratches and damages that can occur on your car paint.



Turtle Wax T-121 Scratch Repair Pen - 0.3 oz.
This clear coat pen is most useful on car paint scratches and chips that have not gone all the way through the car paint
If you can see grey or black showing in the car scratch or paint chip, AND you can feel an edge with your finger nail, this clear coat will do very little to cover up the damage
If you do use this, you will be applying a coat of clear that will sit on top of your car paint. (this is like applying finger nail polish to your car paint and going outside the lines. This means there will still be an edge you will now have created by applying this or any traditional touch-up paint onto your car)
Mothers Paint Chip Repair:

Paint chips and paint scratches
Car paint chip repair is one thing. Car paint scratches are a different thing.
Often, people think you can use basic car touch-up paint for every type of damage to your cars paint. I am certain you likely had the same opinions as you came looking for Mothers paint chip repair before you found out it is no longer available.

 Unless you are trying to repair very specific paint chips (typically round in shape and no larger than the size of a blunt pencil tip), car touch-up paint applicator pens/brushes are designed for the following:
Deep chips that have gone through the paint and are showing the bare body panel of your car
Deep and wider scratches (the scratches have to be wide and deep enough to "accept" the touch-up paint into it. This means that hairline scratches are NOT the time to use any touch-up paint pen/brush)
Many damage to your car paint will and/or can be improved by using both methods of repair: touch-up paint for any damage that has gone completely through your car paint, and the scratch repair kit below to diminish or remove any of the superficial damage that is also part of the area you are attempting to "improve"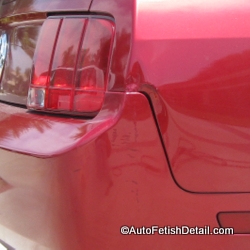 *This repair has limitations. The biggest one being that the sheet metal of the fender was damaged and no repair kit will fix that.

In testing many of these paint chip repair kits I have come across a kit that blends the traditional lack-luster DIY kits to what I consider a professional repair kit.



Turtle Wax T-234KT Premium Grade Scratch Repair Kit
Blends a basic, DIY car paint scratch repair kit with professional level "tools" that other basic kits do not include.

Comes with 4 levels of sanding discs to perform what is called wet sanding.

Comes with rubbing compound to remove sanding marks after you have sanded areas of damage.

Comes with clear coat pen to fill in deeper scratches that cannot be sanded away, but have not gone all the way through to bare metal. 




Ideal as no power tools are required for truly professional results.
Car Chip Repair:

Touch-up paint
Use the link below and look up  the color you need for your particular car. Most car manufacturers make touch-up paint in an easy to use applicator brush and/or pen style tip.
It will never be a perfect fix, but in most cases an acceptable fix for most people.
Darren's Note: If you use this link, you can enter your vehicle information at the top, left of the screen where it asks you to enter your vehicle information (Year, Make, Model)



ACDelco 19328528 Black (WA8555) Four-In-One Touch-Up Paint - .5 oz Pen
This touch-up paint is for black paint only
Use the search tool at Amazon to find the color match for your car
You can use any sharp object (tooth pick, art paint brush, etc.) as a replacement tool if you find the stock brush tip is too thick for your needs
Mothers paint Chip Repair Kit:

Managing Expectations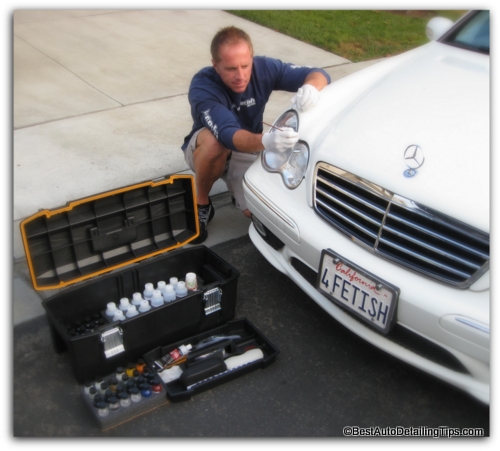 Something I have to do with my own profession detail customers is manage expectations. I am the person with experience and I know the severe limitations that are part of paint chip repair.
Because you will likely have far less experience than I do (or none at all), then I need to manage your expectations as a do-it-yourselfer.
Every scratch is unique and each scratch must be finessed to find the winning balance of techniques that will produce the best results.
No kit comes with a magic wand that can instantly create perfection. (Perfection is called the costly body shop)
There is also no process that can magically allow you to fill scratches with touch-up paint and blend into surrounding paint work for a truly seamless appearance. There is ALWAYS going to be a visible line of demarcation.

This kit is as good as I have come across.
Mothers Paint Chip Repair Summary
By this point you will likely have come to some new conclusions. I also hope that I have offered some additional kits to fix paint scratches as well as paint chips.
I wish you much success in your efforts!
Sincerely,
Darren Priest
---